MANCHESTER'S first vintage awards ceremony is set to take place on Wednesday 17 October at Matt & Phreds Jazz Club.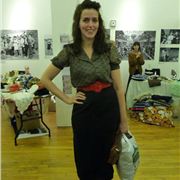 Susie EarlamThe idea spawned from social portal and blog VintageManchester.com. The website was initially set up by founder Susie Earlam to fill the online void for the promotion of vintage events, venues and exhibitions happening in Manchester. They have since teamed up with creative events company The Social Butterfly to put together an evening celebrating all things vintage in the city.
The Vintage Manchester Awards aims to be the first in an on-going series of events, giving vintage businesses within the city an opportunity for great exposure and recognition. This year's award nominees are:
Best Vintage Fair or Market
- The Manchester Vintage Fair
- Vibrant Vintage Fairs by Victoria Claire
- Vintage Village Stockport
Best Vintage Inspired Designer (Including Clothing and Accessories)
- Kalandra Jane Designs
- Kitty O'Hara Corsets
- Vanity by Limb Clothing
Best Vintage Clothes Shop
- J'adore Vintage
- Vintage Twists
- WeLoveVintage
Best Vintage Furniture/Home Shop
- Pop Boutique
- Planet Vintage Girl
- Rose & Lee Vintage Living
Best Vintage Venue (Including Tea-Rooms, Bars and Lounges)
- Airy Fairy, Didsbury
- Sugar Junction, Northern Quarter
- Sweet Tooth Cupcakery, Chorlton
Best Vintage DJ
- Dr Sid
- Mickey Wong
- Vintage 78 Djs aka Matt & Annabel
Best Vintage Night out
- Carnival Divine Burlesque
- Slippery Belle Burlesuqe
- The Whim Wham Club
Best Vintage Beauty (hair or makeup)
- Bethany Jane Davies- The Vintage Beauty Parlor
- Lisa- Marie Gee- Pamper & Pose
Best Vintage Photographer
- Alt Studio/Simon Hunt
- Jude Gidney
- Leah Henson
- Terry McNamara
Best Vintage Event Supplier (Including Crockery & Prop Hire, Floristry, Bunting)
- Alice's Vintage Pantry
- For The Love Of Vintage
- Saddleworth Shindigs
Best Vintage Blogger
- dormouseandtheteapot.blogspot.co.uk
- kalandrajane.blogspot.co.uk
- mancunianvintage.wordpress.com
Best Vintage New-Comer (Business must have been established in 2011/2012)
- Alice's Vintage Pantry, vintage crockery hire and afternoon tea catering company
- Era of Experience, vintage private parties
- Olive & Em, vintage crockery hire
- Vintage Twists, repro clothing shop
Click here to cast your votes. The evening is set to be a glamorous affair with free boozy cupcakes and rum cocktails served by 50s inspired pin-up waitresses.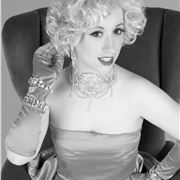 Susie SequinThe 'Hollywood Golden-Age' theme will be brought to life with vintage entertainment performers including Marilyn Monroe tribute act, Susie Sequin and old-school jazz singer, Kiki DeVille (main picture). Promos will continue long into the night with happy hours of 2-4-1 drink offers and midnight pizzas from Matt & Phreds.
Tickets are priced at £8 per person and include one free cupcake and one free rum based cocktail or soft drink.