I CAN'T be the only girl out there who commits the biggest beauty crime of all – forgetting to take make-up off. Most of us won't admit this, but all we want to do after a boozy night out is crawl into bed even though our pores are crying out, 'CLEANSE! TONE! MOISTURISE!'
Had I finally found myself some wonder products to kick those pores into touch once and for all? Prevention is certainly better than cure.
That's why every now and then, we ladies and our neglected skin need a luxurious facial as the ultimate 'pick-me-up.' And the one I received from the lovely people at Sisley was definitely a Godsend for my pores.
Sisley is a French company whose vast range of skincare products is derived from natural plant extracts and essential oils. The brand has now become one of the world leaders in luxury cosmetics, offering targeted skincare solutions for every skin type. And all this skin-friendly goodness was at my disposal on the ground floor of House of Fraser.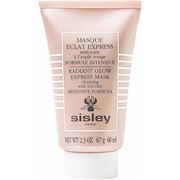 Radiant Glow Express MaskI arrived at my appointment somewhat apprehensive. After all, I'm a complete make-up junkie and can think of nothing worse than exposing my less-than-flawless skin to my boyfriend, let alone an expert in the industry. Worries aside, I was taken to the treatment room and told the regime would be tailored towards my skin type needs – albeit, mine falls into the awkward 'combination' category.
The holistic breathing exercises put me into 'relaxed mode' and it was easy to forget about the everyday stresses of life with the help of essential oils such as stimulating rosemary and calming lavender wafting under my nose.


I was then asked what areas of my skin I particularly have problems with. Well, first there were the pesky 'teenage' spots I'm particularly prone to on my chin. But then there were the dry, red patches of skin under my cheeks which demanded the highest of foundation coverage. Would it be possible to create a regime that would cater for all these nuisances?
Sage Cleansing Milk was slathered onto my skin, which felt extremely cooling and refreshing. It's designed to purify the skin by thoroughly removing all make-up and is particularly suitable for combination skin as it removes excess sebum but leaves skin soft at the same time. My skin felt like it had almost a satin sheen to it. The Floral Toning Lotion was up next which left my skin feeling really zingy – kudos to the rose, cornflower and witch hazel extracts then. This is very gentle on the skin, perfect for the sensitive areas, and instantly illuminates your complexion.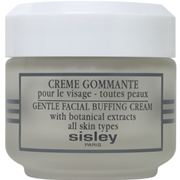 Creme GommanteOne of my favourite parts of the treatment had to be the Crème Gommante which is a gentle facial buffing cream. It's highly recommended that you give your skin a rigorous yet gentle exfoliation once a week and with the Sisley one not requiring water, buffing away those dead skin cells couldn't be easier. The cream, containing botanical extracts, was applied like a mask and left for a few minutes, before a brush was used to buff off impurities which would otherwise dull the complexion. Almost like buffing up the metal work on a car, my skin felt squeaky clean. No wonder it's one of Sisley's best-sellers.
For someone who religiously carries a shine-control face powder in my handbag for emergency touch-ups, I was excited to try out the Radiant Glow Express Mask with Red Clay. This is an absorbent mask which promotes a healthy yet mattified glow. It's a quick beauty boost yet it gives your pores some much-needed TLC. While this was left on for five minutes, I was treated to a lymphatic drainage massage which drains toxins to the lymph nodes where they expel naturally, creating a sense of wellbeing and promoting circulation. The restoring and soothing creams imparted my skin with much-needed moisture that it had otherwise been deprived of during these winter months so far.
The final stage of my facial was the conditioning - an essential part that I usually give a miss. I'd always had the assumptions that moisturiser would be a disaster for my blemish-prone skin. However, I was informed it's important to keep the skin balanced with a thin layer of Hydra Global Intense Anti-Aging Hydration skin to reactivate the skin's deep hydration mechanisms and plump up the skin. This was followed by the Emulsion Ecologique which helps the skin fight environmental stress, keeping it light and dewy. It's full of vitamins and minerals, nutritious goodness your skin is crying out for.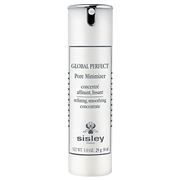 Pore MinimizerLast but by no means least, was the Global Perfect Pore Minimiser. A must-have for blackhead-producing-clogged-up-pores, my skin felt smooth after use, dilating the pores and being the perfect all-round skin corrector. And again, its oil-combatting properties were apparent from the first use. Had I finally found myself some wonder products to kick those pores into touch once and for all? Prevention is certainly better than cure.
Having never really jumped on the facials bandwagon before, this treatment was a revelation for my deprived and dehydrated skin. The thorough deep cleanse allowed it to breathe and boy, was my skin thankful for it. Ok, I did apply my makeup again straight away but it's good to know what lies beneath is well taken care of.