THIS year when it comes to Christmas, it's time to look beyond the city centre high street and in the direction of Levenshulme.
Learning about the history of the items made it a much more intriguing shopping trip than the usual sardine packed, McDonald fumed shopping centres.
The Antiques Village in the old Town Hall in Levenshulme is five minutes from Piccadilly on the train and is a Genie's lamp full of treasures that I unfortunately knew nothing about.
The building is large and the toilets are weird (your knees touch the wall as you sit on the loo). Original green tiles adorn the doorway and the mosaic floor and stone alcove entrances lead you into a hoarder's fantasy.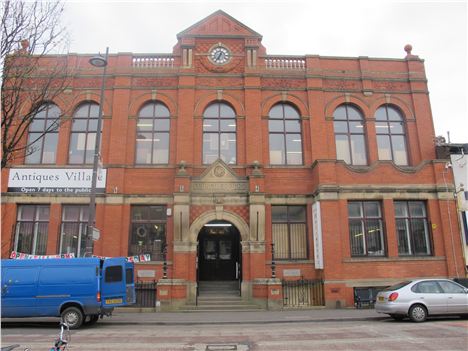 There are three floors of pre-war furniture, but if you delve deeper you'll find some gems, such as original blue Mary Quant stockings, beautifully designed glass lampshades in a range of colours plus armless and hairless mannequins. Okay, maybe not the latter, but there are great original outfits for fancy dress such as an old sailors suit, historic toys and ultra cute 1950s-style horoscope posters. The 'Chemist Section' was an eye-opener, although you probably won't want to present your loved ones with dusty glass jars of 'Acid: Cetic:Bp' and 'Oleum:Picis:Rect' this hristmas.
The staircase leading to a large grand ballroom (used as an evening dance hall in the 1920s) crammed full of tables, chaise longs and a beautiful turquoise Chesterfield that I had to test for comfort, was particularly admirable.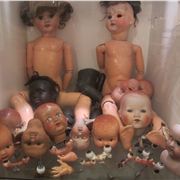 It was a shame I had to wrestle with a few door knobs to try gain access into the rooms that contained mirrors, clocks and Game of Thrones looking head armour, but  'Rick's Place' and next door at 'Barvalo Antiques & Collectables' made up for it by far.
Rick's encyclopaedic mind filled me with the history of every single item I pointed at, while a glass cabinet full of eerie dolls heads (some eyeless) evoked childhood memories of the 'heads' scene in the film Return to OZ.
I'm going to be straight, this place is weird but very interesting.
I couldn't help eye up an impressive looking knife that apparently is a commemorative piece regarding The Battle of Rorke's Drift in 1879 and where else are you going to come across shoes like these...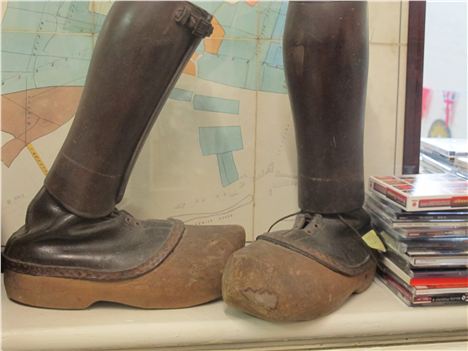 Not Clarks that's for sure.
Learning about the history of the items made it a much more intriguing shopping trip than the usual sardine packed, McDonald's fumed shopping centres.
It's a bummer Halloween has just passed, as this place also holds an array of odd creepy items, such as a skull with diamonds in its eyes and a weird African-inspired sculpture of a very strange looking man that made me yelp.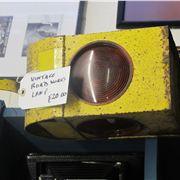 I was inspired to buy a vintage road work lamp for my mum and convince her she could replace her contemporary outdoor lighting with this one-off piece. The 'eyeball pins' (real life looking eyes glued onto pins) also seemed like an odd but attractive buy, but I couldn't for the life of me work out what outfit they would go with.
Like an 18th century version of Afflecks, this place is a true treasure trove. Only madder, even more assorted and completely out there - both in terms of location and offering.
Let your curiosity lead you there this Christmas.
The Antiques Village, The Old Town Hall, 965 Stockport Road, Levenshulme, Manchester, M19 3NP.