NOT every Olympian was born into it. Both Team GB boxer Anthony Joshua and women's rower Helen Glover, only took up their sports four years ago. Each walked away with gold at this year's Olympics.
With four years until Rio 2016, there's everything to play for if you've got the will and skill for a new sport. And if you haven't? Well, like the tug-of-war in the main picture above (an Olympic sport from 1900-1920), it's all fun and will help you keep fit.
Forget how bad you were on school sports day; the Olympics opens up a whole world of sports we would probably never have given a second thought to if it wasn't for London 2012. And what's more, there are training clubs right on your doorstep...
---
Archery
What is it?
A historic activity, archery needs a steely mentality and pinpoint accuracy. Dating back 10,000 years, it was in medieval England that it developed as a competitive activity and is now practised in more than 150 different countries. The aim is simple; competitors shoot at a target 70m away, aiming to get their arrows as close to the centre of the target as possible. Olympic archery targets are 122cm in diameter, with the gold ring at the centre (worth a maximum ten points) measuring just 12.2cm.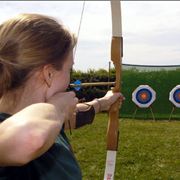 ArcheryWhat does training involve?
Archery doesn't require a lot of mobility aside from in the arms and shoulders, and so is open to a wide range of ages, sizes and lifestyles. Archery burns around 313 calories per hour as well as improving cardiovascular fitness and core strength.
Could it be me?
At London 2012 archery was dominated by South Korea - they won three out of a total of four available gold medals (the other went to Italy). With no one from team GB as far as the semis, (the closest we had was Larry Godfrey who made it through to the 1/8 eliminations in the Men's Individual) the stage is most definitely set for a new archery champion to come forward before Rio 2016.
I'm sold – where can I take part?
Adventure Cheshire (Catton Hall, Bradley Lane, Frodsham, Cheshire, WA6 7EX. 01928 788295 www.adventurecheshire.co.uk/archery.html)
Assheton Bowmen Archery Club (Victoria Avenue East, Manchester M40 5SH. www.asshetonbowmen.com)
Bowmen of Bruntwood (Bruntwood Park, Cheadle, Stockport, SK8 1HX. www.bowmenofbruntwood.co.uk)
Bowmen of Lyme Archery Club (The Paddock, Lyme Park, Disley, Stockport, SK12 2NX. www.bowmenoflyme.com)
Bowmen of Overdale Archery Club (Ladyshore Road, Little Lever, Bolton. 0161 773 5853 www.bowmenofoverdale.org.uk)
Eccles Archery Club (Peel Green Road, Eccles, Greater Manchester, M30 7DR. www.eccles-archery-club.org.uk)
Gold Crest Archers (Hyde, Cheshire. 07790 839 834 www.goldcrestarchers.co.uk)
Moorside Archery Club (Holy Rood Memorial Hall, Moorside Road, Swinton, M27 0HJ www.moorside-archeryclub.co.uk)
Rochdale Company of Archers (Archery Range, Rochdale Rugby Union Football Club, Moorgate Avenue, Rochdale, Lancashire, OL11 5LU www.rochdalecompanyofarchers.com)
Stalybridge Archery Club (Cheethams Park, Stalybridge, Tameside. 0161 338 2197 www.stalybridgearcheryclub.co.uk)
---
Volleyball
What is it?
It's surprising to think that volleyball, one of the fastest and most energetic ball sports at the Olympic Games, was originally designed as a more sedate alternative to basketball in the nineteenth century. A thrilling and competitive sport, the six player team set up forces competitors to think tactically. Players are allowed a maximum of three touches of the ball between them before it must cross the net, and aim to 'spike' the ball onto the ground of their opponent's half of the court. Matches are played over five sets, with each set being the first to 25 points with at least two clear points. The fifth set is completed when one team wins fifteen points, again with a lead of two clear points over the opposition.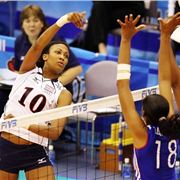 VolleyballWhat does training involve?
Volleyball is a high intensity cardiovascular workout, an hour of which burns around 780 calories. Striking the ball strengthens the upper body, arms and shoulders, while the movement around the court works the leg muscles. Volleyball also improves hand-eye coordination and develops faster reflexes.
Could it be me?
At London 2012, Brazil won gold in the women's contest and silver in men's, with Russia taking the gold in the men's contest and the USA silver in the women's. Italy and Japan won bronze for men's and women's respectively. Overall Russia are the most successful nation in the history of Olympic indoor volleyball, having totalled eight golds altogether. 2012 marks the first time Team GB, the lowest ranked nation in the competition, entered Olympic volleyball squads. Losing all of their matches, Team GB nethertheless put up a respectable show in terms of point scoring and gained great experience. The future of GB volleyball could therefore go either way – why not help them rise to greater things instead of fading back into obscurity?
I'm sold – where can I take part?
City of Salford Volleyball Club (Fit City, Barton Lane, Eccles, Salford, Manchester, M30 0DD. www.cityofsalfordvolleyballclub.co.uk)
Manchester Phoenix Volleyball Club (Trinity Sports Centre, Higher Cambridge Street, Hulme, Manchester, M15 6HP. www.manchesterphoenix.org.uk)
Northern Jump LGBT Volleyball Group (Sugden Sports Centre, 114 Grosvenor Street, Manchester, M1 7HL. 07783 297 965 www.northernjump.org)
---
Boxing
What is it?
Boxing is one of the most prestigious events of the Olympics and has a long history which dates back as far as 3000BC, although 2012 is the first year that women's boxing has been a qualifying sport. Boxing is engaging and dynamic, a sport which requires both physical and mental discipline. There are three weight categories for women (fly, light and middle), and bouts feature four rounds of two minutes. Boxers score points for every punch they land successfully on their opponent's head or upper body. The boxer with the most points wins the bout, but if a boxer cannot get up after ten seconds it is classed as a knockout and the bout is over.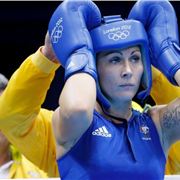 BoxingWhat does training involve?
Boxing provides intense high-energy cardiovascular exercise, an hour-long fight burning approximately 708 calories (compared to 354 on the punch bag or 531 sparring). Training involves a mixture of fighting and tactical practise with punch bags and strenuous cardiovascular activity such as circuits and skipping.
Coud it be me?
All Olympian boxers must be at least seventeen but no older than 34, and all must be amateur athletes. Team GB came top of the league table for boxing, scoring five medals overall including three golds, one silver and one bronze, including a gold in women's boxing for flyweight Nicola Adams. Women's lightweight was won by the Republic of Ireland and women's middleweight by Kazakhstan.
I'm sold – where can I take part?
Ancoats Lads Amateur Boxing Club and Shannon's (Openshaw) Amateur Boxing Club (Crossley House, 755 Ashton Old Road, Openshaw, M11 2JH. 0161 273 5571 / 07955 912 257)
Bridgewater Salford Amateur Boxing Club (Cobden Street, Salford, Lancashire M6 6WG. 07960 428 541)
Elite Boxing (Unit 1, Wordsworth Mill, Wordsworth Street, Halliwell, Bolton, BL1 3ND. www.eliteboxing.co.uk 01204 493 563 / 09927 039 239)
Jimmy Egan's Boxing Academy (34 Mottorshead Road, Wythenshawe, Manchester, M22 6AD. www.jimmyegans.co.uk 07886 035 030)
Ken Dobson Mancunian Boxing Club (82 Railway Arch, North Western Street, Manchester, M12 6DY. www.mancunianboxing.co.uk 0161 273 3922 / 07580 972 086)
Moss Side Boxing Club (137-139 Princess Road, Moss Side, Manchester, M14 4RE. www.mccr.org.uk/public/moss_side_boxing_club 0161 232 9900)
Moss Side Fire Station Amateur Boxing Club (Denhill Road, Moss Side, M15 5NR. 07734 275 677)
Old Trafford Amateur Boxing Club (Old Trafford, Lancashire, M16 7GX. 0161 232 114)
Salford Lads Amateur Boxing Club (Salford, Lancashire, M5 3RX. 0161 737 6969)
---
Canoeing: Slalom
What is it?
Canoe Slalom is precise and exciting, the perfect sport for adrenaline junkies as it provides dangerous tests of speed, strength and sheer determination. Competitors slalom down a 300m white-water course in timed runs, negotiating up to 25 gates (red upstream, green downstream). Touching a gate adds a two second penalty to the overall time, while 50 seconds are added if a gate is missed altogether. The winner is the competitor with the quickest time after penalties are accounted for.
Canoe SlalomWhat does training involve?
An hour's canoeing burns 287 calories, with paddling an excellent way of toning arm and leg muscles. The strain of fighting against the power of the water also helps increase strength of the upper arms, forearms and grip.
Could it be me?
France topped the chart with golds in the women's kayak and men's canoe single. Team GB came a respectable second, medalling twice in the men's canoe double with gold going to Tim Baillie and Etienne Scott and silver to David Florence and Richard Hounslow. There was only one women's entrant for Team GB, Lizzie Neave (she came twelfth in the women's kayak semi-final, despite achieving the second fastest time in the heats), and so this is definitely an area to bolster before Rio 2016.
I'm sold – where can I take part?
Manchester Canoe Club (Dale Road, Stockport, SK6 6NL. www.manchestercanoeclub.org.uk)
---
Cycling: BMX
What is it?
The most recent sport to have been added to the programme, BMX cycling only made its debut as an Olympic sport at the Beijing 2008 Games but was instantly popular. Undoubtedly one of the coolest sports on the Olympic programme, BMX cycling is fast, dangerous and thrilling. Over a series of qualifying heats, riders have to navigate a difficult and bumpy course full whilst trying to complete jumps, outmanoeuvre their opponents and avoid collisions.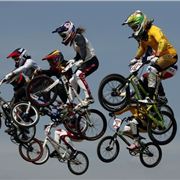 BmxWhat does training involve?
Riding a BMX bike at speed for an hour burns approximately 610 calories. BMX cycling increases endurance, agility, physical coordination and muscle strength. Lifting the handlebars to perform jumps and tricks requires strong biceps and triceps.
Could it be me?
In 2012 Gold for the men went to Latvian Maris Strombergs, gold medallist in Beijing and nicknamed 'The Machine'. Women's gold went to Mariana Pajon of Columbia. London 2012 catapulted young Manchester riders Shanaze Reade (also GB's favourite for BMX gold in Beijing) and Liam Philips, both 23, into the spotlight as potential medal earners. Unfortunately failing to grab the coveted medals, they nonetheless rode well in their respective finals and, along with their road and velodrome-based opponents, helped to seal Manchester's reputation as the spiritual home of British cycling. The National Indoor BMX Centre in Manchester has reported a deluge of hundreds of new applicants since Team GB's remarkable cycling success at London 2012, and so you could be competing with a lot of other new riders looking to take up the sport.
I'm sold – where can I take part?
National Cycling Centre (Stuart Street, Manchester, M11 4DQ. 0161 223 2244 www.nationalcyclingcentre.com)
Platt Fields Park BMX Track (Wilmslow Road, Manchester, M14. 0161 224 2902)
---
Diving
What is it?
Visually impressive, Olympic diving requires competitors to enact a variety of acrobatic movements before entering the water smoothly and gracefully at speeds of up to 40 miles per hour. Competitive diving developed from gymnastics in the eighteenth century, and was included in the Olympic Games for the first time in 1904. Both springboard and platform events have been included since the 1908 Olympic Games, with women having taken part since 1912. The competition is evenly split along the genders with three events for men and women; individual and synchronised pair competitions in both the 3m springboard and the 10m platform. Before competiting athletes submit a list of the dives they intend to perform, with judges awarding a score for each dive based on its difficulty and exaction. The diver with the highest combined score wins.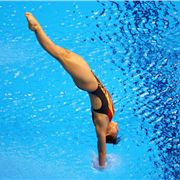 DivingWhat does training involve?
Diving is pretty much a full body workout; it requires a burst of energy to spring off the board or platform and the somersaults and twists made in the air engage the lower body, upper back, shoulders, abs and arm muscles, with huge amounts of concentration and coordination needed too. One of the safest ways to get an adrenaline rush, total dedication and hours of repetitive practice are needed to master this discipline. However because it's quite explosive an hour's activity will only burn around 197 calories.
Could it be me?
China are the undisputed champions of diving, snatching ten medals at London 2012 including six golds; in men's and women's synchronised 3m springboard, men's and women's synchronised 10m platform, women's 3m springboard and women's 10m platform. Other diving heavy hitters are the USA, who have won more Olympic medals in diving than the rest of the other top eight medal-winning nations combined. In London they came second in the medal table with a gold (men's 10m platform) two silvers and a bronze. Team GB achieved one medal; teenage heartthrob Tom Daley's bronze for men's 10m platform.
I'm sold – where can I take part?
Bury Dragons Diving Club (Castle Leisure Centre, Bolton Street, Bury, BL9 0EZ. 0161 253 6513)
Manchester Aquatics Centre (2 Booth Street, East Ardwick, Manchester, M13 9SS. 0161 275 9450)
Oldham Diving Club (Oldham Sports Centre, Lord Street, Oldham, OL1 3HA. 0161 207 7000)
---
Rhythmic Gymnastics
What is it?
It's poetry in motion. Rhythmic gymnastics is a sport in which individuals (or teams) manipulate clubs, hoops, balls and ribbons and free (no apparatus). An individual athlete only manipulates one apparatus at a time.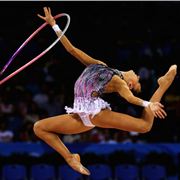 Rhythmic GymnasticsWhat does training involve?
A top-level gymnast must engage in rigorous training sessions. They must have many qualities: balance, flexibility, coordination and strength are some of the most important. They also must possess psychological attributes such as the ability to compete under intense pressure and have the work ethic to practice the same skills over and over again.
Could it be me?
If you're a female, yes. Olympic rhythmic gymnastics is only for female participants. Girls start at a young age and become age-eligible to compete in the Olympic Games and other major international competitions on January 1 of their 16th year.
I'm sold – where can I take part?
Stockport Rhythmic Gymnastics Club (Stockport School of Gymnastics, Broomfields Road, Appleton, Cheshire, WA4 3AE. www.stockportgymnastics.co.uk 01925 479 037)
Trafford Rhythmic Gymnastics Club (George H Carnall Leisure Centre, Kingsway Park, Urmston, Manchester M41 7FJ. 07885 762 920 www.traffordrhythmicgymnnasticsclub.com)
---
Equestrian: Dressage
What is it?
The International Equestrian Federation describes it as 'the highest expression of horse training' where 'horse and rider are expected to perform from memory a series of predetermined movements.' In modern Dressage competitions, the horse and rider perform a series of movements known as a Dressage test. The tests are performed before a panel of seven judges, who award scores for individual movements and for the overall routine.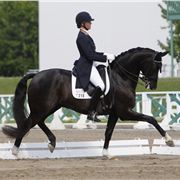 DressageWhat does training involve?
For a beginner, the training level is comprised of three tests. These tests include walk, trot and canter work. They also contain movements that require the rider to lengthen their reins allowing to horse to stretch his neck downward.

Could it be me?
Charlotte Dujardin – Team GB team dressage gold (member of a team of three – also Carl Hester and Laura Bechtolsheimer) – has been riding grand prix dressage for only two years. GB have a strong presence at the dressage, also securing gold at individual dressage (again Charlotte Dujardin)
I'm sold – where can I take part?
British Young Riders Dressage Scheme (www.britishdressage.co.uk/yourregions/northern_region#Vikki)
Carrington Riding Centre (Isherwood Road, Carrington, Manchester, M31 4BH. 0161 969 5853 www.carrington-rc.com)
Croft Riding Centre (Spring Lane, Croft, Warrington, Cheshire, WA3 7AS. 01925 763 715 www.croftridingcentre.co.uk)
Crow Wood Equestrian (Royle Lane, Burnley, Lancashire, BB12 0RT. 01282 471 906 www.crowwoodequestrian.com)
Kenyon Farm Riding School (Boarshaw Lane, Middleton, Manchester, M24 2PA. 0161 643 3900 www.kenyonfarm.co.uk)
North Cheshire Equestrian Centre (Ackers Farm, Carrington Lane, Manchester, M31 4AE. 0161 973 1672 www.ncecentre.co.uk)
Rochdale & District Riding Club (Roch Valley Way, Rochdale, OL11 4QH. www.rochdalerc.co.uk)
---
Handball
What is it?
In a nutshell, two teams of seven players pass a ball to throw it into the goal. standard match consists of two periods of 30 minutes, and the team with the most goals scored wins.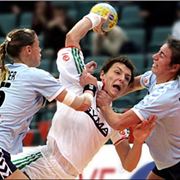 HandballWhat does training involve?
Speed, skill and stamina. Oh and a bottle of water. You'll need it.

Could it be me?
Historically, the three most successful nations are Denmark, Korea and Russia in the women's and Russia, Yugoslavia and Sweden in the men's Olympic competitions. Definitely a gap in the market then for Team GB.

I'm sold – where can I take part?
Bolton Handball Club (www.salfordhandball.org.uk/Bolton_Handball/bolton_handball.html)
Manchester Handball Club (Levenshulme Energy Box, Levenshulme High School for girls, Crossley Road, Manchester, M19 1FS. 0161 224 4625 www.manchesterhandballclub.co.uk)
Mancunian's Rugby League Handball Club (Broughton Park, Hough End Crescent, Chorlton cum Hardy, Manchester, Greater Manchester, M21 7TL. 07872 567303 www.mancuniansrl.com) (opening in September)
North East Manchester Hawks Handball (07966 473845)
Salford Handball Club (www.salfordhc.wordpress.com)
---
Fencing
An ancient sport, fencing has featured in every modern Olympic games since 1896. Ten events were contested at London 2012; men's individual and team epee, individual and team sabre and individual foil, and women's individual and team foil, individual and team sabre and individual epee. Matches take place on a 14m long piste which is only 1.5m to 2m wide. Individual bouts last for three rounds of three minutes or until a competitor scores fifteen hits against their opponent. In the team events, teams of three fencers compete against their opponents over a series of nine bouts, aiming to accumulate a maximum of 45 hits.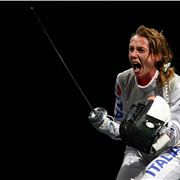 FencingWhat does training involve?
Fencing is fast, dynamic and explosive and so it hones all round fitness and stamina and also helps to tone muscle, build core strength, improve concentration and focus and increase balance and agility. Fencing burns approximately 408 calories per hour and is suitable for all ages – Austrian Karl Munich was 64 when he competed at the 1912 Olympics games in Stockholm.
Could it be me?
Any upcoming British fencer faces a tough challenge for Rio 2016 with GB's sole Olympic fencing gold coming over 50 years ago, and no medals of any colour won since 1964.
Team GB won no fencing medals at London 2012, however the men's group put up a good fight against later team foil champions Italy in the quarter finals, losing 45-40. Italy were the undisputed champions at London 2012, winning seven medals including three golds. South Korea came a close second reaping six medals overall, two being golds. At this stage there are slender hopes for a GB medal at Rio 2016, leaving all the more space for a surprise entry.
I'm sold – where can I take part?
Manchester Fencing Club (West Hill School, Stamford Street, Thompson Cross, Stalybridge, SK15 1LX. 0161 338 3384 www.manchesterfencingclub.org.uk)
Salle Kiss Fencing Club (07887968117 www.sallekiss.org.uk)
---
Shooting
What is it?
Shooting as a sport has been practiced in European countries for hundreds of years, and has featured on every Olympic programme bar two since the first modern Games in 1896. Modern Olympic shooting is split into the three disciplines of rifle, pistol and shotgun with five events in each section. In the rifle and pistol competitions, marksmen aim at stationary targets ranging from 10m to 50m away but in the shotgun event, competitors shoot at moving clay targets.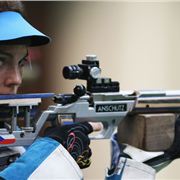 ShootingWhat does training involve?
Shooting can be an extremely tense sport to compete in, regarding lots of concentration and bags of nerve. Skill, stamina, hand-eye coordination and good fine motor skills are also useful. As shooting events rely on mental power, people of all ages can compete against each other on equal terms. Oldest gold medal winner in Olympic history remains Sweden's Oscar Swahn, who was part of the single shot running deer team aged 64.
Could it be me?
Peter Wilson double trap gold (coached by Sheikh Ahmed Al Maktoum, a member of Dubai's ruling family and the 2004 Olympic champion in the event.) South Korea – 5 medals, three golds two silvers. USA – three golds, one bronze. Italy two golds, three silvers. China two golds two silvers three bronze.
I'm sold – where can I take part?
Manchester Clay Shooting Club (Botany Bay Woods, Grange Road, Eccles, Manchester, M30. 0161 653 2238 / 07761 409 427 www.manchesterclayshooting.com)
Marple Rifle and Pistol Club (0161 427 9133 www.marplerifleandpistolclub.org.uk)
---
Synchronised Swimming
What is it?
Synchronised swimming demands strength, flexibility, endurance, rhythm, acrobatic artistry and technical skill. Routines are strenuous and precise, requiring performers to hold their breath for periods of more than a minute as they enact a dizzying array of acrobatic kicks, flips and turns, mostly while upside down in the water. There are two events, duet and team, each comprising of technical and free routines. Marks are rewarded half for artistry and half for technique.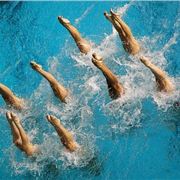 Synchronised SwimmingWhat does training involve?
Athletes train extremely hard, putting in ten hour days at least five days a week. The 'egg-beater' kick is a powerful method of treading water which allows swimmers to get their bodies out of the water enough to make arm movements above the surface. One of the most important synchronised swimming techniques, it hones core muscle strength. The effort required to compete saw synchronised swimmers ranked second only to long-distance runners when the aerobic capacity of athletes from the different Olympic sports were compared.
Could it be me?
There were six medals in total up for grabs over the duet and team competitions – Britain unfortunately got none despite predictions. Russia won gold in both (silvers and bronzes to China and Spain respectively) GB Duet team Jenna Randall and Olivia Federici were our favourites to make it onto the podium after receiving a silver at the 2010 Commonwealth Games but they bombed out, coming in a disappointing ninth place. However, they were the first British synchronised swimming duet to reach an Olympic final in twenty years. The GB team came sixth, a great effort considering it was the first time they had entered the Olympic event.
I'm sold – where can I take part?
Irlam and Cadishead Leisure Centre (Liverpool Road, Irlam, M44 6BR. 0161 775 4134)
Stockport Metro Swimming Club (Grand Central Pools, 12 Grand Central Square, Wellington Road South, Stockport, SK1 3TA. 0161 429 0401 www.stockport-metro.co.uk)
Trafford Synchronised Swimming Club (Sale Leisure Centre, Broad Road, Sale, Cheshire, M33 2AL. 0161 282 5037)
Taekwando
What is it?
From the fact that 'Tae' means 'to kick or smash with the foot' and kwon means 'to destroy with the fist', it's clear that Taekwondo is not for the faint-hearted. This however hasn't deterred more than 60 million people worldwide getting involved, and it became an official Olympic event at the 2000 games. For men there are four weight categories; -58kg, -68kg, -80kg and +80kg. For women the weight categories are -49kg, -57kg, -67kg and +67kg. All are played in a knockout format. Contests take place within a court of 8m by 8m. The object is to land kicks and punches on your opponent, receiving one point for a kick or punch to the torso, two points for a spinning kick, three points for a kick to the head and four points for a turning kick to the head. The action takes place over three two-minute rounds, with the winner the athlete with the most points at the end of the three rounds. If an athlete is knocked or counted out their opponent is automatically declared the winner.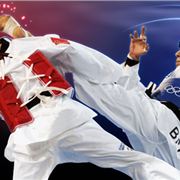 TaekwondoWhat does training involve?
Taekwondo burns around 730 calories per session and also improves balance, coordination, flexibility and general fitness. Non-contact Taekwondo (known as Poomsae) is highly effective for conditioning and strength-building. Taekwondo is also an effective form of self-defence training because of the strikes and evasive manoeuvres involved.
Could it be me?
Britain's first official taekwondo medal came in 2008 with a bronze for world champion Sarah Stevenson in Beijing. At London 2012 team GB were awarded two gold medals; a gold for Jade Jones (women's -57kg) and a bronze for Lutalo Muhhamad (men's -80kg). Spain and China topped the table, hauling three medals each.
I'm sold – where can I take part?
JM Taekwondo (07738 497 319 www.jmtaekwondo.co.uk)
Manchester TKD (Holy Cross Sixth Form College, Manchester Road, Bury, BL9 9BB. (www.manchestertkd.co.uk)
Shins Academy of Taekwando (557 Chester Road, Old Trafford, Manchester, M16 0QW. 0161 848 7426 www.shinsacademy.co.uk)
Sunnybank Taekwando (106 Bury Old Road, Ainsworth, Bolton, BL2 5PQ. 07413 377 230 www.manchestertaekwondo.co.uk)
Trident Taekwando Academy (3 John Street, Sale, Manchester, M33 7GA. 0161 973 8953 / 07974 649 015)