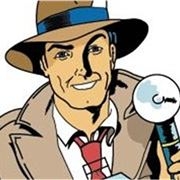 SleuthSleuth is a sideways glance at the city every week, it's the truth, but Sleuth's truth. He's several people all at once. We give £25 for every story/rumour and piece of absurdity you find for us to publish. Sleuth sometimes even gets serious. We ask for the money back if any legal action follows. Follow Sleuth on twitter @mcrsleuth
LIFE FOR LEFTBANK
Leftbank has been the sorry end of Spinningfields for some time now. Deceased and empty units, overpriced flats and those god awful coloured face panels. Yuk.
But Leftbank is bubbling back to life. Sleuth's received word this week of two new restaurants making moves on Leftbank; three weeks ago Sleuth announced that MediaCityUK's popular Dockyard bar will take up the empty former Cafe Rouge unit in Leftbank; 'Spinningfields Kitchens' will give six small-time food vendors a crack at the restaurant game in some of the empty units this summer; and there's currently workers knocking up the ten-storey Cotton Building opposite RBS which promises 30,000 sq ft of space designed for public amenity including leisure facilities, a bike park and a climbing wall
Speaking of climbing walls...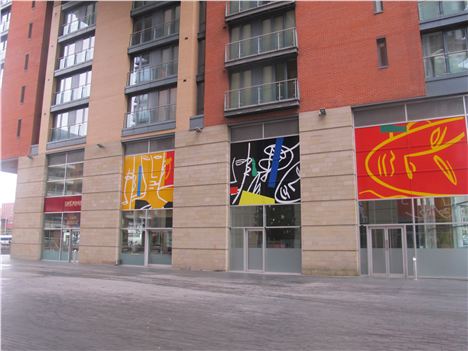 Empty Leftbank soon to have life
MOUNTING A MAN'S BEARD TO GET FIT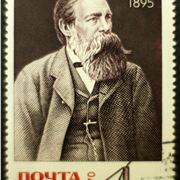 NQ bar application picFriday 28 November is Black Friday in which people go mad and buy crap they don't want. It's also the 193rd birthday of Friedrich Engels, the chief prophet, with Karl Marx, of Communism and man who lived for 22 years in Manchester. They probably wouldn't have applauded Consumer Hell Friday. There's a tour about Engels this evening that ends in a pub singing Happy Birthday to him. Even more curiously there's a climbing wall at Salford University on its way, styled on Engels' not inconsiderable beard and craggy features - click here. Given the voguish nature of beards at present Sleuth heartily approves, although getting supple and fit by mounting a dead man's facial hair is curious.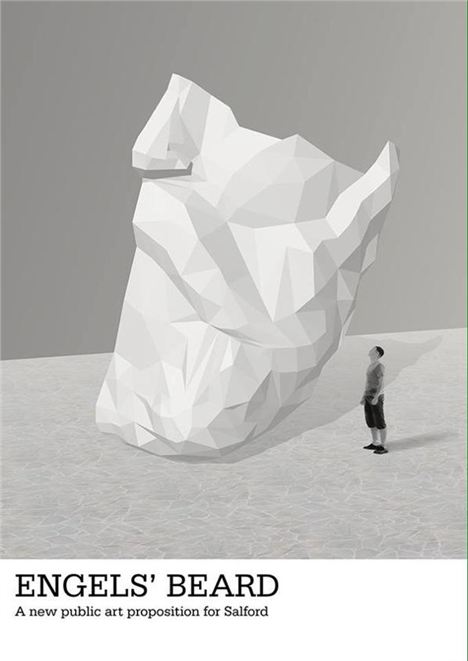 Get on that beard
ENGLISH HERITAGE'S CHANGE OF MIND 
Sleuth's been following the inquiry into the Library Walk public right of way story with interest. As this story shows - click here. Sleuth's been reading the Freedom of Information Act material concerning the correspondence between Manchester City Council and English Heritage's NW office, who needed to grant permission for the wart-building (aka Sir Richard Leese's Folly) to be erected between two listed buildings, the Town Hall Extension and Central Library.
There's going to be a deeper article on this next week but it reveals English Heritage were against the building of the glazed link and the blocking of Library Walk on heritage grounds but then later changed their position accepting the business case put by Manchester City Council - which many witnesses to the Inquiry have just picked big gaping holes in.
The message seems to be use your muscle, keep on and on about emotive issues such as disabled access and mothers with prams and legitimate heritage concerns and the maintenance of public rights of way will fly out of the window under Council pressure. Of course, as it stands now - before wart-building opens - there is superb access for all citizens between and into both buildings, so, once again, why has this £3.5m waste of money been visited on us?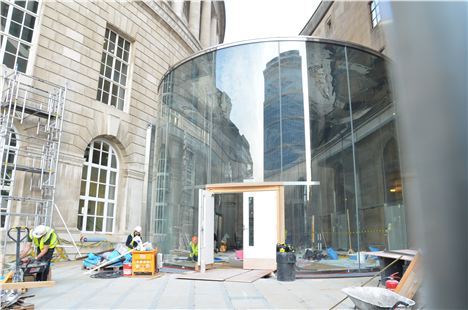 Failure of judgement - the wart-building
ENGLISH HERITAGE'S LONDON ROAD FIRE STATION SHAME
Until the inspector reports back on the result of the Library Walk Inquiry we don't know what the outcome maybe for wart-building but we do know this is the second time English Heritage failed with a judgement call. In 2011 they supported Britannia Hotels in getting a CPO thrown out having received promises that Britannia Hotels would imminently start work on London Road Fire Station and convert it to a hotel. The promises were broken and the boss of English Heritage sent this letter (click here) to the company. It was a slap on the wrist for Alex Langsam, boss of Britannia Hotels, and egg on the face for English Heritage. Now we're back in the same pickle for the three decades neglected building as recent history has shown.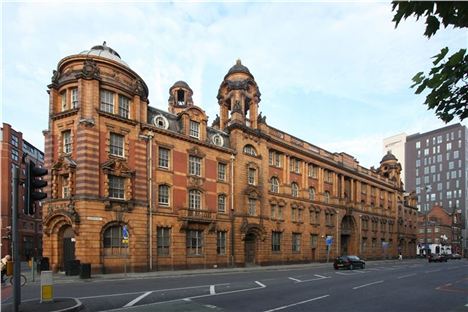 London Road Fire Station
A NEW CIVIC SOCIETY?
Following the public campaigns by Morag Rose and the Friends of Library Walk and Adam Prince of Friends of London Road Fire Station, several commentators in the city are calling for a more permanent non-council or business affiliated action group to monitor policy decisions made deviously (as Library Walk was) or seem counter to any common sense (as Library Walk is) or to campaign for action against behemoths such as Britannia Hotels Group. Shame that Manchester Civic Society, which started off with such promise a decade or more ago, has committed hari-kari through incompetent leadership (what have they been up to during these important campaigns?) and become utterly pointless. Manchester Civic Society's time has come and gone. Sleuth agrees that it's time for a new body with a new name to monitor decisions from a citizen's point of view. Any suggestions for a title?
BEER FESTIVALS AND RATS
Sleuth overheard this pub conversation between three men. "I was at a beer festival in Grasmere the other day." "Really, I was at a beer festival in a Manchester pub at the same time." "And I was at one in Derbyshire." "That's the thing with beer festivals now, they're like rats." "Eh?" "You're never more than ten metres from one."
CHAINS FOR KRO
As Sleuth expected, two much-needed chains have been announced for the recently expired KRO bar on Piccadilly Gardens. The city's third Byron Burger and ASK, an Italian chain restaurant. Burgers and Italian food. Thank God for that...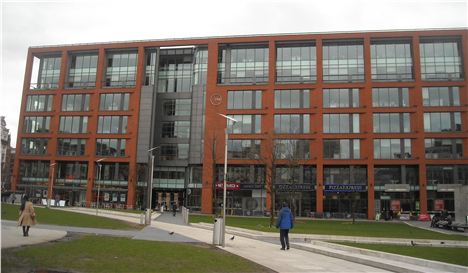 Kro, Piccadilly Gardens
CHAIR MEN
Sleuth was at the Pot Kettle Black bash last night with St Helen's rugby boys, Jon Wilkin and Mark Flanagan, who've sparked a bit of life into Deansgate's Barton Arcade with their handsome new coffee house. The pals were celebrating the success of their opening few months and the gaining of a booze licence (nearly). PKB will now be opening a bit later and hosting live music nights – tonight (Fri 28 Nov) they've got someone in playing from The Gramotones (see here @PKBcoffee). Sleuth is pleased for Wilkin and Flanagan, after telling Sleuth 'they need something other than rugby to fall back on', the boys have worked hard to get this place buzzing.
Still, as mighty as these Rugby chaps may look, mention a mouse and they're up on their chairs faster than an eighteenth century kitchen maid (there was no mouse, Sleuth made it up for a laugh)…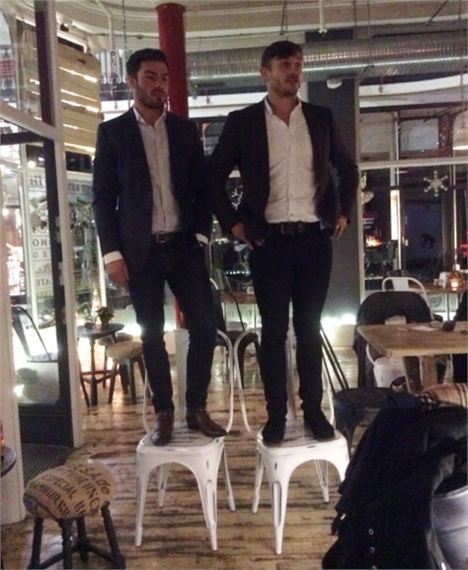 "Has it gone yet?"
BEZ NEWS
And in this week's Bez News, having watched 4OD's online series, 24 Hour Party Politics, in which Bez runs for MP of Salford, entertainment and media website Digitalspy.co.uk have published nine reasons why they think Mark 'Bez' Berry should make it all the way to Downing Street. They include:
1. Everything will be free.
3. He'll sort your bins out.
6. Shaun Ryder could be Culture Secretary.
...he'll still probably get more votes than the yellows.
BLACK FIGHTDAY
Sleuth hears that police were called to seven Tesco stores across Greater Manchester last night, following fighting at 'Black Friday' sales events. 200 people in Middleton refused to leave the store despite being told that all the sale stock had gone. Sleuth just doesn't get it. Sleuth has never wanted anything so much that he'd threaten to 'smash' a staff member's face in (this actually happened in Salford), let alone a bloody television.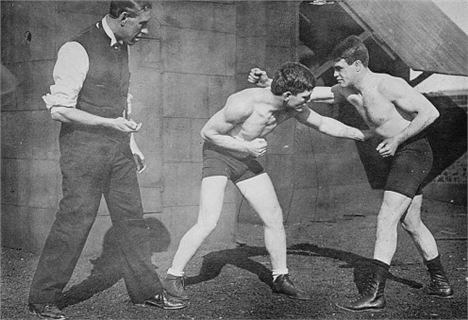 "I think Sir, you'll find that's my LG 50" Plasma..."