THE debate around Page Three has changed since the 80s, when it was one of the main political battlegrounds for feminists and liberals.
These days, for many, Page Three is merely an anachronistic throwback to a Benny Hill culture. Outside of its tabloid target audience, it's embarrassing yet seemingly harmless enough to turn a blind eye to.
But three weeks ago author Lucy-Anne Holmes decided enough was enough. Having picked up a copy of The Sun at a train station and opened page three, she said she felt 'sad to her very core.' Consequently, she began a campaign to stop The Sun from publishing its Page Three feature.
Growing up in the late 80s and early 90s it's easy to see why The Sun had such a big impact on Lucy-Anne, but today young girls live in an all pervasive culture of sexual objectification.
She said: "I picked up a copy of The Sun during the Olympics. It was just after Jessica Ennis had won her amazing gold medal. But the largest image of any female in this issue was of a young woman in just her pants. It really got me thinking. I was literally waking in the night, going 'I can't be the only one who feels this strongly that these images shouldn't be in a newspaper'"
After sending letters to Dominic Mohan, editor of The Sun, and getting no response, she launched her No More Page Three petition on Change.org and began promoting it through Twitter and Facebook.
The petition has nearly 8,000 signatures so far and her campaign has been written about in a number of papers including The Guardian. But not everyone agrees with Lucy-Anne's plight.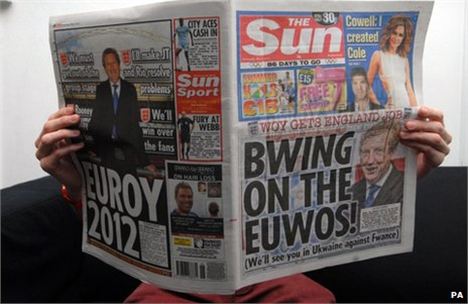 Should Page 3 be banned?
Alison Webster, a glamour model photographer for 30 years who freelances for The Sun is surprised by the uproar. She said: "The photographs have stayed the same for 40 years. They've not got any more explicit. It staggers me that some, particularly young people, still have an issue with them."
The main reason Page Three is not the contentious issue it used to be is because The Sun is just one part of a media culture that is mainstreaming the images of soft pornography – from reality TV to music videos, young girls are being bombarded with pornified images of women.
When explaining the reason she's specifically targeting Page Three, Holmes said: "Because we believe that Page Three being in a family newspaper is the biggest thing that normalises the sexual objectification of women in this country."
The growth of online pornography is often identified by some feminists as the reason the new hypersexual media environment exists. Lucy-Anne Holmes or anybody else who objects to Page Three has to face the reality that unfortunately images far more degrading are available to anyone with an internet connection.
The issue raised by supporters of the campaign points to the fact Page Three prioritises sexiness in women over all other female achievements and offers young girls a very narrow physical ideal of what sexiness is. Alison Webster, however, disagrees.
She said: "The argument is the wrong way round. If you have a problem with your body, if as a child you grew up with certain body issues, then I can see how Page Three could affect you. But if you are comfortable with yourself then it will have no affect on you at all."
Carla Bellucci, a former glamour model who now runs Twenty One Model Management, thinks Page Three is a tradition and is harmless fun. And what's more, the models enjoy what they do.
She said: "I see both sides of the argument about how it affects women's confidence. But it won't offend you if you are happy with yourself. All our models enjoy the job. You couldn't be in this industry if you didn't enjoy it and it helps with me being a woman – they are more comfortable and know they'll get looked after."
It could be argued young girls are actually more likely to read the Daily Mail than The Sun anyway; the extremely popular Femail section holds women up to an even higher standard of beauty. But Lucy-Anne Holmes specifically cites The Sun as the catalyst for her own negative relationship with her breasts at the age of eleven in the video below.
Growing up in the late 80s and early 90s it's easy to see why The Sun had such a big impact on Lucy-Anne, but today young girls live in an all pervasive culture of sexual objectification. The effect of this is shown in a poll conducted last year by More! magazine showing that 72 per cent of women in their 20s would like to have plastic surgery. The fact glamour modelling is now considered an aspirational profession is incredibly worrying and shows just how highly valued sexual appeal is. However, it's certainly not the profession Holmes is getting at.
She said: "We have nothing against these beautiful women doing what they do. We just don't feel it should have a place in a family newspaper. There's a thriving glamour industry in the UK. And Page Three is a brand we feel quite sure that Murdoch will continue to use in some form. These ladies won't be out of work."
Lucy-Anne Holmes' campaign has certainly become a talking point for a very valid point. It's also given women the opportunity to vent their frustration at the everyday objectification and misogyny they experience with comments on the petition including: 'I've got two daughters now and I expect the world to have a more positive view of their contribution' and 'women contribute to society in many ways that do not involve a man's erection.'
Page Three should be viewed in the same way as Miss World – most people wouldn't miss it if it was gone. But the bigger, more worrying picture, unfortunately goes way beyond a pair of boobs in one paper.