HOWEVER you regard Easter, it's the time of the year for rebirth and renewal, fresh hope, optimism and growth.
It's a brave idea, and one which worked.
In this spirit, Campfield Market was home to a remarkable production of The Passion, presenting a fully-staged, abridged version of Bach's iconic oratorio St Matthew Passion, in a collaboration between one of the world's most highly regarded choirs, The Sixteen, and the award winning Streetwise Opera, whose performers are people who have experienced homelessness.
It's a brave idea, and one which worked. The collaboration brought a range of experience and outlooks to present the well-known story, specifically Christian but portraying universal themes, challenging the audience to look again and developing confidence and esteem among its participants.
The two-night event quickly sold out, but can be seen on BBC's iPlayer for the next few weeks, and there's an unedited version on YouTube too.
Streetwise Opera has been working for some time with two groups in Manchester – one at the Booth Centre, a day centre for homeless people, and another in the community, for people who have been re-housed and other vulnerable adults. Strong relationships and trust have been built and are reflected in the production which meets challenges head-on.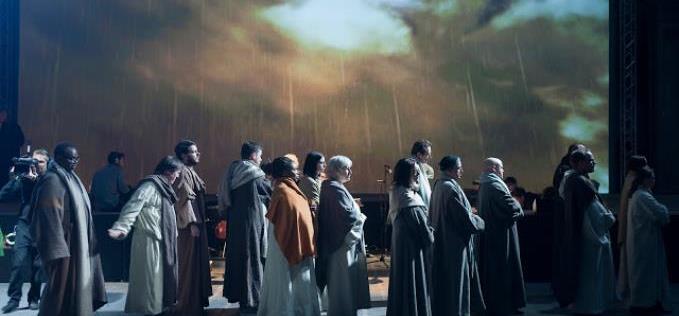 Streetwise Opera (Photo credit: Graeme Cooper)
It has the power to transform potential weaknesses into strengths; spreading the role of Jesus among eight different performers consecutively stresses his universality and vulnerability, while allowing individual inexperienced performers a non-too demanding spell in the limelight. The use of giant projection screens allows a standing audience of hundreds to experience the power of occasional close-ups while not missing the more distant elements of a promenade performance.
A modern-day 'resurrection' finale, allows redemption and hope to follow the suffering of the trial and crucifixion and ensures that performers' own voices are heard; they wrote the libretto and James MacMillan the music.
Under the direction of Penny Woolcock, the Streetwise Opera performers bring a stunning level of dignity to their roles. There's a great sense of stillness in what they do. They exude confidence and act in accordance, unfazed by either the close-up work or on-screen giant projections. In this respect they hold their own in the company of some of the industry's greatest practitioners.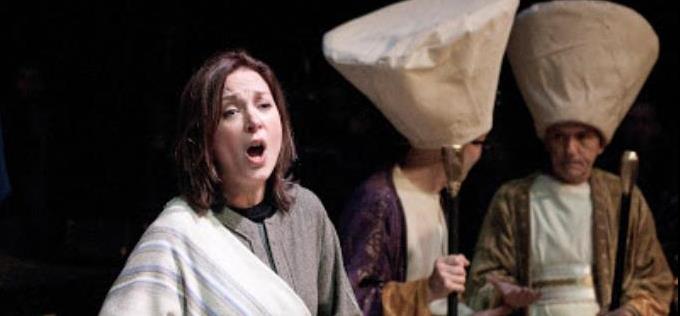 The Passion (Photo credit: Graeme Cooper)
Speaking to some of the performers after the show, I heard that they did experience nerves. Knees were knocking, I was told, and the long costumes were very welcome.
"This is what you get when you believe in people," said Matt Peacock, founder and CEO of Streetwise. 'Streetwise Opera's work strives for both artistic and social impact through collaborations between the greatest professional artists and ensembles and our inspiring cast.
"To be working with The Sixteen, Penny Woolcock, Sir James MacMillan, HOME, the Booth Centre and a number of other social welfare agencies in Manchester is a dream come true."
Achievements like this cannot help but influence people's lives. Amanda of Croome, CEO of the Booth Centre, tells me how important their lasting effects are, particularly in building confidence and commitment. Some of the performers are currently rough sleepers, yet despite the challenges this brings they're regularly on time to weekly rehearsals.
Apparently Matt Peacock was in part motivated to set up Streetwise by remarks of former MP Sir George Young who'd 'joked' that the homeless were 'the people you step over when you come out of the opera'. Sometimes, now, thanks to an array of talent, they're the people in the opera.
If you would like to make a donation to assist with helping people change their lives you can use one of these links:
Powered by