LET us go then you and I and dream of grand schemes on riverbanks, trees on rooftops. Let us, sir, imagine big, but with humility, conjuring dainty streets filled with independent shops. For it is writ this will be the future, and yea, the sun will always shine.
At every third floor we have more 'winter gardens' linking all three towers, lifts debouching residents into green communal areas where, without scooting all the way down to terra firma
I love big development models.
There's a childhood joy about walking around them, a railway set moment. The unmade future always seems attractive, a place of opportunity, unspoilt, except of course to cynics and pessimists and why should we listen to them, bores one and all.
In the bowels of the old Granada Studios more dreams are being dreamt.
After consultations and talks Allied London has made concrete plans for St John's Quarter and Trinity Fields (a new name for two large parcels of land between the Castlefield viaducts and the River Irwell) - a scheme with a total value between £1.2bn to £1.5bn. To put that into perspective Spinningfields is currently valued around £2bn.
The model is a disappointment as such things go. You can see right through what Allied London are planning. All the buildings are made from perspex laid over a plan but, with the help of experts and, of course, clever graphics, viewers get the idea.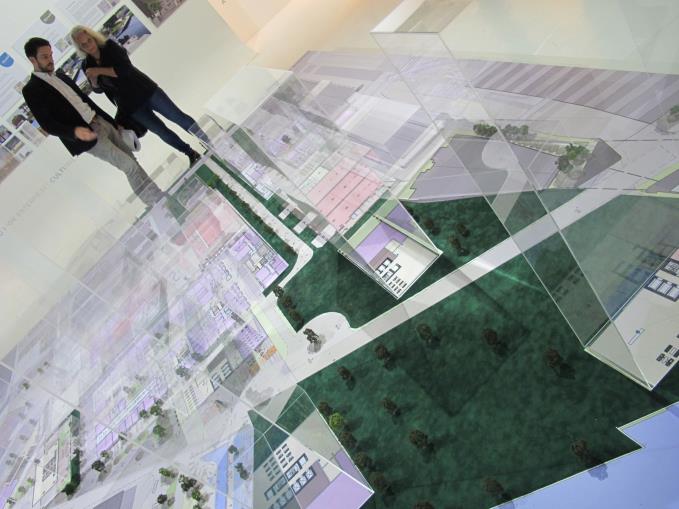 A green boulevard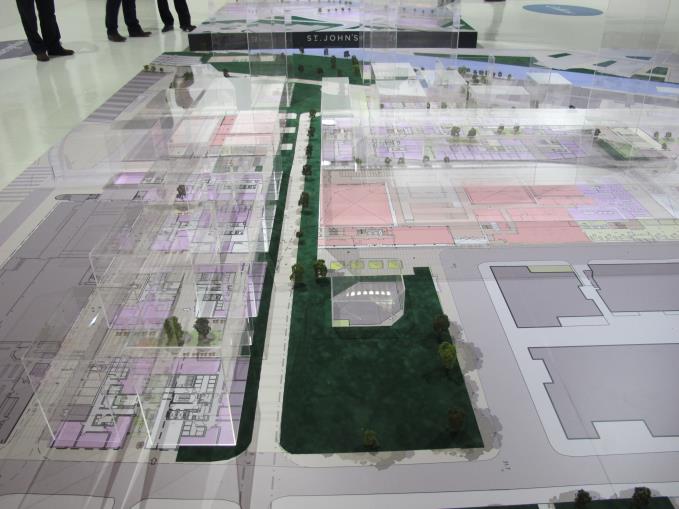 Another view
The first thing that strikes you is the height. There are two towers over 50 storeys high. It might be a boy thing but I like this, I want Manchester to thrust upwards in the city centre. These towers on the south west side of the city centre will add drama and scale to the excitement of Manchester city centre which is all about density and variety.
At the same time Allied London have cocked half an ear to the public consultancy and with the SimpsonHaugh and Partners masterplan given the city a modest but very clear green boulevard.
Start on Byrom Street and walk through the existing St John's Gardens and then the retained studio gardens to a landscaped and leafy street that follows the site of the to-be-demolished 'Coronation Street' set. The route continues past the 1869 Bonded Warehouse, the site of the mooted performance space The Factory, and over a pedestrianised Water Street to a 'park' area similar in size to St John's Gardens. A little to the north the terminal lock of the 1839 Manchester and Salford Junction Canal will have enhanced landscaping.
The landscaping will be designed by Gillespies LLP and if their superb work at MediaCity UK is anything to go by St John's Quarter will be lovely.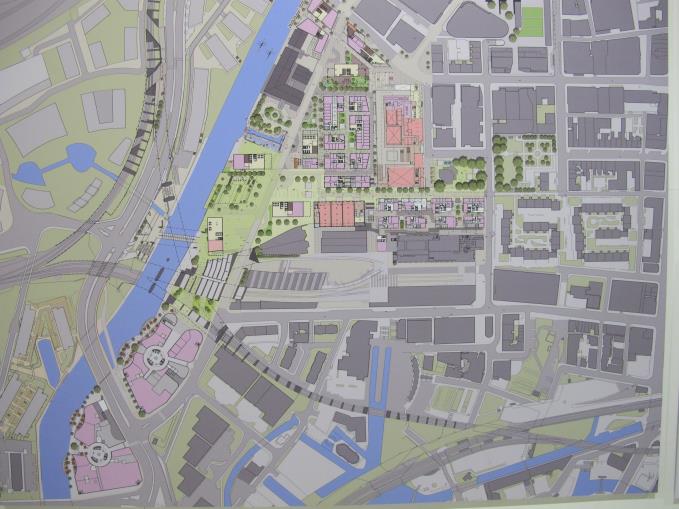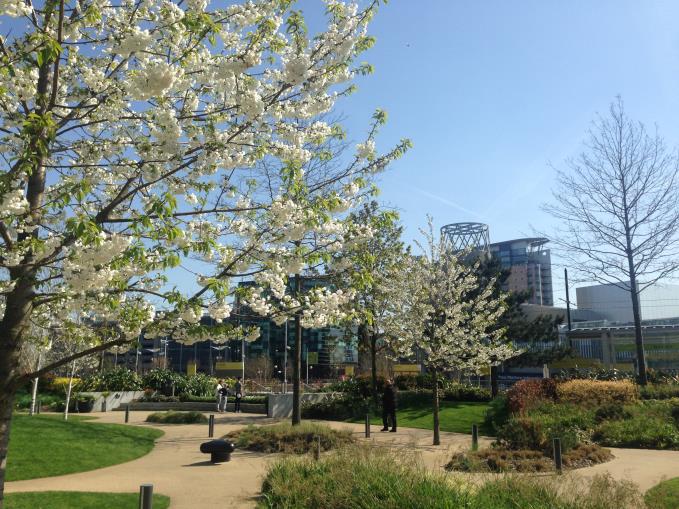 Gillespies' award-winning work at MediaCityUK
En route promenaders will have passed a knot of seven or eight story aparthouses designed by SimpsonHaugh and Partners. These look a lot like sixties modular living. Alison and Peter Smithson eat your heart out. Ian Simpson it seems cannot let those odd old days go. There will even be streets in the sky, Hulme Cresents rise again, so to speak.
This time, of course, there will be wealthier owners and tenants, a higher build quality and proper maintenance and service contracts. The way the three residential towers are scattered across the landscaped areas at the river echoes those heady Modernist days.
At street level there will be retail and food and drink units. "These will be quality independents and one-off operators," says Greg Attwood, development director. He admits Allied London have learnt a hard lesson in Spinningfields by initially placing chain-dross such as Zizzis and Cafe Rouge across the estate. One idea for a Manchester gin distillery in the Bonded Warehouse is particularly exciting. The latter will be refurbished and rejigged by Shoreditch architects Buckley Gray Yeoman.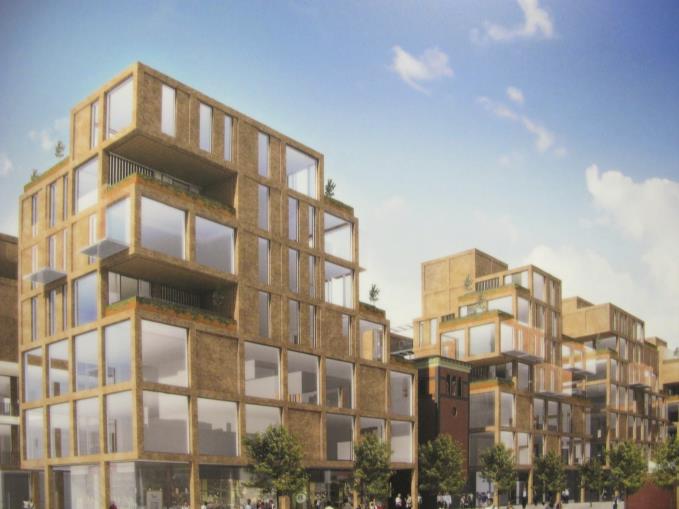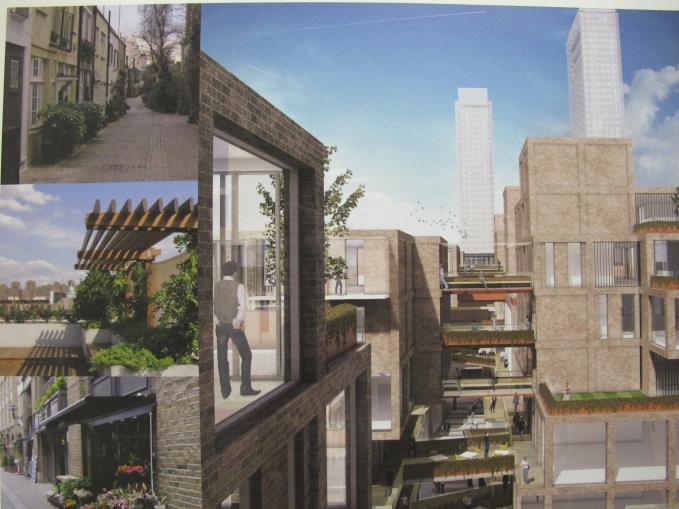 Streets in the sky, 21st century style
The north side of the site will feature the first of our 50-storey residential babes, again from SimpsonHaugh and Partners. The design, or what we can gather from the renders, is typical of the practice. It even has a Beetham Tower top flange, but this will be thicker and feature trees and plants, a 500ft high 'winter gardens' for residents. Underneath this building Ralph Tubbs' 1962 Granada House, presently called HQ Building, is to be thankfully retained as the 150-bed Manchester Grande hotel.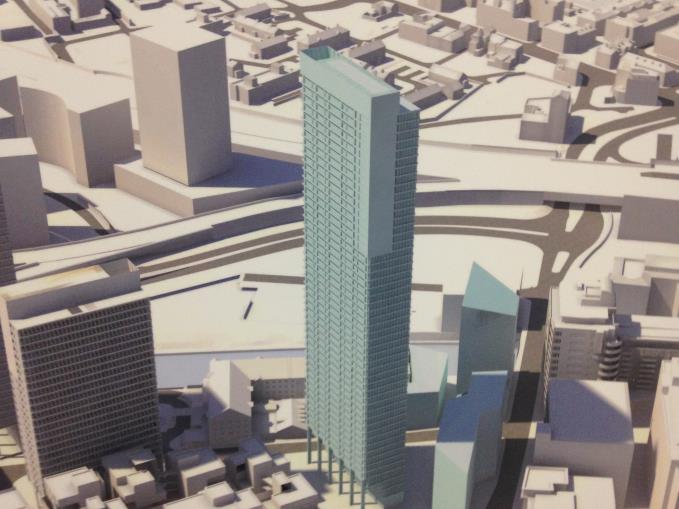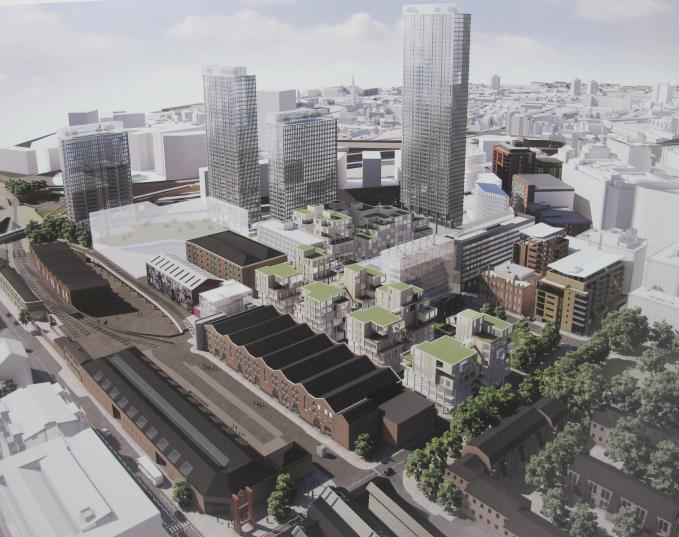 Controversial performance space The Factory will be subject to an international architectural competition. This £78m building funded by government money might therefore deliver some overseas influence. Controversy surrounds The Factory as some commentators have questioned whether it is needed given Manchester has a number of flexible arts spaces already in both private and public hands.
There will be three hotels across the development sites.
Over the viaducts and either side of the inner ring road will be Trinity Fields from Child Graddon Lewis Architects who also hail from Shoreditch. The streets are truly paved with gold down there. The two sites they will build on are largely cleared ground. The more exciting of the two parcels is presently occupied by Network Rail as they build the Ordsall Chord rail link and lies between the Regent Road bridge and the Castlefield viaducts.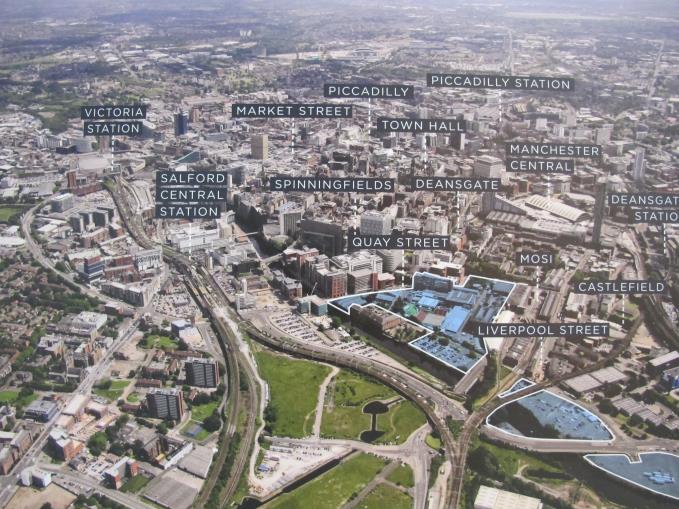 Trinity Fields are the two parcels highlighted to the bottom right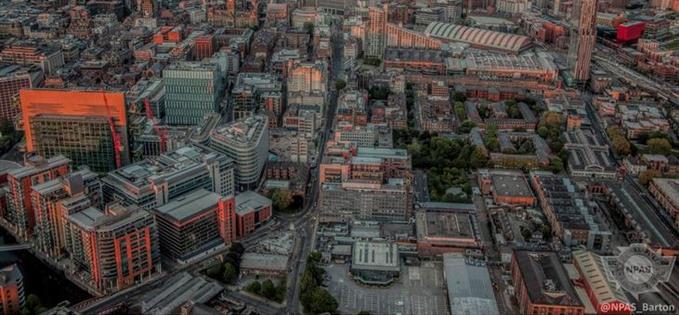 St John's site: bottom (note: Spinningfields/Leftbank to the left)
Here we get high again. 50-storeys (an estimated 165m) climb off a podium with two shorter but still tall buildings to the south. At every third floor we have more 'winter gardens' linking all three towers, lifts debouching residents into green communal areas where, without scooting all the way down to terra firma, they can chat, read, get neighbourly and cheekily have sex when drunk while thinking it's funny to do so. I think that's what the architects told me.
The podium will be a green space too with commercial units and, depending on engineering feasibility, there will be more woods on the roofs. There'll be a gym and even a swimming pool within the two areas of Trinity Fields. A jaw-dropping estimate of 3,000 people will live within 1,204 flats on these sites.
Public areas around the sites will at last enable the most important rail viaduct in the world (if measured by age) to be viewed, George Stephenson's 1830 skewed arch viaduct - click here.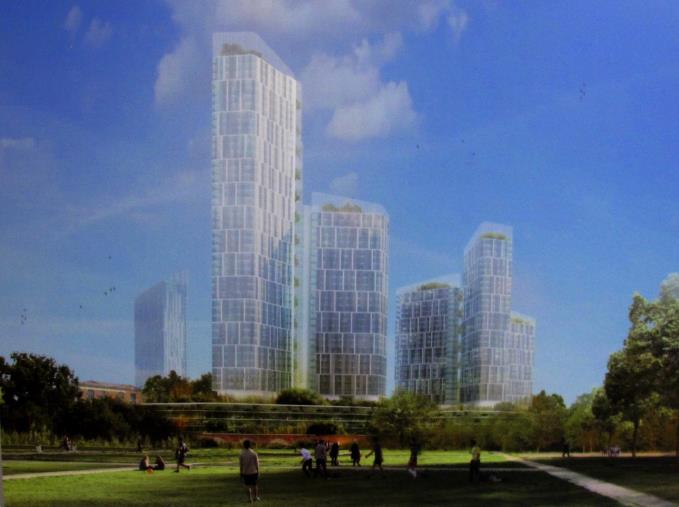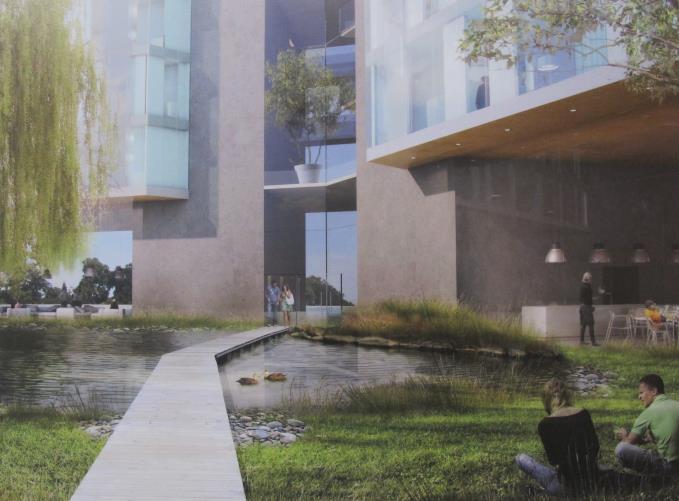 Timeframes aren't impossibly long with either St John's Quarter and Trinity Fields.
The former might get underway within two years while the latter will be delayed by the construction of Ordsall Chord, but we could be looking at both reaching completion sometime around 2021-22. Sentimentalists for the 'Coronation Street' site will be perturbed by its demise but that ship has sailed whatever we feel about the tourism pounds it brings in.
These grand schemes for the south west of the city centre appear strong. If delivered they will not only improve the city centre and bring thousands of extra residents but provide a link with further development down towards Pomona. Sometime in that unmade future the ultimate goal of coherently joining The Quays to the city centre will be achieved.
Bring it on we say. Let's keep dreaming...
ST JOHN'S: What's Actually In The Proposal?
Roughly 2500 new apartments across the scheme

Three hotels comprising 380 beds – including the 150-180 room Manchester Grande (currently the HQ Building on Atherton Street), modelled on the Ace Hotel in New York it will include a multitude of new bars and restaurants alongside nightly events.

A series of events and performance spaces including the £76m Factory Manchester and the reutilisation of the former Granada studios spaces for music, arts and theatre.

Low-rise villages of four to five storeys enclosing narrow streets lined with small shops on the ground floor, creative businesses on the second and residential units with roof gardens on the upper floors

The 'Vertical Village' - a series of high-rise towers up to 50 storeys high along the banks of the River Irwell

New public green spaces – including a new park (inside the former Corrie site) linking St John's Gardens to the riverside

Reutilisation of the famous Bonded Warehouse comprising loft-style, open-plan office space for the TMT sector (Telecoms, Media and Tech), 'duplex workspace suites' alongside food and drink space.

A new riverside space for walking, cycling and lesisure.

Work on St John's should start in mid-2016 and is estimated to complete by 2022.