PROPERTY investment group Scarborough International (part of the McCabe family) have unveiled plans for the first phase of its £700m Middlewood Locks scheme at the south western gateway to Manchester city centre (see aerial images below)
It is one more step towards the extensive transformation of this part of the regional centre
Having secured planning consent for 2,000 new homes and 750,000 sq ft of mixed-use space at the 24 acre site in March 2015, the group are now working on a detailed planning application for phase one of the development - designed by WCEC architects - comprising 550 new homes and 29,000 sq ft of commercial space.
Middlewood Locks is centred around three large basins of the Manchester Bolton and Bury Canal. Alongside the residential aspect, which will deliver a mix of family homes and apartments, the scheme will include 'extensive public realm' in the form of green spaces, canal-side pathways and space for mixed commercial uses including hotels, offices, shops, delis, restaurants, a convenience store and gym.
The formal planning application will be submitted this autumn, with work on the first phase beginning before 2016.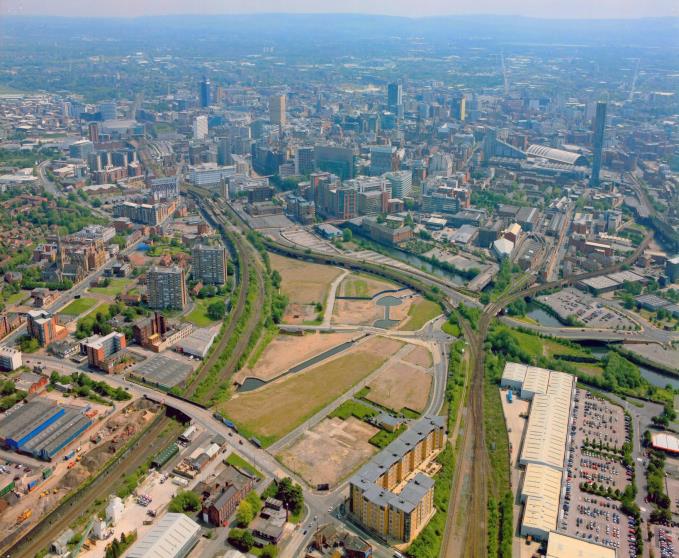 Middlewood Locks site currently (note: Spinningfields to the north)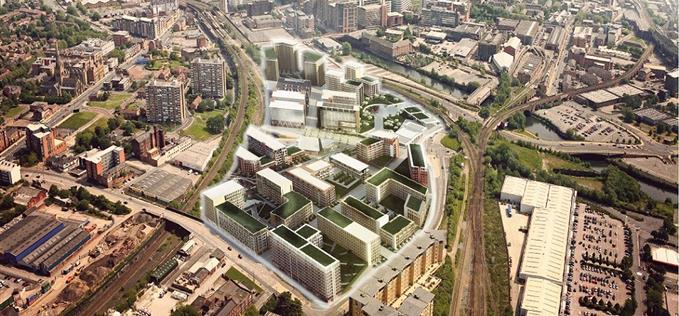 Plans for Middlewood Locks (credit: Wcec architects)
Here's an interesting point courtesy of JRB on skyscrapercity.com:
"In 5-10 years time I would love to see the aerial shot again. There's going to be such a change in the Manchester skyline in the next decade:

Cambridge Street | 83/63m | 29/21 floors | Under construction
One Greengate | 88m | 21 & 31 fl | U/C
1 Water St | 82m | 28 fl | u/c (just out of shot)
Wilburn St Basin | 21/13/10/8 fl | U/C
CitySuites | Chapel St | Greengate | 54m | 17 fl | U/C
Angelgate | Dantzic Street | 50m | 14 fl | Prep>U/C
No 1 Spinningfields | 91m | 19 fl | Demo>U/C
Chapel Wharf | 69/53/50/44m | 23/18/17/15 fl (on-site this year)
Axis | Albion Street | 93m | 27 fl | App(soil testing on-site)
Angel Gardens | NOMA | 106m | 33 fl | App (groundwork utilities)"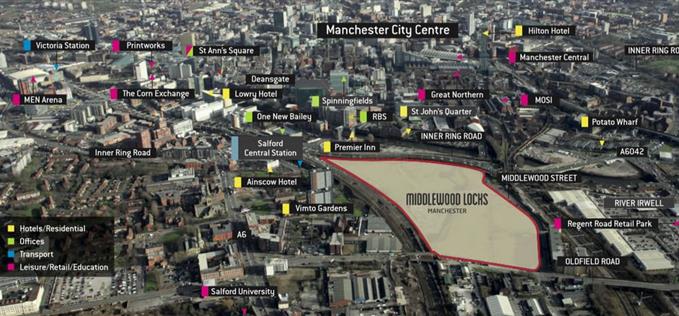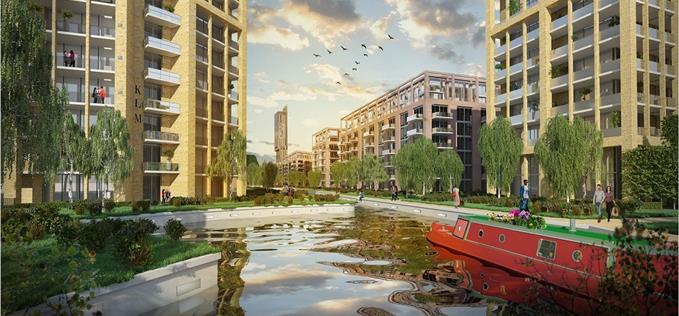 Artist's impression of Middlewood Locks
Lee Savage, development director of Scarborough, said: "Middlewood Locks will be a first-class, mixed-use community in one of the UK's most exciting new areas.
"The development is situated in what will be a new business destination for the city as well as a sought-after residential neighbourhood due to its proximity to Manchester city centre, MediaCity UK and the impact of other wider regeneration activities that are taking place in the Salford area."
Ian Stewart, Salford's City Mayor said: "I am absolutely delighted to see the Scarborough Group and their partners bring this outstanding new development forward.
"This is a unique site with so much potential to deliver new homes, commercial opportunities and new jobs whilst maximising our riverside and canal assets."
"It is one more step towards the extensive transformation of this part of the regional centre which will enable the cities of Salford and Manchester to deliver the growth necessary to meet the economic challenges we face at a national level."
Scarborough has also just appointed Knight Frank, WHR and LSH as lettings agents for the commercial part of the development and JLL has been appointed on the residential investment side.
Middlewood Locks is being developed by FairBriar International, a joint venture between Scarborough, Top Spring International Holdings Limited, a Hong Kong-listed real estate developer in the People's Republic of China, and Metro Holdings Limited, a Singapore-listed property development and investment group.
If you want to comment on this story use #middlewoodlocks via twitter to feature below...