Praise be – miracles do exist.
For the longest time I've wittered on about the lack of hair and/or beauty salons that carry natural and/or organic skin and hair care lines. I've also wittered on about the lack of salons who know how to handle afro-European hair such as mine. So I could scarcely believe there was a hair and beauty salon in Bury town centre specialising in both. This I had to see.
"A large-scale Sustainable Living Fair – one large enough to fill Manchester Central. Other major cities have them except Manchester. I believe the demand's there."
With a greying hairline, unkempt nails, and hairy legs I made the pilgrimage to what I hoped would be my newfound temple of convenience.
Situated facing The Rock shopping complex, and less than ten minutes walk from the Metrolink and Bus Interchange, you access Pure Hair Design and Beauty through the front entrance of bridal shop Secret Boutique (next door to Wilkinson).
If you're looking for a fancy schmancy salon bedecked in state-of-the-art shiny furniture, then this may not be the place for you. If, however, you're keen on minimising the toxins that go on and in your hair and body, and want to reduce your impact on the environment while being preened and pampered, then get thee down to this eco-oriented haven.
So just what makes this salon more eco-friendly? Well, the following for starters:
- The majority of the furniture, floors, and decorations are reclaimed or recycled.
- They do all laundry in-house using natural detergents and bleach alternatives.
- They utilise certified organic ingredients when possible; the remainder of their ingredients are either wild-crafted or all-natural.
- They order all of their supplies in bulk, thereby minimising packing waste.
- After hours, all electronics are unplugged in order to eliminate unnecessary use of electricity.
- They use all-natural cleaning products.
- They always print on FSC certified or recycled paper.
- When possible, they use washable fabrics instead of disposable paper in their treatment rooms.
- The linens they use include bamboo, organic cotton, and recycled fabrics.
They also strive to use products used in the salon that do not contain any of the following:
- Sodium Laurel Sulphate (SLS).
- Sodium Laureth Sulphate (SLES).
- Synthetic colouring and fragrances.
- Genetically modified ingredients.
- Parabens.
- Petrochemicals or mineral oils.
And they only use natural products that:
- Are ethical and have minimal environmental impact.
- Contain natural or ecologically certified preservatives Use pure aromatherapy oils and herbal ingredients.
- Are not tested on animals or use animal ingredients
- All their treatments are vegetarian, and almost all are vegan. They can also cater for sufferers of gluten, nut, and skin allergies.
Not bad, eh?
I wanted an all over (permanent) colour to add gloss to my washed-out, lacklustre hair. Donna, my stylist and salon manager, used Organic Colour Systems which is 100 per cent ammonia-free and contains only 0.6 per cent PPD (p-Phenylendiamine): a known irritant and chemical you really ought to think twice about before putting on your hair (the use of PPD is illegal in all other cosmetic products but is in most on-the-shelf hair dyes).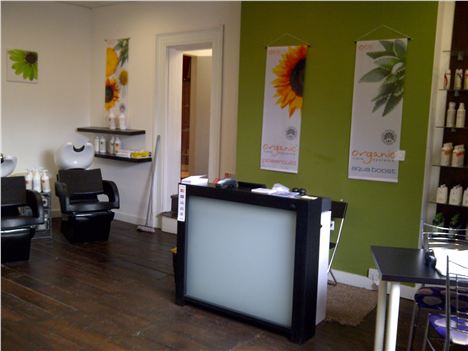 Pure Hair Design And Beauty
While my colourant did its thing, I chatted with Pure founder, Ann Fomukong. I like Ann – she walks her talk. After making her own skincare products for several years, she tired of having nowhere to go for natural hair and beauty treatments and, so, finally decided to open a place herself. That was in October 2011. The salon opened in February. My mouth gaped open.
"Five months from concept to opening?"
"I may not look it, but I'm impulsive", she laughed slinked back in her chair.
"So, what's the big dream?" I asked.
"A large-scale Sustainable Living Fair – one large enough to fill Manchester Central. Other major cities have them except Manchester. I believe the demand's there."
She's right, there is. And if anyone else agrees and wants to help make it happen, they should contact this trailblazer. If anyone could do it, Ann could. The entrepreneurial spirit seems to run in the family: her brother-in-law owns Sole restaurant in the Northern Quarter – a neighbourhood in which Ann would like to open her next salon.

Olivia Garden Bamboo Ionic Paddle Brush
While Ann and I chatted, Donna washed my hair then brushed it. But, here's the thing – I barely noticed her brushing it (she used an eco-friendly bamboo ionic paddle brush by Olivia Garden). I may've been gabbing, but for someone to put a brush through my hair with me barely noticing was a lifetime first. I've already ordered one. Every salon should have one on standby for naturally curly hair.
Donna also has an incredible talent for blow-drying afro and afro-European hair (using only heat and a brush – no chemicals) which means I'll be back to experiment with glamorous styles I've longed for, but have so far been unable to try. I also watched her perform miracles on a woman whose hair had been spectacularly messed up by another hairdresser. The end result was fabulous.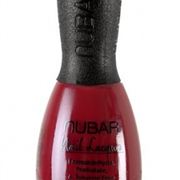 Nubar MerlotDuring my visit I also had my legs and underarms sugared (also known as Persian waxing) with the few remaining tough hairs removed with honey wax. Finally, I had a manicure using Nubar nail products.
Nubar polishes are free of formaldehyde, toluene, and DBP (phthalate). They're also certified vegan and cruelty-free. I chose a shade called Merlot (NV6). A modern classic, it's a sophisticated dark magenta with a smooth finish.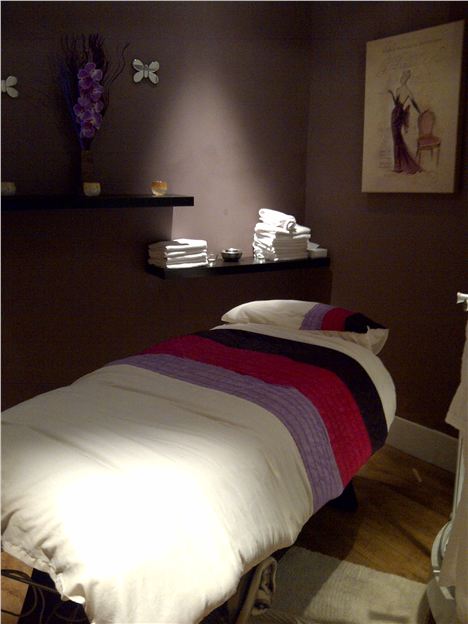 Pure's Treatment Room
What struck me was how thorough both beauty therapists were – thorough and enthusiastic. Funny, too. Unlike some salons I've visited in the past, this place doesn't take itself too seriously, which means that, whatever your choice of treatment, you're able to relax.
Before leaving, I joked that in 1969 man landed on the moon, but it'd be another 43 years before a woman with afro-European hair walked into a salon that was unfazed by her curls, who used natural and/or organic products, and employed environmentally-aware practices.
Pure Hair Design and Beauty – one giant leap for eco-salon kind.
Like Pure Hair Design and Beauty on Facebook here.
1st Floor, 137 The Rock, Bury, Greater Manchester, BL9 0ND
Tel: 0161 763 6229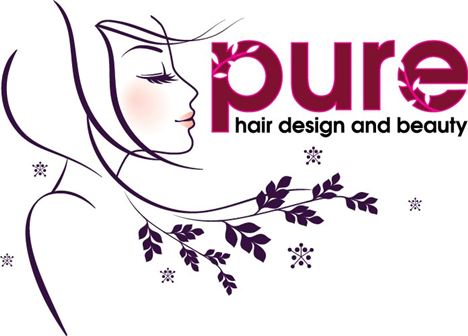 ---
Urban DevaFor more mind, body, and soul tips, follow Thea on Pinterest at pinterest.com/urbandeva/ and Twitter @UrbanDeva
Visit her Facebook page facebook.com/urbandeva or website at urbandeva.com