JULY is shaping up to be a very cultural month for Manchester. Not only will its citizens and guests have the opportunity to broaden their horizons during the annual Manchester International Festival (2-19th July), they will also be exposed to some rather exciting cinematographic stimulation during the first ever Manchester Film Festival (10th-12th July).
There are touching films about Brazilian transvestite artists and seat-squirming documentaries about people living with the surname 'Hitler'
While neither of Angelina Jolie's legs is expected to be sashaying down Cross Street just yet, give it time. This exciting inaugural event, to be held at the AMC Manchester Great Northern Warehouse, has ambitions to become an annual destination for up-and-coming writers, directors and producers, along with established industry professionals and film lovers.
A programme of 21 feature-length films and 51 short documentaries as well as film-making workshops with industry professionals, is set to bring a definite feel of Cannes to the canals, celebrating the best independent cinema from around the world. An awards ceremony, 'The Bees' will conclude the weekend.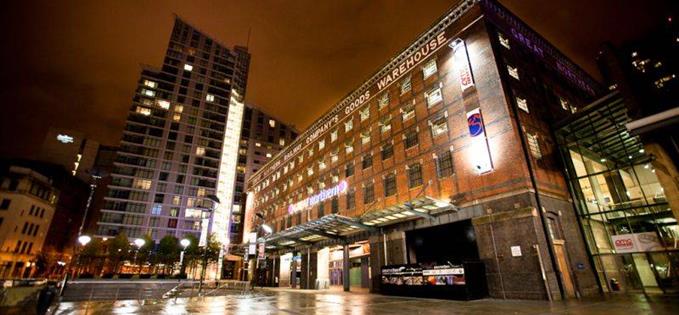 AMC Great Northern Warehouse
As well as a number of international film premieres and striking documentaries from Oscar winners, local talent will be given a chance to shine too. On the Saturday evening, a presentation of UK dramatic shorts will include 'Caring for the Recently Deceased'; Sue Johnston heads an all-star British cast in this dark Northern comedy alternative to the zombie movie.
Manchester born film maker Caleb Shaffer will appear on the same bill with 'One Word', his thought-provoking and emotional story about a teenage African refugee who struggles to adjust to life in the UK, until he discovers his voice.
If you see yourself as the kind of opinion former, who likes to spot must-see movies months before your mates, then you'll need to get yourself to the UK premiere of 'Two Down'. Executively produced by unlikely duo, Stephen Fry and Sir Derek Jacobi, this is a sharp-edged comedy thriller about an injured hit man and his increasing number of captives trying to extricate themselves from their current predicament.
There are sweetly touching films about Brazilian transvestite artists, sensational seat-squirming documentaries about people living with the surname 'Hitler', and beautifully shot Victorian murder mysteries.
We're not going to take you through all 72 films here, but what we can do is point you in the direction of the MANIFF website where you can have a nosey through the whole line up, tantalise yourself with the trailers and purchase tickets.
Tickets for all the feature length and short film screenings are now on sale. There is also a Multi Screening Ticket which gives you access to six screenings, but if you truly want to indulge, start stockpiling the popcorn and get yourself an All Access Pass that gives you access to six screenings and all of the after-parties and workshops.
For further information and to buy tickets visit: www.maniff.com