AFTER over a decade as a member of the Nars team, Jane Richardson is more enthusiastic about makeup than ever. Working as Nars' Global Lead Makeup Stylist, has allowed her to communicate the philosophies and ideals that François Nars bestowed on the company at its inception. And she just can't get enough of playing with faces...
"Use your hands to apply foundation. The warmth in your fingertips helps blend and you're less likely to put too much on this way." - Jane Richardson
"I've done a lot of character makeup for TV and I'm very interested in the facial bone structure of people. That's what I look at. Most makeup artists are mad about bone structure, but there's another layer for me. One of my most interesting memories from college was having a skull out in front of me and having to make up the muscles of the face in plasticine. You'd have to name all the muscles and know what expression each of them made" she told us, at the Nars makeup masterclass at Selfridges, Manchester.
As a classic brand, Nars has kept it seasonal and simple with a cocktail of warm earth tones and brazen shimmers for s/s 2012. Eyes glisten in icy peach and matte apricot, or shine in iridescent orchid and blue. Lips are subtle in a glossy nude beige pink, or bold in matte strawberry red. But Jane is keen to emphasise that whatever trend you choose, make sure it works for you.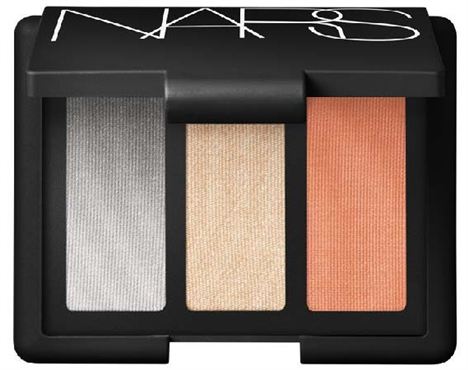 "I really focus on getting customers to touch their face and get to know their own bone structure" she said, "A lot of women are so busy trying to conform to the images they see and doing makeup like everyone else. Often I'm like 'well your eyes are like that and your lips are like that, so keep them. Don't try and make them different'. Be who you are.'"
It would appear even the A-listers get it wrong sometimes, preferring to choose fashion over face. Having worked with actresses Diane Kruger, Mena Suvari, Jessica Stevenson and Lesley Joseph, television personality Holly Willoughby, politician Mo Mowlam  and gourmet chef Jamie Oliver, Jane believes Nars is the brand to make anyone rethink their makeup routine.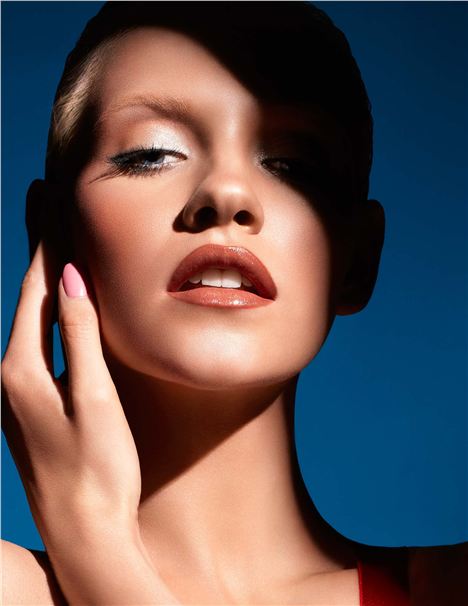 "Celebrities do pick up a lot of tips but equally they are just like the rest of us. They have flaws just like us and when you strip of the layers they're like every one of us with the same worries. The difference is they have the luxury of having someone do their makeup all the time.
"Jessie J is actually someone I'd like to work with. She's someone who I find fascinating. I'd like to do a make-under for her though."
So for the non-celeb Nars shopper, where does one start at such a full and fantastical counter?
"I start by giving the customer a sense of what Nars is about. Then we go through how to colour match foundation. It's actually a woman's prerogative to choose her own foundation. Makeup artists can pick a colour for you, but ultimately you know what you want. We all see colour differently. Some of us are drawn to warm tones, some to cool.
"To make the whole process easier, we pick three colours to start. The customer then decides which is too light and too dark and then makes the decision. With three colours you can really see what's right and what's wrong. The product always looks different in the bottles. Some women like to use foundation to put warmth into their skin and we can't tell them otherwise. But by giving three shades we're giving them the correct range for their skin tone. We want to empower women."
Part of the empowerment plan comes via Nars' makeup masterclasses, held at counters around the country. Jane describes them as "Giving women the power, with the brush in their hand."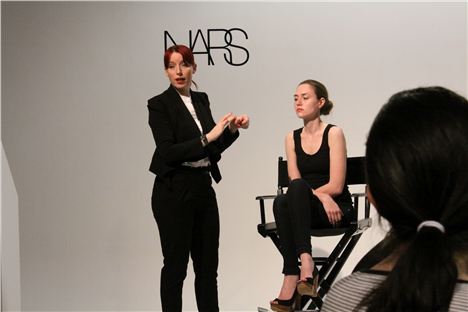 Jane Richardson
She said: The masterclasses are tricky because you have a group of women, each with different skill sets. I can't judge who can do a smoky eye and who can't. I've got to assume everyone is basic. I aim to keep it real so I don't, for example demonstrate five colours on an eye with ten different brushes! I do it really quickly and easily. The idea is they come back to counter and have a one on one."
The masterclasses attract a range of ages and skill sets, but ultimately Jane believes a good base is the key to a good look, at any age.
"The key thing to remember as you get older is to start getting in a good skincare regime when you're younger. As far as makeup is concerned, the older we get the less hydration in the skin so again, skincare and change the products you're using.
"Go for sheer glow rather than the matt foundations. Use things like the multiple sticks or the cream blushers as oppose to a powder. It's a generational thing with the great big powder puffs. Mostly it's about changing in general. Don't wait 'til your 70 to play! I'll never forget when a 70 year old lady came to counter and said 'I used to wear blue but couldn't now'.
"I sat her down and showed her how to wear blue at 70. We lined her eyes so it wasn't blue all the way up to her eyebrows and she was so happy. I gave her the encouragement.
"Who says you can't wear certain colours? I've worn every single colour on this counter."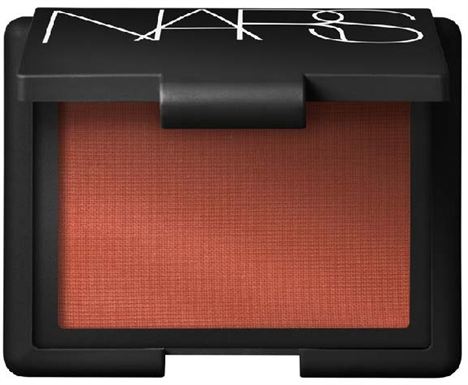 TOP MAKEUP TIPS FROM JANE RICHARDSON
- Invest in a smudgeproof eyeshadow base. This is a quick route, a shortcut to what we achieve as makeup artists. It can also refresh your eye makeup and it will stay on.
- A lot of women do find their makeup doesn't last. I also recommend loose powder. Gone are the days when loose powder was really drying. These are triple milled. Only apply it where you need it.
- Invest in good brushes. But use your hands to apply foundation. The warmth in your fingertips helps blend and you're less likely to put too much on this way.
- And finally, PLAY! As Francoise Nars always says 'Don't be so serious, it's only makeup.'