SEVEN tonne steel sentinels, pathways leading nowhere, secret rooms, slanted walls… 
Manchester's architectural portfolio just got a bit more individual with the opening of youth mental health charity 42nd Street's new headquarters.
The dramatic white steel gates visible from Great Ancoats Street only hint at the full measure of architect Maurice Shapero's symbolic design, which is remarkable throughout, functional but fantastic, rational but bizarre. 
Details like wardrobe doors leading to counseling rooms a la CS Lewis and stairwells with leaning walls give a sense that the building is unique, uncanny, inexplicable, safe– a space that's different from the outside world, but mirrors it. 
Starting with the idea of two cubes, i.e. the two main buildings, Shapero divided them with a sharply-angled series of windows, slicing a space to let the light through. Think Leonard Cohen, he told me, and quoted: "There's a crack in everything.  That's how the light gets in."
The cubes symbolise the duality of needs for young people: stability and control in the world, contrasted with the ability to break out, to be different, original and a bit unpredictable. 
Windows are scattered to give a collage of different views from the inside, and 3mm brushed aluminium sheets covering the outside give it a science fiction aesthetic. Details like wardrobe doors leading to counseling rooms a la CS Lewis and stairwells with leaning walls give a sense that the building is unique, uncanny, inexplicable, safe – a space that's different from the outside world, but mirrors it.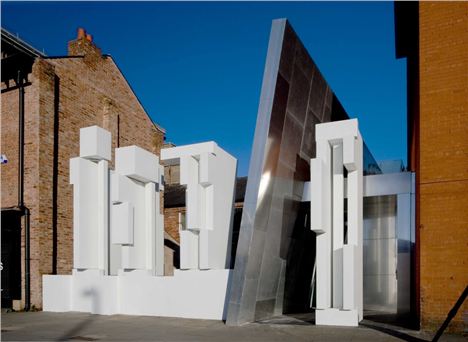 Photo by Beccy Lane
"I was able to bring ideas that have been brewing in my head for years into reality," said Mr Shapero, who planned the many aspects of the new building in one night's rush of inspiration.
Mr Shapero is firmly associated with Manchester's architectural firsts. Formerly of inaugural Stirling prize winning architects Hodder Associates, he was the lead designer for CUBE (Centre for the Understanding of the Built Environment) and the National Wildflower Centre, just outside Liverpool. Plus the extraordinary suburban intrusion of the ex-Palmiro restaurant in Whalley Range - now Nip and Tipple.
He was brought onto this project because he would be able to appreciate, interpret and build on the wishes of the charity, while still operating within a tight budget of around £750K and the constraint of an awkward T-shaped site.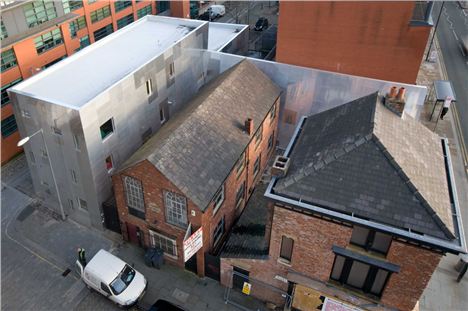 Photo by Beccy Lane
Working together with Bolton-based construction consultants Bradshaw Gass and Hope, and the charity's business advisor, chartered surveyor Peter Buglass, 42nd Street asked the young people involved with the charity as well as the staff to form an idea of their ideal space. 
"It's amazing. Our young people absolutely love it," said 42nd Street director Vera Martins. "They wanted something that was different, something out of Dr Who or Alice and Wonderland."
The charity offers counseling services and support to young people aged 13 to 25 who live in Manchester, Salford or Trafford who are stressed, depressed, having problems with relationships or with their families, having image issues or are self-harming.
42nd Street reach people primarily through referral, and are counting on the new building to raise their profile in the community. They have already seen a 25% increase in interest in their services and are anticipating a surge of new young people this year. They expect the heightened interest to test their capacity, but they are determined to grow with the challenges and use their new space to meet the demand.
The purchase of the site included ownership of a small Victorian shop on the corner. In future, the charity hopes to convert the interior into an art space for fun and for therapy, and to convert the upstairs area into a co-op for burgeoning artists. 
The Victorian shop will keep its historic exterior, which the charity and architect feel is right for the conservation area. The futuristic aluminium façade and steel gates of the main building were criticised by some early on in the planning stages, but those initial complaints died down quickly and the charity hopes that the construction will become embedded in the community and be embraced by it.
"There are always going to be people who just don't get it and see it as being a bit of an odd thing," said Ms Martins. "But the local residents who have looked around have been really positive.  Some have said that though they aren't fans of modern architecture, they see how we plan to blend the old and the new."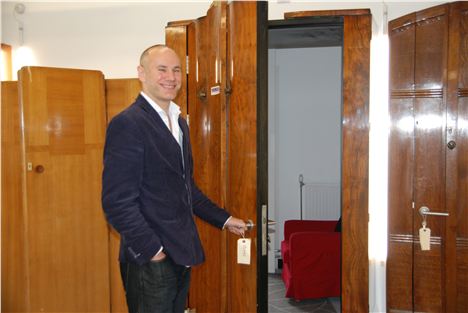 Maurice Shapero on his way into Narnia
The show-stealing feature - aside from the wardrobe doors  is authenticity. The building was styled to its purpose like a well-thought-out gift. 
"When I explain the background, people get it," said Mr Shapero. "It's quite a poetic notion."
42nd Street are planning an official reception to celebrate their opening, but welcome anyone curious about the building to come down and have a look at any time. 
Go, look, photograph, and marvel at the achievement of this quirky statement. 
And whether you 'get it' or not, the most important thing is that, for the sake of troubled youth of the community, they are changing more than just the landscape.
42nd Street is at the SPACE, 87-91 Great Ancoats Street, Manchester
M4 5AG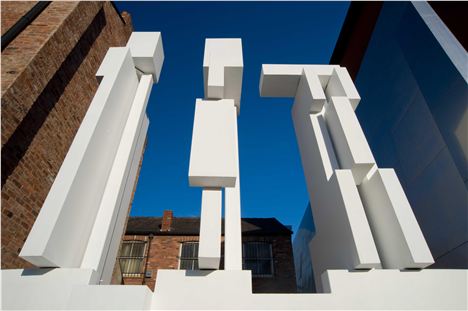 42nd Street, Ancoats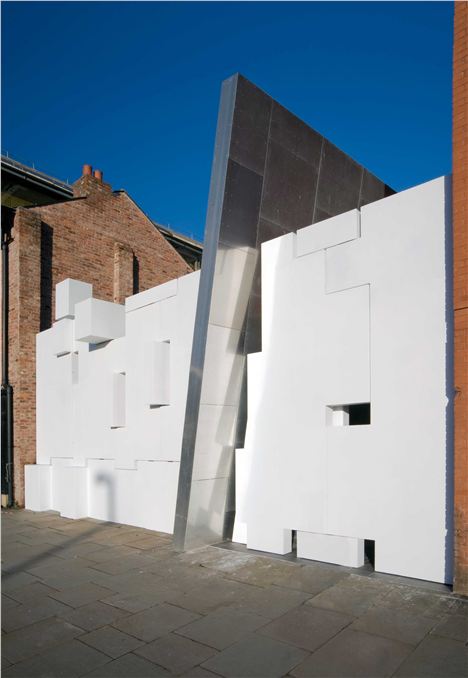 42nd Street, Ancoats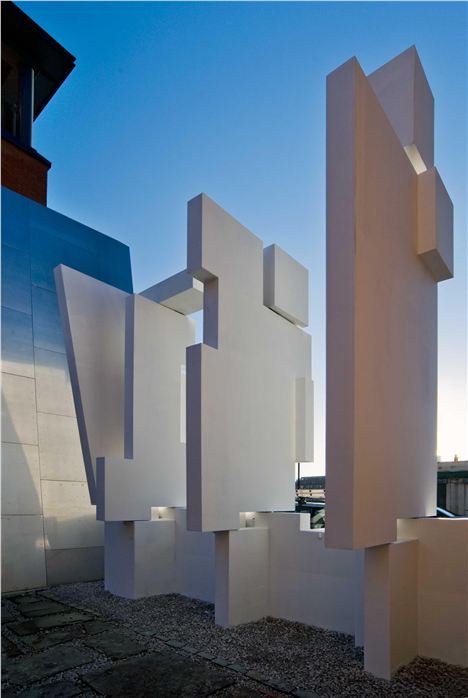 42nd Street, Ancoats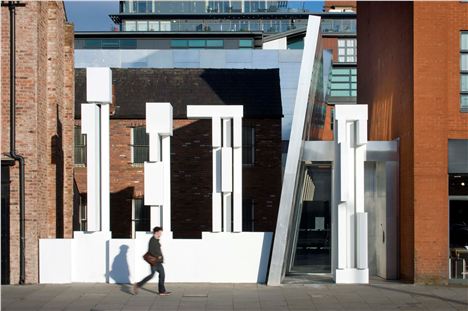 42nd Street, Ancoats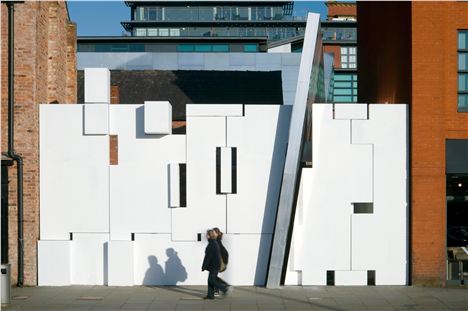 42nd Street, Ancoats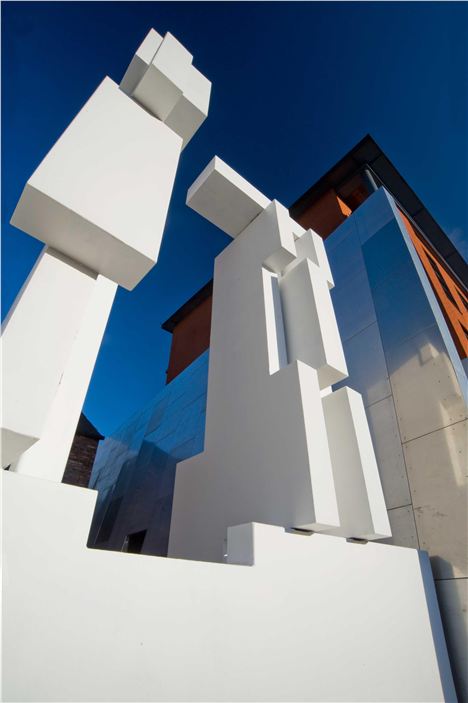 42nd Street, Ancoats