GERHARD Richter and Arvo Pärt are two of the most significant living figures in contemporary art and music. This double 'show' weaves together well over a century of artistic achievement; their works here, seemingly simple on first meeting, are bogglingly complex, and have a cumulative, powerful effect.
I am reminded of the line about the composer's technique, 'writing as though the last 500 years hasn't happened'
The Whitworth's Landscape Gallery is an adroit setting. Upon entering you see two separate groupings of artworks. These are Double Grey (935/1-4) and Birkenau (937 B) (Richter numbers his artworks). Double Grey appears to be four sets of large doubled mirrors, on three walls. Each of the eight pieces of glass is subtly different in size and each has been fired with a subtlety different grey pigment. Birkenau, based on photographs taken by a prisoner of Auschwitz-Birkenau, consists of abstracted images in a limited palette of black, grey, green and red. The four groups are identical in size and are window-like, being split uniformly into four.
The music by Pärt is a small composition called Drei Hirtenkinder aus Fátima, and performed – wonderfully – by the choir Vox Clamantis, from Pärt's home country of Estonia. The text is one line from Psalm 8:2: 'Out of the mouth of babes and sucklings/hast Thou ordained strength'. Those who know Pärt's music, with its clear 'tintinnabuli system' (little bells) will recognise it immediately. It is less than a minute long, but repeated at intervals, and I think, in slightly different tempi. The silence between each rendition builds tension. You look into the 'mirrors'. You inspect Birkenau.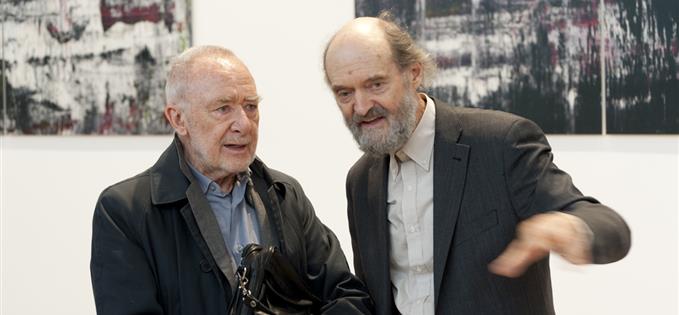 Gerhard Richter (left) and Arvo Pärt (right)
Richter has long-referenced the Second World War. But how do you reference such atrocity? In this instance he painted four abstracts based on photographs. Each one was then photographed 64 times (in small blocks) in very high res images; they were then 'stitched together' and reproduced as prints, and split into four. He created three 'photoversions' and we have the 'matt unframed photographs', version B. The illusion of depth is disconcerting, you try to 'read' them left to right. Is each succeeding version being added to? We are constantly looking for some sort of meaning, trying to create something. Is he adding or erasing?
Then you look into Double Grey again, and see people moving about in twilit silence, or standing in contemplation in front of the strange windows of the other artwork. Then the choir sing Alleluia, alleluia, in voices that are beautiful and timeless and moving. I am reminded of the line about the composer's technique, 'writing as though the last 500 years hasn't happened'.
The Richter / Pärt exhibition is at The Whitworth until the 19 July. Go.
This choir only perform (at staged intervals) over this weekend. There will be a recording, but other choirs might take their place – check the website.
(image credits: Jan Chlebik)
MIF 15 - CATCH UP ON ALL THE REVIEWS, NEWS AND ACTION HERE