THE UK's largest adventure running series, the Men's Health Survival of the Fittest, lands in Manchester on 3 November.
Men, women, teams and solo contenders are all challenged to take part in this test of stamina, grit, speed and guts. It's a 10k urban assault course with tough obstacle zones that will pit you against thousands of fellow Survival competitors. And Confidential readers get a saving on entry – use the code at the end of the article.
Manchester will be the latest to show its Survival spirit as the course comes to Sport City. It's an opportunity for Northerners to gang up on their Southern counterparts as Manchester will be pitched as one of the two finale events alongside the capital. This means extra obstacles, a particularly action-packed course, and bragging rights for the whole field if you beat London.
Contestants are encouraged to bring supporters too – the Manchester course is being designed with spectators in mind as well as runners. There will be loads of obstacles around the event village from where they can watch you tough it out with the other Survival competitors.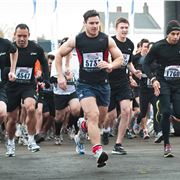 The 2012 Manchester Survival event links two dramatically different venues on a traffic-free running route: the urban spaces and stadia of Sport City and the urban-oasis of Phillips Park and Clayton Vale.
The adventure starts at Sport City in the shadow of Manchester City's Etihad Stadium. The course will dash in and out of the stadium, and head out into the rest of the Sport City estate. It'll then disappear over and under the canal and into Clayton Vale and Phillips Park.
It's a race of two halves. Sport City offers up monster obstacle rigs amongst an uber-urban backdrop. While the park features a fair chunk of mud, sweat and tears – plus the odd soaking.
There are fifteen zones in total. Each packs multiple obstacles and some have as many as ten different pieces of equipment for you to tackle.
Once you clamber over the infamous 8ft Wall of Fame and cross that finish line you can then enjoy the colossal beer tent on site at Sport City. It will have the course actually running through it for bar-side entertainment, and will be serving up ice-cold Asahi beer and Shepherd Neame's glorious Spitfire real ales too.
The beer tent will be open until late afternoon, before the action moves into town for the Survival after-party. The location for this will be revealed the week before the event.
Prices start from £59 for solo entry and £49 for team entry. Confidential readers get £10 off entry with the code MHBODY10
To be part of the action, register for your place at www.mhsurvival.co.uk.