MEDIACITYUK – the £650m media, creative and digital business campus home to the likes of the BBC and ITV - is set to double in size over the next decade under ambitious new plans submitted to Salford City Council on Tuesday 7 June.
Development on site continues apace with the new £20m Tomorrow building expected to launch in the summer
Phase two of the project in Salford Quays could see the construction of up to ten new buildings (see below) - providing over 500,000 sq ft of offices and 1800 new apartments alongside retail, leisure and public realm space - with a total development value of around £1bn.
"Phase two will provide a unique opportunity for a new generation of designs to complement what is already a thriving and vibrant destination," said MediaCityUK managing director, Stephen Wild. "Today's plans show the huge potential for the MediaCityUk of 2026."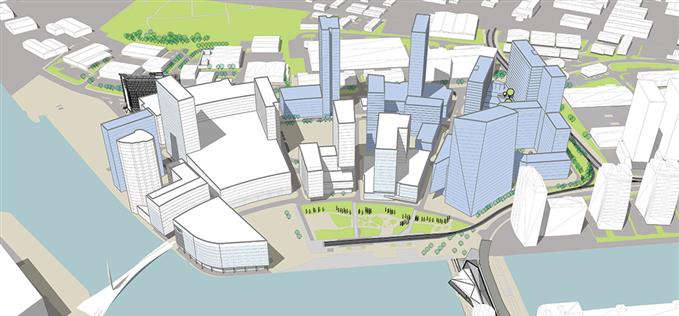 Phase two features ten new buildings and 1800 new homes
MediaCityUK developers The Peel Group – which last year sold a 50% stake in the development to insurance firm Legal & General – received ten-year outline planning consent for the project back in October 2006, a condition being that detailed proposals were submitted before the deadline expired in October 2016.
Steven Underwood, Chief Executive of The Peel Group, said: "This application is another major step forward in the evolution of MediaCityUK.
"Our partnership with Legal and General Capital, alongside continued support from the public sector, provides a strong platform to deliver future development phases of the UK's fastest growing hub for the creative and digital industries.
"MediaCityUK is a shining example of what can be achieved across the Northern Powerhouse, combining the talents of great people with ambition and vision.'
Development on site, meanwhile, continues apace with the new £20m Tomorrow building expected to launch in the summer, while work on The Lightbox apartment block is due to begin in early 2017.
Salford City Council are expected to consider the phase two planning application this September.
Powered by Wakelet