It's been one of the most convoluted and drawn out licensing applications Manchester has seen in recent years.
Indeed, City Centre Councillor Joan Davies remarked that it had been: "the most difficult application I've had to deal with in eighteen months as a ward Councillor."
Barristers from each side have been slugging it out at the Council's licensing committee meetings over the past couple of weeks.
Now finally, Manchester City Council has granted the Mayfield Depot Management Company Ltd a premises licence for the Mayfield Depot on Fairfield Street, Piccadilly. That is if they're able to meet a weighty 79 conditions, including, oddly, free lollipops on exit. It keeps 'em quiet apparently.
Jon Drape, Director, Mayfield Depot Management Company Ltd, said: "Being granted the premises licence today is a great step forward for us to help realise our vision for the use of Mayfield Depot for the next five years.
"We are looking forward to working closely with GMP and other authorities to ensure we deliver one of the best run, safest and most secure venues in the country."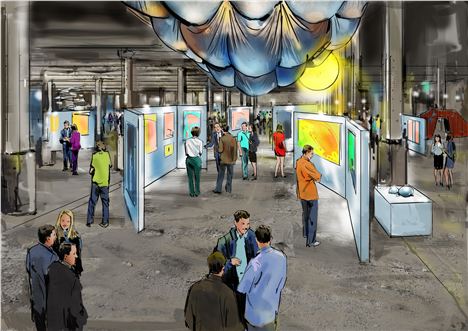 Artist impression: Mayfield exhibition
There's been a lot of noise surrounding the future of Piccadilly's vast, empty Mayfield Depot, abandoned since 1986, in recent months. Not least because of us (see here and here).
First there were the whispers of rumoured collaborator, the Warehouse Project, releasing 10,000 ravers into the city centre and thus, hosting "the largest nightclub in the world" right on Piccadilly's doorstep. Then there were the premises licence applications, mysteriously withdrawn, then re-applied again.
A three-pronged project brotherhood was formed, the Mayfield Depot Partnership (now Mayfield Depot Management Company Ltd), consisting of Jon Drape, MD of the Ear to the Ground and Ground Control Group (Parklife, Festival Number Six), Bill Addy of Liverpudlian design and development agency The Addy Consultancy and David Norris, former director of Ear to the Ground.
Their mission this: To bring Manchester a huge 120,000 square foot, 7,500 capacity cultural venue to rival that of London's Old Truman Brewery, New York's Park Avenue Armory or the Gasometer in Oberhausen, Germany.
In otherwords, large, airy, post-industrial buildings re-imagined into cultural hotspots drawing major investment and collaborators into the surrounding areas. Investment that the crumbling Mayfield area so obviously needs.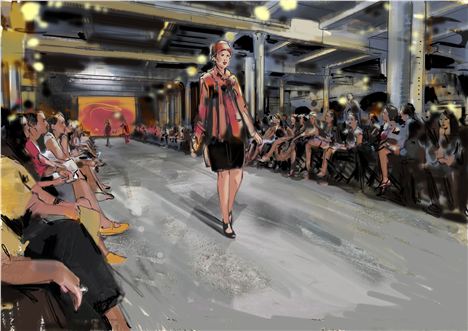 Artist impression: Mayfield fashion show
Last month, the partnership announced its vision for the building during a public consultation at the depot's neighbouring Macdonald Hotel on London Road. The venue would be used to host a series of 'creative and innovative events' based around six key areas: Arts, food, film, fashion and retail, sport and music.
The Manchester International Festival (MIF) has already demonstrated what could be done with the 'space during productions such as Adam Curtis vs Massive Attack. MIF and Manchester Food and Drink Festival are already confirmed collaborators.
For the time being, however, the Warehouse Project has sat on the fence, waiting in the wings. Hesitant to confirm any such talks.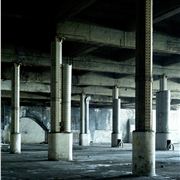 InteriorBarristers from each side have been slugging it out at the Council's licensing committee meetings over the past couple of weeks.
The objectors, representing nearby student housing companies Unite and Liberty, and Adam Geoffrey Management (the latter acting on behalf of the current landlords of the Warehouse Project at Victoria Warehouse in Trafford Park), argued that the current application had not been "properly thought through" and at present, was "little more than a sales brochure", "a germ of an idea, insufficient for a venue of this scale." The whole application, they argued, was but a smokescreen for the arrival of a 'super-club' in the city centre.
A contention that the applicants vehemently denied, a spokesperson for the Mayfield Company told us: "Warehouse Project hasn't even been confirmed. Nothing is agreed. However, the Manchester International Festival and the Food and Drink awards want to collaborate. It's important that people don't just see this as a night club. It's an all-year round cultural venue."
After hours of legal representations, debate and weeks of deliberation, the licensing committee, eventually, sided with the applicants.
Councillor Pat Karney, Manchester City Council's city centre spokesman, said: "The committee felt that this application met the licensing objectives and so, after listening to responses from people who made representations, we have given this approval but the committee have attached 79 conditions to ensure the premises is run safely and appropriately.
"These conditions include safeguards relating to CCTV, regular consultation with responsible authorities and fire safety. The premises are limited to holding 25 DJ led events per year. The applicants now have to wait until a separate planning application is dealt with before they will be able to operate the venue."
Assuming planning permission is granted, the first event at the Depot could take place as early as Summer 2014.
Stay on top of Mayfield Depot news @MayfieldDepot
The licence permits the hosting of entertainment and the selling of alcohol from Monday to Thursday up to midnight, and Friday and Saturday until 3am. 25 DJ events shall be allowed each year.
Planning permission has not yet been granted.
Mayfield photo credits to Jan Cheblik.