MARY PORTAS recently launched her new 'Mary' shop at House of Fraser, Manchester, riding on a rising tide of enthusiasm for British manufacturing. Played in by a swing band, Portas waved to the crowd, before personally greeting industry insiders and devotees, not to mention her staff, the incidental stars of her latest television show, Mary's Bottom Line.
"This isn't about politics, this is about us understanding what we're doing to our economy and what we're doing to our sense of worth in the country" - Mary Portas.
The shop features colourful selections from Mary's ready-to-wear collection, Tatty Devine jewellery, homewares, and of course Kinky Knickers. The shop itself is as bright as her hopes for her mission to reinvigorate British manufacturing.
The final installment of her three-part programme, Mary's Bottom Line, also aired this week. The high street queen told Confidential a bit about the final show: "I line up all the people who are affected by manufacturing in a positive way and you'll actually see how all the people, from the person who dyed the lace to the person on the shop floor, is affected."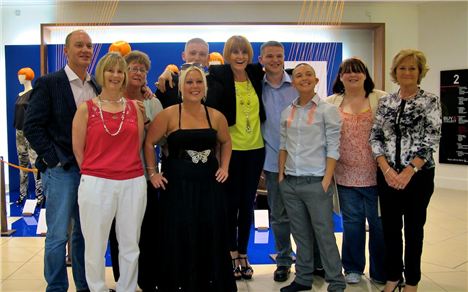 Mary Portas and the stars of Mary's Bottom Line at House of Fraser Manchester
Feedback from the programme has been overwhelmingly positive, but for Portas, the most humbling aspect of her exploits has been seeing the impact she's made on the lives of her staff.
"I've been able to use my position in the media to influence something that can make a difference in people's livelihoods, which I love," she said, "You think you're working on something commercial, and actually it's something much deeper that that. The bigger goal is giving people a sense of worth, and they're so happy."
Portas' staff seemed aglow at the shop launch in Manchester, basking in the lights of her glitzy party and rubbing shoulders with local celebrities including Corrie's Debbie Rush and Jennie McAlpine.
We pulled aside one of the trainers at the home of Kinky Knickers, Middleton factory Headen and Quarmby, to ask what she really thought of their fearless leader.
"She's a very clever lady," said knicker-making trainer Myra, "building it up and putting together the concept of it.
"It would have been slightly easier without the cameras in the shop, you know, when we got started, but it's been great fun and we hope the momentum just keeps on going."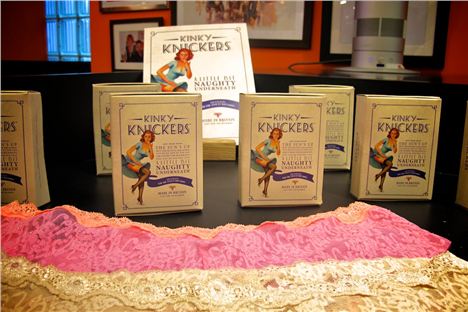 Kinky Knickers at House of Fraser Manchester
With sales of Kinky Knickers soaring, there are plans in the works to export them to a global market. The crucial component for building manufacturing at home, however, is spreading awareness about the responsibility customers hold.
"We are all part of making change happen," said Portas. "This isn't about politics, this is about us understanding what we're doing to our economy and what we're doing to our sense of worth in the country."
The question is whether consumers in a period of economic uncertainty will get over what Portas calls the country's "obsession with cheap" and buy British?
Interestingly, despite our economic troubles, the UK is now the second largest e-tail economy in the world. Half of female internet users made online purchases in 2011, with clothes the top purchase among women by some margin.
However, since department store websites rarely list the country of origin in the product description if it is not part of a brand's marketing strategy, online shoppers can't easily make an informed decision in this growing marketplace.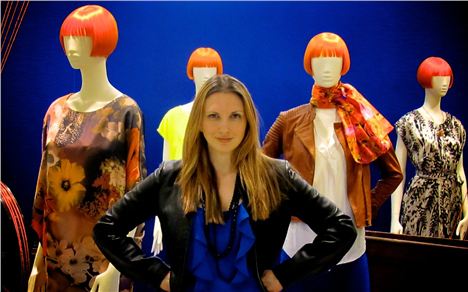 Karen Regn poses with Mary's mannequins
Retailer John Lewis, who works with over 130 UK manufacturers, has a UK product section on their website. There are nursery and children's clothing items along with a large selection of homewares, but the 'made in UK' section has only thirteen clothing items for men and no women's fashions listed.
Products made outside of Britain generally do not list the country of origin in their descriptions.
Sarah Cordley, spokeswoman for the British Retailer Consortium, thinks retailers would not welcome legislation requiring the country of origin to be part of online product descriptions or prominently displayed on product labels or in stores.
"We certainly are against any legislation that would force retailers to do that," she said.
While some brands utilise country of origin for marketing purposes, such as cashmere from Scotland, there's little proven interest from the consumer end. Shoppers have a host of considerations, such as their needs or whether it's ethically-made or organic, and a garment's origin is not high on the average consumer's radar– which suits retailers just fine.
"We're quite happy that it's a free market place," Sarah said, "But the consumer voice is very powerful and if enough people asked for it then it would become a consideration."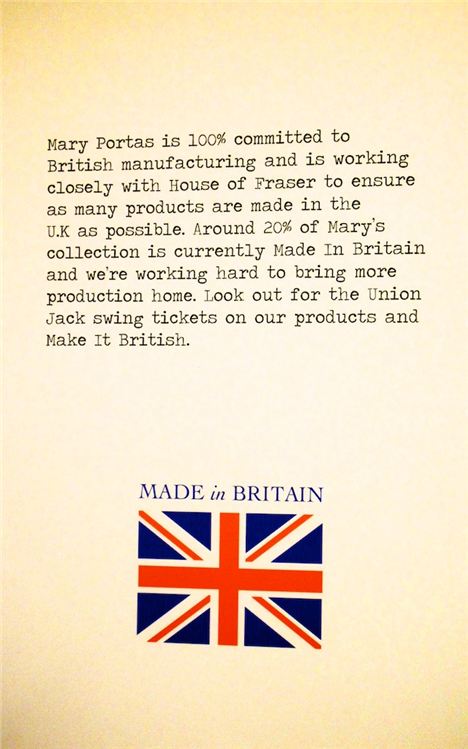 A reluctance to highlight country of origin is prevalent among retailers and customers are not demanding that information. However, Mary Portas is hoping to change all that. She told Confidential: "I'll go to Cameron on that. I'm going to insist on changes. At the moment, we are more thinking about what we do with food - where it's from, providence, what happened to that little chicken– than we are about people."
To be successful, she said, businesses in the UK need to know where their market is and why a consumer will want their product.
"I created a brand that I knew the consumer would want, that had a point of view, and that was well-designed. They've got every opportunity to make it here. And they can do. We've got to get the infrastructures back and make enough people want to produce here."
In the next phase of Mary's mission, she will choose twelve pilot towns, which will be taken under her wing and receive funding by the government to the tune of £1m between them. Applications are due by March 30 and several Manchester towns including Radcliffe, Prestwich, Stockport and Altrincham are making a bid.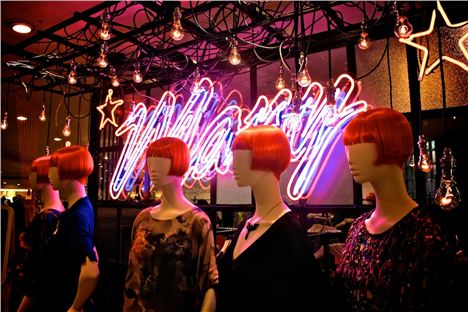 Portas will be making her upcoming selection based on each town's drive and infrastructure. "It's about passion, the right town team, and that they're really getting together and have united thinking," she said.
"If they've got that and I believe there's an opportunity to create something with their infrastructure then I'll go in." 
Mary has made it clear her war on consumer indifference is just getting started. And even though Mary's Bottom Line is over, we know she will keep on the fighting the good fight.
Our favourite touches to Mary's new Manchester shop in House of Fraser include:
Ubiquitous orange bobs– when looking for Mary in the crowd, we repeatedly mistook a dummy for the real deal. (We asked whether she feels she can ever change her powerbob, and she said she loves it, has no intention of changing it, and sports the same haircut in photos of her at five years old.)
Mary's 'Moan Phone'– a red rotary-dial phone on which messages can be left if something is amiss.
The industrial-era loom on loan from MOSI– it formed part of a display at the entryway, strung with bright-orange thread.
Mary's Kinky Knickers– it's the only place in Manchester you can buy the famous underpants, and one of the only places in the UK for that matter, they are so much in demand.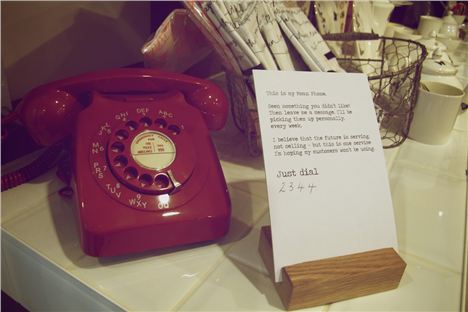 Mary's Moan Phone at House of Fraser Manchester
If you want to get your hands on the knickers, but haven't already done so, your chances are slim at the moment. The following was copied from Mary's website this week:
ASOS – currently out of stock.  New stock arriving mid-April. 

Boots – currently out of stock.  New stock arriving beginning of April.

Mary & House of Fraser – currently out of stock.  New stock arriving end of April.

John Lewis – out of stock online, but a few pairs left in Oxford St, Peter Jones, Blue Water and Nottingham.  Next drop not until June.

Liberty – currently out of stock.  New stock arriving for everyone who's pre-ordered from next week.

Marks & Spencer – currently out of stock.  New stock arriving next week.

Selfridges – a few pairs left online.  Next drop mid-April.