THE ANNUAL Manchester Theatre Awards reflects the wide-ranging, ambitious, and often sold-out, theatre scenein Manchester.
New arts centre HOME, which isn't even open yet, claimed three awards for its site-specific productions.
This year's event, a 650 capacity audience of theatre professionals and their audiences, continued tradition as a lively and entertaining affair compered with wit and commitment by local comedian and actor Justin Moorhouse. There were even the traditional surprises. The full list of awards is posted at the end of this article.
Clare Foster won Best Actress, for her double bill performances in Duet for One and Separation at Bolton's Octagon Theatre, beating Maxine Peake's Hamlet and Suzanne Jones' Orlando, both at The Royal Exchange. Best Actor went to 24-year-old Harry McEntire for his portrayal of Billy Liar at The Royal Exchange.
Best Supporting Actor and Actress awards went to David Birrell in Journey's End at Bolton Octagon and Gillian Bevan for her gender-swap Polonia in Hamlet at The Royal Exchange. Sir Anthony Sher won Best Actor in a Visiting Production for the Royal Shakespeare Company's Henry IV at The Lowry, with Katherine Kingsley winning Best Actress in a Visiting Production for Dirty Rotten Scoundrels, one of the show's which opened its run in Manchester's Opera House, and is now scheduled a brief return in May.
Another award-winner returning, this time to The Lowry where they are Associate Artists, is Kill the Beast's He Had Hairy Hands, which won Best Studio Production for its short run. It's back for just two days, also in May.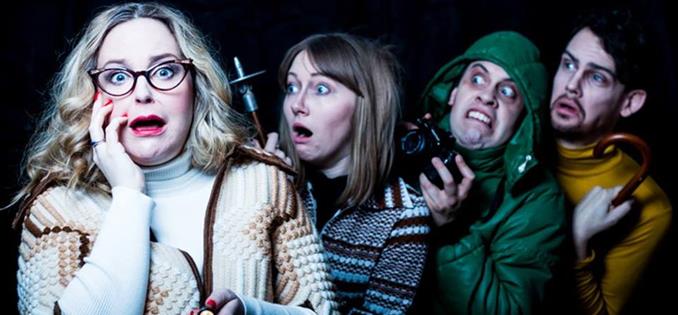 He Had Hairy Hands won Best Studio Production
A range of nominations and awards for touring and home-grown Studio and Fringe Theatre included The Stage Door Foundation award, with cash attached, for excellence; this went to local company Monkeywood Theatre, also Lowry Associate Artists.
New arts centre HOME, which isn't even open yet, claimed three awards for its site-specific productions. Anu Productions' work in Angel Meadow earnt the venue Best Ensemble and Best Production awards, while the spectacular use of Victoria Baths for Romeo and Juliet was an unsurprising winner for Best Design. HOME will be the venue for next year's awards.
Two more award-winners announced a return to Manchester. The National Theatre's Curious Incident of the Dog in the Night-Time and winner of Best Visiting Production will return to the Lowry in Salford where it started its national tour. Jersey Boys, the story of Franki Valli and his collaborators, won the Brynteg sponsored category of Best Musical at the Palace Theatre, to which it returns later this year. Brynteg, a holiday home firm based in Snowdonia, are the first private sponsors of an award, so Justin gave them a plug: their holidays homes are open throughout the four seasons. I got it, Justin.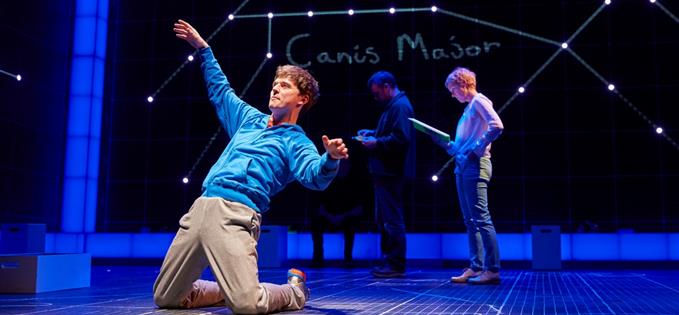 Curious Incident Of The Dog In The Night Time
Justin's an entertaining compere, able to mix his northern-tinged 'thinking aloud' comedy meanderings with the speedy delivery needed to cruise through over twenty awards. He was supported by entertainment from RNCM musicians, musical theatre performers. Jodie Prenger, performing Secret Love from next week's Palace Theatre show Calamity Jane. Matt Rawle and Debbie Kurup, performed You're The Top, from Anything Goes, and Lorna James, a former RNCM pupil now performing in opera, added contrast with two delightful songs.
Kevin Bourke summed up the positive mood in opening and closing speeches, looking forward to this year's MIF, the imminent HOME opening which, together with the reopening of The Whitworth Gallery, are ensuring Manchester stays on the arts map.
The last word should go to David Slack, founder of the highly successful 24:7 Theatre Festival and this year's well-deserved winner of the Special Achievement Award. "Manchester is such a fantastic place," he said. "You can say to someone 'How about we do this?', and you will always find someone to say 'yes.'." That can-do attitude formed 24:7 and is what will, we hope, help it survive the recent loss of its Arts Council grant. David is seeking crowdfunders to support this year's event. If you want to help with this get Googling; there's an 8 April deadline.
For now there's another year of great theatre to look forward to.
Full list of awards:
Best actor: Harry McEntire in Billy Liar at The Royal Exchange

Best actress: Clare Foster in Duet For One and Separation at Bolton Octagon

Best supporting actor: David Burrell in Journey's End at Bolton Octagon

Best supporting actress: Gillian Bevan in Hamlet at The Royal Exchange
Best actor in a visiting production : Sir Anthony Sher in Henry IV: Royal Shakespeare Company at The Lowry

Best actress in a visiting production : Katherine Kingsley in Dirty Rotten Scoundrels at Manchester Opera House

Best production – Angel Meadow: Anu Productions for HOME Mcr

Best visiting production: The Curious Incident Of The Dog In The Night-Time: National Theatre at The Lowry

The Brynteg Award for Best Musical: Jersey Boys at The Palace Theatre

Best opera: Gotterdammerung: Opera North at The Lowry