NORTHERN online store, Missguided.co.uk had a lot to bring to the table. As the principal sponsor of Manchester fashion week and with a full day of shows on the schedule, the fast-fashion womenswear store needed to raise the bar. That, they certainly did.
Making use of an unusual setting, the multi-award winning etailer showcased the best of its print collections for spring/summer 2012 during the first of its five catwalks for day two of Manchester fashion week. Watch the video of the first part of the show below:
The prints showcased catered for a cross-section of print-loving women with something for everyone shown in the collection. Bold brights and geometric inspired day dresses catered for the daring whilst pretty florals and cute Aztec prints made way for a more modest taste. To clash or not to clash wasn't even a question with black and white striped jeggings layered over shimmery bohemian bomber jackets and polka dots of all colours rubbing up against animal prints.
Moving from day to night, fashions followed accordingly with an array of party dresses and club gear lighting up the catwalk for the final show of the day. Not for the body-shy, Missguided.co.uk has that WAG appeal where glamour reigns and there's nothing wrong with that provided you have the sparkling confidence to match your sequin hot pants.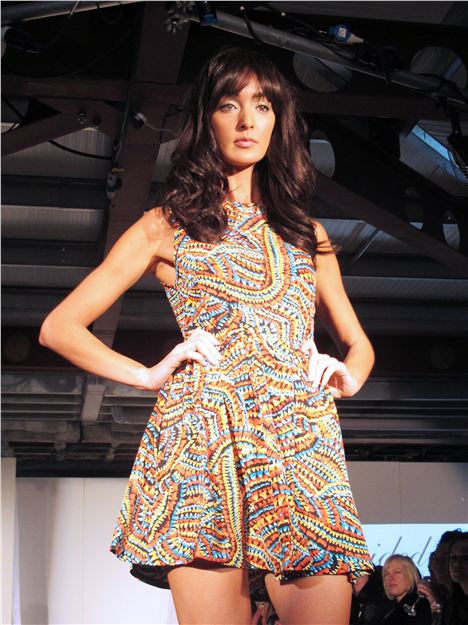 Missguided At Manchester Fashion Week
Cast members from Desperate Scousewives – who wouldn't have looked out of place on the catwalk themselves – cheered on the sea of stretch mini dresses, towering platforms and cheeky flashes of leopard print. Missguided.co.uk certainly don't do dressing up by halves.
The show comes just weeks after the company announced their best year to date with a record £14.7m in sales for 2011. Having got too big for their moderately priced but bang on-trend boots, the brand is now moving to a new, larger base in Trafford Park. With a string of television endorsements and advertising campaigns the brand is quickly becoming a household name on a national scale but it was nice to have the e-tailer back home, just for Manchester.
Follow Jordan on Twitter @jordanjmcdowell and visit Jordan's fashion blog www.fashionrambler.com
Follow Lynda on Twitter @lyndamoyo
For up to date information on Manchester Fashion Week, straight from the catwalk, follow Body Confidential on Twitter @bdyconfidential