ST Teresa of Avila was one helluva girl, full of pithy one-liners. Take "In light of heaven, the worst suffering on earth will be seen to be no more serious than one night in an inconvenient hotel."
We turned a corner and came eyeball to eyeball with an ibex
She couldn't have been referring to El Milano Realo, our excellent base for a week's walking holiday in the Sierra de Gredos. Where, you ask? Well, it is definitely not a fixture on the mainstream traveller's bucket list. They are missing out on a terrific corner of Spain – almost in St Teresa's backyard, an hour's drive into the mountains from her glorious home town of Avila.
El Milano Real is the best hotel in the sleepy village of Hoyos del Espino, part agricultural, part retreat of weekending Madrilenos with the tourist mainstays discreet Casa Rural cottages and National Park camping sites for school parties. It comes alive each summer when it hosts a rock festival "Músicos en la naturaleza" (Musicians in nature), which has starred Bob Dylan, Sting and Deep Purple. A month later and we would have caught this year's headliner, Mark Knopfler.
This is the northern 'Alpine' half of the Sierra de Gredos range. The southern, more obviously Mediterranean part, is less rock and roll. The town of Candeleda has named a street in honour of our former PM, the Avenida de John Major, because he has holidayed in a parliamentary colleague's house there for 25 years.
I'd missed out on all this oxygen of publicity. I was there because Headwater, the excellent Northwich-based walking holiday firm recommended it. Reluctant bookers had become converts, reporting back the highest satisfaction rates.
Satisfaction comes in many forms – the El MIlano Real facilities plusses included a spa, fine food, a phenomenal wine list and even a private observatory to probe the clear mountain nights – but the crowning glory was the walking.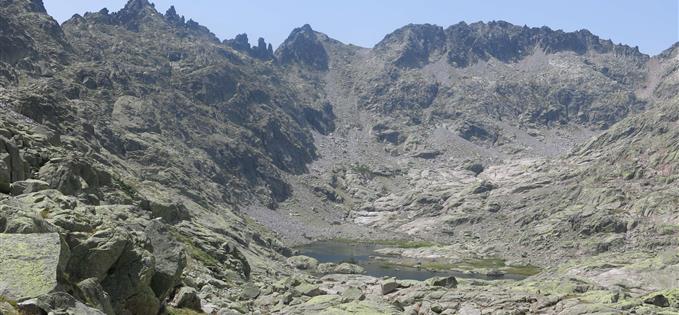 Laguna Grande; reached by a steep stony track from La Plataforma, below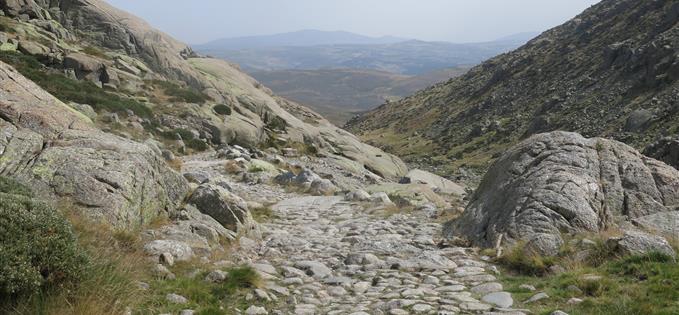 High point, literally, was the trek to the Laguna Grande, a glacial lake in the shadow of the mighty 8,500ft peak of Almanzor. A perfect spot to unpack the picnic packed by the hotel.
To get this high we had driven up a private road to La Plataforma, a car park starting point for paths crossing the range via the mountain refuges.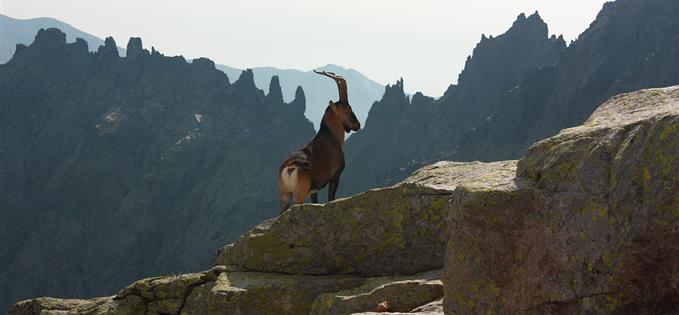 From this base camp it was a slog up stony tracks in temperatures touching 40C. Fortunately there were wells along the way to replenish the water bottles. Beyond one of these, the Fuente de Cavadores, we turned a corner and came eyeball to eyeball with an ibex. The Gredos version of this wild goat is the largest in Spain and a favourite quarry for hunters. Ours understandably made a swift exit, my wife capturing it on film just before it skedaddled over a ridge.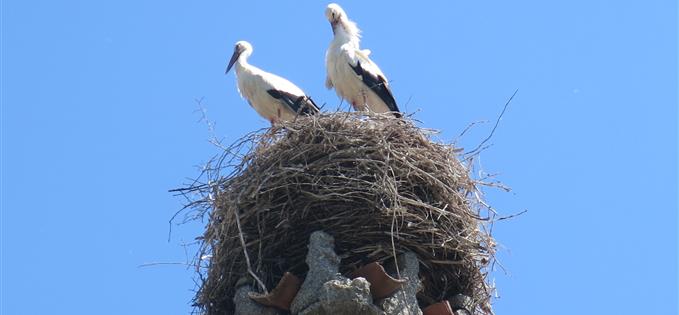 This 10km walk was just one of 20 or so very varied alternatives in the Headwater booklet, all with excellent instructions that, combined with rigorous signposting, made up for the local maps. Some hikes were less challenging, taking in woodland and river routes, sleeping villages with nesting storks, often circular and centred on Hoyos.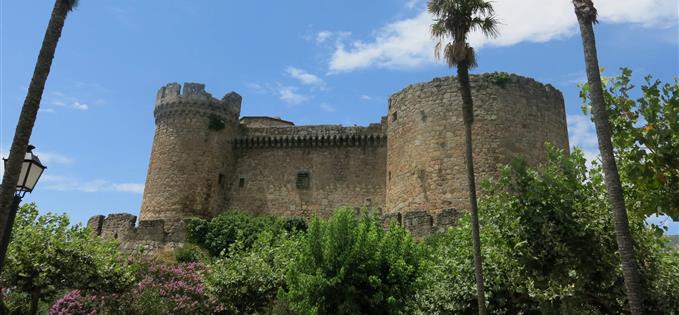 Castle of Mombeltran
My second favourite walk, though, involved us hurtling south down the N502 and over the vertiginous pass where the Romans once built their road, sections of which are still evident. On this south face of the range villages such as El Arenal cling to the rocks and the country roads are hair-raising rollercoasters. We parked in pretty San Esteban del Valle to start our 12km 'Villages of the South' walk, taking in Santa Cruz del Valle and the more monumental, historically significant Mombeltran with imposing mansions and the 15th century castle of the Dukes of Albuquerque before circling back to San Esteban. After a well deserved dark beer on the shady terrace of Mombeltran's Rincon del Angel. It's all uphill again after here.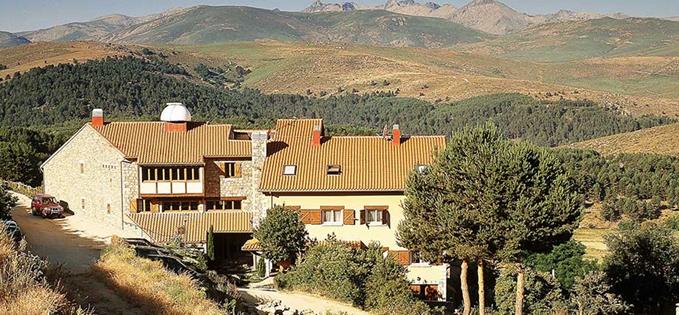 El Milano Real
This is a countryside of olives, figs and vines, while the north is pine trees, horses and cattle and almost moorland panoramas. In the midst of all this El Milano Real is a sophisticated retreat. The chalet-like building boasts a library filed with the amazing book collection of American ex-pat owner Teresa Dorn and the small state-of-the-art observatory run by her Spanish husband, Paco, whose other passion, wine, is reflected in a large selection of the country's finest at absurdly small mark-ups.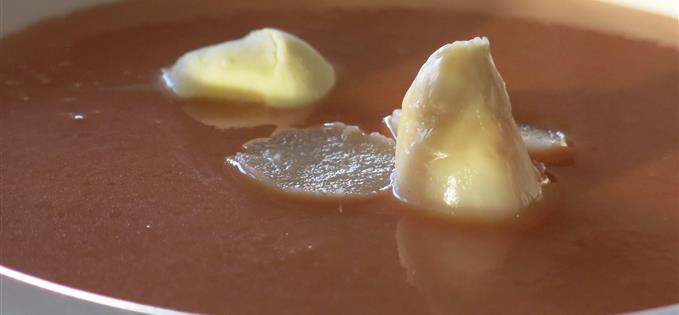 Salmorejo, a summer speciality
Impressive food (try the cold salmorejo soup and the Gredos beef) is a match for these and the 'gourmet breakfasts' are almost a theatrical performance. One cavil about the hotel experience is the lack of air conditioning. Despite the altitude the summer heat is searing. Perhaps spring or autumn is the best time to visit.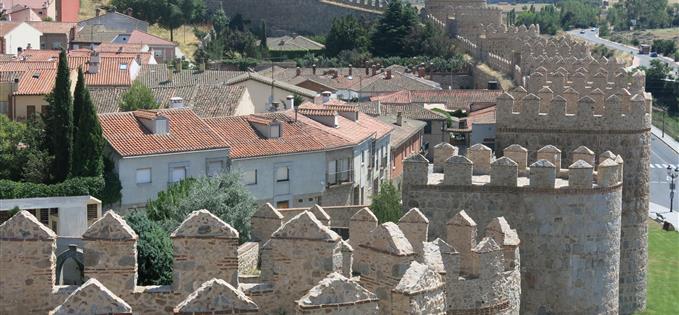 One destination that is divine (literally) at any time of year is Avila, capital of the region. To get your bearings in this city of mighty walls encircling a sedate centre it's best to do the 2,500m circuit of those ramparts. There are any number of convents connected with St Teresa (1515-82), Catholic mystic and Carmelite nun given to sensuous experiences of Jesus recounted in her autobiography and incessant mortifications of the flesh. Bizarrely General Franco used to keep her mummified hand by his bed and died clutching it in 1975.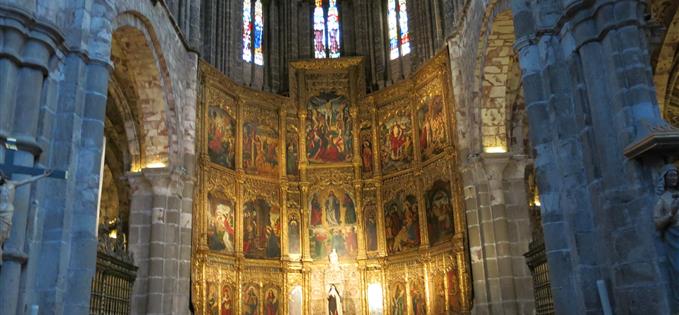 Avila Cathedral is a magnificent melange of architectural styles
But the one essential holy must on aesthetic grounds is the Cathedral, the Catedral de San Salvador, one of my favourite buildings. It was started in the 12th century and never finished (there's a missing tower above the main entrance). Set into the city walls, its fortress-like appearance was not just for show. Inside I love the red and white banded Romanesque section going head to head with the later Gothic main structure. The adjoinng cloister is a calm haven.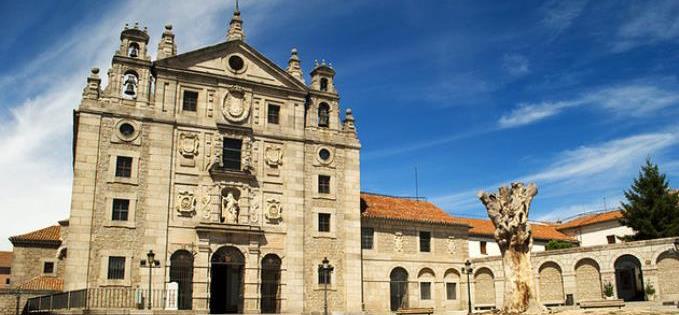 Convent of St Teresa
The Convento de Santa Teresa de Jesús, founded in 1636, lies opposite the Puerta de la Santa on the site of her birthplace. The room in which St Teresa was born has been converted into a lavish Baroque chapel with the altar displaying a bejewelled statue depicting the moment of her vision of the Cross. The convent allows tourists to visit the church, the relic room, and its museum.
Typical St Teresa souvenirs; below, we settled for Yemas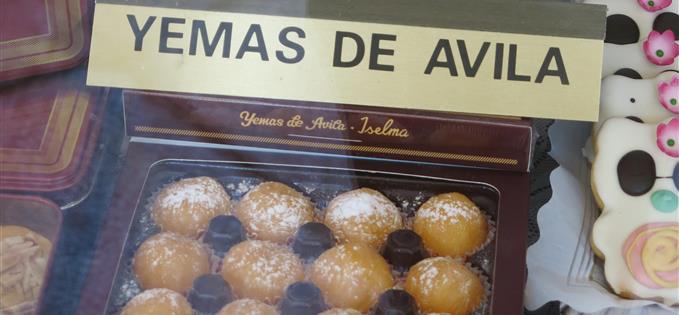 Yemas
If you seek a memento of St Teresa you really can't go wrong. Some of it beyond kitsch. We settled for a box of Yemas de Santa Teresa, a dessert made from candied egg yolks and granulated sugar, coated in powdered sugar. On her feast day, October 15, the shelves are cleared of this insubstantial curio.
Fact file
Headwater's Sierra de Gredos is a seven night 2-boot ("moderate") level self-guided walking holiday, departing selected Sundays March to October inclusive.
Prices from £959 per person (tour only)/ £1159 (inc return BA flights Heathrow-Madrid and hire car).
Prices include travel as specified, seven nights' half board hotel accommodation (inc gourmet breakfasts), five a la carte picnics, detailed maps and meticulous walking route notes, 24/7 support from Headwater throughout.
The hotel you stay at is El Milano Real in Hoyos del Espino, which is under two hours' drive away from Madrid Airport. You can extend your stay with further nights in Hoyos or add on a weekend break in Madrid at an extra charge. The Sierra de Gredos is within half a day's drive of great Spanish cities such as Segovia, Salamanca and Toledo, too.
For full details of Headwater's walking and cycling holidays visit this link.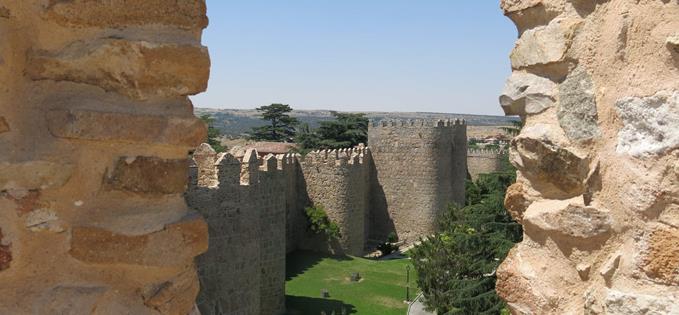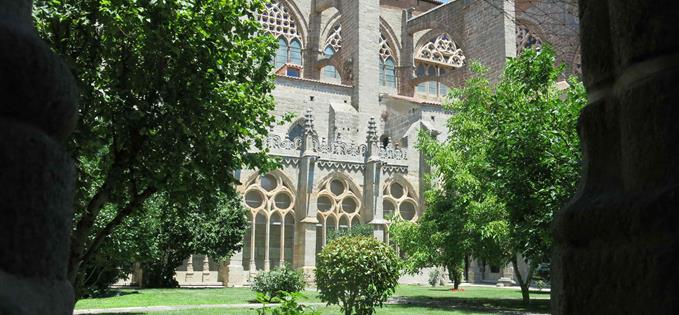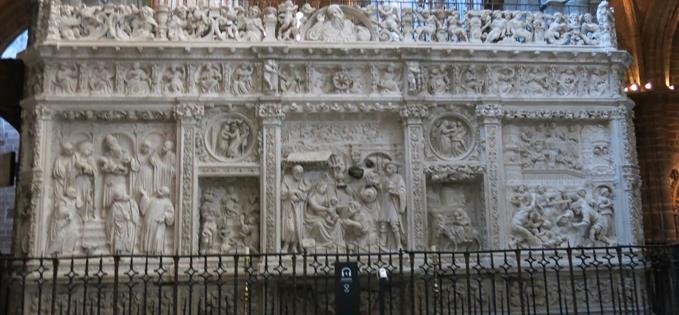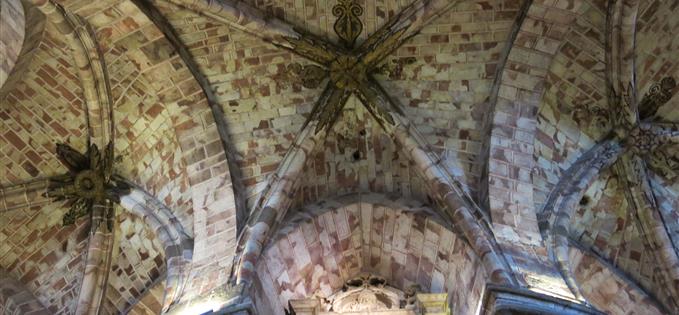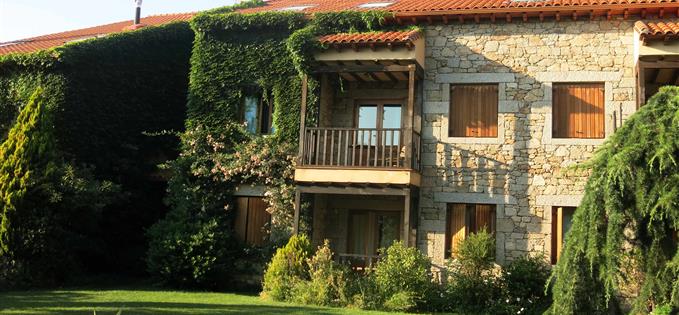 Our hotel; below, its welcoming library