MAGGIE'S Centre is how public life should be. Tranquil, beautiful, measured, ordered, inspiring, with many of those qualities derived from the environment. Centre Head, Sinead Collins, says: "Maggie's architecture helps do our job for us."
People need more than medicine
The designer of this masterpiece is Levenshulme-boy done good, Lord Norman Foster. Foster is, of course, the very definition of the jetsetting starchitect, but despite that high-octane reputation has come up trumps with his first hometown building.
Forget the Hongkong and Shanghai Bank, the Reichstag dome, the Millau Viaduct, he's turned the volume down by designing a structure and a landscape, with gardener Dan Pearson, which is entirely harmonious.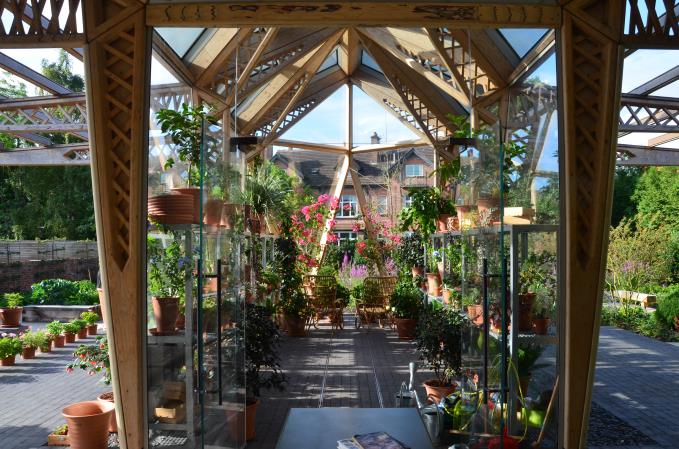 The flowery nose of the building
Maggie's Centre opened in April on Christie Hospital land. It cost £3m and is part of a charity which provides 'free, practical, emotional and social support for people with cancer and their family and friends'. The name derives from Margaret Jencks, garden designer, who when diagnosed with cancer wanted, along with architect husband Charles Jencks, to create a more benign space for cancer sufferers to gather outside the traditional hospital environment.
There are a number of Maggie's across the country all designed by leading architects. Manchester is already proving the busiest centre which is partly down to proximity to a major cancer hospital, but also because of the North West's terrible cancer stats in common with many ex-industrial areas where 'lifestyle choices and familial habits' exacerbate the situation.
At Maggie's though, all is peace and calm with food often prepared from ingredients grown in the garden. People can get out of bed in the Christie Hospital, put on everyday clothes, walk down to Maggie's, and be whoever they want, but above all be themselves.
I bumped into a man at Maggie's who I'd met a long time ago, previous to him having cancer. He said: "In hospitals you can feel institutionalised. You're in a medical situation and this place takes that medical situation away. You feel 'normal' if that's the right word. Comfortable. At ease. We can sit in the garden here, use the library, talk to other people about what is happening with us and because they are in the same boat they get it. The volunteers are amazing. Or you can sit and talk about anything but cancer."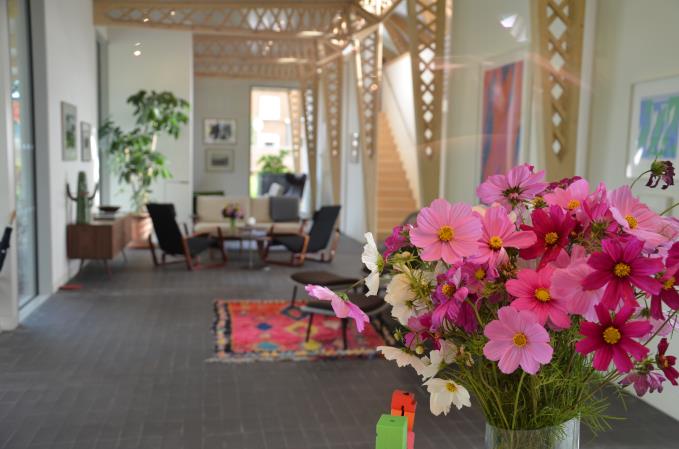 Flowers in a bright interior
As Jemma Halman, the fundraising manager says: "Maggie's is what you want it to be. There is freshly prepared soups and home-baked cakes from our volunteers without whom we couldn't do what we do. People can come here and pot plants, orr take part in Tai Chai, or yoga, or see one of our support specialists."
"People feel invested in," says Sinead Collins. "We have people who come in and can't believe it, they say, 'Is this for me?' This is a model which from 1996 and the first centre in Edinburgh, has been shown to work. As an advanced practitioner within the hospital context I found I was dealing with difficult situations one after the other. In Maggie's I can have time to sit and speak to people."
She pauses and then with emphasis says: "People need more than medicine."
Foster+Partners have designed a building which fits perfectly with these ideas. It is so light it seems to float a foot or two above the ground. The lightness is appropriate, Norman Foster pilots his own helicopters and planes, and his design here is intended to look like an aeroplane, with the upper fuselage the offices of the building and a cockpit looking into the nose, which is filled with flowers and colour year round.
The rooms on each side of the 'fuselage', with their huge windows, seem to evaporate into the gardens. This is Foster and Dan Pearson's best trick, they have made the building and garden appear as a single entity, a seamless whole. Meanwhile the engineering of the timber elements is a sweet marvel, thin laminated strips called glulam, weave gentle structural patterns. You can't help rub your hands down them. You can't help smiling as you walk into Maggie's. And maybe, on leaving, you can't help feeling a touch of envy and selfishness, thinking, 'I want this for my house, I want this for everybody's house.'
"It's the opposite of a hospital," says the man I'd bumped into. "This place makes you feel yourself again."
The city has much recent architecture worthy of admiration, whether it be the offices of One St Peter's Square, or the scale and majesty of the Civil Justice Centre's western wall, but Maggie's is different in mood. It may be intimate but it is just as impressive. Like Maurice Shapero's building for charity 42nd Street (click here) on Great Ancoats Street, it reveals the power of architecture to make city living better.
Maggie's Centre, is at The Robert Parfett Building, The Christie Hospital NHS Foundation Trust, 15 Kinnaird Rd, Manchester M20 4QL.
The building needs £1m a year from fundraising and will serve 60,000 people per year. Anybody can help the fundraising by joining activities such as the Culture Crawl on Friday 30 September - click here.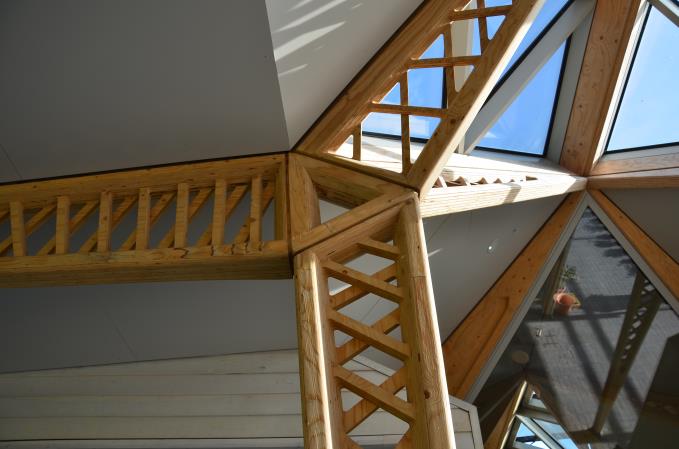 An essay in simplicity and beauty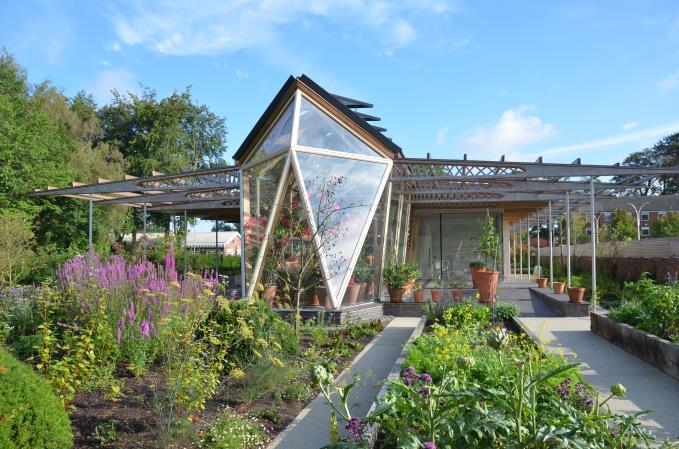 The building design resembles a plane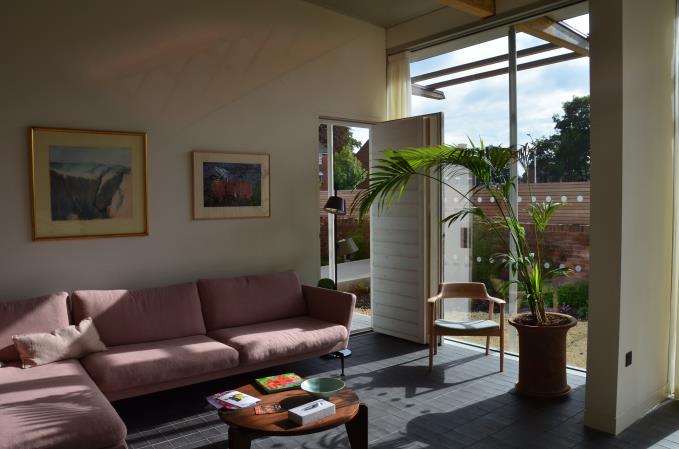 People need more than medicine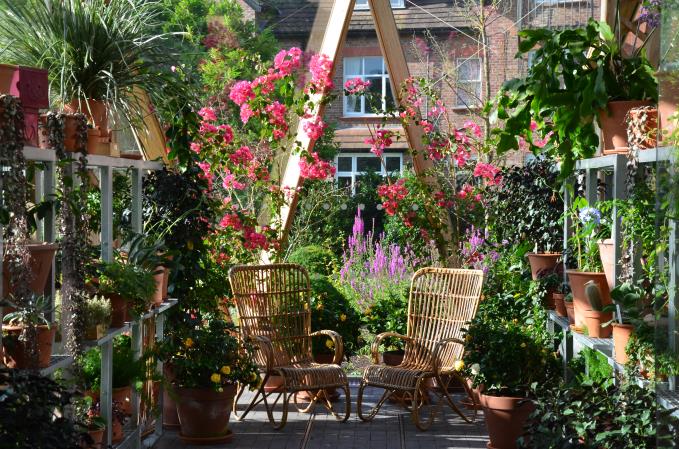 Colour and light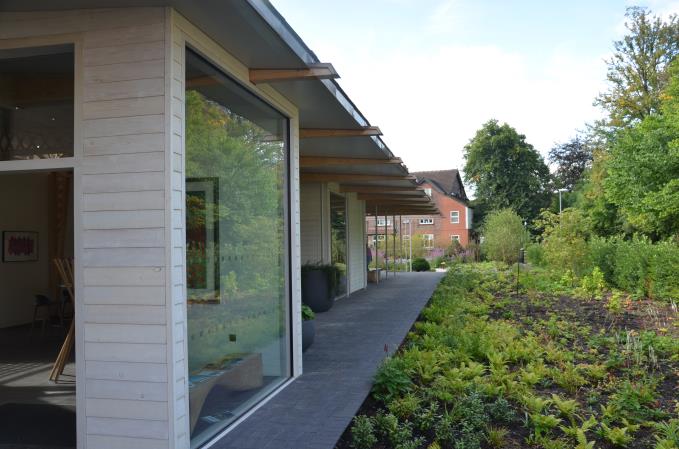 Garden and building in harmony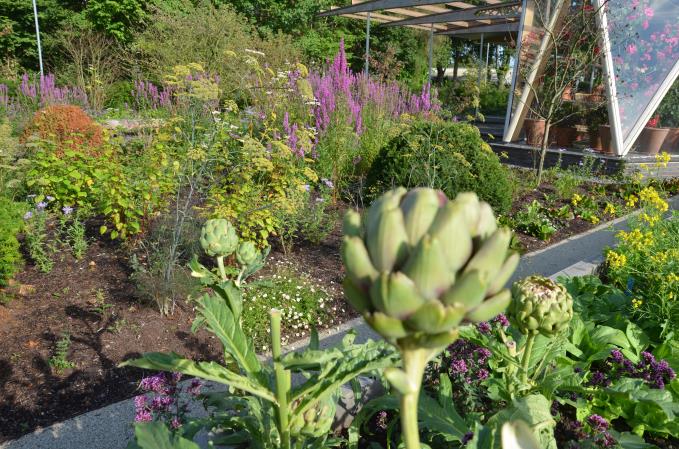 Artichokes getting ready for the pot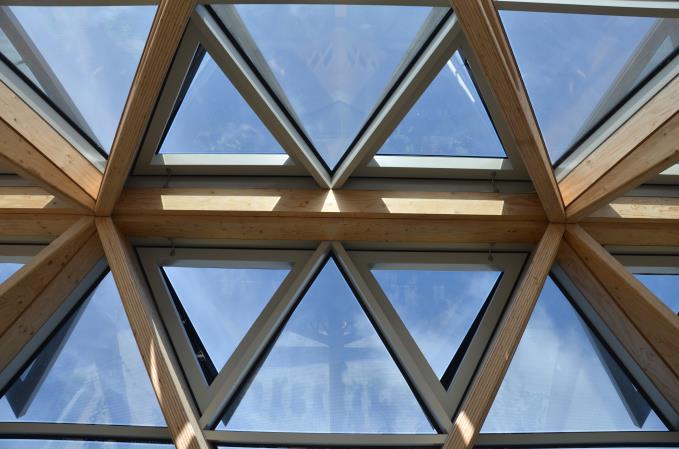 The ceiling merging with sky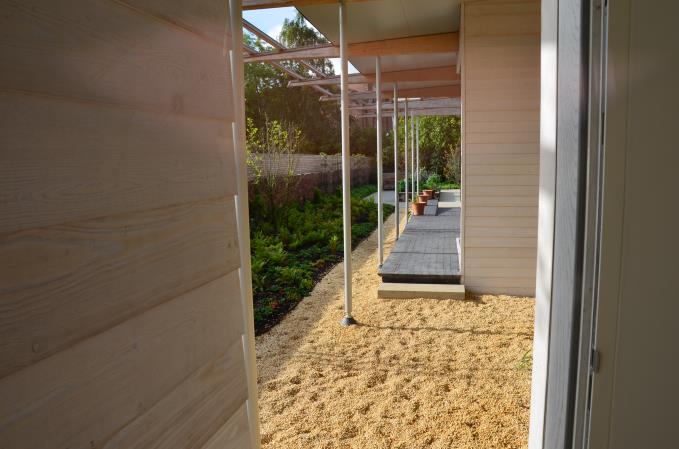 Inside is outside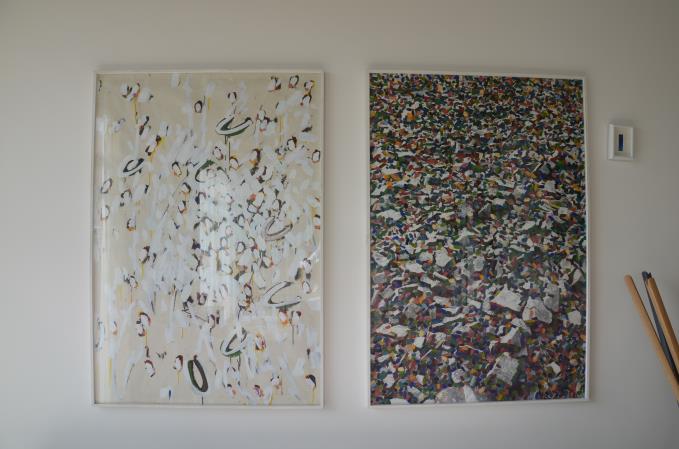 Artworks donated by the Whitworth Art Gallery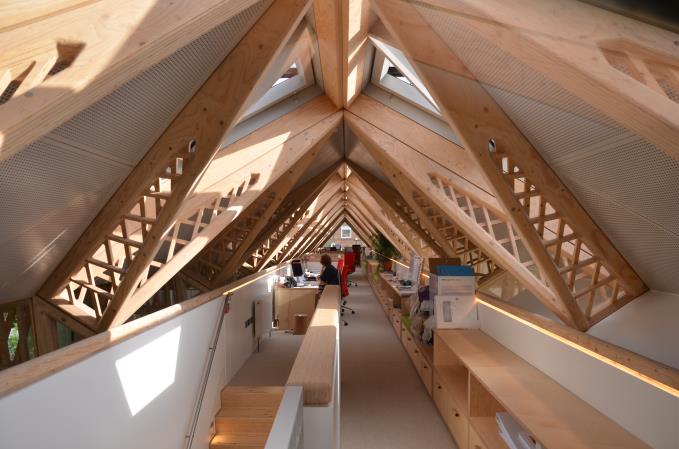 The offices in the upper fuselage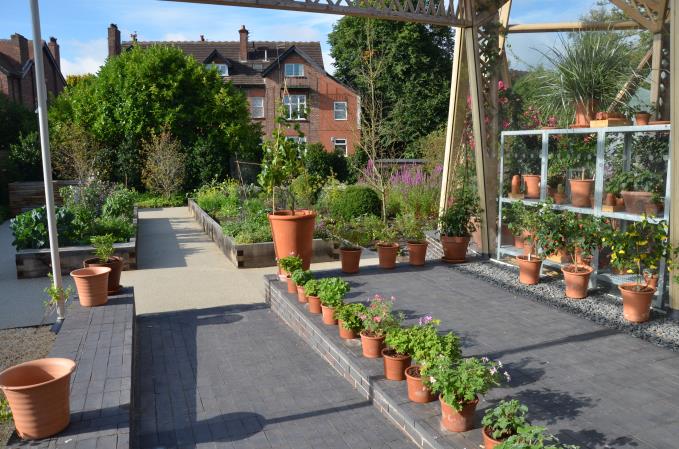 Pots and light and beautiful, carefully sourced materials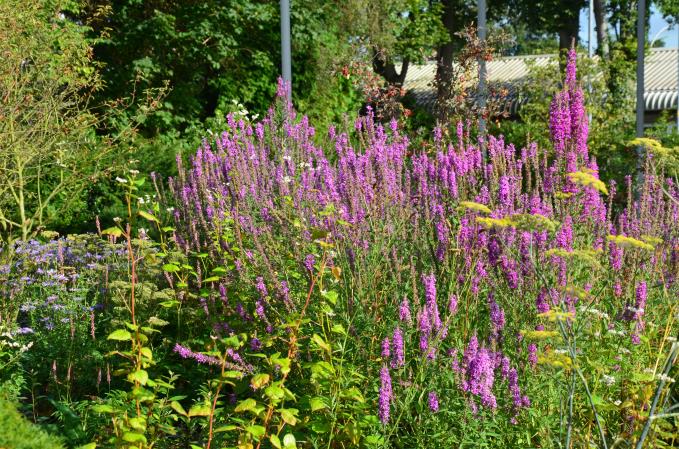 The garden in sunshine