ANYONE who is losing their hair will know the confidence-dive it can cause.
It's non-surgical, pain-free, and the new hair appears gradually rather than overnight
Surgical hair transplants can restore your hair but few people want the disruption of a major operation or the 'overnight' results that lead to surprised looks from friends and colleagues.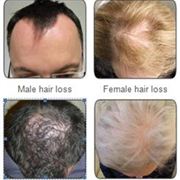 It's one reason why a new treatment for hair loss – Halo Elite Laser Hair Restoration – has become the UK's fastest-growing choice for hair renewal.
It's non-surgical, pain-free, and the new hair appears gradually over three to twelve months rather than overnight. Treatment sessions last just 12.5 minutes.
Halo Elite Laser Hair Restoration is available in over 40 locations nationwide. David Rozman in Lincoln Square is the first – and currently the only – salon to offer it in Manchester.
So how does it work? Put very simply, low level laser therapy is used to improve cellular metabolism and restore damaged hair follicles, leading to a dramatic increase in hair growth and hair strength.
For a more detailed explanation, click here.
Laser hair restoration was used by Ryan Giggs to restore his thinning hair. There's a growing list of happy customers – male and female – in the UK and in the US.
Various payment options are available to suit your budget, including finance.
If you're interested, book a free consultation at David Rozman where they'll assess your suitability and give you realistic expectations. The salon is located on Queen Street, Lincoln Square, just off Deansgate in Manchester city centre.
To book a free, no-obligation consultation, please call David Rozman on 0161 832 0179 quoting 'Manchester Confidential'.
Click here to view how Halo Elite Laser Hair Restoration helped Ryan Gigg's thinning hair