IN six inch platforms, Kelly Brook may not be the most likely candidate for the role of  SkyRide ambassador– the free celebration of cycling – yet Brook has been involved in promoting the cycling event in sky-high heels for four years running.
She's elegant and classic, a take-home-to-your-mum kinda gal, a killer combo of sexy and sweet that's proved to be pivotal to her appeal.
As Grazia's Best Female Body, FHM's eighth Sexiest Woman in the World, a lingerie model for Bravissimo and Ultimo, Playboy model and Piranha 3Double-D star, it certainly wasn't Kelly's fantastic set of wheels that brought her to fame. But smiling affectionately with hair half-beehived and her sweet Jaeger day dress modestly concealing her famous cleavage, I am already half sold. 
Brook is charming, cute even, and could have feasibly cycled in from some village fete, dishing out daffodils to bystanders on her way. Her skyscraper Moschino platforms may have proved slightly problematic, but let's give her the benefit of the doubt. She's a woman with 21st century problems and is the first to broach the unlikelihood of her role.
"I know you wouldn't necessarily think somebody like me would be involved with something like this, but I love riding my bike. I have my old fashioned Pashley and I'm very much in love with the whole romance of riding your bike" said Brook.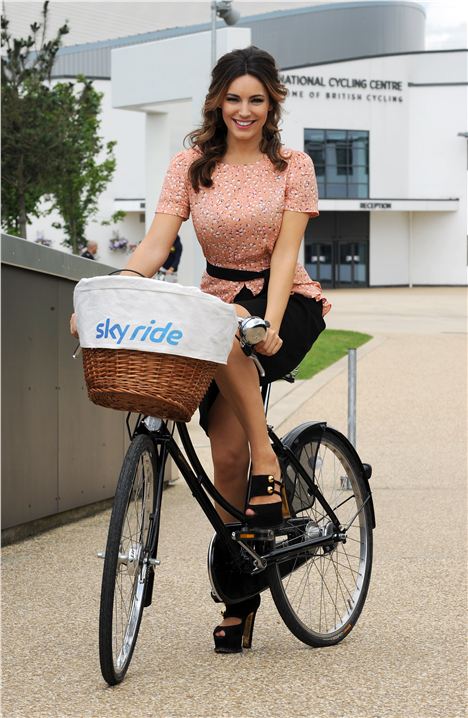 Kelly Brook likes to ride a bike. Honest.
"The idea behind it really, is that British Cycling are really keen to get more women on their bikes; apparently there are three times more men than women that ride bikes, which is quite phenomenal really. I always thought bikes were quite a female thing. I think it's important to encourage more women and for them to realise that riding a bike is cool, it is fashionable and more importantly, it's a great way to exercise and travel for free."
It is precisely the unlikelihood of Kelly Brook on a bike which makes her an excellent ambassador for SkyRide and for British Cycling's female demographic.  If Kelly Brook can do it (in heels I might add), so can we.
Talking with real energy about her involvement, Brook said she is "looking forward to getting to know Manchester" having only briefly visited the city last year for her ill-fated appearance on Britain's Got Talent. Speaking about her shock axing from the ITV talent show, she appears to have put it behind her, now concentrating on an eerily similar concept with the National Theatre Studios.
"I've been doing some workshops there with some world famous performers - clowns from the Cirque de Soleil, The Crankies came along on one of the days - and it's basically been about bringing together the old comedy acts and classic performers that made The Royal Variety shows so great back in the 1930s and 40s."
 "Part of Britain's Got Talent is about making a mockery of people, but with the workshops at the National Theatre we're looking at already established acts, the kind of modern Laurel and Hardy types of character and seeing how they interact with the audience and more interestingly, with each other off stage. The Crankies, for example, are a married couple in real life, so you'd think they share a dressing room, but they don't, they have separate rooms."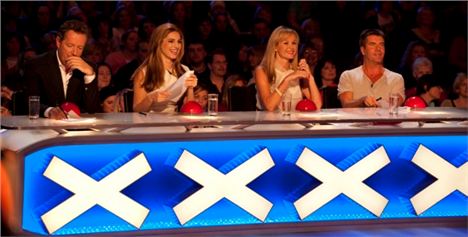 "Part of Britain's Got Talent is about making a mockery of people." - Kelly Brook
Despite having worked as a judge, model, presenter, TV and film actress, it's always Kelly's curves that have been at the forefront of her career – making men drool and women wonder how she maintains such an award- winning, money-making figure.
"I ride my bike," said Kelly, with her SkyRide promotional helmet well and truly on, "and I like to go running, but because my work doesn't involve sitting behind a desk and tends to be very active, doing photo shoots and travelling around quite a lot, I don't really have a set regime. If I feel like I've eaten too much I'll go for a run, if I feel tight, I'll do some yoga, so I really just do what fits at the time.''
Her unregimented but active approach seems to be working. Kelly looked in great shape, slim with a feminine softness to her figure, with no hint of Madonna-like bones and gristle. And for any boys who might be interested, her positively peachy curves swelled in all the right places but were moderately dressed.
Kelly's style, when she is wearing clothes, is comparably different from what you'd expect from her raunchy photo shoots for the likes of GQ, FHM, and Esquire. She's elegant and classic, a take-home-to-your-mum kinda gal, a killer combo of sexy and sweet that's proved to be pivotal to her appeal. This style is translated in her 1950s inspired clothing collection, racy vintage underwear and swimwear range for New Look which she was also currently promoting as well as the upcoming Keith Lemon film, in which she stars.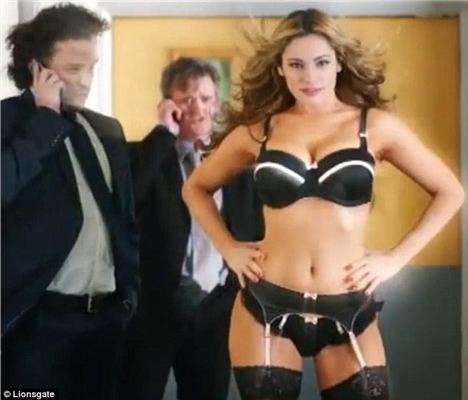 A Screen Shot Of Kelly's Appearance In Keith Lemon The Film
"It was great fun working with Keith, he's done so well getting so many people involved, I don't know how he's managed it" beamed Brook. Keith Lemon: The Film hits cinemas on 24 August and is crammed with cameo roles from the likes of Gary Barlow, Ronan Keating, the Hoff and various Spice Girls, Peter Andre, Jedward and of course Kelly Brook, who if the trailer is anything to go by, does a lot of standing around in her underwear. But can viewers expect a boob-off against Holly Willoughby, whose equally famous cleavage also makes a cameo?
 "Holly and Fearne were there for only one of the days, so there wasn't much of that, no, but there were some jokes made" laughed Kelly.  "Maybe it could be something for the future?"
I leave a little bit in girl love. A true English Rose who doesn't take herself a seriously as the press would like to believe. Sure, her assets are notably brilliant, but Brook is definitely more than just a pair of boobs.
The free SkyRide Event is in Manchester on Sunday 15 July.  There is no official start point or start time, but the routes will be traffic-free from 10am-4pm and participants can ride at their own pace.  For full details on the event click here.
Follow Holly on Twitter @HollTown