THE marriage between football and fashion has been far from smooth sailing. More often than not it would appear unless footballers are modelling for fashion houses, their fashion credentials leave much to be desired.
Who could forget David Beckham's sarong-gate or Rio Ferdinand's holiday hot pants? It would seem many footballers have a tendency to cloak themselves in money, foregoing style in the process.
"Even though I've said he's got style, Micah Richards wore Ugg boots and he's got a one-piece. He can pull it off though. He's got the right frame. I've had some fashion mistakes too. Velour tracksuits."
But then they are footballers of course, not fashion gurus. It's us, the public, that has created these great expectations of them so you can't blame them for branching out when an extracurricular opportunity arises.
That's exactly what Manchester City centre-back Joleon Lescott has done. Teaming up with fellow footballer Jordan Stewart and his older brother, Aaron Lescott, they've come up with menswear line Lescott Stewart and a diffusion label called LS.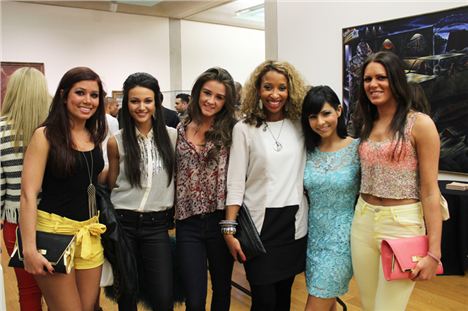 Nikki Sanderson, Michelle Keegan, Brooke Vincent and Roxanne Pallett at the Lescott Stewart Launch, Manchester
"The three of us started as best friends, growing up together and remaining close through our respective footballing careers," said Lescott.
"In the football industry, from a young age, fashion is always around you. We decided we had the perfect opportunity to develop a brand that related not only to sports people, but across the whole spectrum of male fashion."
For the launch night, held at Manchester Art Gallery, the City squad - minus a few notable team players (Balotelli,Tevez and Nasri) - alongside local soap stars and fashion industry insiders, had the opportunity to view the collection before it becomes available to buy on the Lescott Stewart website at the end of April. Stephen Ireland and Shay Given, who both left City for Aston Villa, also made a surprise appearance to support their former teammate.
Onto the collection, and the Lescott Stewart boys haven't strayed from the archetypal smart/casual footballer look we've come to know and even love - for some fans anyway. Thus the collection is a sea of low cut graphic print T-shirts, many featuring erotically charged women and whacky slogans. Slouchy vests and faux waistcoats layered over more tight fit tees with plenty of scoop necks to show off those finely waxed chests, sit under swarve high-neck jackets.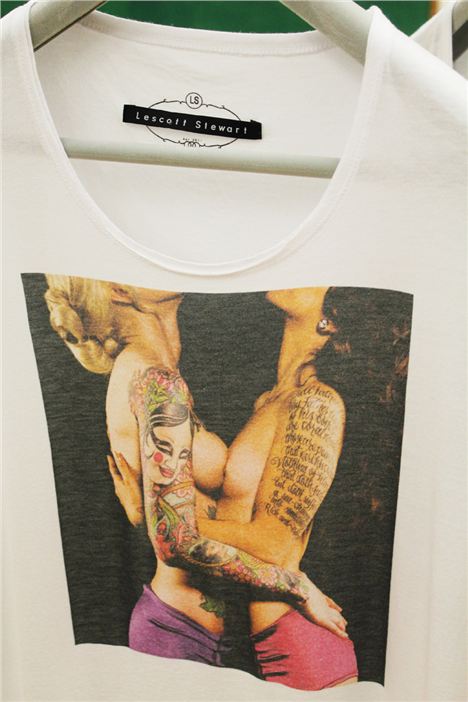 Lescott Stewart Launch, Manchester
It's for the pretty boys with bulging biceps and all the 2012 champions of chinos. If that's your style, you can also rest assure it's not going to shrink after one wash either. It's all real quality, well-made stuff. Prices start from £65 to £110 for the Lescott Stewart range and £25 to £60 for the LS diffusion range. Future plans are to eventually design accessories too and potentially a childrenswear line, but womenswear is a no go according to Lescott who has decided "women are too picky."
The current menswear range is also very much a direct reflection of what Lescott and co. like to wear round the house, and it's to that end he turned to his team mates for first approval, naturally.
"Micah Richards has a lot of style to be fair", said Lescott.
"Nigel de Jong's style is similar to mine which is why I think he's stylish, but the most stylish of them all has to be Samir Nasri.
"That's not to say we haven't all made fashion mistakes in the past. Even though I've said he's got style, Micah Richards wore Ugg boots and he's got a one-piece. He can pull it off though. He's got the right frame. I've had some fashion mistakes too. Velour tracksuits."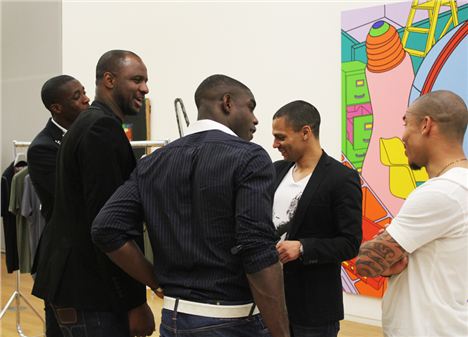 Yaya Toure, Patrick Vieira, Micah Richards and Nigel de Jong at the Lescott Stewart launch, Manchester
And for those who still say footballers and fashion shouldn't mix? Lescott and the team are ready for the flack. Having never claimed to be the sartorial taste spokesmen of footballers, they've simply designed exactly what they would wear off the pitch. The rest is up to you, the consumer.
"We know there will be people thinking 'here go three footballers having a go', but we stand by the quality of the garments we've developed. We haven't plastered our names all over T-shirts, we've gone down the design route so people can buy into the design rather than the name.
"I want people to know we're serious about it. "
The range will be available online at www.lescottstewart.com
Follow Lynda on Twitter @lyndamoyo