YES, we've all heard the old jokes about the weakness of vegetarians and are familiar with the stereotypical portrayal of them as pale, hairy and a bit weedy (like Neil from The Young Ones). And aren't all vegetarians a bit smug too? As if they've found the secret of healthy eating and everyone else is just a bit too stupid to get it?
Just being a vegetarian is no more a cast-iron guarantee of being healthy than being a member of a gym is a guarantee of fitness.
It's National Vegetarian Week this week (21-27 May) and the Vegetarian Society are keen to dispel some of the myths and encourage us all to have a dabble in vegetarianism. But are vegetarians really healthier than everyone else and can you attain peak physical strength, eg. topically, as an Olympic athlete, on a vegetarian diet? Surely the only way to build the kind of muscle needed by professional sportsmen and women is by eating vast quantities of lean meat?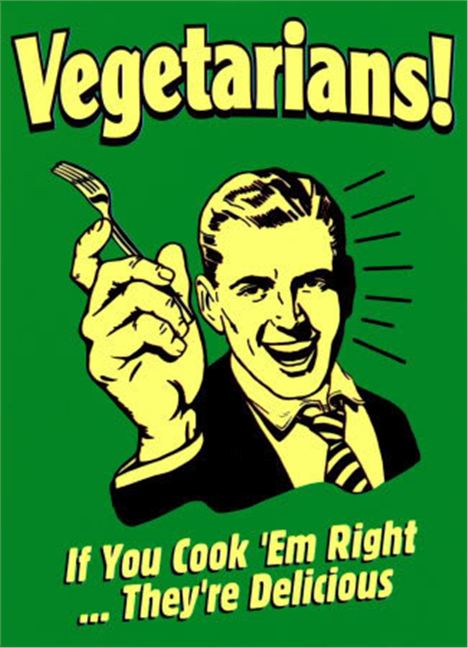 Athletic strength
It may surprise you to learn that some very high-profile athletes are vegetarian: remember Carl Lewis, who managed to win several gold medals for his country despite eating a vegan diet? And both Billie Jean King and Martina Navratilova are reportedly vegetarian yet I don't think you could describe either of them as weedy at their sporting peak. In reality, there is no reason why professional sportspeople shouldn't follow vegetarian diets. Nowadays sports nutrition is such a highly technical science, it's as easy to get the right balance of nutrients on a vegetarian diet as it is on any other diet.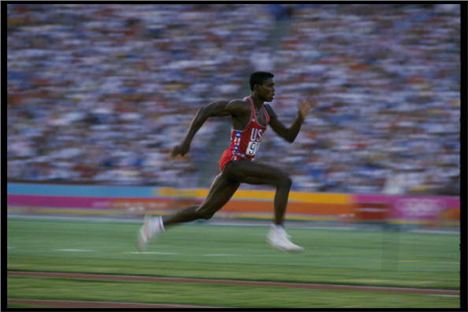 Carl Lewis, Olympic Athlete And Vegetarian
The secret of a long life?
So, if we can achieve sporting perfection on a vegetarian diet, does avoiding meat guarantee us a long and healthy life? In his book Blue Zones, Dan Buettner explores factors common to the lifestyles of four of the world's longest living communities. Interestingly, only one of the four is entirely vegetarian but the other three, although they eat meat when it is available this is far less often than most people in modern Western societies. Instead, they include other protein sources, such as nuts and beans, which offer additional nutritional benefits such as fibre and 'good' fats.
This is not always the case for vegetarians in the UK who often rely far too heavily on dairy produce (especially cheese) as a protein source. To be fair, they are not greatly helped by the vast majority of restaurants which appear to be incapable of providing dairy-free vegetarian choices. The same nutritional advice is true for both vegetarians and meat-eaters: include as wide a variety of vegetables in your diet as possible. Just being a vegetarian is no more a cast-iron guarantee of being healthy than being a member of a gym is a guarantee of fitness.
Bottom line
While it's perfectly possible to eat an unhealthy vegetarian diet (cheesy chips, anyone?), most of us would probably benefit from reducing the meat and/or dairy and upping the vegetable content of our diets. Embracing concepts such as 'meat-free Monday' as endorsed by Paul McCartney or the 'wake-up to a vegetarian breakfast' being promoted by the Vegetarian Society this week, are good ways to gradually change the way you eat.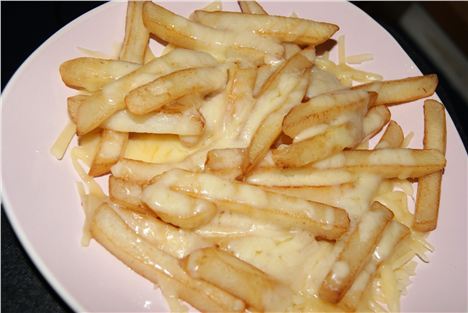 There's More To Vegetariansim Than Cheesy Chips
Check out the Vegetarian Society's website www.vegsoc.org for inspiration or pop along to Albert Square this Saturday 19 May, for the Meat-free in Manchester event. Who knows, you might start to feel healthier... and perhaps even stronger.
---
The advice given here is not intended to replace medical advice. Always consult your GP if you are concerned about your health.
Clare Jones, BA(Hons), Dip ION, mBANT NTC & CNHC registered
Nutritional Therapy 07985 166606.
If you would like to make an appointment for a personal nutrition consultation with Clare, please contact her on the above number or visit Clare's website: www.clarejones-nutrition.co.uk
Follow Clare on Twitter @ClareJonesNutri and Facebook www.facebook.com/ClareJonesNutritionalTherapy