GLASGOW is wearing its best summer frock as the sun sets its handsome sandstone fabric all a shimmer. Quite disconcerting really. A road sign to Govan is the only trace of Rab C Nesbitt in a style-conscious city banishing the stereotypes of that quarter of a century old sitcom.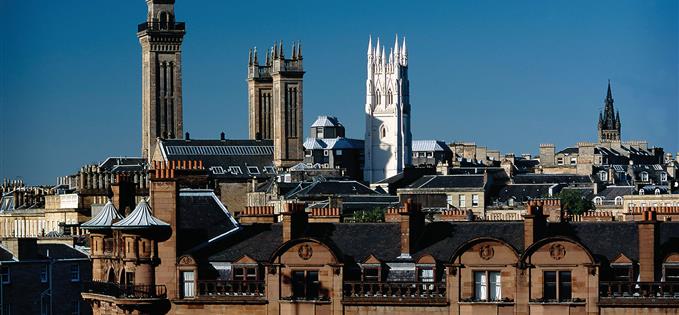 That's not to deny real poverty still lurks out in distant sink estates and accents can be impenetrable but Glasgow has blossomed in the new century…without losing its all-embracing friendliness.
A recent crossing over the Clyde has been dubbed the Squinty Bridge
Well, that was the impression of a first proper visit that combined art and architecture, food and drink in ample measure. Shopping? I'm told Buchanan Street and surrounds are a fashionista's dream, but that's not my (Gucci) bag. There was so much else to occupy us. All against that unlikely blue sky backdrop.
Let's start with the dead, though. They always have stories to tell. The Necropolis looks down on a cityscape packed with steeples and towers.
This 19th century burial ground, inspired by Paris's Pere Lachaise, lies on a ridge close to the city's pre-industrial centre, rubbing shoulders with the magnificent Gothic Cathedral. For 700 years St Mungo's tomb has drawn pilgrims.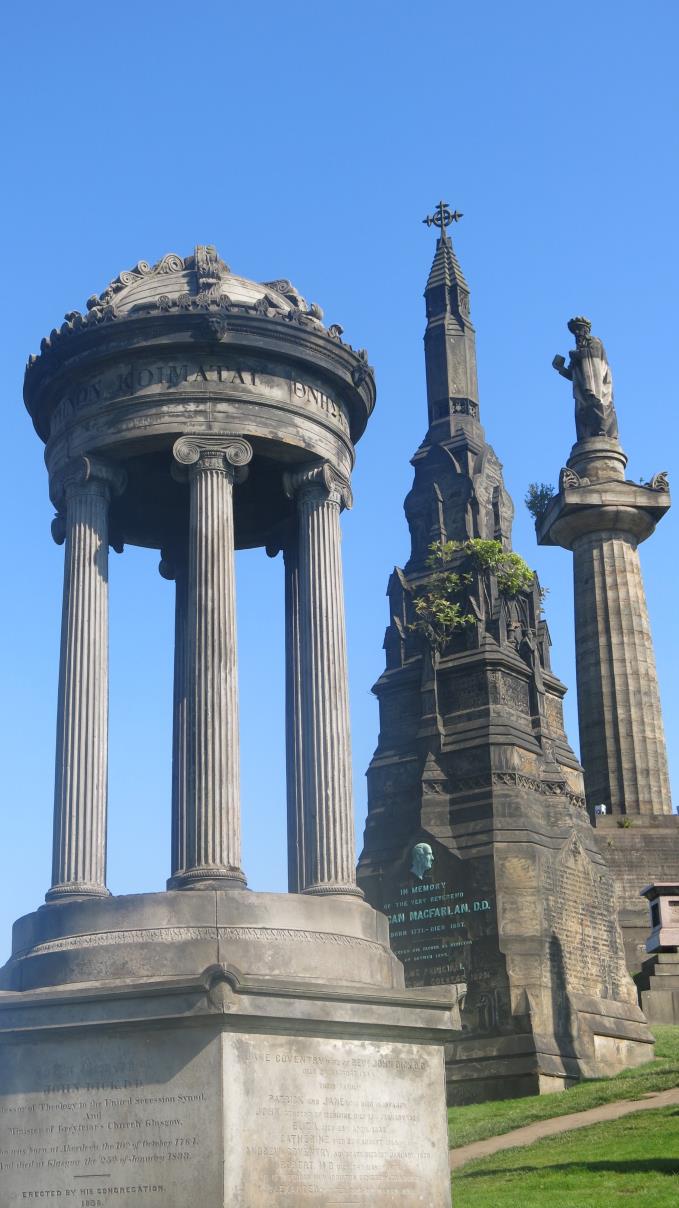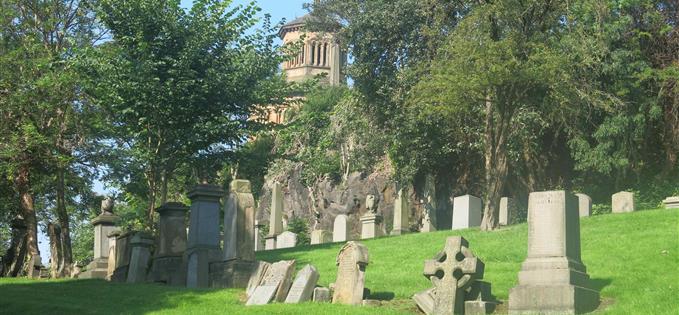 The Necropolis boasts 3,500 monuments, commemorating the city's grandees. More than 50,000 other souls keep therm company from their unmarked graves. The cemetery upkeep is an ongoing challenge, our guide Ruth Johnston, chair of the Friends of Glasgow Necropolis, tells us as we stand beneath the hulking monument to John Knox they built the graveyard around ("he is Edinburgh, nothing to do with us really."). It's the quieter corners that make it such an atmospheric spot.
Looming large alongside, though, is the mass market lager brewery Tennents. As a family business it predated the Necropolis by centuries and there were genuine fears the arrival of corpses would contaminate the brewers' spring water supply.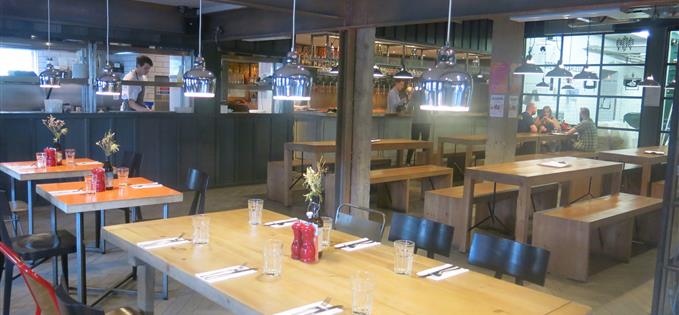 Drygate was a great place to chill after the ghosts of the Necropolis
Communing with the dead is thirsty work, so Drygate (it means Priests's Path) was a perfect follow-up. It's a collaboration between Alloa indie brewers Williams Bros and Tennents. A converted box factory on the latter's estate is now home to this US-style craft brewery tap, offering comedy, poetry and music events. We sat in the scorching rooftop beer garden and sampled some exceptional bar food, accompanied by flights of the beers brewed in-house. It's one of my 10 Glasgow Food and Drink Faves.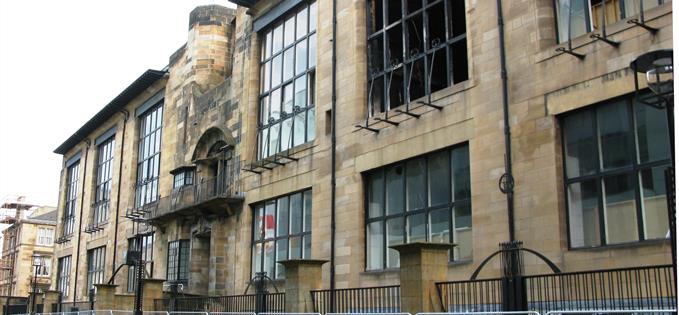 Glasgow School of Art, awaiting restoration after fure swept through its library two years ago
The Drygate labels are designed by Glasgow School of Art students. This iconic building, badly damaged by fire two years ago, is inseparable from the city's culture. One Charles Rennie Mackintosh dominating. Born in 1868, the son of a policeman and raised in a tenement, he had none of the advantages of his architect contemporaries, just more talent. We got a taste of the whole Art Nouveau-dabbling coterie in a Mackintosh's Glasgow Walking Tour, starting at his masterpiece, the School of Art, still a long way off restoration. The final stop, his Willow Tea Rooms, a beacon on often tacky Sauchiehall Street, is also currently closed for refurb.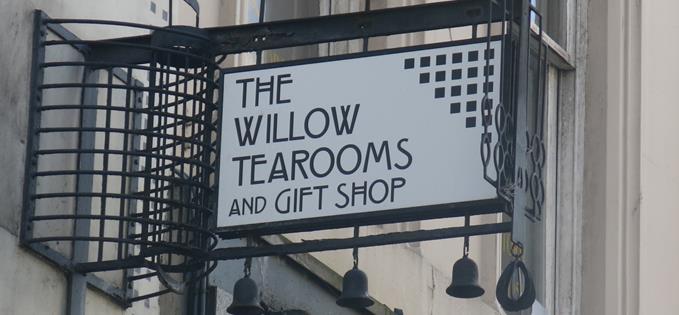 The guided walking tour lasts nearly two and a half hours and costs £19.50, but it is an illuminating introduction to the city as a whole, particularly the Victorian and Edwardian era where the vast wealth raised through shipbuilding and the sugar and tobacco trade was lavished on elaborate architecture.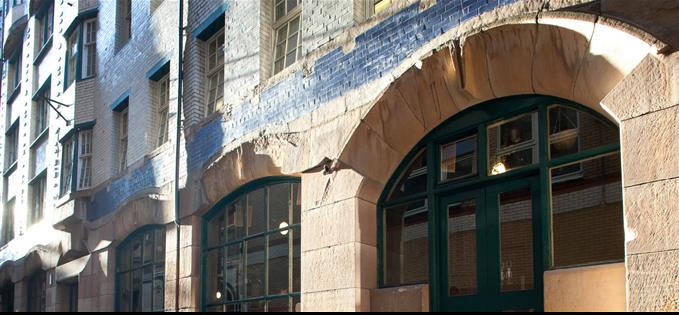 The former Daily Record offices, one of the stop-offs on our Mackintosh trail
I like the fact that Mackintosh designed both the main newspaper offices – the Daily Record, all glazed brick down a dark lane, and the more accessible Glasgow Herald building, deftly transformed into Lighthouse, Scotland's Centre for Architecture and Design. It's a good place to explore Mackintosh's art with its minimal lines and potent symbolism, so at variance with the Victorian extravagance all around (check out George Gilbert Scott's monumentally Gothic Glasgow University or the vast decorative carvings of the Central Thread Agency on Bothwell Street, below).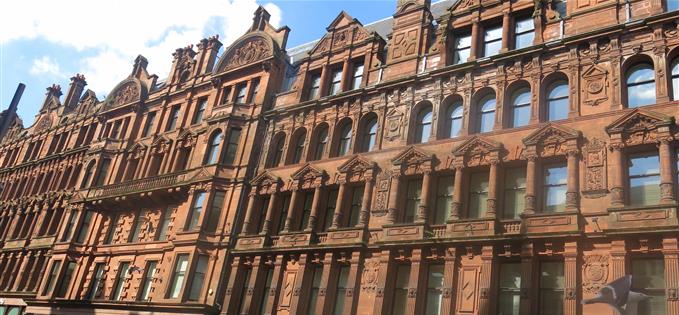 For the best view of the city's rooftops ascend Lighthouse's vertiginous circular staircase to the top of the Mackintosh Tower. Like so many of the city's museum experiences this is free.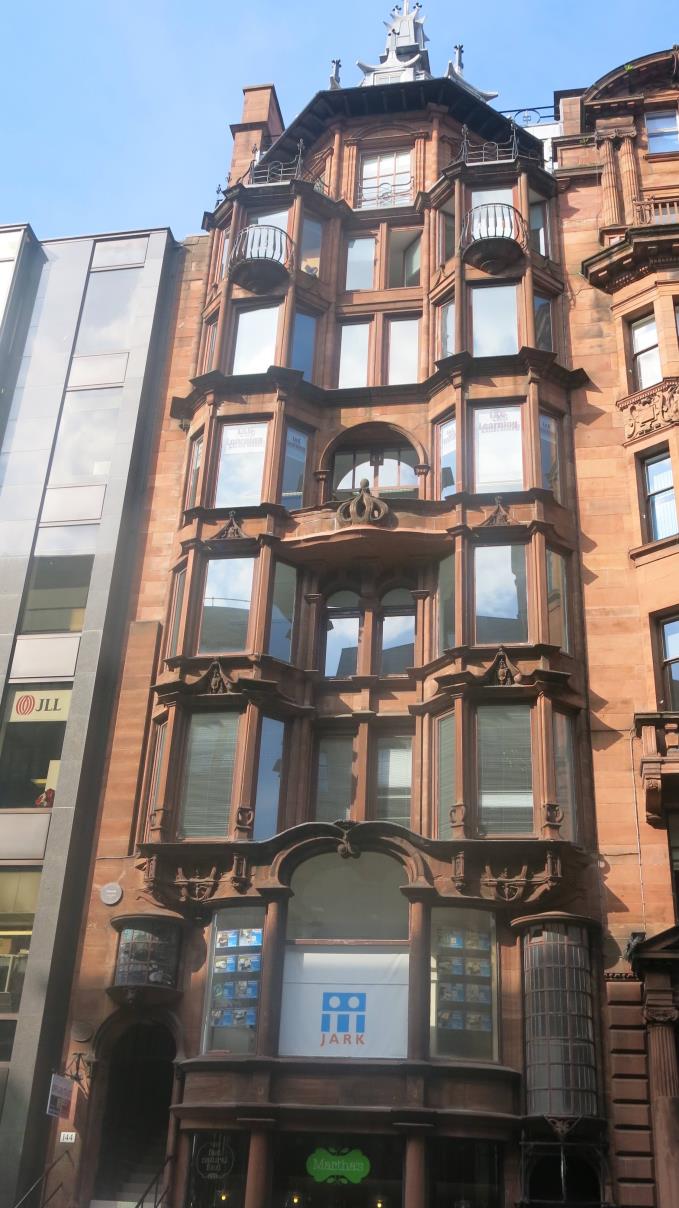 My favourite building on the tour was James Salmon Junior's 1902 St Vincent Street Chambers, nicknamed the 'Hat Rack'. The picture above shows why. Small in stature, Salmon was nicknamed the 'Wee Troot'. A recent crossing over the Clyde has been dubbed the 'Squinty Bridge'. Yes, the city's dry humour takes no prisoners.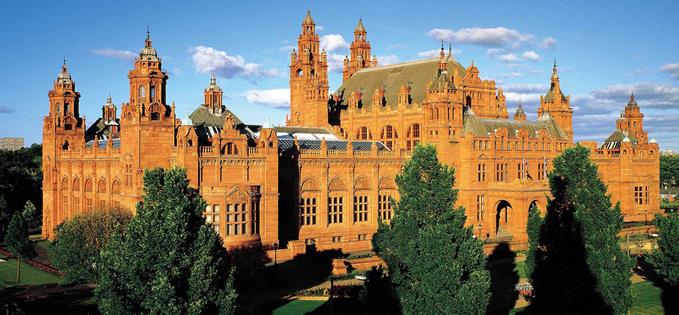 Kelvingrove Museum
So much architecture but Glasgow has a wealth of green spaces, too. We loved Kelvingrove Park and the shady promenade along the River Kelvin, taking in Kelvingrove Museum (above).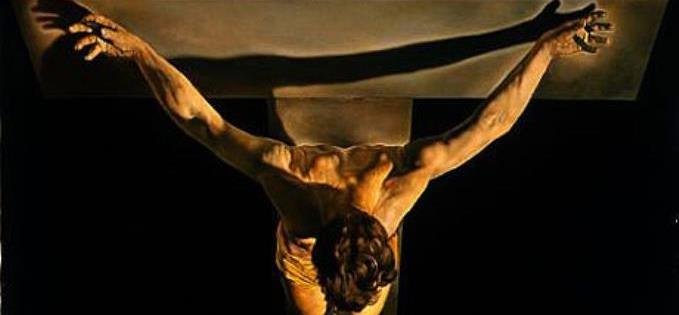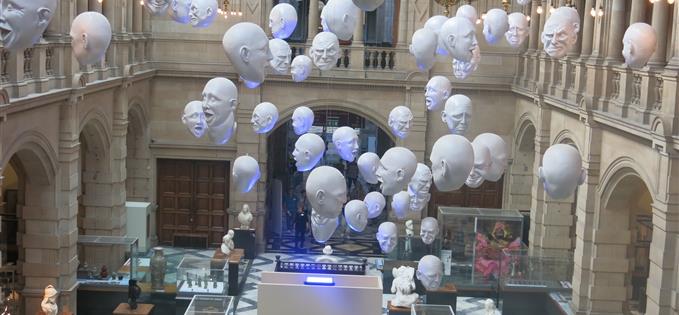 Kelvingrove is a madcap collection that is held in huge affection by Glaswegians
This fantastical Spanish Baroque pile, spring cleaned inside and out a decade ago, houses an eclectic collection of art and objects that takes your breath away – from Rembrandts, Van Goghs and Salvador Dali's vertiginous Christ of St John of the Cross to armour collections, a stuffed elephant and a dangling Spitfire. It's a great place to acquaint yourself with Mackintosh's influence and the contemporaneous Glasgow Boys art movement.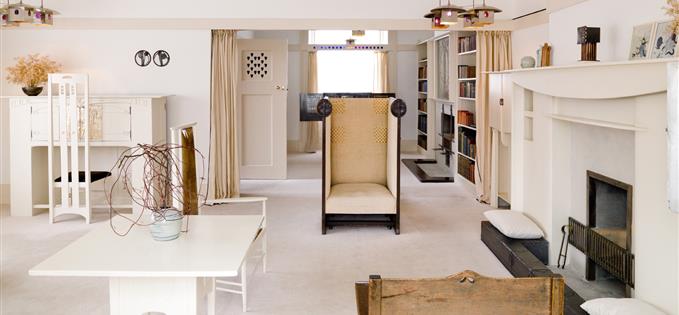 Mackintosh House – reconstruction of the Glasgow home that displayed his design genius
The interior of the Glasgow house, where Mackintosh lived with his wife and artistic collaborator Margaret Macdonald has been reassembled up the hill within the University of Glasgow's Hunterian Museum, featuring a definitive collection of his austerely beautiful furniture. From here it's a 10 minute walk to Byres Street and the West End – the Bohemian buzz of which would surely have delighted the dandy in Mackintosh.
Much quieter in the southern approaches of the city is another green oasis, voted Europe's best park in 2008, Pollok Country Park, home to elegant Pollok House, great walks and the remarkable Burrell Collection Museum – a Mackintosh-free zone!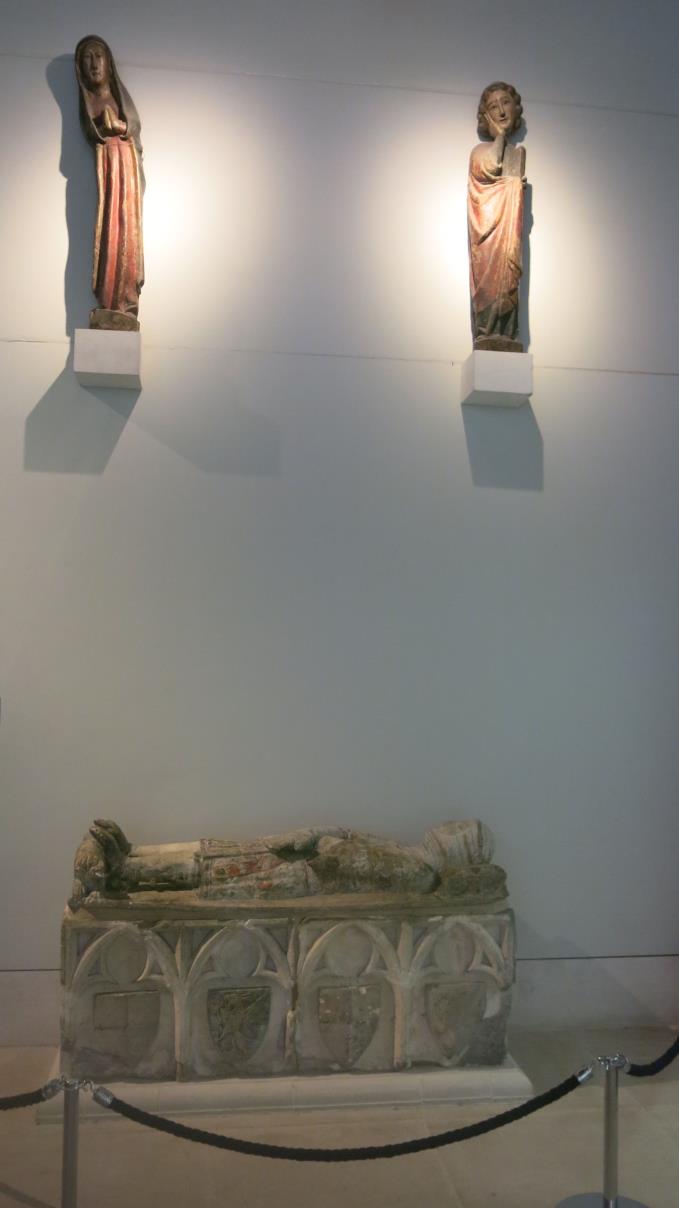 Glorious medieval relics in the Burrell Collection out in Pollok Country Park
It is a custom-built modern home for more than 9,000 objects bought by Sir William Burrell, cannily using wealth from the family shipping business. Chinese, Muslim, Medieval and Gothic treasures rub shoulders with Impressionist masterworks. Unlike the Kelvingrove, it feels uncluttered, displaying at any one time only 20 per cent of the collection. Sadly the landmark building has suffered ongoing weather damage and is due to close for a four year refurb from October 23, 2016.
It is too far out to feature on Glasgow's officlal hop on hop off (with commentary) City Sightseeing Tour. We made much of the double decker, whose circular route takes in the East and West Ends, including the hip new frontier of Finnieston, as well as the revitalised banks of the Clyde with its award-winning Riverside Museum of Transport and all points inbetween.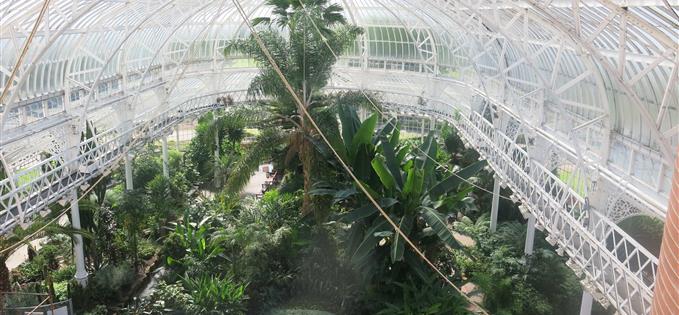 The Winter Gardens adjoins the People's Palace social history museum
Without the bus tour we might never have made it to the fascinating People's Palace on Glasgow Green in the East End. This sandstone working class cultural centre charts the vanished past of the city from tenement poverty to entertainment diversions. Attached to it is the elegant Victorian glasshouse of the Winter Garden.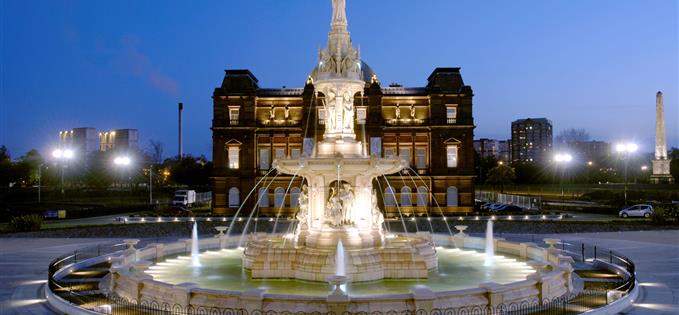 Doulton Fountain on Glasgow Green with the Templeton Carpet Factory in the background
Nearby you'll find the Templeton Carpet Factory, modelled on the Doge's Palace in Venice, and legendary music venue The Barrowland Ballroom. Take them both in on a walk up to Merchant City, once home to mansions and markets and now reinvigorated as a creative hub after decades of decay, good for bars and people watching.
It's after here you start to recognise the grid system Victorian expansion built along. Look down long straight streets and you'll inevitably see church towers or steeples framed at the end. It all feels uncannily American. Indeed when the cityscape turns hilly around Blythswood Square it might almost be San Francisco. Well, we did happen upon the best weather Glasgow has seen in a good while.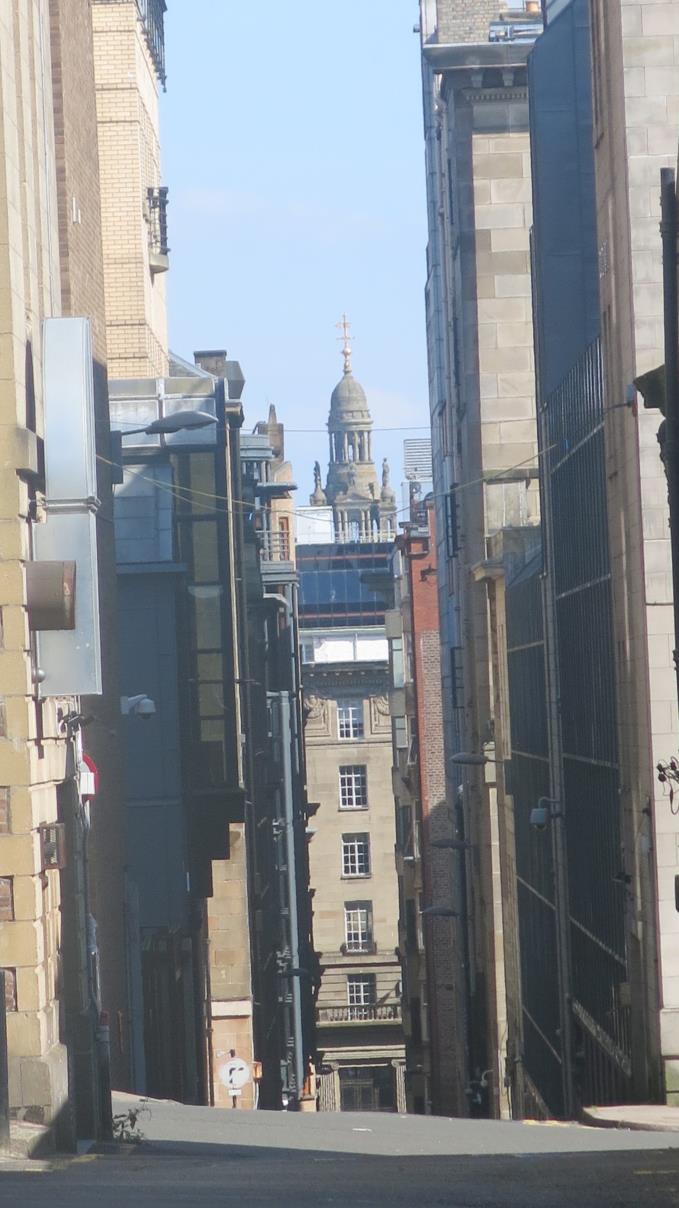 Fact file
Neil stayed at the Glasgow Marriott Hotel, 500 Argyle Street, Glasgow, G3 8RR. It's very accessible, just off the M8 motorway.
For full Glasgow tourism information visit Peoplemakeglasgow.com.
Glasgow is blessed with an abundance of museums and galleries that are free visit. For full details visit here.
Best way to acclimatise yourself to Glasgow is the City Sightseeing Bus Tour, which runs throughout the day until early evening. An adult ticket valid for one day costs £14, a family ticket £30 (for two days £16 and £34).
For all its architectural glories, Glasgow centre has plenty of eyesores too. Street art is one way of adding aesthetic value to these. Why not follow the exuberant City Centre Mural Trail?
Check out my 10 Glasgow Food and Drink Faves.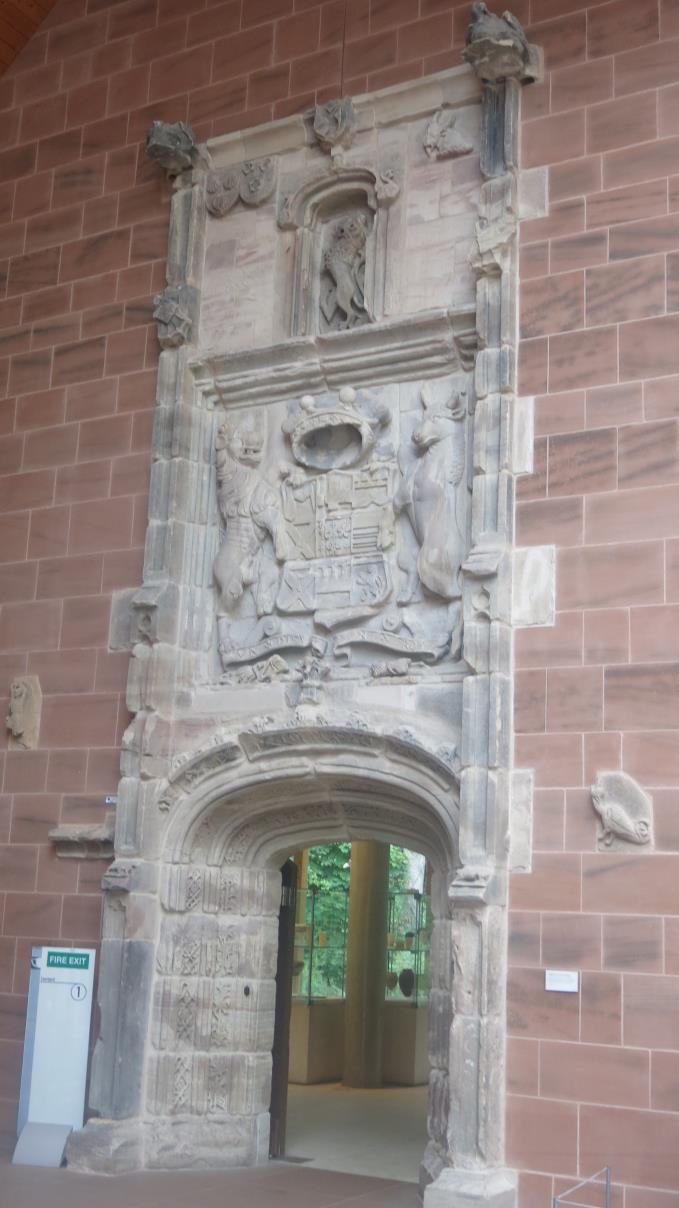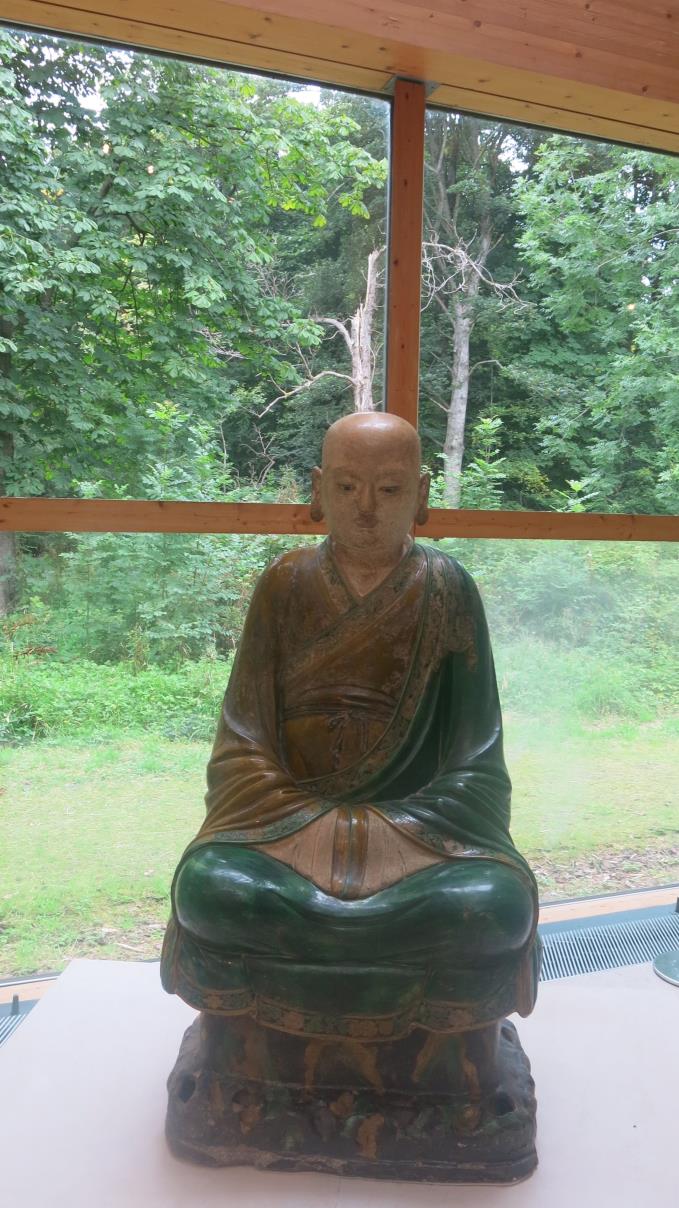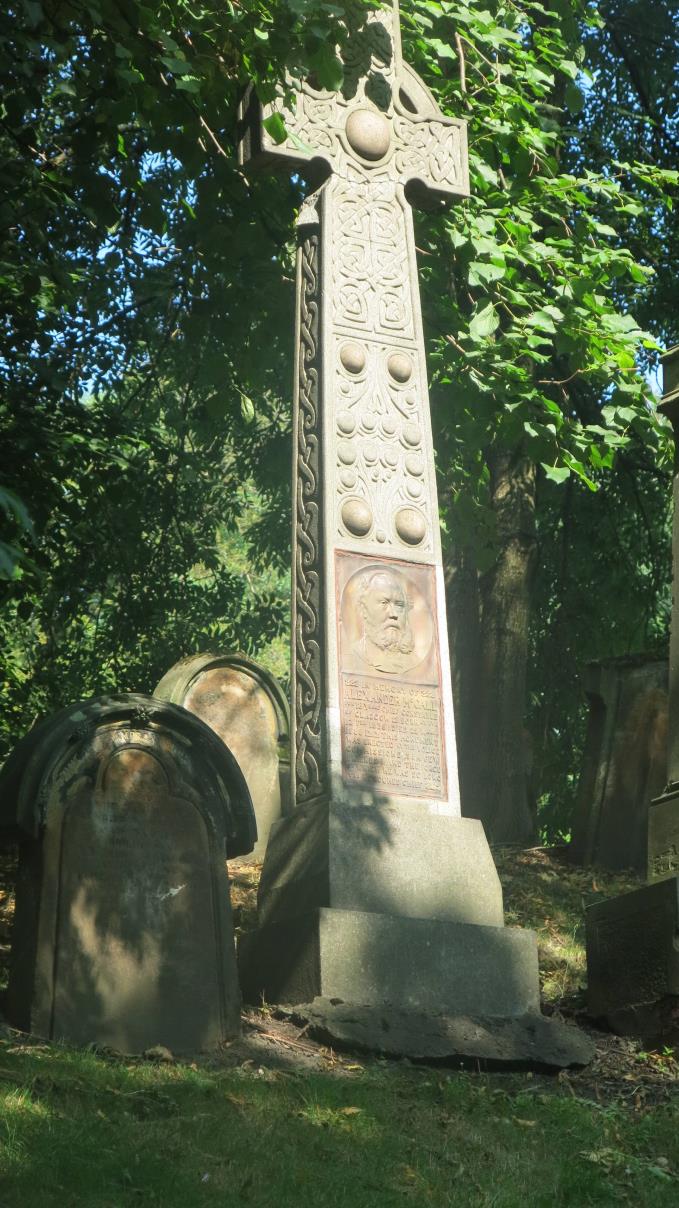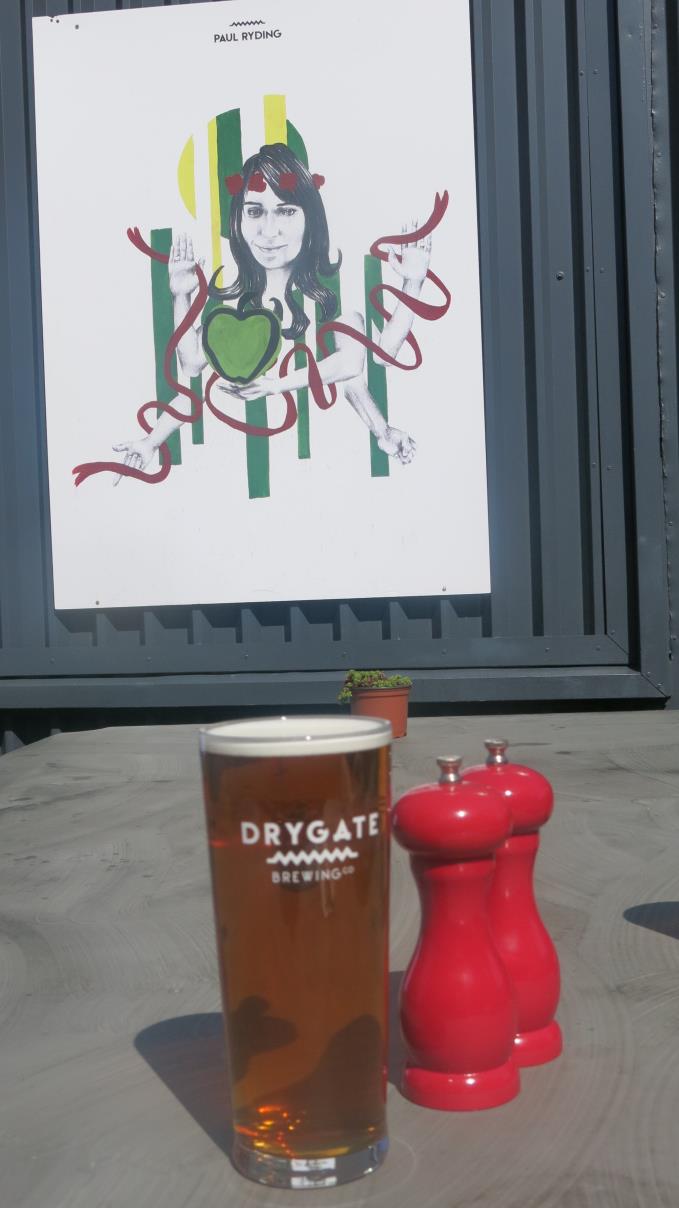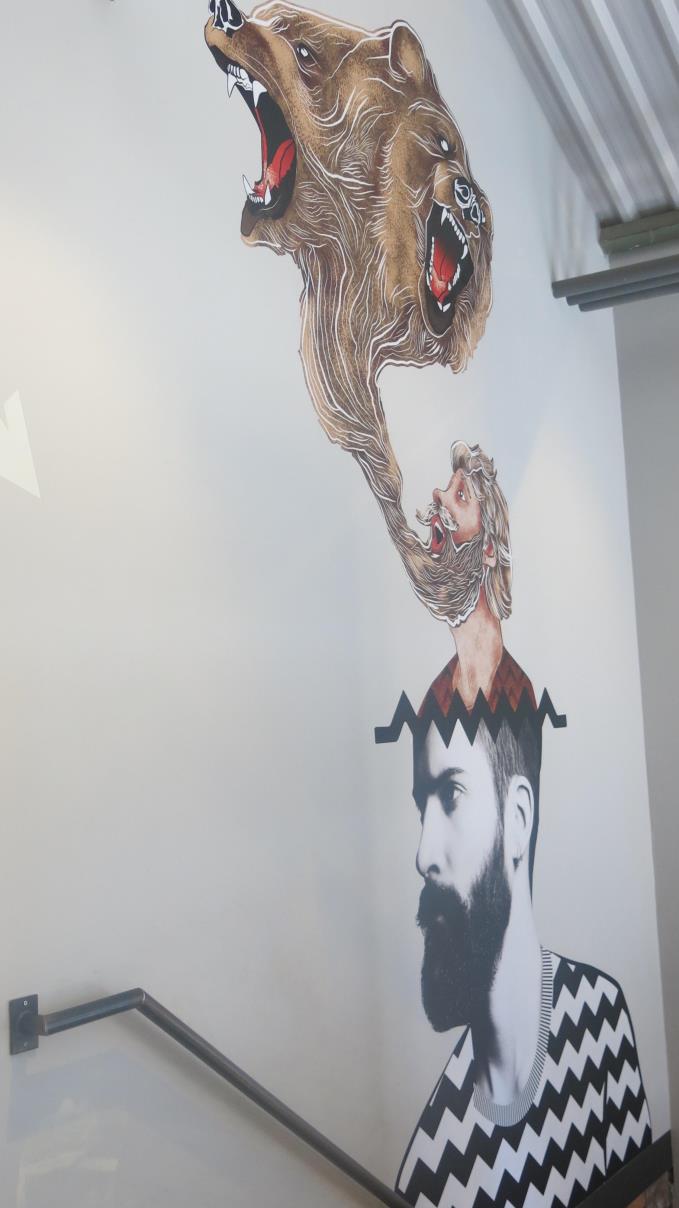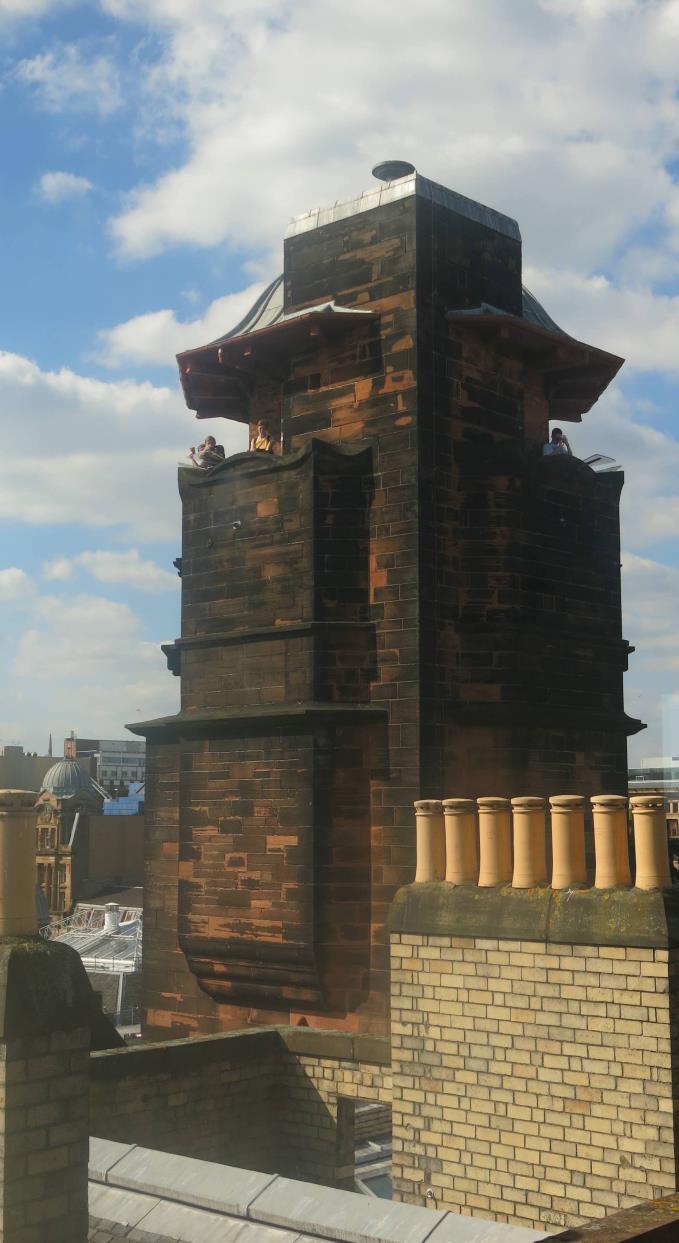 Mackintosh Tower; below, two early commissions – a necropolis headstone and a city centre doorway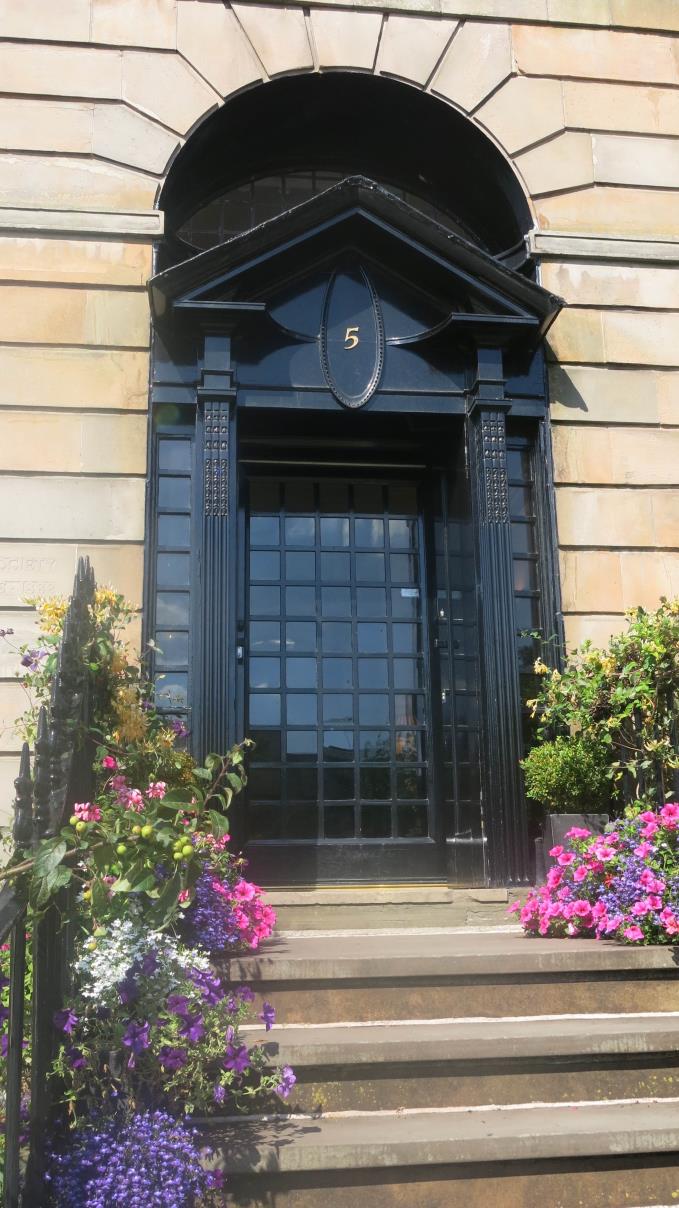 Blythswood doorway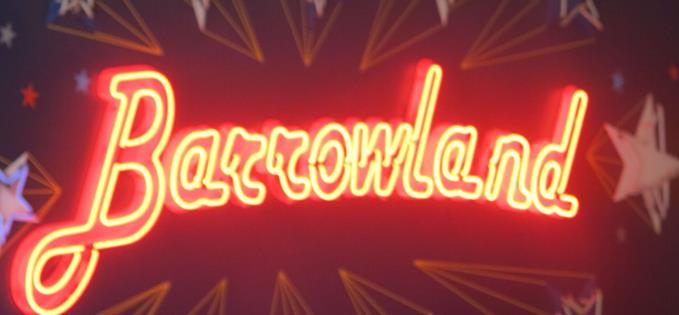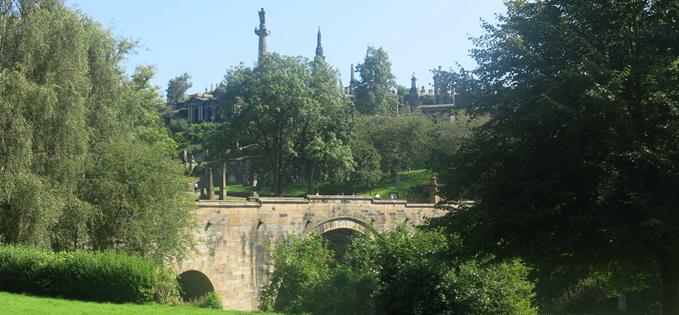 Necropolis from near the Cathedral, below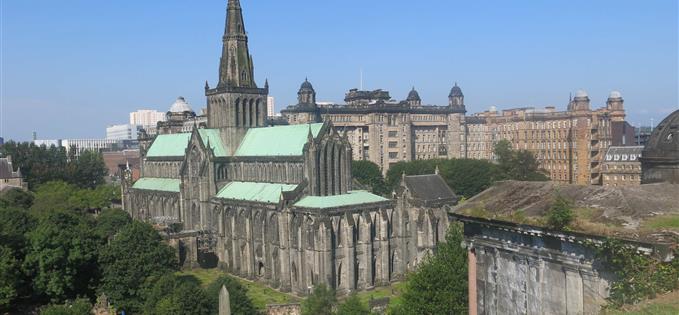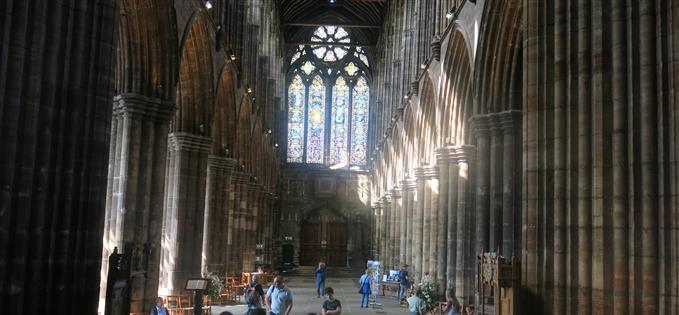 Powered by Wakelet