HOTEL GOTHAM - the first five-star hotel to open in Manchester for nearly a decade - welcomed it's first guests yesterday.
Rooms feature leather-clad walls, cocktail cabinests, velvets, furs, and 'vibrating intimacy rings'
Designed by the revered London-born architect, Edwin Lutyens, in 1928 (Lutyens is also behind the cenotaph in Whitehall, the Thiepval memorial in France and much of New Delhi), Manchester's grande Midland Bank building on King Street houses the new luxury hotel by the Bespoke Hotels group.
Billed as 'Europe's Sexiest', the 60-room art deco hotel speads over seven lavishly designed floors in the Grade II-listed building, and features dark polished woods; rich leather-clad walls; mysterious 'inner sanctums'; and original windows, brass rails and terrazzo flooring.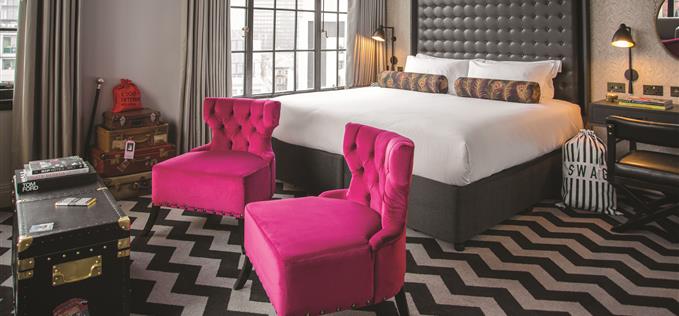 Up on the fifth floor you'll find the 68-cover Honey Restaurant brasserie; while on the top floor you'll find the flagrantly named Club Brass - a rooftop VIP bar that will set-back wannabe members a cool £750 a year (top brass costs top dollar, it seems).
Rooms cost between £150 and £1000 and feature leather-clad walls, cocktail cabinets, travel trunks, goblets, velvets, furs and 'intimacy kits' of massage oils and 'vibrarting rings'... ooh matron!
Jeff Ward, General Manager and Managing Director, said: "After two years of anticipation for Hotel Gotham, we are excited to be open for Spring 2015; new beginnings for this fabulous building. The service, special attention and twinkle in the eye will make a stay at Hotel Gotham a memorable experience."
For more information and bookings visit: bespokehotels.com/hotelgotham
Here's all you need to know...