HARVEY Nichols never ceases to amaze when it comes to how many designer brands the store can squeeze into a 30 minute fashion extravaganza. And this season's show was no exception.
With a full scale double catwalk in place, the first floor was unrecognisable as the womenswear rails made way for the runway and later, hoards of eager shoppers, journalists, bloggers and celebrities, all keen to see the latest looks.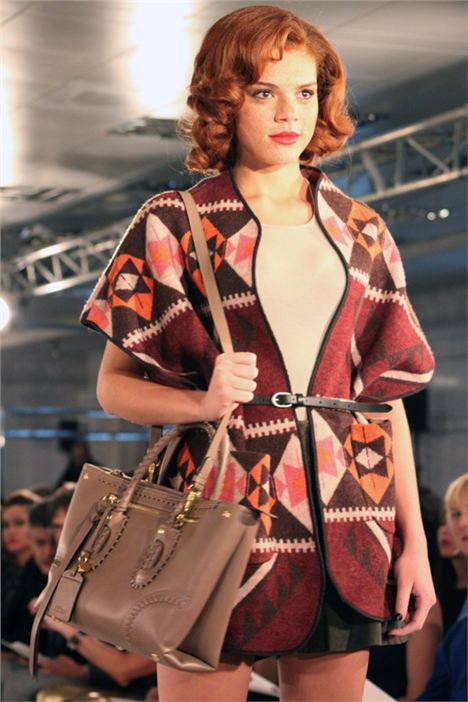 Maison Scotch Poncho £290 Diesel Shorts £280 Rick Owens Tank £140 Alexander McQueen Bag £995
Womenswear got off to a sensible yet stylish start with slouchy knits that wouldn't look out of place around the city streets, albeit perhaps slightly out of place on your bank statement. However, the Maison Scotch poncho (above) definitely solves the fashion v finances dilemma and should be considered an investment piece at £290 for those who insist on styling themselves for this season.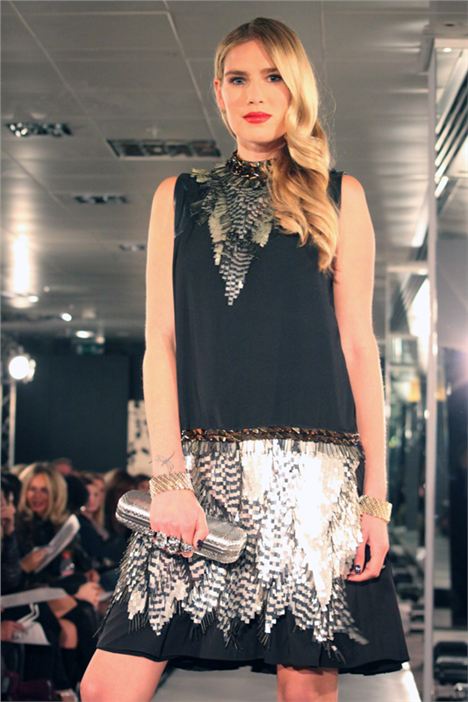 Just Cavalli Dress £1245 Alexander McQueen Clutch £1125 Alice Menter Cuffs £210 Each
For the evening adaptation of this wintery look, it was away with the woollens as Just Cavalli provided Pocahontas meets Panacea attire perfectly with tiger stripes and feathers adorning drop waist dresses. In fact Just Cavalli were hands down the star brand of the show with their heady mix of prints and textures throughout, reaching a crescendo with a long black and gold evening dress to recreate Angelina Jolie leg-gate.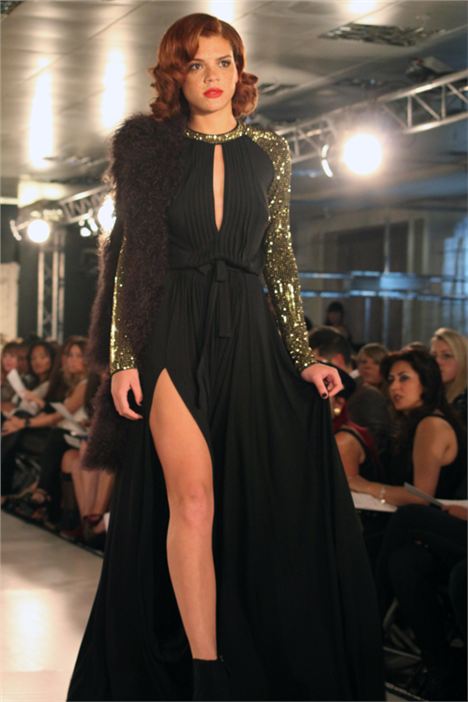 Just Cavalli Dress £665 YSL Clutch £365 Karl Donoghue Scarf £190 Alexander Mcqueen Shoes £630
Abbey ClancyOther fashion trends included leather and lace, but not together this time. While Acne dominated the dominatrix designs, Philip Armstong offered up delicate yet equally racy lace dresses as model Abbey Clancy looked on from the crowd. The model chose Philip Armstrong dresses for her bridesmaids at her wedding to footballer Peter Crouch in 2011. Unfortunately Crouch wasn't there to comment on the menswear, but luckily Confidential's menswear correspondent David McCourt was…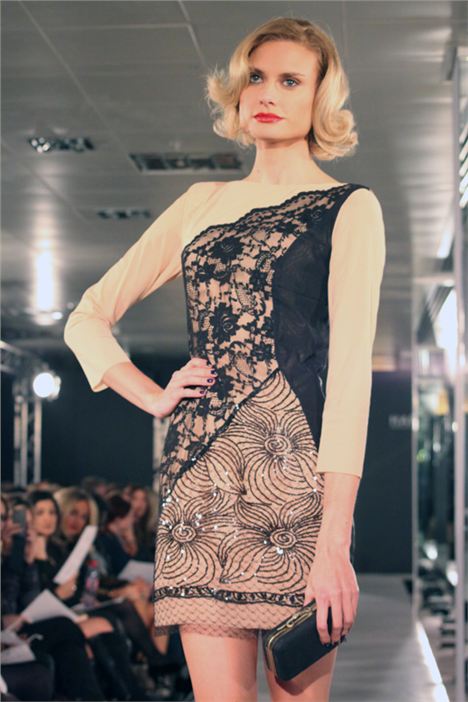 Philip Armstrong Dress £840
---
IT was a mixed showing in the menswear department this year. The alpine chic chunky knits were impressive, and thick woolen bobble hats will be welcomed back with open arms this winter, but those big floppy high top boots just won't go away.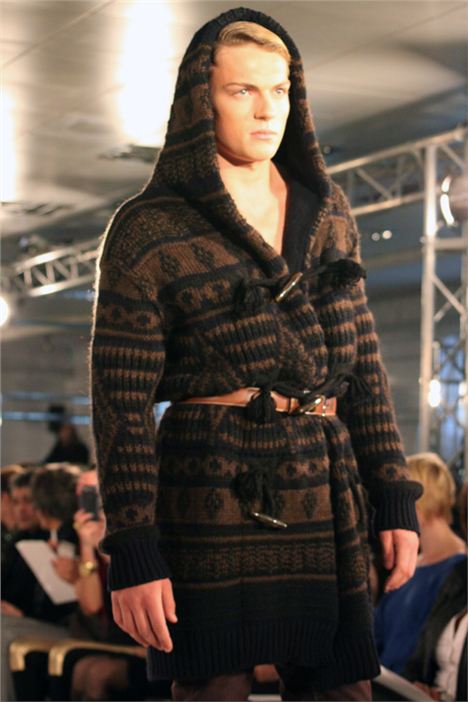 Just Cavalli Cardigan £505 Fullum & Holt Belt £60
Plenty of gilet action to for those that require it, but don't rush out just yet, these will still be dominating the middle-aged weekend dads market – they think it makes them appear young and 'hip', it doesn't.
As the summer of sport collides with street fashion at the end of 2012 the travelling-to-your-city-centre-gym look is going to be more rife than ever. Still, I'll be amazed if these skinny-fit sweatpants catch on with fitness fans.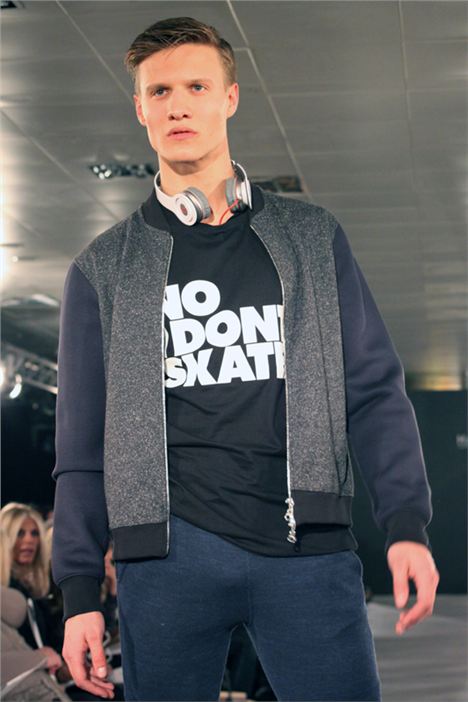 A Question Of T-Shirt £45 Kenzo Jacket £240 Blamain Sweatpants £320 Beats By Dre Headphones £175
Military inspired attire is always welcome in autumn/winter, and a stylish parka should be top any man's shopping agenda as soon as the clocks go back. Not a great deal to complain about here, keep it camouflage and you'll be fine.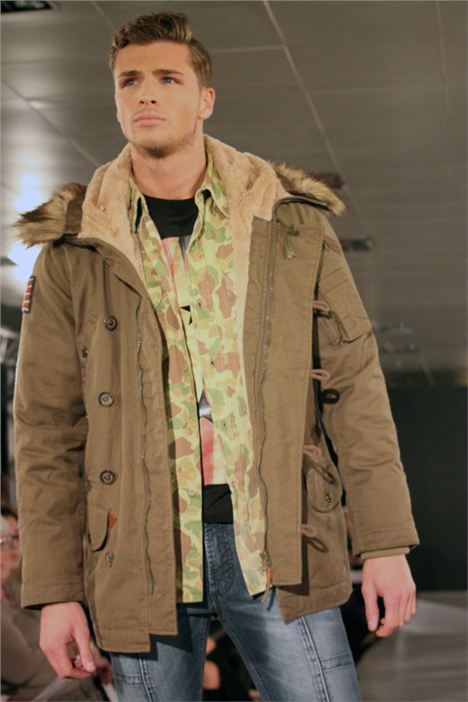 PRPS Shirt £400 True Religion Coat £345 Givenchy T-Shirt £250 Pierre Balmain Jeans £455
Polo neck's are sticking around and dapper bachelors are all over them, and rightly so. Sophisticated styling is the opposite of regular styling for men. You don't start with a blank canvas and get creative, you start with a good suit and try not to mess it all up. If you do want to ruin a sharp three-piece though, the quickest route is via this Christian Louboutin iPad case.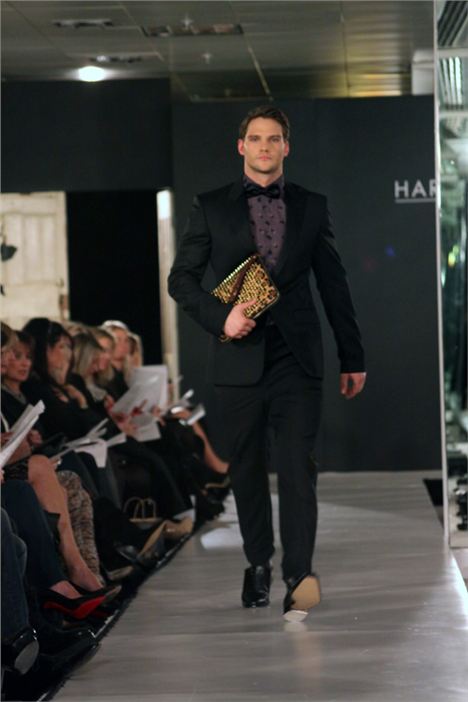 BLK DNM Jacket £450 BLK DNM Trousers £265 PS Paul Smith Shirt £160 Dolce & Gabbana Bow Tie £85 Gucci Shoes £440 Christian Louboutin Ipad Case £460
See more looks from the show plus the gallery of guests below...