LIZA Minnelli, from her Cabaret days, was staring back at me from the floodlit mirror at the Selfridges Manchester Trafford Armani counter. I had been sat in the hot seat for less than fifteen minutes and I had already been caked in fluid sheer number 10 in golden beige (£34) and the new rouge d'Armani sheer lipstick in coral (£25 exclusive to Selfridges).
Where the coral lipstick did nothing for my complexion the blusher left me glowing. At this juncture, it may be beneficial to mention that I am actually a man. Allow me to explain how I found myself in this makeup predicament.
"We do get some blokes", he said whilst painting some lip gloss on my hand, "but there are not many that would sit where you are and have their makeup done with everyone looking."
I had accepted an invitation to attend the press launch of the new rouge d'Armani sheers collection at Selfridges Manchester Trafford. I would be innocent in thinking that I was going to sip Champagne and look at nice clothes when in fact, rouge d'Armani sheers, is actually a new collection of patented lipstick technology.
When I found this out, it was too late to cancel my appointment. Now, I'm no prude. I work in fashion and spend my working (and non-working) life commenting on ladies clothing and generally wear more women's jeans than men's. However, the world of makeup has always been somewhat kept at arm's length. I may dabble in a touch of fake tan but don't most men? Well, apparently we dabble in quite a lot more these days.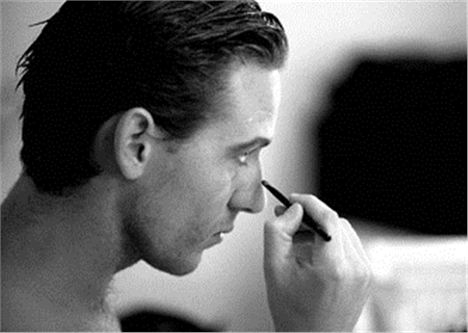 Apparently we men dabble in more than just a bit of fake tan these days
Sammy, the resident blusher brusher of the Trafford Armani counter was, shall we say, a radiant shade of orange and just the gent to quiz about men and makeup.
"We do get some blokes", he said whilst painting some lip gloss on my hand, "but there are not many that would sit where you are and have their makeup done with everyone looking."
Perhaps men come to makeup in a more discreet way and not under the exposing light of the beauty hall? I pondered that thought whilst Sammy dabbed me with the aforementioned fluid sheer, which he dubs "the secret to JLo's glow".
Before I could comment and get out of the chair he was painting me with a creamier coloured concoction. It had been a long week and apparently my skin was letting me down. Sammy, displaying a certain lack of tact, had taken it upon himself to conceal my blemishes with Armani's high precision retouch (£25). I wasn't sure whether I should feel offended or grateful. Ignoring my whining, Sammy waved the wand-like retouch applicator around in the air whilst boasting its benefits to me.
"It's perfect for highlighting the eyes and works as a concealer too" so, like that Touché Éclat, I asked, impressed at my own knowledge, "No," he huffed, "this is better."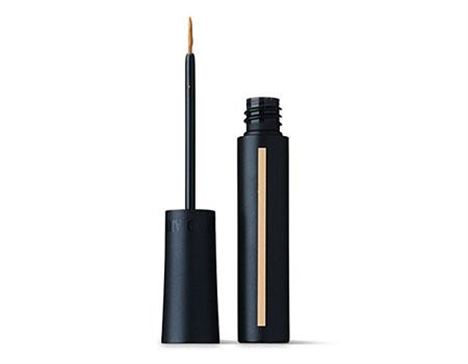 Giorgio Armani High Precision Retouch
The range of discreet 'retouch' products has been opened to men in a whole new way. The fame of Yves Saint Laurent's Touché Éclat is well documented, as it is the makeup product that sells globally every ten seconds.
In 2008, YSL opened the floodgates to the male population with their l'homme Touché Éclat. The men's version is essentially the same product in a 'manly' silver applicator. That's not all, 2008 also marked the appearance of guy liner and manscara onto the market from brands which aimed to make eyeliner and mascara a more masculine purchase.
It was at this moment I was released from Sammy's supervision and introduced to Thoa Tran. Thoa, "pronounced trois, as in un, deux, trois", immediately set to work and placed a glistening array of the new rouge d'Armani sheers lipsticks in front of me.
Lovely, I said, slightly alarmed. Thoa explained the patented technology behind the lipsticks, which means they look like lipstick, shine like gloss and feel like lip balm. Unfortunately, this pitch was lost on me as I was unaware what either lipstick or lip gloss felt like. Admitting this detail was my fatal error, as Thoa placed a lipstick in my hand and said, "you need to try it."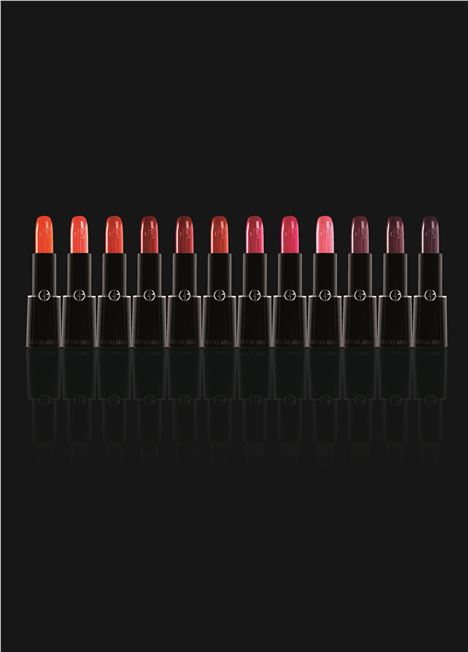 Giorgio Armani Sheers Lipstick Range
I looked as a person who had just been handed a live grenade would look; worried, confused and slightly annoyed. I didn't know what to do. I had never applied lipstick. Admitting this detail was my second fatal error, as Thoa then pushed the stick into my gob and proceeded to paint my lips a shade of coral.
I was fully caked in makeup at this point and whilst sitting there, made-up like a doll, my inhibitions left me. The coral lipstick did nothing for my complexion but the rest of slap was certainly an improvement. I asked Thoa about her experience with men and makeup. She was well versed in her response and told me about the male perspective on makeup.
False lashes are for the ladies. Men turn to makeup to conceal and make skin look radiant, at the most
Men come to makeup to in a more functional way compared to women. Where women tend to paint lips unnatural shades, add false lashes, nails and multi-coloured eye shadows, men come to makeup to conceal the odd blemish, make skin look its once radiant shade and fill in the gaps left by aging and by life in general.
I don't think my look was exactly functional but I certainly understood her point of view and with that left Selfridges with a face any Caberet performer would be envious of. Well, until the Taxi driver said, "y'alright love?"
Visit the Armani counter at Selfridges Manchester Trafford to book your appointment with Thoa Tran or any of the other Armani International Face Designers between now and 7 April. Rouge d'Armani sheers lipsticks are exclusive to Selfridges, priced £25 each.
Follow Jordan on Twitter @jordanjmcdowell and read more of his musings on his blog www.fashionrambler.com