FAKE BAKE beauty boutique in Selfridges has teamed up with Beached Festival, Manchester's annual bank holiday beach festival on Saturday 2 June to offer free Fake Bake 60 minute tans for festival ticket holders. This brand new product develops into a beautiful natural tan in just an hour.
The salon is offering all Beached festival ticket holders a complimentary 60 minute spray tan when they purchase any other treatment in their salon, situated in the Lower Ground Floor of Selfridges, Exchange Square, Manchester.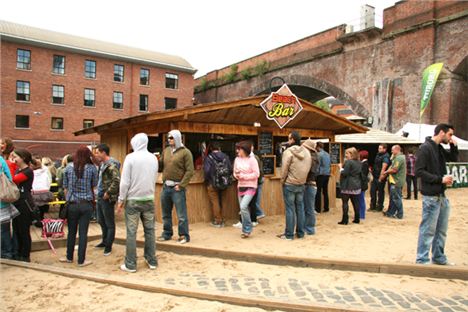 Following a brilliant event in 2011, the now 5000 capacity festival boasts a line up including The Futureheads, Kid British, The Whip, The Quangos, Instra:mental and Zed Bias and returns once again to the pop-up beach in Manchester's Castlefield Basin, overlooking the Ship Canal.
Festival goers can enjoy the resident beach bar, summer cocktails, deck chairs and boat parties, plus of course limbo contests, sandcastle art, and hula hooping.
Music fans will be treated to three stages and over 30 acts throughout the day. The Futureheads, Kid British, The Whip and The Quangos will perform on the main Sol Beached Stage, while Instra:mental will headline the Soundbase Dance Tent, with Zed Bias and Srcatcha DVA as support headliners plus sets from Heavy Rain and  Knee Deep DJs.
Tickets are available from fatsoma.com with advance tickets available at £12. The event runs from 12pm – 11pm on Saturday 2 June.
For more information please visit www.beachedfestival.com
For appointments  at the Fake Bake Beauty Boutique please contact 0161 8380513 ( Proof of Beached ticket must be provided)