BIG match night on Tyneside. Newcastle against title rivals Norwich. Magpies v Canaries – tweet it. The floodlights of St James' Park beam across the city. In a packed pub not far from Bigg Market we watch two hefty fans in black and white tops (which they'll probably shed later if it turns cold enough) tucking in. Stotties and Newcy Brown? No way, bonny lad – crab fishcakes with mango salsa, washed down with craft IPA.
Next morning's kipper at Jesmond Dene House the best I've ever had
No one warned us about this. Geordie gentrification. Glasgow, too, had been a very different city from the stereotypes of yore and now the Toon Army were playing to a different tune. Even the football was on the up after last season's blubberworthy relegation. In injury time, coming from behind, Newcastle rattled up a 4-3 victory. We heard about it in the taxi as it sped us a couple of miles north to swanky suburb Jesmond – and a rather special hotel, Jesmond Dene House.
We love city centre boutique pads and the new Newcastle has its share, but a baronial bolthole overlooking one of the UK's best patriarchal urban parklands? Count us in.
Jesmond Dene is a man-made wilderness of woodlands and waterfalls, pet project of Tyneside munitions maker Lord Armstrong, who syphoned the profits of arming 19th century Europe into his native North East, creating Cragside, his amazing home in Rothbury, and restoring Bamburgh Castle, but this one is a green lung for the city itself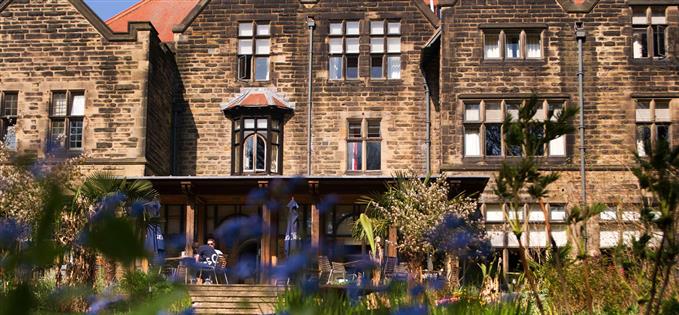 Jesmond Dene House, outside and in, is Arts and Crafts heaven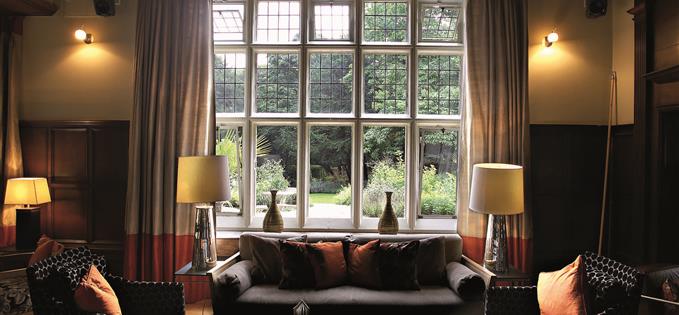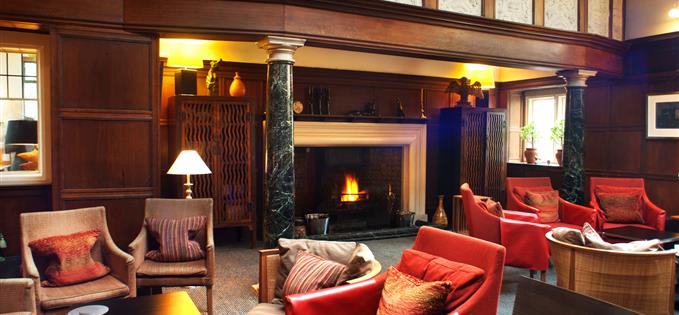 Jesmond Dene House was actually the home of Armstrong's business partner, ballistics expert Captain Andrew Noble. it was refashioned in the 1870s by Norman Shaw – so vast inglenook fireplaces, black marble pillars in the billiards room – and the Arts and Crafts look remains today after a timely renovation into a hotel a decade ago.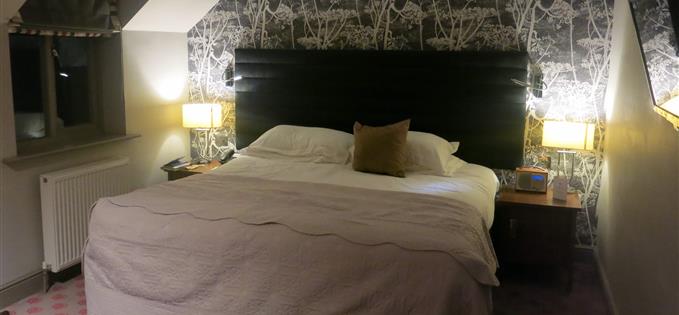 Our bedroom in the New House
We stayed in a lavish junior suite in the New House, a conversion of an adjacent dwelling – perfect for VIP privacy (occupants the previous week, luvvie knights Ian McKellen and Patrick Stewart, touring in Pinter's No Man's Land).
The hotel abounds in dark wood paneling, window seats and stained glass but doesn't feel stuffy. Indeed, the restaurant is positively playful with its bold splashes of orange and its extension out into the conservatory-like Garden Room, while long-serving chef Michael Penaluna's food is beautifully presented, light in touch, intense in flavour.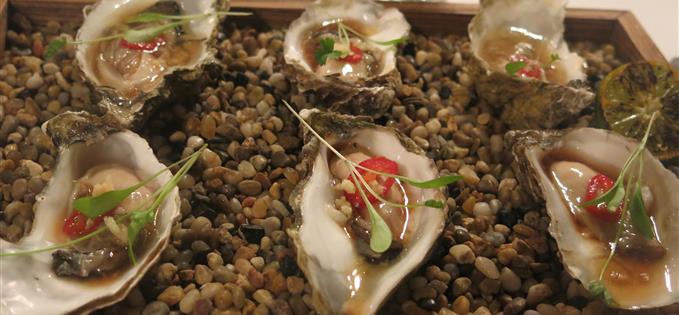 Jesmond Dene cuisine: oysters, grouse and chocolate bomb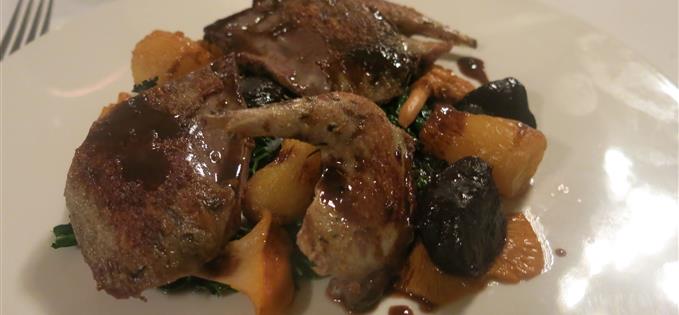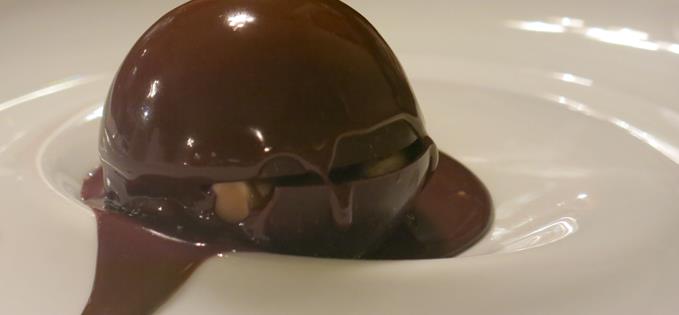 Lindisfarne oysters, grouse and a dark chocolate bomb had me purring with pleasure. Then same attention is given to the all-day dining, afternoon tea and breakfast operations. Next morning's kipper (from the legendary Robson of Craister) was the best I've ever had.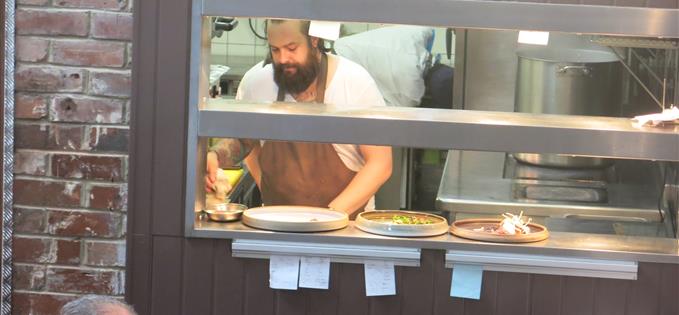 David Coulson in action at Peace and Loaf's pass
Amazingly that dinner wasn't the best meal we'd had that day. Just pipped by lunch at Peace and Loaf, where behind a suburban shopfront and in a split-level setting of bare brickwork and birdcage light-fitings, former MasterChef finalist David Coulson is cooking food of an intricate delicacy that belies his bearded, beefy frame (but never forget the old adage: beware the slim chef).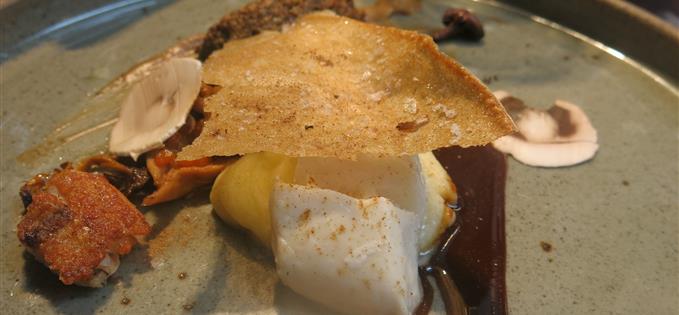 Halibut, chicken; below, selection of puddings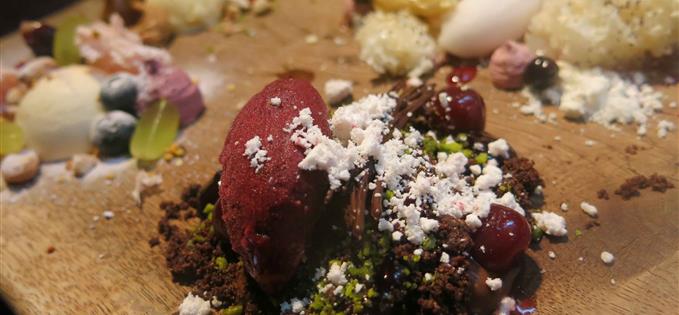 Our meal was bookended by platters of amuses bouches and desserts that were exquisite, but wha came in between really captured the imagination – my wife's starter of XO Pigeon, Pickled Girolles, Elderberries, Aged Balsamic (£11) and my Scallop, Pigs Head, Carrot, Tarragon (£14) were wonderfully harmonious, but the truly sensational offering was my main of 42°C Halibut, Chicken Pie, Creamed Potato, Mushroom (£25). As manager David Lieuw told us: "Most chefs like to pare down ingredients, Dave likes to add." Masterly and surely Michelin-bound? Joining Kenny Atkinson's House of Tides in the city centre.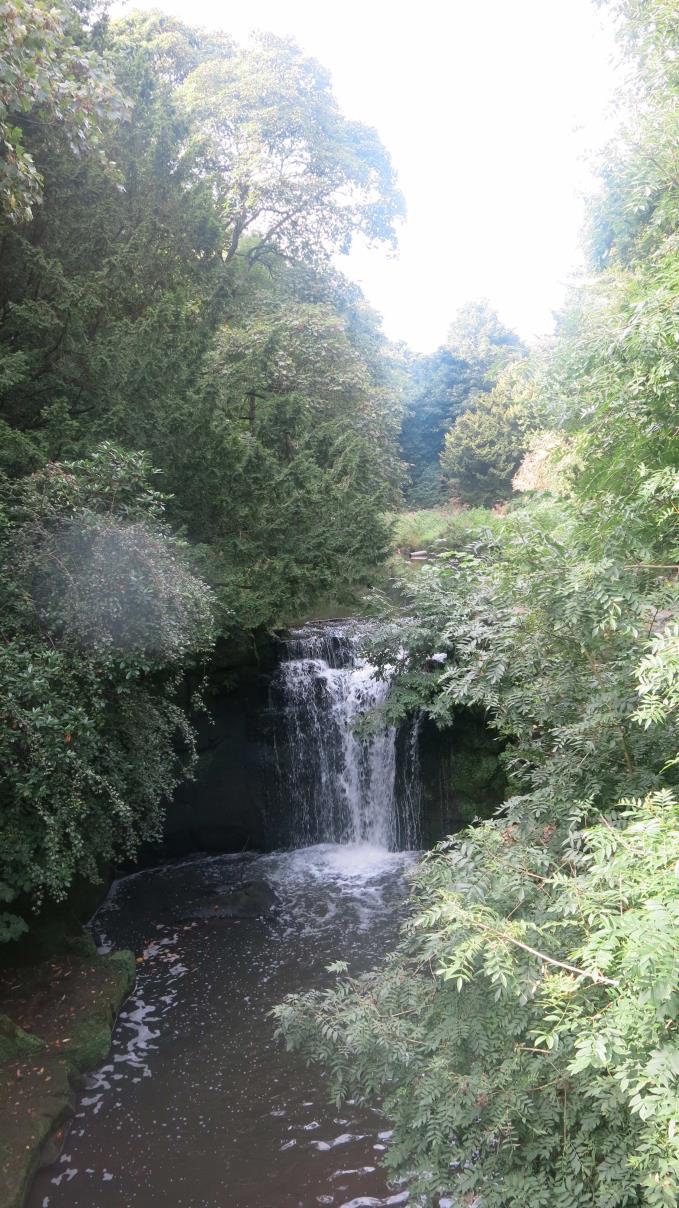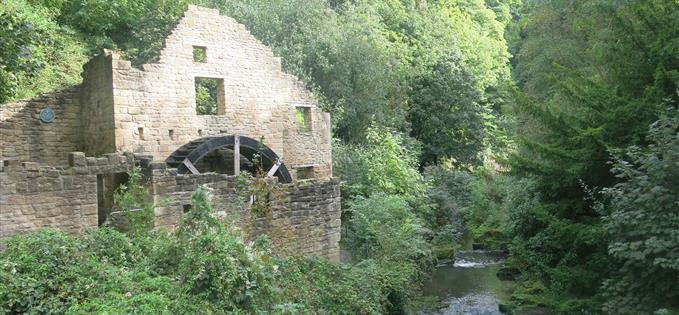 Peace and Loaf is halfway between Jesmond Dene House and the city centre. We walked there through leafy Jesmond Dene and after lunch descended through parkland and post-industrial brownfield sites to boho Ouseburn Valley – home to Seven Stories, National Centre for Children Books (below).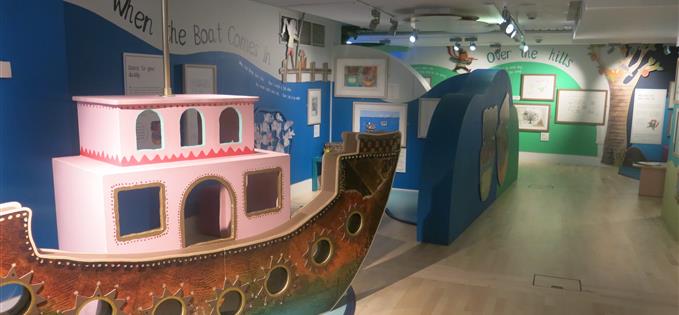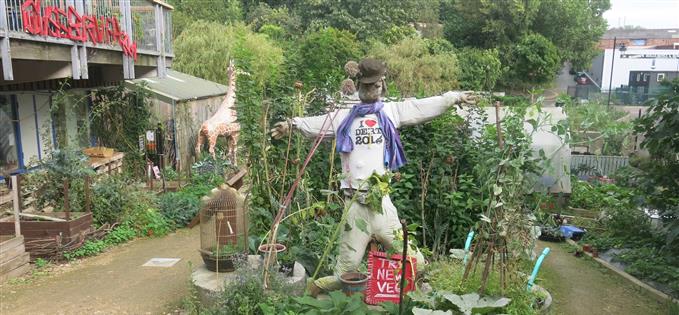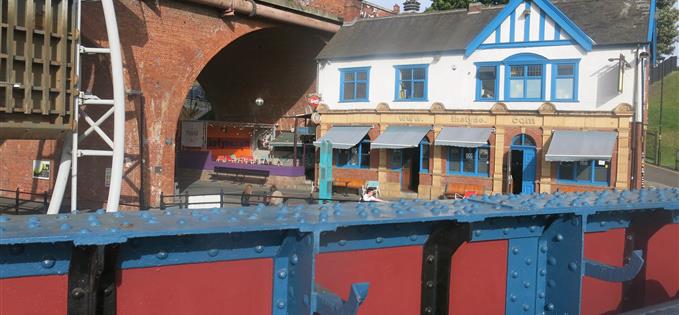 Highly recommended, but you really need in a child in tow; they would also enjoy the adjacent Urban Farm. Bizarrely there's a riding stables, too, in this cultural oasis where evidence of former heavy industry abounds. Check out The Tyne Bar, great real ale and music canalside pub under the brick arches of the Glasshouse Bridge.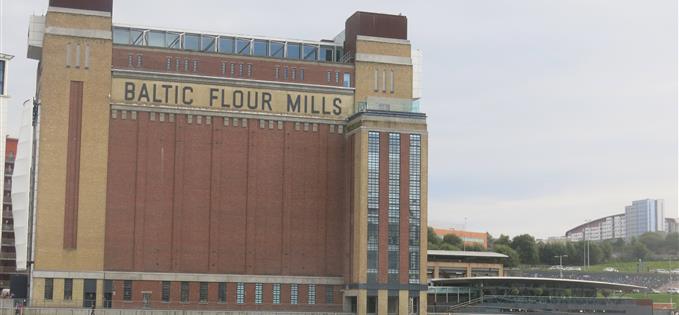 The magnificent looking but sparsely occupied BALTIC gallery
From here it's a short walk to the Tyne riverfront and a 15 minute walk into town along an anodyne stretch of apartments and chain bars. But what a view confronts you. The BALTIC Centre for Contemporary Art and the futuristic Sage music venue across in Gateshead, reached by the graceful Millennium footbridge, with the iconic Tyne Bridge and the High Level Bridge spanning the mighty river in the background.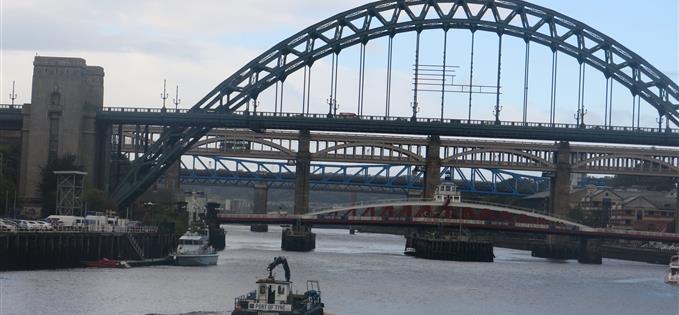 Tyne Bridge seen from The BALTIC; below the amazing staircase installation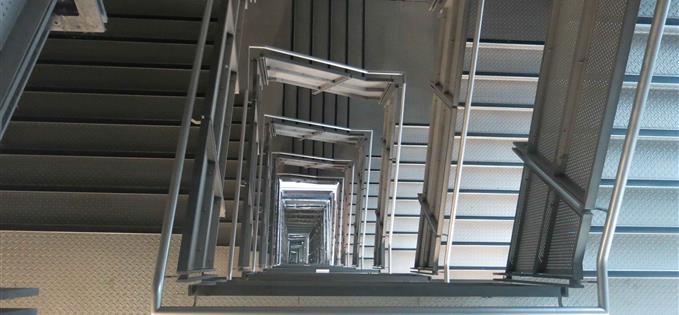 The view's even better from the four floor viewing platform of the BALTIC, a former flour mill, converted into a gallery in 2002. In truth, beyond the regularly changing special exhibitions (the current Carole Achaintre show is quite subversive with carpet materials) there's not a lot in there, though we were thrilled the Infinity 'Staircase', an amazing Vertigo-like installation created by Mark Wallinger. And entry is free.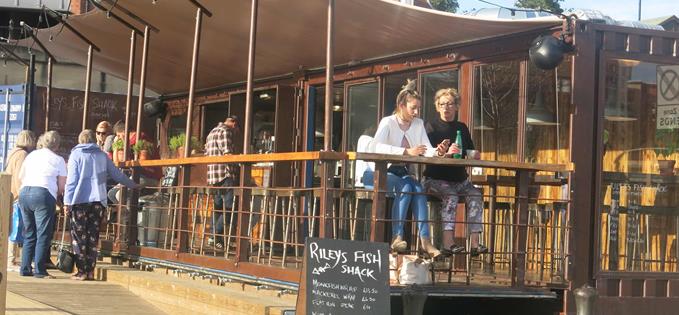 Riley's Fish Shack (the original is in Tynemouth); below, the Fenwick Food Hall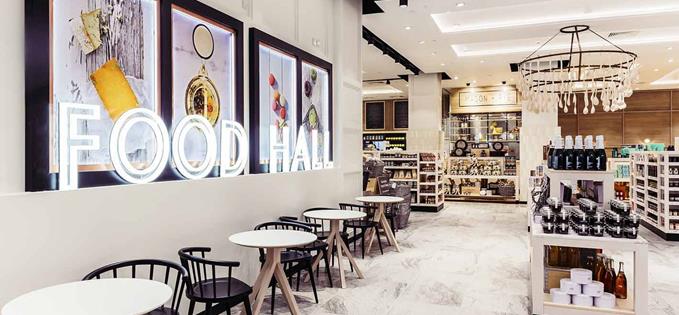 The BALTIC boasts a top floor restaurant, but our food and drink trail led elsewhere and there's so much happening – from the laid-back Riley's Fish Shack, on the Quayside (alongside a quixotic artificial beach) to the upmarket Fenwick Food Hall. The Geordie equivalent of Harrod's grocery has reinvigorated the flagship store of this independent chain – a mix of fish, meat, cheese and chocolate counters combined with the likes of Med-influencedwine bar Fuego,, Ko Sai Asian kitchen, the Mason Rye patisserie/cafe and the Saltwater Fish Company Bar, all open late.
Godfather of Newcastle hospitality Terry Laybourne has had a big hand in this development. Shedding the Michelin star he once held at 221 Queen Street, he is a convert to a more relaxed style of eating and drinking. Hence, his casual Italian Caffe Vivo, sleek brasserie 21 and, occupying a converted 18th century warehouse close to the Quayside, The Broad Chare.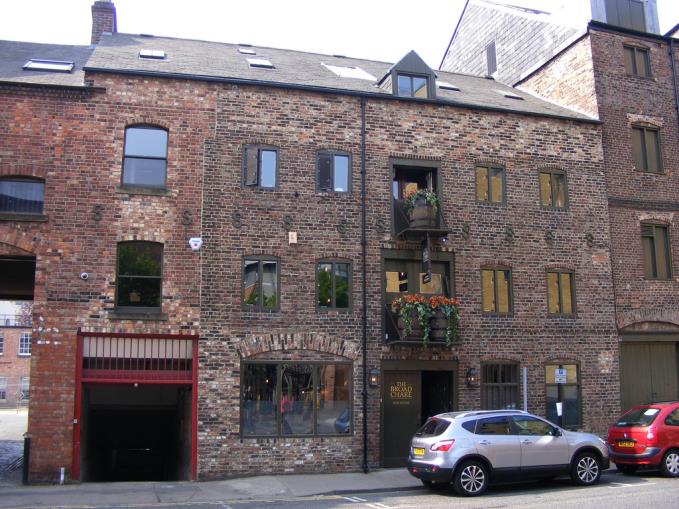 Broad Chare is a warehouse conversion with sophisticated rustic cuisine
Downstairs it's pure pub with crab sandwiches plus pork crackling and pig's ear snacks and well-kept beers (including a house pale ale, The Writer's Block from Wylam), perfect for a quick pint before a performance at the next door theatre its has links with; upstairs it has an old Mrs Miggins' Pye Shoppe feel, but the hearty nose-to-tail eating, best ordered small plates style, is created with canny artistry. Forego the hop here to accompany your Crispy Duck Leg, Beetroot, Apple and Thyme or Spicy Black Pudding Devil's Sauce. Off the bin-end list order a Saintsbury Californian Pinot Noir.
But if beer is your bag, check out Newcastle's latest destination, The Wylam Brewery Tap, situated in the Art Deco Palace of the Arts in Exhibition Park (open only Thursday and Friday evenings Wednesday and from noon on Saturdays). Wylam has been around for 15 years, brewing out in Heddon on The Wall, but it has recently upped its game. If you can't make it to the Tap check out its supercharged IPA, Jakehead, at city centre craft ale mecca, Lady Greys.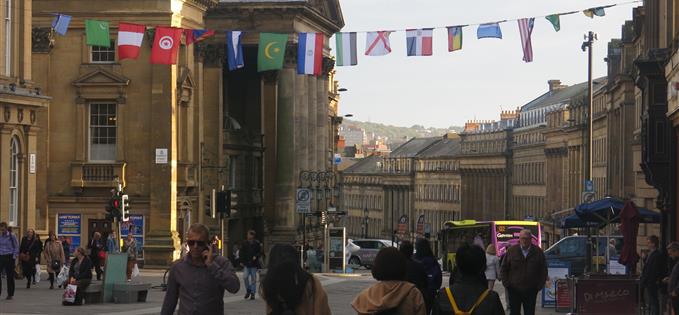 That pub's good for whisky, too, but if you share the current yen for gin try the bijou Dacantus Gin Lab on Grey Street, the Georgian thoroughfare that rates among England's loveliest (above).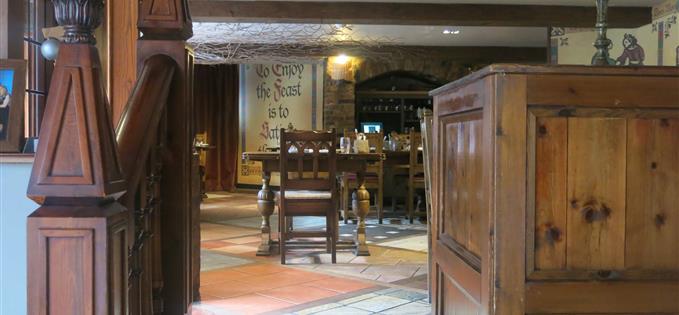 Blackfriars look lives up to its monastic origins
In Grey Street and surrounding Grainger Town with its characterful market recall the 18th century, not far away you can dine in a medieval priory. The Blackfriars in Friars Street lays claim to being the UK oldest eating house, dating back to 1239 – opened in its present manifestation in 2001 with the food Modern British, sources name-checked religiously (sic) on the place mats. Very welcoming and a good place to sample Pan Haggerty, the Northumbrian, cheese, potato and onion dish. My favourite dish? An exemplary ham hock terrine (below).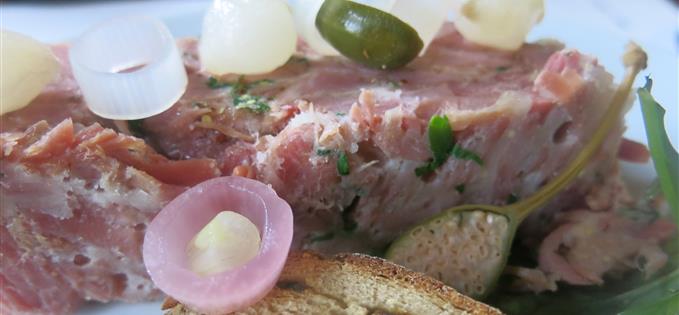 Suitably fortified, time to tackle Roman Newcastle next! A city of many layers. All of which require winding up and down the steep ginnels, steps and lanes that make the cityscape so thrilling. Best companion is a small free walking guide with map called Heritage: Old Newcastle, to explore "where the story begins". I'll leave you with my own personal choice of...
Five places to seek out between meals in Newcastle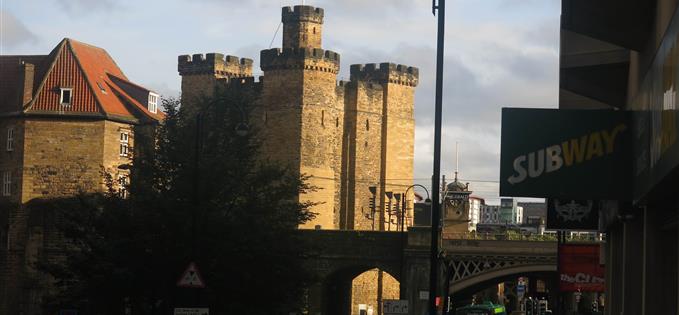 Newcastle Castle The Black Gate and Castle Keep (adult tickets £6.50) re-opened in March 2015 as a joint museum. The former, a gatehouse with portcullis built around 1250, now houses a curated exhibition telling the story of the vagrants, vagabonds and villains who dwelled within the castle walls over the centuries. On the site of the original timber castle from which the city takes its name, the quirkily managed Keep is one of the UK's finest medieval stone castle donjons still open to the public. Climb to the rooftop for perhaps the most stunning view in a city of stunning views.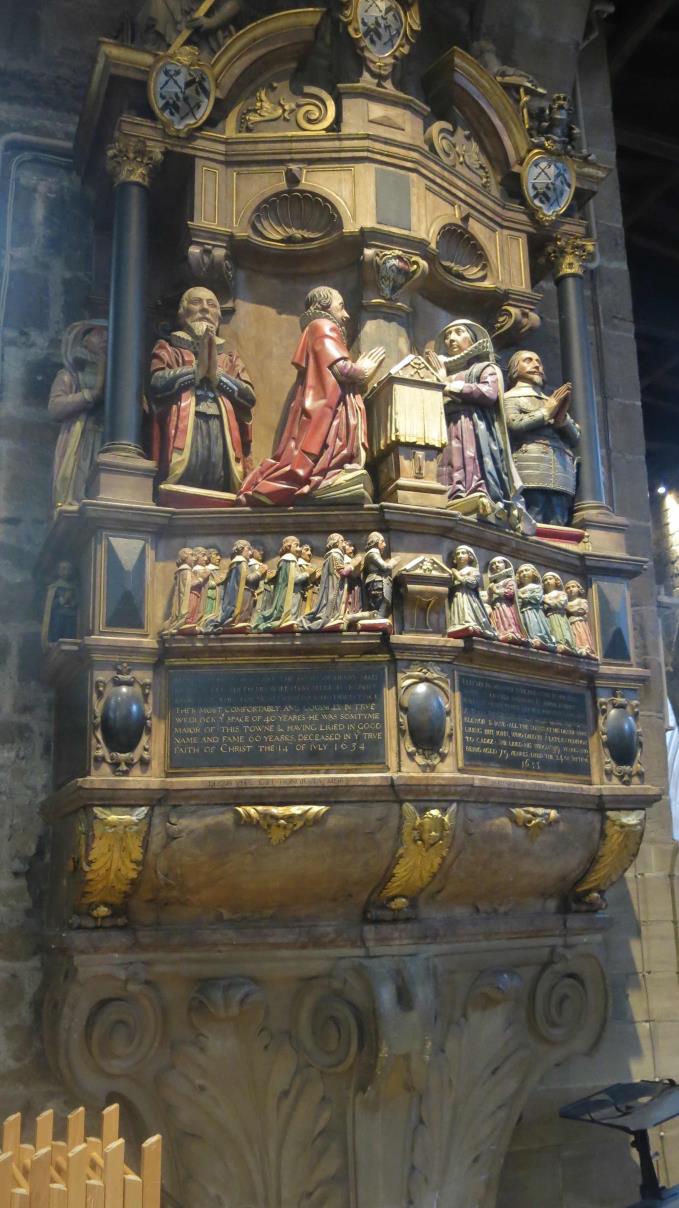 The Cathedral (and the Vampire Rabbit) St Nicholas is a hugely engaging place of worship, encompassing so many traditions since its inception in 1091 (rebuilt by 1350 after a fire, then heavily restored in 1777). Most striking features are its beautiful stained glass and the tower with its 15th-century lantern spire. I love the glorious 17th century marble monument devoted to three generations of the Maddison family. In contrast, in the close behind St Nicholas, above an ornate rear door of a secular building, you'll find the Vampire Rabbit (below).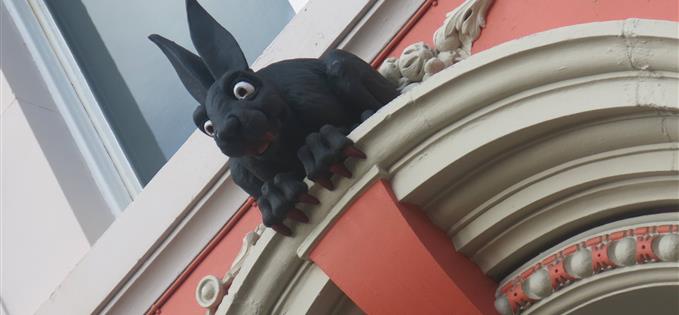 Bit of a mystery surrounds the origin of this century old, gargoyle. Originally, the same sandy colour as surrounding stonework, it has been painted a menacing black with droplets of blood staining its teeth and claws.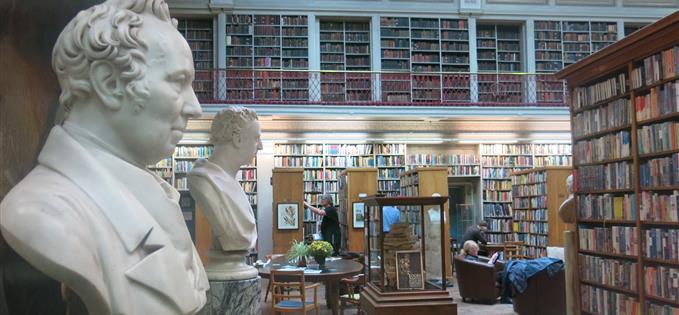 The Lit and Phil Wonderful haven. The largest independent library outside London, housing 150,000 volumes. Founded in 1793, later it was the first public room to be lit by electric light. Visitors welcome until well into the evening.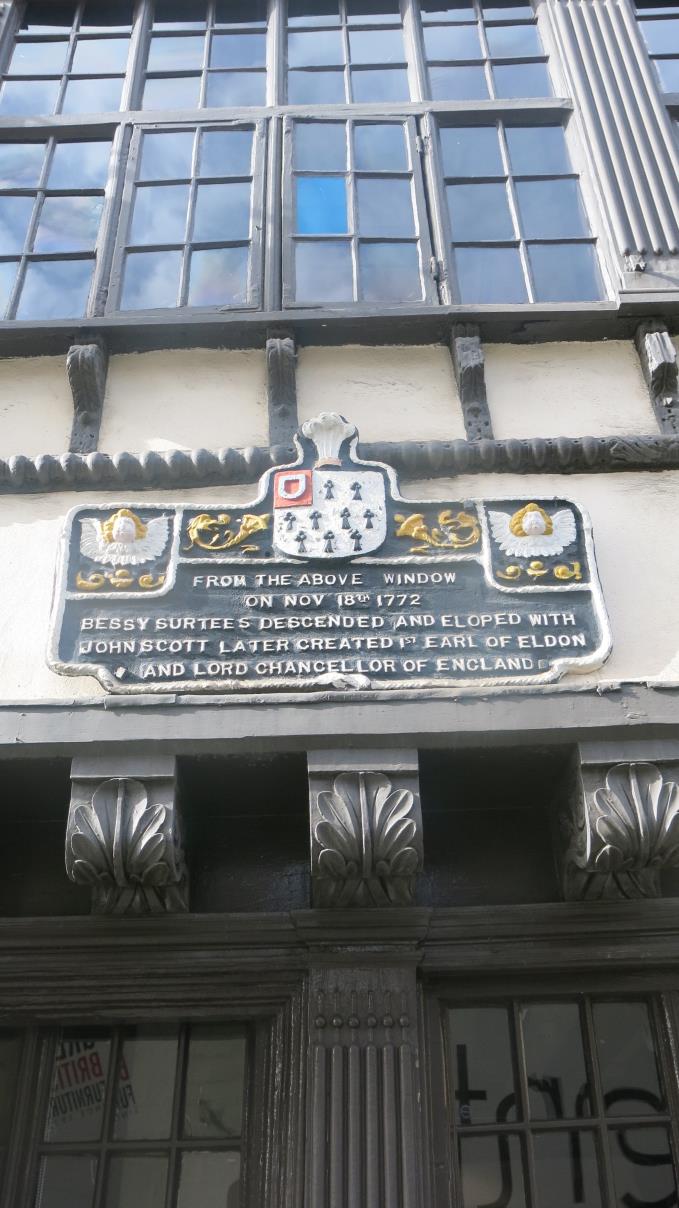 Bessie Surtees House Actually two merchants' houses on Sandhill, a quayside since Roman times, that were built in the 16th and 17th centuries – offering a fine and rare example of Jacobean domestic architecture. It's best known as the scene of the elopement of Bessie with John Scott, the future Lord Chancellor of England. Free to visit.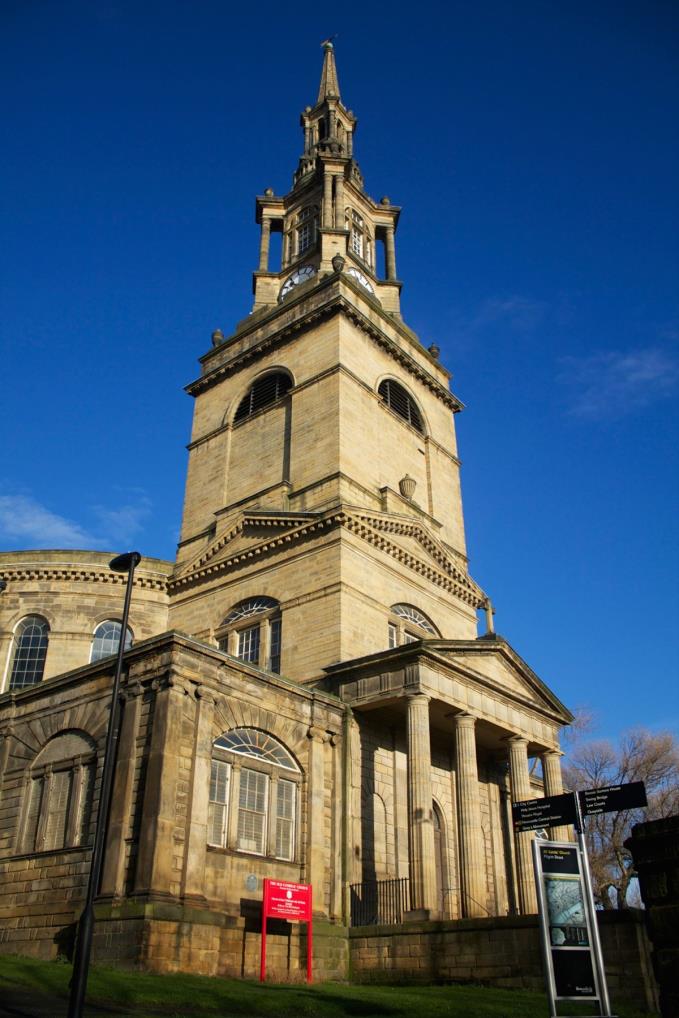 All Saints Church Finally, to those Romans, whose settlement was called Pons Aelius. Little evidence remains but on the hilltop site of their pagan temple arose All Hallows, a Christian place of worship, in the 12th century. It was replaced in the late 18th century by the present All Saints, described by John Betjeman as one of the finest Georgian churches in the country – thanks to its magnificent elliptical auditorium and splendid classical pillars. It was closed as a church in 1961 but has been restored since. Alas, most of the time it is shut. We goggled through its windows at the magnificent interior denied us. Consolation? High above the quayside, it was the perfect spot to say farewell to an equally atmospheric city.
Fact file
Jesmond Dene House, Jesmond Dene Road, Newcastle upon Tyne. 0191 212 3000.
40 individually styled bedrooms. B&B rates from £140 per night, based on two sharing. The hotel's Great Hall is a flamboyantly Gothic wedding venue with six separate bedrooms.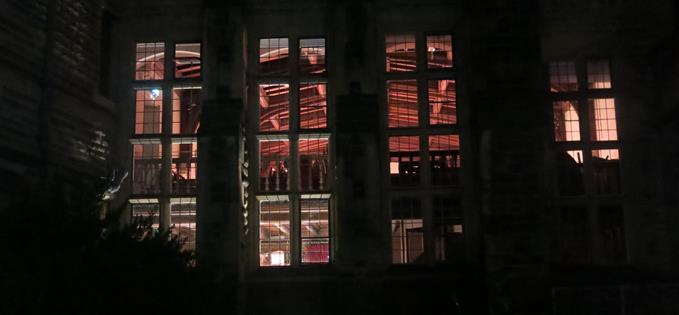 Great Hall
Restaurant (3AA rosettes): A la carte, starters from £7.50, mains from £16, though many hover around the £30 mark. Two course lunch £19.50 per person, three courses £22. Early evening menu, two courses, £20.50, three £24.50.
For tourism information visit www.NewcastleGateshead.com.
'Jaws and the wire dogs of Jesmond
Jesmond Dene House is a treasure trove of fine art but also displays a dozen striking wire sculptures of dogs in the public rooms. These talking points are the work of an amazing Geordie, 7ft 3in Gary Tiplady, who has spent 20 years travelling the globe as a lucrative lookalike of Bond villain Jaws. While at an event in The Lowry Hotel, Salford, Gary noticed some big wire busts on the ceiling – the same shape as the wire bases he used to create lard sculptures when he was a chef. His big hands come in handy for creating the wire animals, mainly dogs.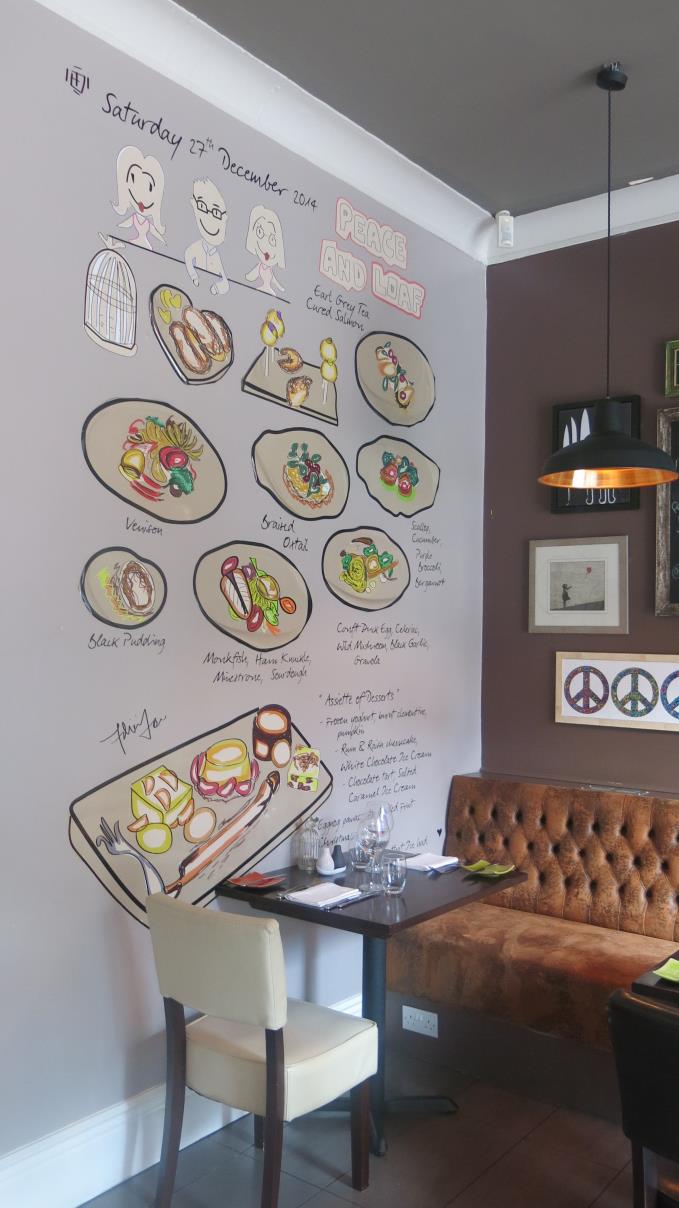 Quirky Peace and Loaf; below, classic afternoon tea at Jesmond Dene House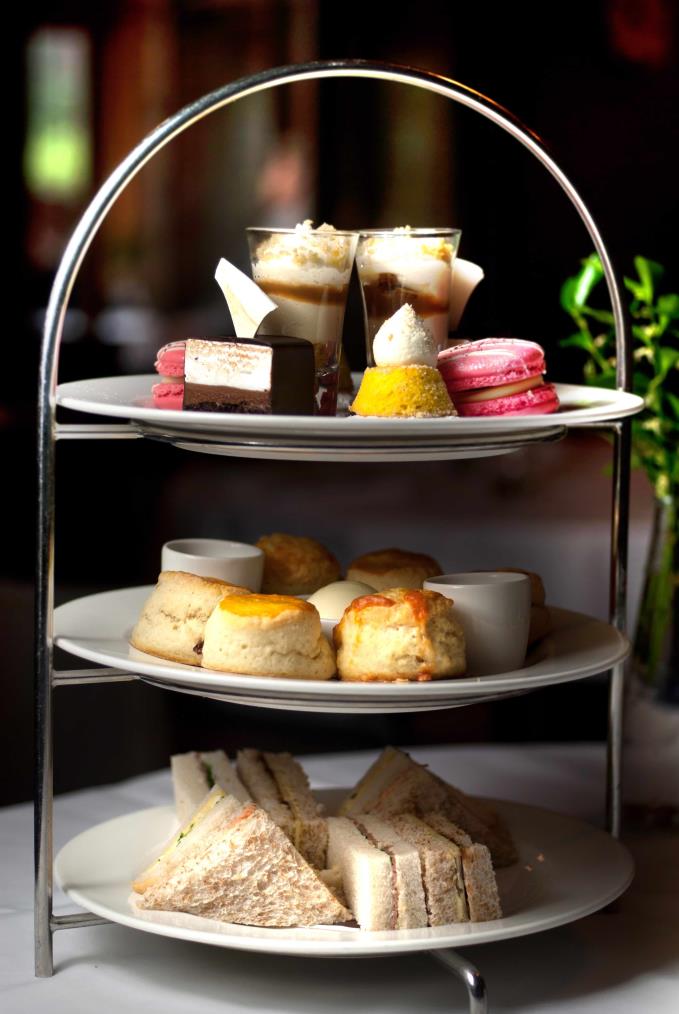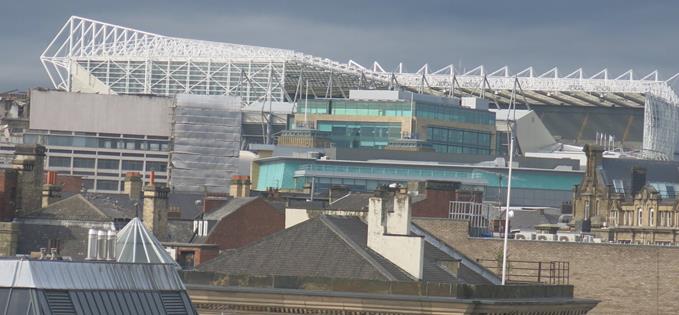 St James' Park football ground, viewed from the Castle battlements
Powered by Wakelet