SO ladies, it may only be Tuesday, but the weekend is fast approaching and we all know what that means – a very necessary shop for a pair of hot, new shoes.
I know what you're thinking – are you seriously going to try and sell me these dinosaur-esque monstrosities? Fear not, we're not a fan of Iris Van Herpen's new collection either.
Firstly, there is the major risk you may be mistaken for stealing a set of a T-rex's seemingly whitened veneers and strapping them to your feet, as you sashay down the high street, trampling all who dare enter your path. And not to mention the gasps and giggles you'll receive from onlookers. This time, you can't justify it with the self-assured phrase 'They're just jealous.'
The somewhat debatably fashionable 'Fang' shoes have ten sharp teeth to each foot and are the product of Van Herpen's fifth successful collaboration with United Nude for her spring/summer 2012 collection. Apparently, the shape of the wedge is so complex that each individual 'fang' (I prefer T-rex veneer), consists of fibreglass, carbon fibre and are made in a slow moulding process.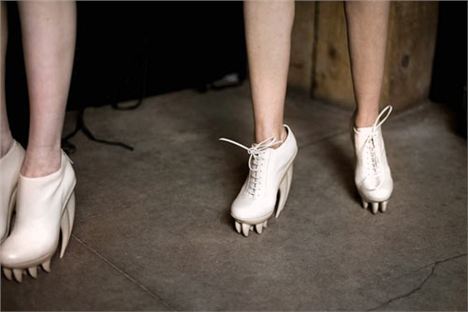 Gappy-toothed?
From the front, the pair of 'killer' heels actually fills me with a sense of nostalgia, as a gappy-toothed ten-year old who couldn't possibly wear a brace.
It's not all doom and gloom for the 'Fang', though. The style is set to be a scorcher this summer and the collection may even be released on a limited edition basis, so if the T-rex teeth tickle your fancy, you'll have to grab a pair fast.
And for those who, like me, aren't going gaga for them, save them for the lady herself.