MANCHESTER's summer gardening festival Dig the City hit our streets last Friday with a verdant explosion of discos, dining and designers; continuing until this Thursday's decidedly wet conclusion as children (and no doubt a few adults) enjoy a giant water fight.
Best in Show went to Turton Tower's sensory garden
Yet it's arguably the Show Gardens competition that takes the prize for most prolific event, turning our streets into a living network of green goodness.
The two judges, celebrity gardener Diarmuid Gavin and National Trust Gardener in Residence Sean Harkin, awarded seven gold, eight silver gilt and seven silver medals respectively after being "overwhelmed with the calibre and creativity" shown by 22 competitors, both amateur and professional, across Greater Manchester.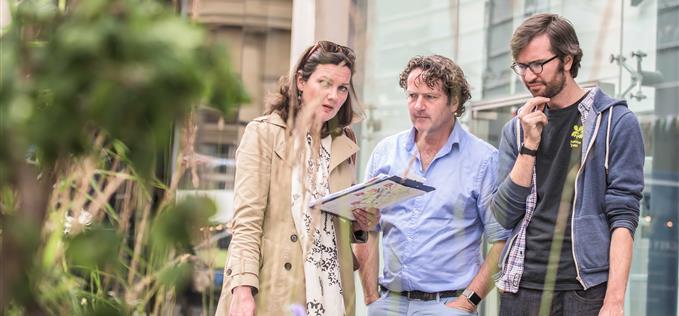 The judges
Best in Show went to Turton Tower's sensory garden; for which plants were selected for their smell, sound, texture and colour. Assembled from materials scavenged from their kitchen garden, the garden showcased the best of urban garden design, whose restrictions necessitate extra innovation. Recipient Anna Harvey said she was 'stunned and absolutely thrilled' on behalf of all the volunteers. "It was a lot of work," she said, "but we all really enjoyed the experience." With containers spanning tin baths to handbags and plants climbing lampposts, the garden's fun features demonstrate how inexpensive great gardening can be.
The Real Food Wythenshawe Community Housing Group, The Royal Manchester Children's Hospital Playful Garden (to be subsequently installed in the hospital grounds), Kew Garden's 'Grow Wild' Garden, Dreamscape Gardens, Andy Walker's Bee Garden and Hulme Community Garden Centre all received the highest medal accolade with gold.
FULL AWARDS LIST...
SHOW GARDENS
Ashton Hydroponics and AutoPot - SILVER Hydroponic Garden - A show garden of the future using special hydroponics systems.
The Landscape Institute North West - SILVER Bridgewater Hall Community Performance Garden - A show garden designed to be used as a bandstand.
Chorlton Post Box Café - SILVER GILT Chorlton Postbox Café Garden - Using the post boxes on St Ann's Square to create a garden café.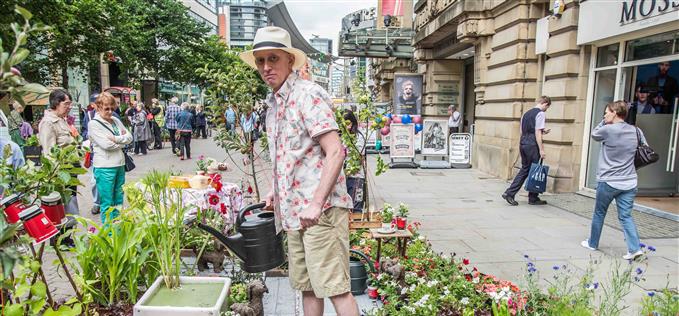 Chorlton Post Office
Coronation Street Tour and Manchester City Council - SILVER The Coronation Street Tour recreates the famous ginnel from behind Corrie's iconic pub with a 'green alleyway' garden designed to promote neighbourliness and community cohesion through gardening.
Dreamscape Gardens - GOLD A version of their 2015 RHS Tatton Flower Show garden, which plays with light and colour.
Geoff Fisher - SILVER GILT Wildlife Haven - A garden erupting from the ground.
Grow Wild - A project by Kew Gardens - GOLD Movable Meadow - A meadow on wheels in different shapes and sizes.
Hulme Community Garden Centre - GOLD Step Change - A mountain stream breathing life into concrete, using plants and organic materials.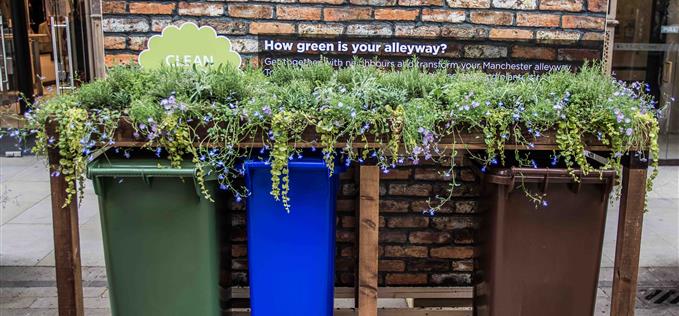 Corries Green Alleyway
Incredible Edible Salford – SILVER GILT Celebrating Community Growing the Incredible Edible Way - A vertical garden, Mud Kitchen, Bug Hotel, a wormery and a raised bed full of edibles.
Pendleton Together and Planit-IE LLP – SILVER GILT Friendly Fences - A garden that celebrates how boundaries can be adapted for play, growing food and encouraging urban wildlife.
Real Food, Wythenshawe Community Housing Group - GOLD Green Cocktail Bar – '50 Shades of Green' - A fun space where edible planting will be 'performing' unexpectedly.
Sow The City – SILVER Tales from the Plot - A garden that provides a retreat and chance to listen to stories from local people involved in community food growing projects.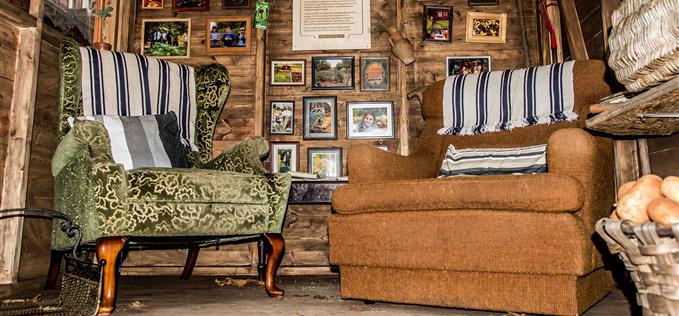 Sow The City
Sue Jeffries Garden Advice and Training – GOLD The Playful Garden for the Royal Manchester Children's Hospital - A garden that uses plants to stimulate all our five senses and connect us with nature.
Walker Landscape Design – GOLD Designed to illustrate how great a garden for bees can look. This garden comes straight from RHS Tatton 2015 where Andy Walker has won 12 medals since 2003.
Turton Tower Kitchen Garden Group - BEST IN SHOW Simply Scavenged - Using a city lamp post Turton Tower will create a space made entirely from material they have scavenged from their Kitchen Garden.
INSTALLATIONS
Venessa Scott, University of Salford – SILVER Escape & Create - An artistic installation across the city of string and wool vines hanging from trees and creeping up sign posts.
Imperial War Museum North - SILVER Dig for Victory Garden - IWM North bring a garden installation with stories, props and activities from a mock-up World War II allotment, in celebration of their Horrible Histories: Blitzed Brits exhibition.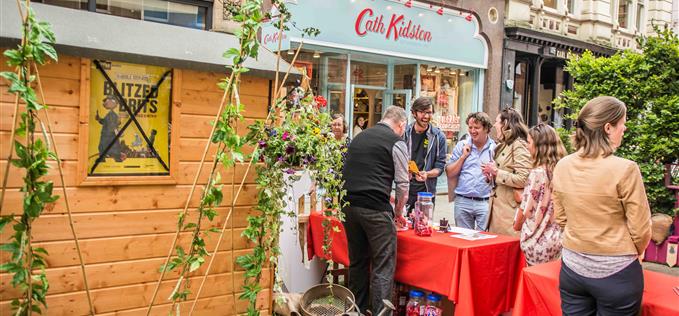 Dig For Victory
Gorgeous Gorse Hill - SILVER GILT A Garden on Every Street Corner - A lamp-post takeover to show how our cities and suburbs don't need to be fields of grey.
Anita Mattioni - University of Salford - SILVER Digital Garden - Stunning video projections of blooming flowers.
Cabbages and Nettles - SILVER GILT Textile Vegetable Garden - A vibrant life-size garden of hand-stitched plants and veg, including the soil.
The Moss Cider Project - SILVER A pop-up orchard and cider and apple bar with juicing and grafting activities.
Reaseheath College – SILVER GILT A science feature garden which has been exhibited at RHS Tatton.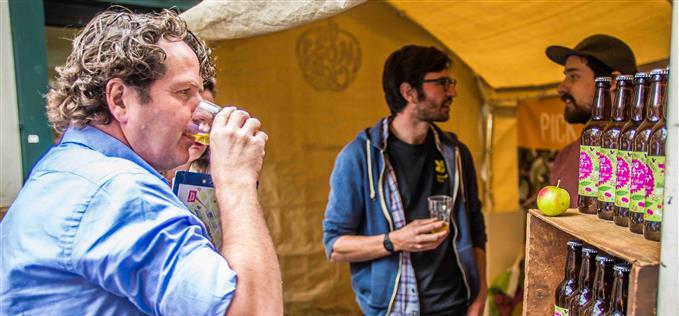 The Moss Cider Project