"WHY is the building so dark?" said Kjetil from Norway recently. "It looks spectacular but I can't see it properly."
It was 7pm. Manchester Town Hall, aka 'the classic of its age' and 'the Victorian building par excellence' was a shadow of itself. Aside from a tidsy bit of illumination inside the spire, the building had been reduced to a dark outline on the city centre skyline.
"International visitors expect an experience in the day and also the night, they expect the crown jewels to be lit
"Do you like to start Earth Hour early in Manchester?" Kjetil deadpanned.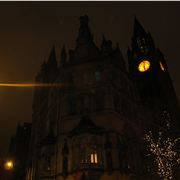 Dark Town HallThe noble Viking was referring to the global annual event - called Earth Hour - organised by the World Wildlife Fund that encourages administrations, companies and households to turn off their lights for sixty minutes once a year to help 'raise awareness of climate change'.
This year the event takes place on Saturday 23 March between 8.30pm and 9.30pm. In 2012 Manchester participants included The Imperial War Museum North, The Trafford Centre and Manchester United.
There are many arguments for and against Earth Hour but a walk in the evening around Manchester city centre suggests that the idea has been adopted as permanent policy by the city council, retailers, many commercial property owners and religious and educational authorities.
Manchester is a dark, dark, city at present.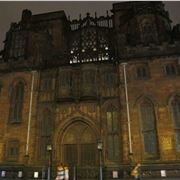 Dark John RylandsWhen the sun dips below the horizon, the Town Hall is hidden, John Rylands Library is at best a silhouette and the Cathedral vanishes in the gloom. Meanwhile the fine commercial buildings of Manchester resemble Gotham after a Joker inspired power cut.
Brendan Keely, lighting specialist of architectural firm BDP, and I took an after-dark tour. We stood at the fountain in Albert Square looking down Cross Street.
"Where is the visual draw?" he asked. "What's catching the eye down this street of relatively tall buildings?"
"Subway?" I suggested.
"Exactly. Is that what we want guests to the city to remember when they take a walk after dinner? That we have fast food outlets." 
We walked down Cross Street towards King Street.
"What lighting can do is create icons of the evening, beautiful situations, identifiers to the city," Keely continues with infectious enthusiasm. "It's another way for a city to show it's proud of itself and is aware of the good things it possesses. It's about drawing people together in the night time economy."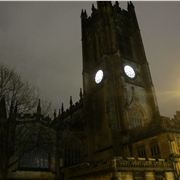 Dark Cathedral"You do guided tours," he says, "so can you imagine a guided tour of light around the city centre? This could be based on the acknowledged landmarks but given the right budget and imagination it could lead visitors and residents along tours devoted to various themes, maybe heritage or achievement or people."
But isn't lighting buildings this way expensive and massively wasteful in terms of energy?
"Energy can be utilised in the right way or the wrong way," says Keely. "You don't flood a building with light anymore and hope some of it will stick, you pick out details, emphasise what is special about the structure. Of course there has to be buy-in from owners, planners and tenants but lighting schemes can be cost-effective and deliver benefits in terms of investment and promotion whether commercial or civic."
Looking at the hidden structures in the night air around us, Keely, says, "Can Manchester ignore the fact that other cities, competitor cities you could say, light their centres more effectively?"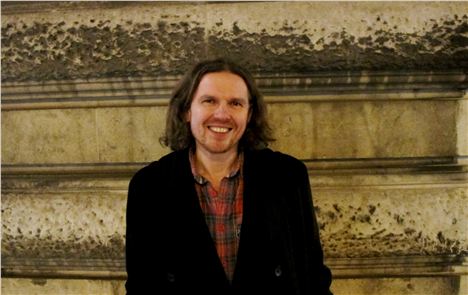 Brendan Keely
He's right. The city aims to attract conferences, conventions, companies and students. It hosts thousands of football and music fans during big games and big concerts. Yet outside the Christmas markets we are the darkest of rival European cities. The gloom is often mentioned by visitors.
Yet huge amounts of council money, £425,000, can be deflected for events such as Alicia Keys 'to raise city profile'. According to the lighting specialists Confidential has asked, an outlay of £100,000 would deliver an effective lighting scheme for the Town Hall.
A city artfully alive with illumination surely would lift the hearts of visitors and investors more than a gig or two? Despite deep cuts money has been ring-fenced for investment in culture, so why not treat lighting as part of a general culture offer?
We asked Manchester City Council about all this and their response was...er...unilluminating.
A spokesman said: "We are very supportive of both private and public buildings being lit at night in a way that is environmentally efficient and takes a responsible attitude towards light pollution. We would welcome any plans to do this in the city centre." 
Meanwhile Cityco, the city centre management company, have said that, broadly speaking they'd love to see more of the city lit up at night.  
We also asked if the floodlighting system already in place around the Town Hall couldn't be switched on again, and were told the lighting is not currently operational and it is not considered economic to repair. 
We don't have to look very far to find a city that takes the opposite view. 
Liverpool has a policy of illumination that puts its larger eastern neighbour in the shade.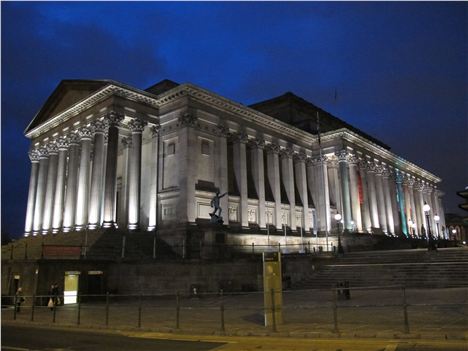 Liverpool: proud to be lit
Ian McCarthy, of Liverpool Vision, the Mayor of Liverpool's economic development company, is hugely proud of the way his city has been lit-up.
"The reason why we expend so much effort on lighting is simple," says McCarthy. "There's lots of evidence to show it makes people feel safer, makes them feel comfortable and gives them another type of experience from the daytime one. In otherwords it encourages people to stay longer and spend more, which means an economic benefit. Money.
"International visitors expect an experience in the day and also the night, they expect the crown jewels to be lit, the Pierhead buildings, St George's Hall, but we've spread it wider than that. Meanwhile workers in the city stay longer if the place is more pleasant and better lit, the figures show this."
"The scheme started back in 2003," McCarthy continues. "We've aimed for a combination of public and private money, 50/50. The building owners sign a contract to turn lights on and maintain the scheme for a given period, we give capital support."
"It's been rewarding in so many ways. There's enormous pride when illuminated buildings become refreshed icons of the city. Often building owners will have a photo taken in the night rather than in the day. There are dozens of postcards of Liverpool taken at night now, and even specialist tours. That's proof of the pudding, anecdotal verification of the benefits."
Like Brendan Keely, McCarthy thinks that progress in lighting technologies means bringing out the best in buildings has never been easier. 
"With architectural feature lighting we've been using white but warm light to show off the bones of structures. This enables us to pick out the features rather than blasting them with light. As for light pollution that's simply a symptom of poor design, you should focus light tightly to the detailing."
And the way forward? 
"We've come so far in Liverpool," says McCarthy. "We are aware we need to hold on to what we've achieved. In a competitive world we need to maintain profile. So we've refreshed the feature lighting investment structure for the city centre in the Strategic Investment Framework. This time we're placing the emphasis on the linkages between areas since the icons are already lit."
Absentee property owners don't give a toss about local pride, and with aesthetic illumination, many tenants will fight any contribution on a service charge like ninjas."
One Greater Manchester icon that is beautifully illuminated, like the Liverpool ones, is the Imperial War Museum North. 
Former director, Jim Forrester, who introduced the scheme, told Confidential: "Lighting up IWM North was a long held ambition to extend the impact of the extraordinary architecture into the long, dark evenings.
"With Lowry and MediaCityUK audiences viewing the building from over the Ship Canal most evenings, in addition to the daily transmission of BBC regional news, the need to prevent IWM North from disappearing into the darkness at night was clear. As a result, the Trustees of IWM decided to fund the scheme mostly from internal resources, supplemented by a grant from Trafford MBC. 
"The lighting scheme was designed by Adam Grater who proposed a simple white light wash over building, lighting the two sides of the airshard to create long-range impact and adding red detailing in two areas. This allowed the design of the building to continue to be the star of the show, as it is during the day."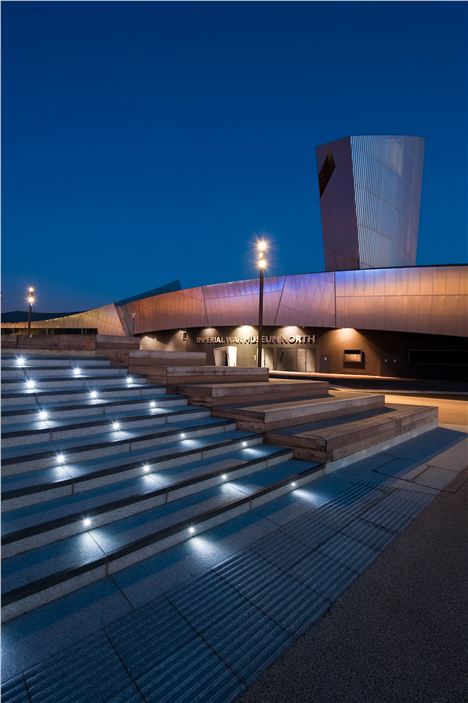 Lovely at the Quays
Current director, Graham Boxer, IWM North Director, agrees: "IWM North deserves to be seen at night. The new lighting has helped to further develop The Quays as a world class visitor destination – one that is visually impressive, accessible and safe, both in the daytime and evening. It is also energy efficient and the illumination is carefully projected to avoid unnecessary light spill - and is turned off by midnight each night when visitors to the destination decrease, which provides a cost saving to IWM North." 
Back in the city centre commercial owners sometimes play the game even if the city administration won't. 
House of Fraser/Kendals is a beacon at night.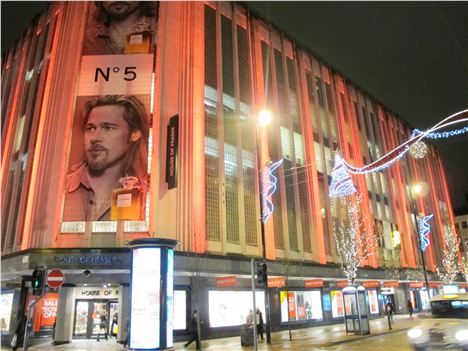 Deansgate beacon
Across town a redevelopment of an existing architectural treasure will also receive an illuminating treatment. 
The owner, who wishes to remain anonymous until all the permissions sought have been granted (or not), says: "Firstly I love the building and I want to show it off, but also a well-lit building is a thing of beauty and can attract tenants who in turn feel proud. It's good for the psychology of the place, makes it more marketable.  
"But," he continues, "and it is a big but, we need something like the Liverpool scheme because the city needs to hold hands with the occupiers and join us in making the city brighter. Most owners will need incentives. 
"At the moment the perception among many commercial owners is that the council is battering us with rates, narrowing key central streets, putting up car parking prices and thus encouraging people not to come in and set up business. 
"Another difference for me is that I own the building, it's not managed by a surveyor with the owner collecting rents from two thousand miles away. I can make the decisions. Absentee property owners don't give a toss about local pride, and with aesthetic illumination, many tenants will fight any contribution on a service charge like ninjas."
Given Manchester city council's terse comments it will be down to individual owners who love the city to lead the cause rather than civic organisations. 
Yet it's still a crying shame that our crown jewels such as the Town Hall, John Rylands Library, the Civil Justice Centre, the Cathedral and so on, moulder in the dark rather than working as light-filled billboards advertising brand Manchester.
Even in times of economic woe and talk of cuts, cuts, cuts, other cities show that being competitive with others, even after dark, remains a high priority. 
People in the local media, and in the civil administration of Manchester, have often tiredly repeated clichés to me of how our city centre compares poorly to others in Britain. 

Perhaps in some ways we've reverted to type. 
Maybe this lack of commitment on Manchester's behalf stems from a failure to understand how impressive, even beautiful, the city, especially at its core, can be. This is a historical failure, stemming from an inferiority complex engendered in the nineteenth century, about the first industrial society and the smoky 'shock city' it created.  
Antique though this psychological glitch may be, it's still oddly pervasive. 
Manchester will readily celebrate its people, its achievements in science, industry, culture and sport but we don't much celebrate the physical fabric of our city centre. (An attitude that has also led to mis-management elsewhere across the city with buildings such as Heaton Hall, Baguley Hall and Hough End Hall.) 
People in the local media, and in the civil administration of Manchester, have often tiredly repeated clichés to me of how our city centre compares poorly to others in Britain.  
As a tour guide who has taken almost a hundred nationalities around the city I know we need have no fear, we just have to love what we've got as much as our visitors do. 
This year we will celebrate Manchester International Festival with a glorious line-up of visiting acts. We should make sure, if not for this festival, at least for the next in 2015, that we have a city centre that as Brendan Keely says,"creates icons of the evening, beautiful situations, identifiers. (A city centre) that shows Manchester is proud of itself."  
And proud of itself night and day, day and night. 
You can follow Jonathan Schofield on Twitter here @JonathSchofield or connect via Google+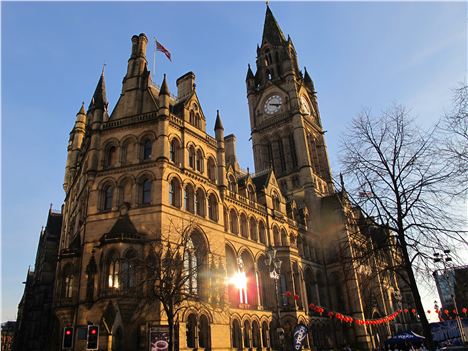 Day time delight at Manchester Town Hall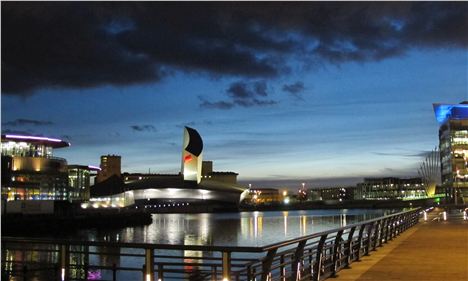 Imperial War Museum lights up at twilight