CRAWFISH boil season in Louisiana, bliss to be on the bayou. And if there's some stomping Cajun musical accompaniment, well, let the good times roll. In search of this holy grail we drove north across the swampy flatlands under lowering gun metal skies and flashes of sheet lightning that bespoke the wrath of a vengeful Lord.
We sought a taste of something more primeval, but the alligators weren't coming out to play
It's hard not to feel epic in such circumstances. Our destination, sleepy little Eunice, was anything but on a Thursday lunchtime. We'd been recommended Ruby's Courtyard as a top place to eat the regional speciality – crawfish, crayfish, mud bugs, call these runtish lobster cousins what you will. Alas, the fresh boil wasn't scheduled until the evening when we had engagements back in the Cajun capital, Lafayette, so we settled for an alligator po boy sandwich and a cold beer.
The alternative would have been a a carry out from Eunice Poultry, specialists in cracklins – small cubes of pork skin, fat, and meat fried for an hour in hog lard and then cooled and re-fried until they "pop" – or smoked ponce (sausage stuffed into a pig's stomach) from LeJeune Kermit Sausage Kitchen.
It's hard not to believe that 'nose to tail eating' originated with the resilient Cajuns, driven from their Nova Scotia homeland by the English (naturally). The exiles, with their strong French heritage and aching sense of loss reflected in their music, settled in the mid 18th century in 22 parishes in Southern Louisiana they called Acadiana. The word Cajun (derives from Acadian) denotes a Louisianan, who descends from French speaking Acadians.
Tiny Eunice in the St Landry parish is home to the Prairie Acadian Cultural Center, which gives a good overview of this still thriving culture (but perhaps best to skip the cheesy 20 minute film introduction).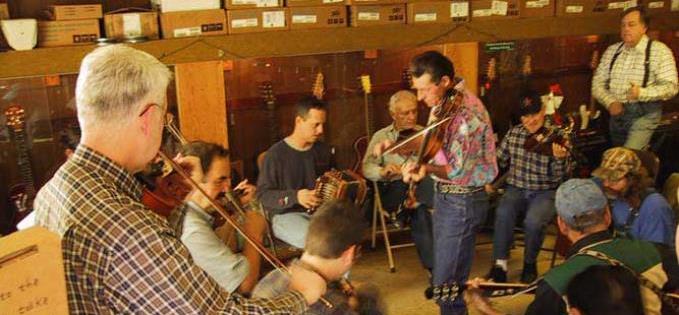 For a musical introduction, drive out on a Saturday along Highway 190 to Guy Savoy's Accordion Shop, where the acclaimed Cajun musician runs a jam session (above) from nine till noon. There must be something about Saturday mornings for music. Over in Breaux Bridge, the art-festooned Cafe des Amis hosts Zydeco breakfasts with much dancing to this Creole meets rhythm and blues variant. The food's pretty amazing, too.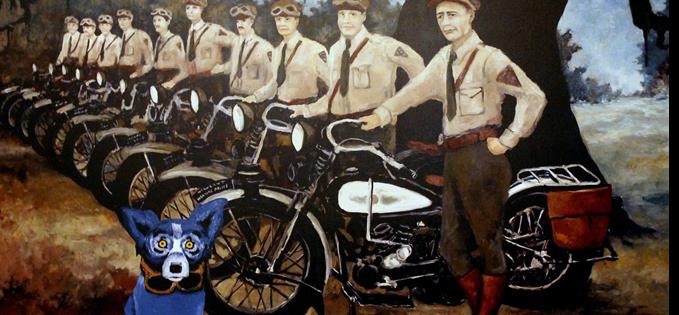 Back in Lafayette, an urban sprawl that justifies many exits off Interstate 10, we caught two very different musical experiences that sandwiched an exquisite dinner at Jolie's Louisiana Bistro, more contemporary food than you find out in the parishes plus bearded waiters with craft beer recommendations – y'all know where I'm coming from.Check out on the walls 35 iconic canvases by Louisiana legend George Rodrigue, which depict Cajun life as it was in the early and mid 20th century, as well as the Blue Dog series (see picture above).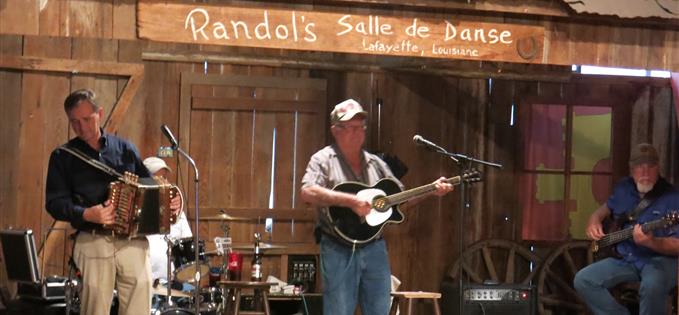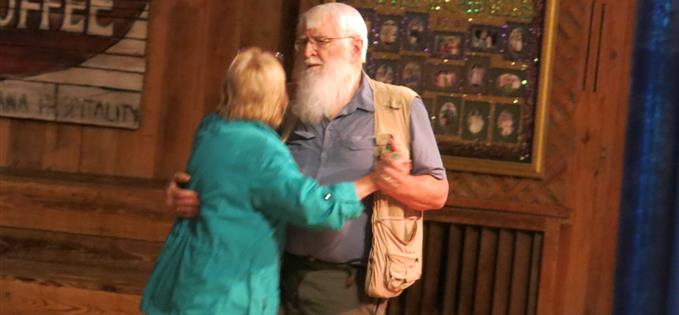 Veteran dancers at Randol
The evening's music couldn't have been more different. Randol's Restaurant and Cajun Dance Hall offers live Cajun and Zydeco music nightly with down home victuals and a rustic dance floor that accommodates young and old. We caught the rather fine Donny Broussard and the Louisiana Stars ripping up the joint. After dinner we hung out with a 'chunk' band' from Austin, Texas at the Blue Moon Saloon, an uber cool roots music honky tonk with great beer. NB: For the geeks among you 'Chunk' melds funk, rock and hip hop in a groovy musical gumbo.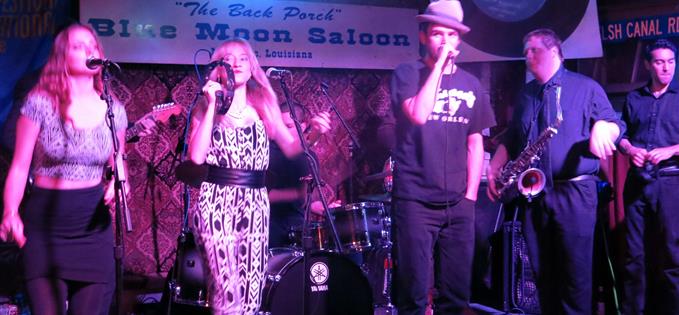 At the Blue Moon
After that hectic evening it was a groggy start to our exploration of the Cajun hinterland south along the gloriously titled Bayou Teche Corridor, part of the Atchafalaya National Heritage Area. A bayou is a narrow, shallow, muddy bottomed river outlet and Teche is local Native American word for snake, suitable for the waterway's curvy route.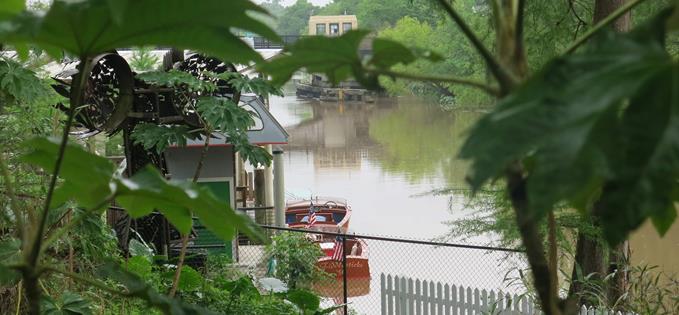 Quiet backwaters of the Bayou Teche; below, Lake Martin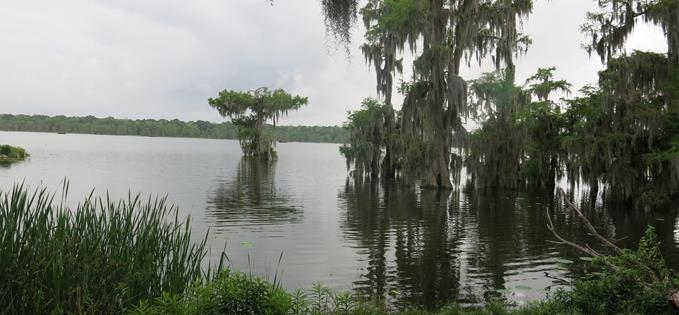 We just wandered around, taking in the vibrant, aforementioned Breaux Bridge and homely St Martinville, once a major port of entry for the exiled Acadians and, hard to believe, in the 19th century briefly dubbed Le Petit Paris as it gave refuge to French aristos fleeing the Revolution and recreating their glittering social life there (an intricately carved font and sanctuary light in the Catholic church are gifts from Louis XVI and Marie Antoinette). We stopped off at the Lake Martin Swamp (lots of boat tours available) for a taste of something more primeval, but the alligators weren't coming out to play.
Our Teche expedition ended in New Iberia, atmospheric backdrop to the superior crime fiction of sometime resident (and one of my favourite) writers) James Lee Bourke. A triumph of the artistic imagination – in truth, even the historic district felt a bit rundown and the shacks on the fringes were evidence this is one of the US's poorest states.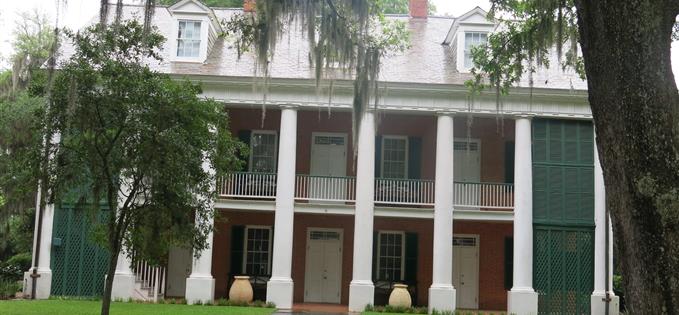 Shadows on the Teche is a beautiful spot
Still the visit was worth it thanks to Shadows On The Teche – a plantation owner's home built on the bayou's banks in 1834, a modest interpretation of Classical Revival architecture shaded by towering live oaks. Our guided tour provided invaluable insights into that long-gone world of slavery and Civil War that so shapes the South, even today.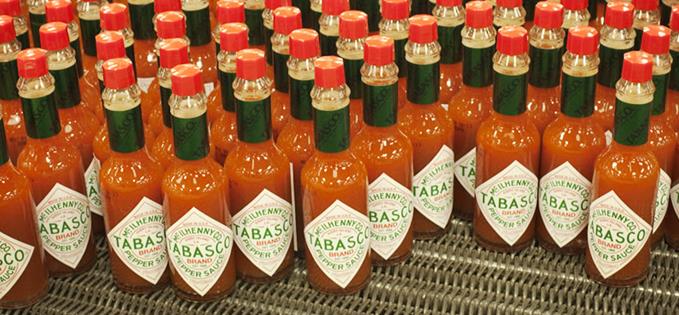 A more in-your-face tourist destination south of New Iberia is Tabasco at Avery Island, which offers trips around the iconic pepper sauce factory plus access to its exotic Jungle Gardens and Bird City featuring a wealth of avian activity plus alligators, armadillos and raccoons. Nearby Jefferson Island offers a more untrammelled experience of wildife, ancient oaks and glorious swampland sunsets. Don't miss its sub-tropical Rip Van Winkle Gardens.
In Lafayette proper the essential place to get a handle on history is Vermilionville Living History Museum and Folklife Park, near the airport, while Cajun Food Tours offer a bespoke three and a half hour tour taking in stops for boudin, king cake, gumbo, cracklin' and, of course, crawfish.
Of course, when we finally caught up with the crawfish – a bucketful – it was a messy learning curve. You pull them apart, sucking out the succulent bits from the crevices, while avoiding at all costs rubbing your eyes with your grubby mitts – the sauce is seriously spicy. Oh and definitely don't eat the 'dead ones', the ones that were already dead before boiling. How to spot them? They have straight tails. Drink a lot of beer and it will feel less fraught.
Factfile
Getting there
Neil Sowerby flew direct from Manchester to Atlanta with Virgin Atlantic, which runs a daily service. He flew on from Atlanta to New Orleans with Delta.
Getting around
Neil hired a car from Alamo at New Orleans Airport and headed west. Alamo has car hire branches throughout the USA. All-inclusive rates are available via www.Alamo.co.uk/USA.
Staying there
As a guest of the Lafayette Visitors and Convention Commission, he stayed at the Springhill Suites Lafayette South at River Ranch, 321 Settlers Trace Boulevard, Lafayette, LA 70508. Tel: 337-981-5512, www.marriott.com/lftsh.
For Cajun Country tourism info visit this link and for Lafayette this link.
The Cajun Boudin Trail will lead you to some of the finest sources of traditional food in the region – not just the spicy pork and rice sausage of that name – while Marc Savoy offers his own specialist soup-drive Gumbo site.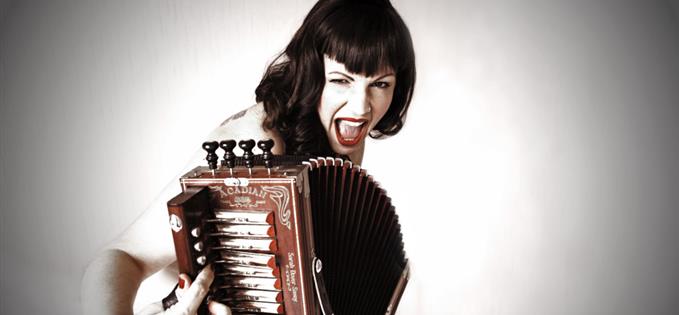 Sarah Savoy in action
Guy's eldest daughter, Sarah Savoy is a touring musician too, based in France, where she is setting up a restaurant in Toulouse. Her charming anecdotal cookbook, The Savoy Kitchen – A Family History of Cajun Food is published in the UK by Kitchen Press Ltd at £15.99. www.sarahsavoy.com
Visit DiscoverAmerica.com to start your own USA adventure.
Neil Sowerby parked at Manchester Airport. For full details of parking there visit this link.