Where is it?
The Avenue, Spinningfields, M3 3HF.
History.
The first Brooks Brothers store was opened by Henry Sands Brooks in Manhattan in 1818, making it America's oldest men's clothing chain. It's now a big deal in the States, with over 200 shops and a further 70 plus in the rest of the world.
The brand's flagship stores are listed as Manhattan, Chicago, Boston and Beverly Hills alongside stores in the international fashion staples of Paris, Milan and London. Reading between the lines you can already get a sense that it's not your average high street shop and it's very American. Ivy League American.
With the shop decked out with row after row of suits, shirts and silk ties their customers are likely to know exactly what they want and don't mind paying for it.
Brooks Brothers make sure you know where their history lies with tag lines such as, 'An American Classic' and 'American Icon' found across their website. The American institution has been open for nearly two years now on The Avenue in Spinningfields, Manchester. If you haven't already noticed, it's about time you did. 
 While they do tailor to the Easton masses' idea of casual with their 'University' range, Brooks Brothers mostly aim at the wealthier businessman market. With the shop decked out with row after row of suits, shirts and silk ties, their customers are likely to know exactly what they want and don't mind paying for it.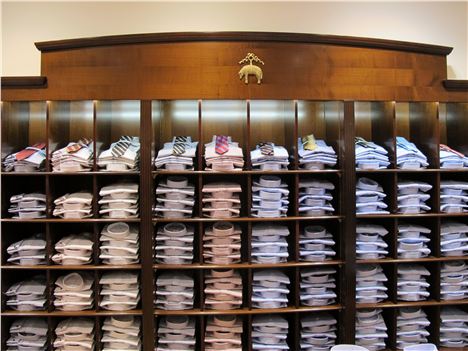 Brooks Brothers
What do they sell?
Suits, made to measure, according to sir's wallet, start at £900 and from there the sky is the limit depending on sir's choice of fabric, style and so on. Upon my visit I was told that an anonymous gentleman had just picked up his bespoke suit for around £1,500. Regular off the shelf suits meanwhile start at a more reasonably priced £699.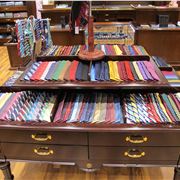 Brooks BrothersThe Brooks Brothers sell nought but their own brand wares and their bread and butter comes in the form of their 100 per cent cotton shirts, priced at £89 each.
The range of shirts takes up an entire wall of the shop offering a variety of three collar sizes and five sleeve lengths to ensure the perfect fit. Once you have the perfect fitting shirt to go with your new suit you can complete the look with one of the dozens of classic silk ties (£69) or bow-ties (£49) on offer.
The ladies wear range is somewhat smaller due to the fact it was only launched late last year. However, it's already a lovely mixture of very formal and the kind of casual outfits you'd associate with a day at the races. The range makes up around 15-20 per cent of total custom in the Spinningfields store with cardigans and jackets outselling the majority of other ladies stock. At the time of visiting there were various summer sale items, with cardigans dropping from £95 to £57 and several dresses around the £60 mark down from over £100.
The visual merchandising of the shop conforms to strict guidelines from the Brooks Brothers US headquarters. They don't want their stores to look to much like Abercrombie and Fitch who are also pushing the privileged American shtick.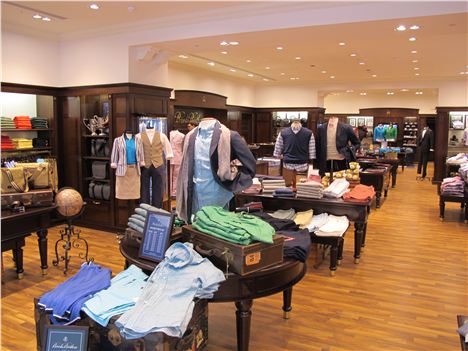 Brooks Brothers
Who shops there?
From the looks of things, not many people. I saw one suited and booted man pop in for an awkward browse before quickly disappearing again. Brooks Brothers isn't the type of clothing shop which sees a lot of casual browsers, but that isn't necessarily a negative.
The Brooks Brothers clientele know exactly what they want before they set foot in the store and demand just as much quality service as they do quality products. Of which they will find both here.
Staff, (outnumbering customers three to one today) are helpful and clearly passionate about the brand.
Passing trade may seem very minimal but staff say the majority of their custom is from regular repeat customers with around twenty very frequent visitors.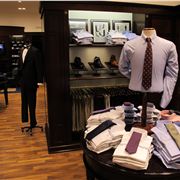 Brooks BrothersRegulars are more than likely enticed back due to the sheer quality of clothing on offer, with American design, Italian tailoring and even silk from York all aimed at the higher end of the market.
Why go there?
They offer a hands-on customer service making sure your chosen garemnts fit to perfection. Furthermore their bespoke tailoring ensures one of a kind outfits based on a classic American style.
Future.
With hundreds of stores across the globe there's no likelihood of Brooks Brothers fading anytime soon. Brooks Brothers seem keen to transfer the 'timeless' look of the upstanding American throughout the world.
Considering they have supplied clothes to everyone from Abraham Lincoln and Barack Obama to the cast of Mad Men and even Kermit the Frog, the brothers have some world beating representation.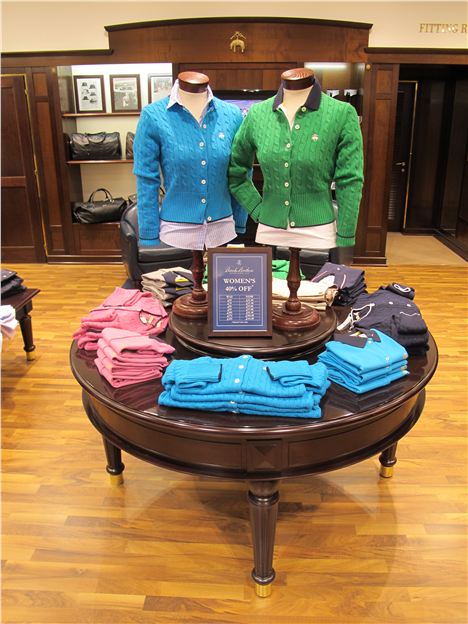 Brooks Brothers
Verdict.
Brooks Brothers are outfitters to the presidential elite, Oxbridge preppies and well-to-do gents alike. There's no doubting they deal in quality and a very specific Americana style revolving around fine tailoring, but it might not be the first place most people think of when they want to pick up a new work shirt. That's not really the point of Brooks Brothers though. They celebrate their finery with typical stars and stripes enthusiasm that makes a new customer a customer for life.
---
You can follow Ben on Twitter @BenPRobinson