CLASSIC aerobics classes. You know, grapevines, box steps and heel kicks? They were given a rude awakening with the launch of a new fitness revolution going by the name of Zumba a few years back.
"Having been to a lot of boring fitness classes, I decided I wanted to do something different. I was leaving classes not sweaty, not worked out, and not feeling like I'd enjoyed them" said Laura.
Inspired by Latin dancing, Zumba changed the way we thought about the usual rigid routines. Aerobics became fun again, and when you're having fun you don't even notice you're getting fit.
But of course Latin America isn't the only continent known for its free spirited dance forms. Sub-Saharan Africa is home to many forms of musical movements and dance styles that keep cropping up on MTV.
Seen Beyonce's 'Run The World' music video? The megastar came across Tofo Tofo – a Mozambican Kwaito dance crew – on Youtube and was mesmerised by the movement she saw before her eyes. And if you too were mesmerised by the subsequent dance moves in Beyonce's African dance inspired music video, how do you fancy an aerobics class in the same vein?
Bokwa - pronounced BOH-KWA - was created by a South African dancer and certified fitness instructor Paul Mavi in 2000. The 'Bo' represents the light boxing element and 'kwa' represents the cultural and traditional dance Kwaito' according to the Bokwa Fitness website.
Growing up in Johannesburg, Mavi learnt Kwaito - the strong war dance with intricate foot work. Following the success of aerobics alternatives such as Zumba of late, Mavi decided to have a go at creating a fun workout programme for all, based on his own heritage and passion for fitness.
The Bokwa Fitness workout has many influences, but the way the steps are mapped out could be likened the most to line dancing. It also shares similarities with Zumba in the sense that it's virtually impossible not to enjoy it.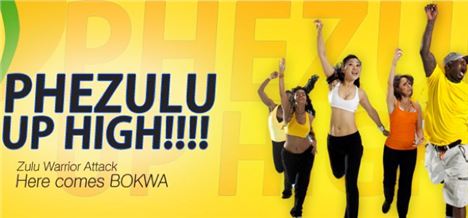 Manchester-based Bokwa teacher Laura Carden is certainly enjoying flying the Bokwa flag in and around the city. Now teaching classes at both Sunshine Studios in the Northern Quarter and PoleSessions Studio in Worsley, she jumped at the chance to train with Mavi himself at his Bokwa training course in Blackpool last year.
She said: "My sister is a personal trainer and  she heard about Bokwa at a fitness convention. I'm a dance teacher at Chorlton High School and even I thought it looked difficult at first, but I went on the course and loved it.
"It's quite energetic. In terms of stamina and cardio it's a lot harder than Zumba, but it's easy to pick up once it's broken down. It's then fairly repetitive but once you progress it becomes more varied because there are lots of different steps to play around with."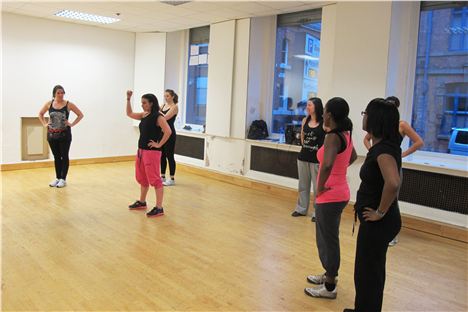 Laura Carden teaching Bokwa at Sunshine Studios, Manchester
Broken down into easy-to-memorise letters and numbers, each sequence literally traces out that letter or number on the studio floor. Laura shouts out which sequence to do next in advance, and also signals with her hands using US sign language, making the routines effective for auditory, kinesthetic and visual learners.
Laura said: "You can actually teach Bokwa to the deaf very easily too because of the heavy use of sign language. There are also plans to set up a Bokwa Kids class in the future as the literacy aspects are great for children."
You don't however need to worry about learning sign language or knowing the alphabet backwards to take part in Bokwa. Ultimately it's an aerobics class, turned on its head.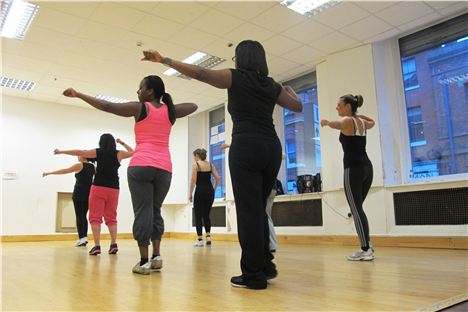 "Having been to a lot of boring fitness classes, I decided I wanted to do something different. I was leaving classes not sweaty, not worked out, and not feeling like I'd enjoyed them" said Laura.
"Bokwa is so different and new. I was immediately hooked and people who have come to the classes so far have loved it too. We get new people every week and a lot them say the same thing – 'I know this is Bokwa but I still don't really know what it is, however I'm gonna have a go.'"
I can confirm that when you do get stuck in and have go, you genuinely feel it in your soul...and your calves the day after. It's blood pumping, high energy cardio to up-tempo chart music. You'll sweat and smile in equal measures.
"The more you come, the more you pick it up. It's really progressive," said Laura. "You've just got to go for it."
Laura Carden teaches Bokwa in Manchester city centre at Sunshines Studios on Wedenesdays, 7-8pm. Classes cost £5 (plus £2 Sunshine Studios membership fee for non-members). For more classes in the North West, please visit Laura's website www.bokwafitnessmanchester.co.uk