THE world's best BMX riders will soon be going head-to-head over two days of fierce competition as the Supercross World Cup hits Manchester from 9-10 April.
The event promises all round fast, technical racing
It will be a tense yet thrilling return for Olympian and reigning BMX World Cup champion Liam Phillips, who is set to contest his title against the sport's most acclaimed riders, attempting a historic fourth consecutive Supercross victory in the upcoming round. Phillips will be joined in the Elite Men's field by teammates Quillan Isidore, Tre Whyte and Wigan's Kyle Evans.
Olympic champion Mariana Pajon of Colombia will be joined in the women's competition by Stefany Hernandez of Venezuela and Caroline Buchanan of Australia, winner of last year's Manchester round; which was voted best in the 2015 Supercross series, cementing the city as a mecca for cycling. 2016 will see a newly-primed track host world-class talent from over 30 countries and, with valuable qualifying points for the Rio Olympics up for grabs, it's set to be a spectacular showdown packed with thrills, spills and stunts aplenty.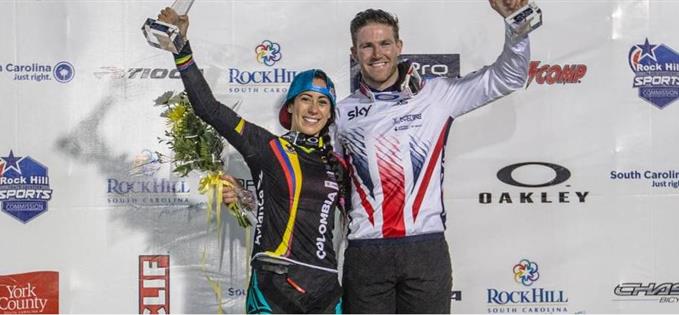 Mariana Pajon and Liam Phillips
Looking ahead to the opening round of the 2016 world cup series Phillips said: "There will definitely be no dull moments this year and the event promises all round fast, technical racing. The National Cycling Centre is home to the Great Britain Cycling Team. We're incredibly fortunate to train on the same world-class track that will again host April's World Cup competition.
"It's always a great atmosphere and I love racing in front of a home crowd. It's one of the highlights of my year and I can't wait to be competing next month".
To support the Great Britain Cycling Team on the road to Rio, get your tickets at ticketmaster.co.uk/britishcycling
Powered by