SELFRIDGES Manchester hosted the 'Big Beauty Bang' event this week, commemorating a summer of the Diamond Jubilee and the 2012 Olympics.
All things British and beauty were celebrated included bronzers, brows and bolds - all of which are at the forefront of this summer's beauty trends.
"It's all about being bold and creative this summer which anyone can do given the right products."
Marawa the Amazing from Britain's Got Talent made an appearance, spinning her hoops live to some classic British tunes while the classic grabber machine, hosted by the infamous Johnny Woo as the fabulous Mary Queen of Shops, allowed customers the chance to grab a prize. Oh and the Queen was there too. Sort of.
Back to the makeup and bolds lead the way for British based brand Illamasqua, as manager Maria explained: "It's all about colour, colour and more colour. We live in a very grey world and everyone needs an injection of colour from time to time. If you're daring you can go bold on the eyes and the lips but we do also have fantastic neutral palettes to offset a statement lip or eye. It's all about being bold and creative this summer which anyone can do given the right products."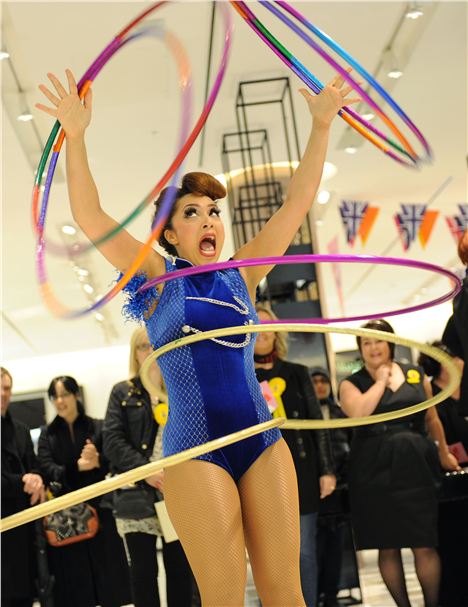 The Amazing Marawa, Hula Hoop Girl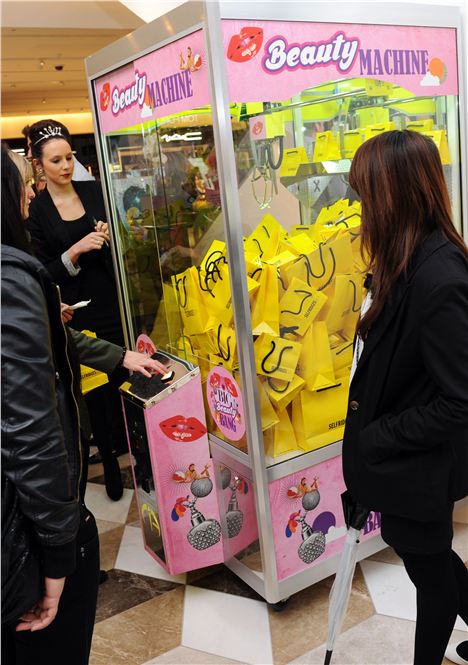 Selfridges Exchange Square - Big Beauty Bang Grabber Machine
Product specialist for MAC, Holly, agreed, adding: "Makeup is about being comfortable in how you look but this summer, statement colours are in as are eyebrow pencils for defined eyebrows and bronzes for sultry eyes."
Over at Tom Ford specialist consultant Jack exalted the many uses of bronzers and bronze tones for those looking for an effortless summer sheen: "For us it's all about really fresh and sculpted looking skin and big, groomed brows. Bronzers play a large part in contouring your face. You can't go wrong with a bronzer to really contour the skin and a creamy luxurious shimmery eye shadow to complete the look."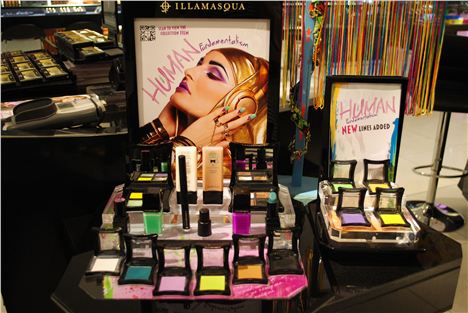 Illamasqua, Selfridges Manchester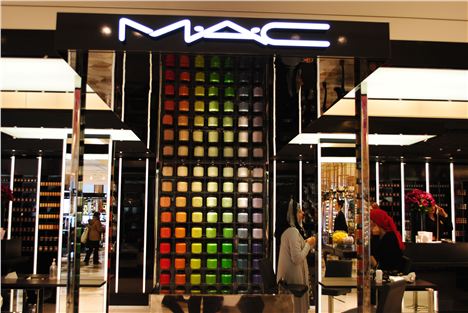 MAC, Selfridges Manchester
Cream blushers, dark, shimmery eye shadows and bronzers will dominate this season so it's also important to make sure you have the perfect base for them. Try a primer for extra hold and flawless coverage. Any makeup artist will tell you all the slap in the world won't help if you haven't got the base right.
As well as primers, start looking after your skin with moisturisers containing an SPF of at least 10 and cleanse, tone and moisturise to keep your skin fresh and hydrated.
Embrace the three B's and go forth into the summer bold, bronzed and beautiful...