NEEDLESS to say that when HOME opened on First Street in May 2015 following a £25m merger between the Library Theatre Company and the Cornerhouse - between them totalling over 90 years at the forefront of Manchester culture - they had a lot to live up to.
...the venue has also scooped two prestigious architectural awards
With over one million visits and 211,000 tickets sold since opening, however, the extensive complex has followed it its predecessors' footsteps with ease - additionally providing an estimated £30m GVA for the Greater Manchester economy and supporting the equivalent of 125 full-time jobs in the region.
Boasting two theatres, five screens and an extensive gallery space, HOME celebrates its first birthday this weekend with a generous serving of what it does best: art, drama and compelling film.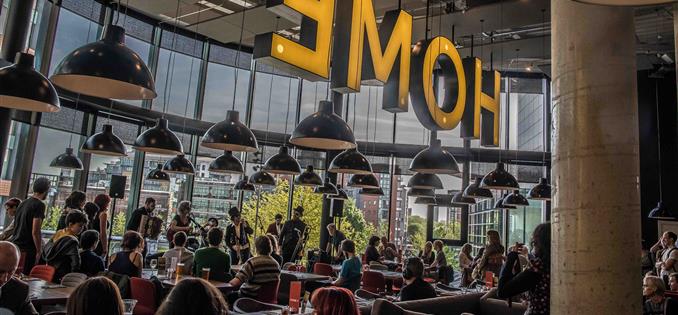 HOME, First Street
But first, a look back on its eventful journey, from a HOME warming weekend attracting 28,000 visitors to almost 60,000 visiting the gallery's state-of-the-art opening exhibitions, including critcally acclaimed shows The heart is deceitful above all things and Incidents of Travel in the Multiverse.
An international theatre programme, meanwhile, has staged both HOME-produced shows (The Funfair, The Oresteia, Inkheart) and, in collaboration with several renowned theatre companies such as the Young Vic, 1927 and Nanterre-Amandiers, the best of UK and global theatre.
HOME's film programme has also been widely praised for its breadth and diversity, comprising specially curated film seasons (James Benning, Jim Allen) and one-off events with some of the industry's most exciting talent: GoGo Penguin, Josephina Onimaya, and the Dutch Uncles' Robin Richards to name but a few. Showcasing quality contemporary and classic cinema, it has screened over 530 different films from more than 40 different countries.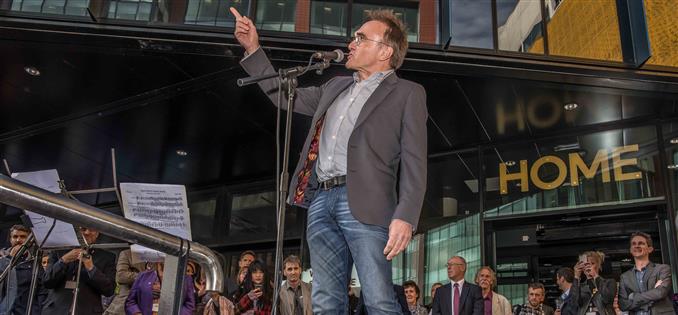 Bury-born Home patron Danny Boyle gives a speech at the 2015 launch event
A jam-packed programme isn't all, with positive social impact also central to the HOME ethos. To date, the organisation has provided over 280 volunteers with important skill sets and hosted 745 talks, workshops, tours and engagement events; attended by over 32,000 visitors, including 3,800 young people. Additionally, the Oglesby Inspire Scheme - supported by TfGM and First Bus - has seen it provide cinema and tickets for as little as £1 to those who may normally find culture restrictive. More than 1,800 hours' worth of free rehearsal space has been given to theatre companies across the country, with over 230 local creatives showcasing their work, whilst the HOME Young Creatives programme has issued over 19,000 £5 student tickets and engaged 160 schools in a diverse series of workshops and events.
If all that wasn't enough to be getting on with, the venue has scooped two prestigious architectural awards: the 2016 RIBA North West Awards and the 2016 RICS Awards in Tourism and Leisure.
Phew.
READ: HOME restaurant reviewed
Jackie Key MBE, HOME Patron, said: "It's quite extraordinary to see in the space of a single year how quickly HOME has become the heart and soul of culture and talent in the North West. There's a buzz and an energy in the building. When at HOME it seems everyone feels secure enough and safe enough to take real risks. It's an energising and exciting place to be wherever you find yourself in the building. It's a great place to be alone or with friends, in any of the cafes or at a show, you always feel as if you have the magic key that opens the door to HOME."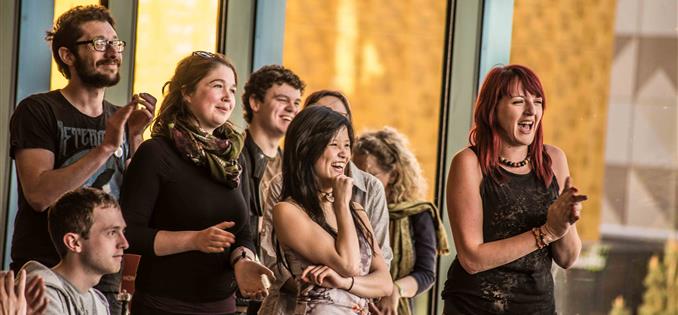 HOMEies
Dave Moutrey, HOME's Director and Chief Executive, commented: "It is with huge pride that we look back at our first year as HOME...We've had the pleasure of working with a huge number of extremely talented people from all over the world, and have been blown away by the level of support helping us to present audiences with an extraordinary, ambitious and yet accessible programme. We're excited to see what the next year holds in store for us."
Looking back over a successful year, and looking forward to another, HOME's first birthday weekend highlights include: a rooftop festival with renowned events producer Greg Thorpe; the book launch of Fear Eats The Soul, alongside major new art exhibition Imitation of Life; a huge collaborative paper sculpture with artist Nicola Dale; a double bill of theatre by The Conker Group and Eggs Collective, in collaboration with Olivier award-winning director Mark Whitelaw; the preview of Studio Ghibli's When Marnie Was There, a rich Japanese animation from the director of Arrietty; and a series of fantastic family events including dance, puppetry and Spielberg's childhood classic E.T.
A full programme, with downloadable weekend schedule, is available here.
Make yourself at HOME.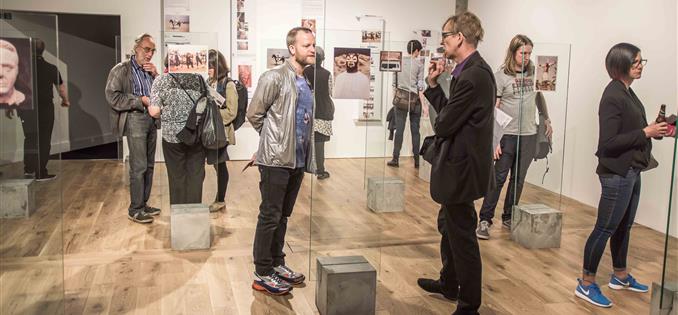 I must first apologise...