Where is it?
Unit L36, Arndale Centre, Manchester, M4 3AQ.
Tel: 0161 832 2774
What is it?
ARK is not new to Manchester. Avid shoppers among you will have probably popped into its Corporation Street shop a few times and left having not seen another customer in there. Others will have walked idly past as if it was the entrance to Diagon Alley. The good news is the Yorkshire based firm has now upped sticks from being Pizza Hut's neighbour and is now trying to get all up in Topshop's face.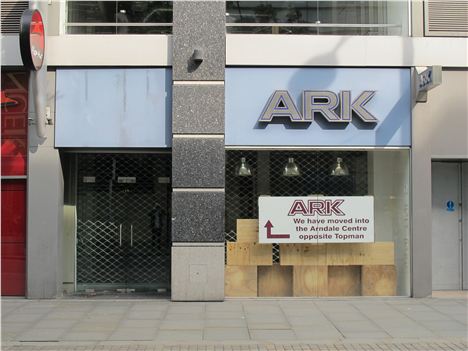 Ark's former Corporation Street location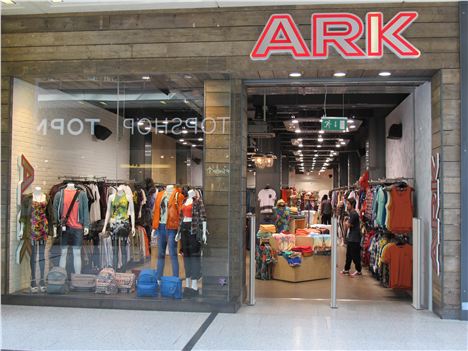 Ark's new location in Manchester Arndale
Ark's first store opened in 1992 in Leeds' Corn Exchange intending to 'fill a gap in the market for fresh, music-influenced street wear'. In fact they stock a lot of the same brands you can find in other high street clothing shops - Fred Perry, Carhartt, Humor, Glamorous and Motel - which is no bad thing as they are definitely brands that sell well. Where it differs however, is in its range of vintage and own brand wares - both of which are priced very reasonably.
The new store located on the ground floor of the Arndale is directly opposite Phillip Green's clothing monster and two weeks in from the move, the change seems to be working.
Visiting the new store on a Thursday afternoon I was greeted by Ark's speakers vibrating to rave music turned up to, not quite eleven but at least eight and a half, and a whole range of brilliantly over the top Hawaiian and floral prints near the entrance. It made a welcome change from the dark and quiet surroundings of its former incarnation.
The move into the Arndale had obviously benefitted the shop from the centre's increased footfall with the shop teeming with paying customers and casual browsers. Perhaps they have Topshop to thank for drawing customers to their new corner.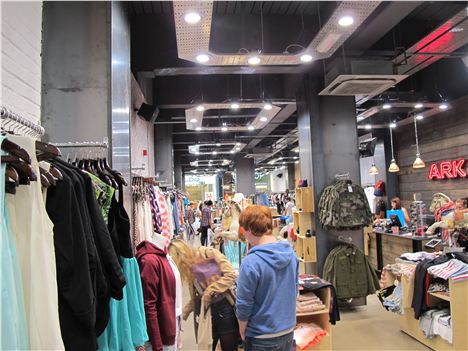 Inside Ark, Manchester
Who shops there?
Ark stores aim at an audience aged 12 – 26 for women and 16 – 30 for menswear. Across the way Topshop say they target a 15-30 market for both. Expect to find a similar crowd browsing the rails in both shops, with maybe a few less students in Ark due to their lack of student discount.
Ark seems to be occupying the same market space as high street giants Topshop and Urban Outfitters, but with a definite eye on keeping prices slightly more reasonable and promoting their own lines solely available at Ark - 'Hearts and Bows' in womenswear and 'Cloak and Dagger' in menswear.
What do they sell?
Men's - Amongst the rails are the usual contenders of Superdry, Carhartt and Pretty Green, with the latter range one of the biggest outside of its dedicated store, featuring tees, polo shirts, jackets and shirts. The majority of Ark's own 'Cloak and Dagger' tees are in a similar vein to the blown-up Polaroid style tees Urban Outfitters have been peddling for years and priced at £19.99. There's also a healthy stock of American Apparel style hoodies which have become a wardrobe staple in recent times.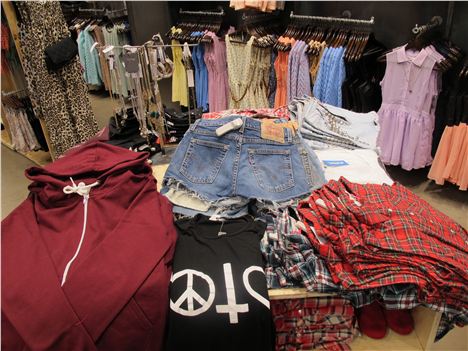 Ark, Manchester
Where Ark shows its best hand however, is in its own brand range of summery floral print tees (£18.99) and jumpers (£37.99) to brighten up the more adventurous wardrobes out there. There is also a healthy range of vintage Levi's denim scattered around, which are all unique pieces.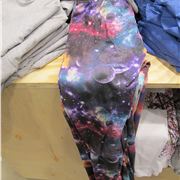 Galaxy leggingsWomen's – According to the store manager the most popular item by far is the range of vintage Levi's denim shorts priced £26.99 with no two pairs identical. With all the recent Union Jack waving celebrations now behind us, Ark also stocks a range of stars and stripes related items, perhaps in preparation for any imminent July 4 celebrations including a USA flag print cardigan at £22.99. Plus a special mention has to go to the galaxy print leggings on display for a modest £12.99. There is a wide mix of reasonably priced dresses, collared shirts, vest tops and tees which seem to try to compete with the ranges on offer at other nearby stores.
Future:
The move into the Arndale is two-fold. First of all the new shop space is in a more prominent position for casual shoppers to stumble across Ark and offers a shop space that is a third larger than the old store. Secondly, the previous Corporation Street address will be transformed and re-opened in July as Ark's flagship Hearts and Bows store. This reinvented shop will be the first of its kind in the Ark brand and will be dedicated to selling its women's 'Hearts and Bows' range alongside a wide range of vintage items.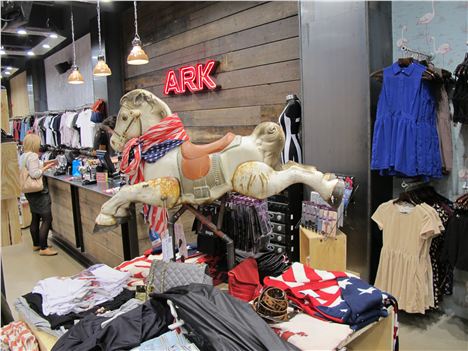 Ark, Manchester
Verdict:
For the high street clothing enthusiast, Ark has upped its game with its move into the Arndale Centre. It has set its sights on competing with the current giants that attract the majority of shopper's cash expenditure in town. For clothes that are a little lighter on the wallet than Urban Outfitters and a bit less mass manufactured than Topshop, Ark is certainly worth a look.
You can follow Ben on Twitter @BenPRobinson