LADIES - Christmas is just around the corner but there's still time to make changes to your health and fitness regime that will see you looking slimmer and feeling better in time for the party season.
Set a realistic goal
Starting off now by telling yourself you want to lose two stone, banish your bingo wings and run a marathon is a recipe for disaster – these kind of goals are too big and will leave you feeling despondent before you've opened the first door on the advent calendar. Instead, break your goal down into realistic chunks. 
We've got at least four weeks to go until the party season properly kicks off so, have you got a favourite pair of jeans that just won't button up? Use getting into those as a great four week goal that will motivate and inspire you to carry on. Take a picture in them on day one (even if they only come up to your knees!) and then try them on each week and take a new photo to help you measure your progress, and before you know it you'll be rocking your skinny jeans on the dance floor.
Workout smart
You may be desperate to shift the muffin top before Christmas but doing 500 sit ups will not give you a flat stomach. Got bingo wings that you'd love to see fly away?  Endless bicep curls are not the answer.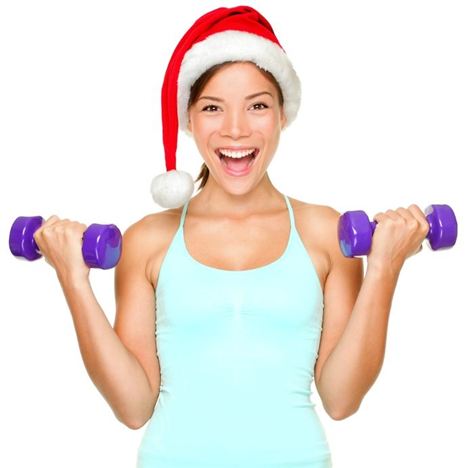 Got bingo wings that you'd love to see fly away? Endless bicep curls are not the answer.
I've written about it before (The Jessica Ennis Effect and Lift Weights to Lose Weight) but I'll say it again here, if you want a flat stomach or to make any one part of your body 'look toned' you need to exercise in a way that efficiently burns fat, and that means upping the resistance and the intensity of your whole body exercise regime. The extra bonus with this type of exercise is that the time you take to workout is cut, leaving more time for shopping, socialising and generally enjoying the festive season.
And make sure you mix it up. Doing the same workout day after day, week after week will mean you very quickly stop seeing results. When I'm planning programmes for my clients I work to ensure there's variety in their exercises and that we're working together to progress the intensity of the work to make sure we keep on seeing results.
Want a really power packed four minute workout that'll give you great results?  Try the following:
Set a timer for 8 rounds of 20 seconds of work and 10 seconds of rest. You'll find an online timer here.
Then perform the following, working as hard as you can in the 20 second segments:
20 seconds - Jump squats
10 seconds rest
20 seconds - Mountain climbers 
10 seconds rest
20 seconds - High knee sprints 
10 seconds rest
20 seconds - Star jumps/jumping jacks
10 seconds rest
Repeat
That was four minutes of high intensity tabata training that will rev up your metabolism and help your body burn fat for the next 36 hours.
---
Be mindful about food
Are you really hungry or is something else going on?  Lots of us eat for the wrong reasons: because we're bored, stressed, angry, sad or a combination of all of these reasons. 
At this time of year there's a lot going on and so next time you automatically reach for the biscuit tin, ask yourself why. Taking the time to stop and think before you dip your hand in the festive chocolate box at work could be the difference between success and failure in your weight loss quest.
When you're snacking make good choices. Too much fruit can lead to insulin spikes which will scupper your weight loss efforts, so instead aim to eat good quality protein sources such as a handful of nuts or make yourself some yummy hummus and eat it with colourful crudité. Chestnuts are in season so why not get a bag of those from the Christmas market as a nutritious treat.
Whatever you choose to snack on, don't do it on the run. Stop, sit and eat the food slowly. Research has shown women eat much more when they do so in conjunction with other activities. We may be great multi-taskers but it can be one of our biggest downfalls when it comes to battling the bulge.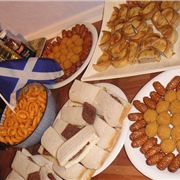 Avoid The Beige Buffet!Ever heard the saying 'fail to plan, plan to fail'?  Well, this is really true when it comes to eating for fat loss. As you start to fill your diary with events leading up to Christmas think about how the events will affect your eating patterns and make plans to combat any problems. Heading out for drinks straight after work – take something that is healthy to work to eat before you head out to avoid feeling hungry and snacking on junk. Going to a buffet event? Avoid anything beige!  Sausage rolls, vol au vents, bread rolls are all deadly in the war on weight.  
Start today and you'll be making a huge stride towards a fit, healthy and happy Christmas.