FANCY dress – it's safe to say there's a 50/50 split when it comes to dressing up, regardless of age, gender and the general will to look like a prat. 
The general scheme of all things fancy dress can be narrowed down into two categories: 1) looking like a prat and 2) looking like a slut.
Either the mere thought of synthetic wigs and costume makeup instils the fear of God in you and (begrudgingly) out comes the typical (and boring) James Bond tuxedo combo or - for the rest - your inner Alice in Wonderland begins gleefully pulling up her knee-highs and ironing out that pinafore.

The general scheme of all things fancy dress can be narrowed down into two categories: 1) looking like a prat and 2) looking like a slut. And having just started university, I can very much vouch for the second category since my Facebook timeline has been filled with scantily clad girls wearing little more than their old school ties ever since fresher's week. Safe to say I sidestepped that landmine.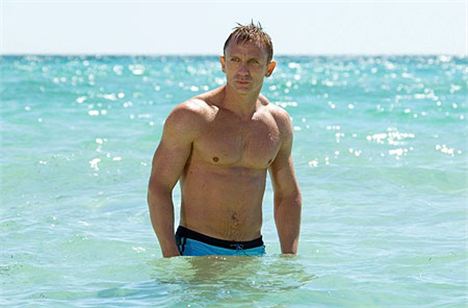 Don't go as Bond. Unless it's this one.
You could say I fit into the first category, having had more than a few fancy dress faux pas in my time. An occasion I'm still trying to forget is when I went to a fancy dress birthday party as a geisha. Yep. Kimono, chopsticks and copious amounts of talc on my face. I opted out of having my feet bound however.


So I rolled up, having made 100 per cent effort, where everyone else, evidently, hadn't. The best someone had mustered up was a blow up wrestling suit. And so the night was spent with me and my moon face in the corner trying not to move my head and get talc on the rented kimono, or in my drink.

To rent or not to rent is the usual question, since it's usually around this time of year when they start putting security on the doors at Luvyababes in Manchester Arndale with a two-in-two-out rule. Even more so when the price of a Jedward mask hits double figures. Or, go one better, and make your own costume - saves on cost and you can achieve the prat look without the hefty price tag. It's a win win situation.
My favourite fancy dress outfit was mum's handmade Harry Potter cape with matching (lopsided) wizard hat (pre-geisha gate may I add). And besides, there's more nostalgia when you make your own – or your Mum does.

Halloween isn't the only excuse to dress up of course. A hen do wouldn't be a hen do without a flimsy garter and 'L' plates. And equally a stag do wouldn't be the same without at least one stag sporting a Borat mankini.
There are all kinds of themes which have us groaning internally, eg. Disney (no I'm not doing the Mulan thing again), the ever so typical superhero theme where every man and his missus turn up adorned with fake abs as Superman and Superwoman, but the best I've heard so far is pimps and hoes. Any excuse to whip out a pair of fishnets and a walking stick come pimp stick eh.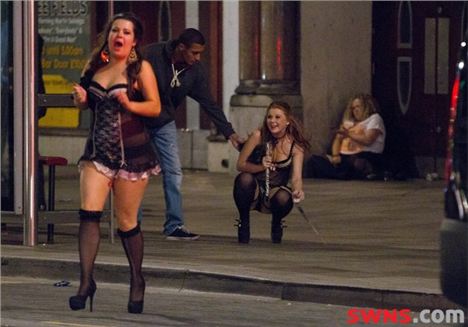 Pimps and hoes or just a regular night out? Your guess is as good as mine.
So it only seems fair to offer some fancy dress ideas, the best and worse of, but I suppose that all depends on personal opinion:

Sanitary Towel - Probably not suitable for a Disney themed shin-dig.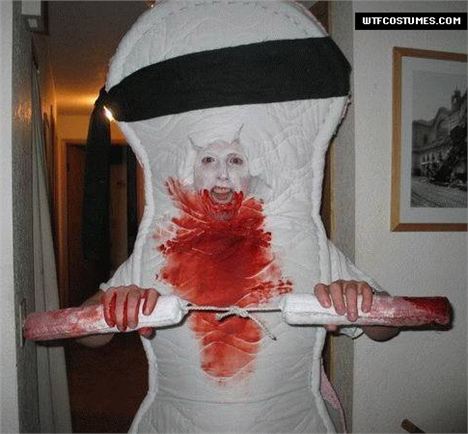 OMG.
Alice in Wonderland – Nothing more unoriginal. Disney and slutty just don't go.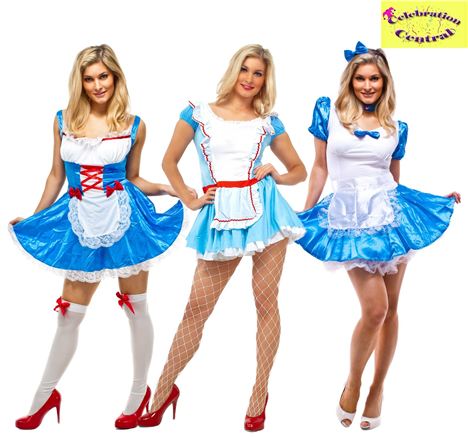 No Alice. Just no.
The Simpsons – Covering the family in what only looks like custard – what's not to love?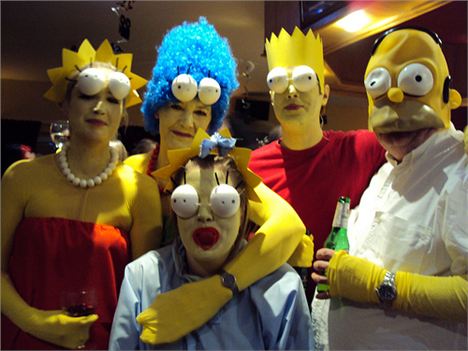 The Simpsons
Shark Attack – Because there's always that one Jaw's fan.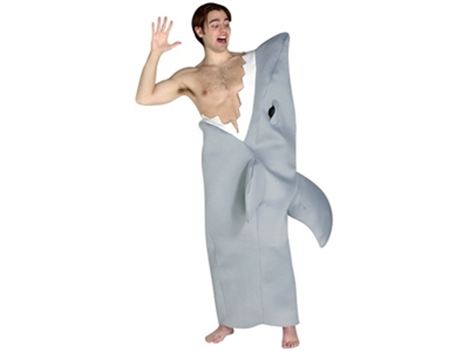 Shark Attack
A Big Poo – My personal favourite. Because toilet humour always goes down well. Pun intended.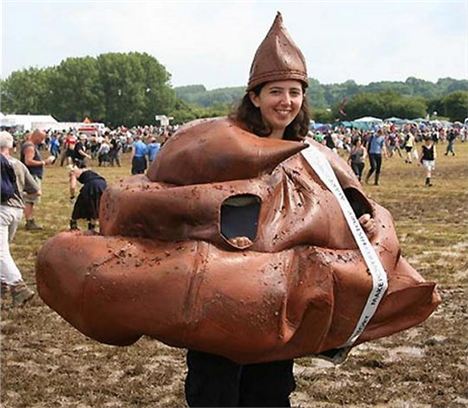 A Big Poo
How to survive this Halloween and any other fancy dress events that may come your way?

- Originality is key. Bore off with your kitten ears and eyeliner whiskers. Been there done that.

- Keep costs to a minimum. While paying £30 to come as a sanitary towel is funny (and gross) for the first time, but people will start to worry if it makes a second appearance.

- If you're renting, be careful. Nobody will take a surgeon's outfit back with Jaegermister down the front or a kimono with talc on for that matter.

- James Bond is a no-no. You just can't wear your wedding suit and claim that you're 007. Now go and get an imagination.

- And finally, remember, it's okay if you look (and feel) like a prat. Better that than wearing any kind of PVC in an attempt to look sexy. It's fancy dress for crying out loud. 

Follow Laura on Twitter @laursco