AS part of our quest to compile a comprehensive list of "Best Sunday Roasts That Are Not Your Mum's House", we drove over to affable telly chef Simon Rimmer's new gaff, The Viking Pub and Bakehouse.
Despite booking earlier in the week, they could only fit us in at 2.15pm so we worked up an appetite around Ness Gardens on the way. It turned out to be a great idea, so add it to your visit if you can.
Mushy peas were so overwhelmingly minted our brains couldn't fathom whether to eat them or use them for brushing our teeth. Mushy peas are not broken, so why try to fix them?
The Viking harks back to the Norsemen's influence on the area; Kirby is an Old Norse word for "settlement" and, according to tests, the DNA of men from Wirral and West Lancashire is 50 percent Scandinavian.
The decent-sized car park was as busy as expected but seemed to be hosting the Most Selfish Parker of 2016 awards, with at least four cars straddled over two spaces. Is that a typical Scandinavian trait or a Wirral thing?
The inside is all blonde wood and brass detail, embossed floor plates and copper beer tanks. Most design ideas have been lifted from Manchester's Alberts Schloss and it doesn't take much digging to discover that both venues are distant cousins, being the offspring of the merged companies who own both.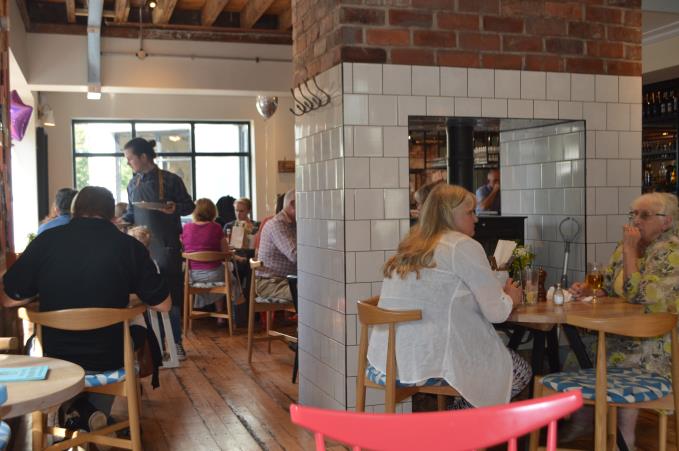 The Viking goes to great length to sell itself as a child-friendly family pub and this is its strength. There is an extensive, two-level, outdoor seating area with table tennis and a wooden longboat for "little Vikings" to play in. There's also a free photo booth, except we only found out that it had run out of paper after spending ten minutes trying to squeeze our four family faces into the frame at the right angle. A great idea that didn't quite work out as well as we'd hoped...which brings us neatly onto the food.
Despite the best of intentions (baking their own bread daily, sourcing ingredients from local producers) the menu is somewhat uninspired, with recurring themes being components that have been unnecessarily messed about with.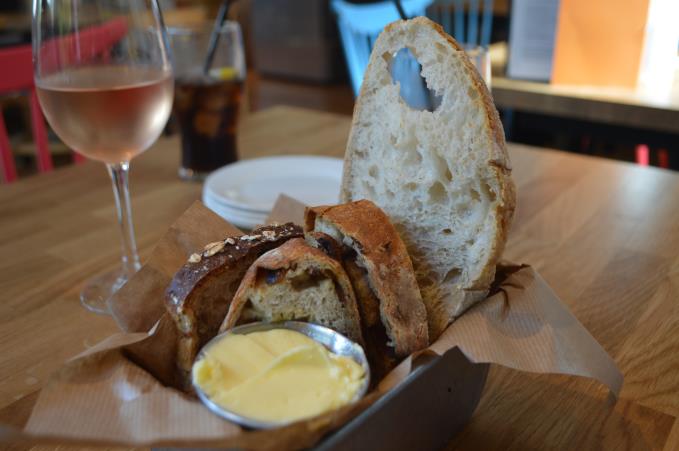 Viking Bread Tin
It calls itself a Bakehouse, so we tried The Viking Bread Tin (£3) "sourdough, dark cranberry rye, bacon and cheese bread, with whipped butter", all too strongly flavoured to match most dishes on the menu. The rye was more cakey than bready, cold fat isn't bacon's most redeeming feature and whipping butter gives it the pale texture of 1970s margarine but doesn't do anything to enhance the taste.
Pickled Herring Pot (£5) with house pickle, rye bread, dill, chives and chilli crème fraîche showed promise after being inspired by tastings in Copenhagen, but the flavours were off balance. Despite us being fans of mustard seeds and vinegar, the whole thing was overwhelmed by both. Prawn Cocktail (£6.75) was a good example of the classic pub starter, but the infinitely-packed shredded lettuce base kept springing back until my daughter implored whether she was allowed to stop eating it yet.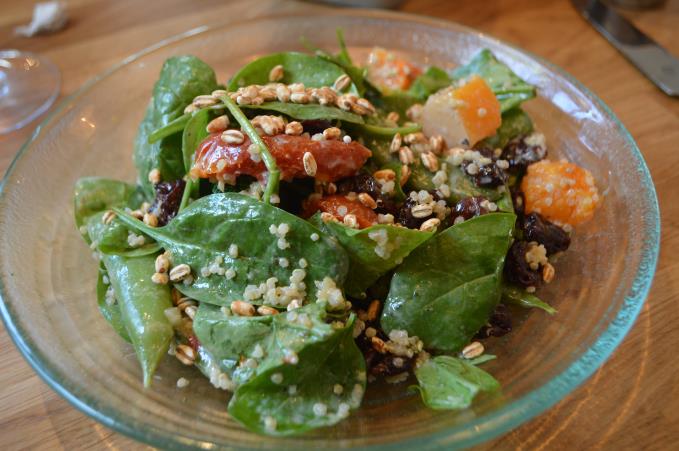 Summer Salad
Summer Salad (£5.85) with broccoli, sugar snap peas, baby spinach, roast butternut squash, broad beans, toasted barley, quinoa, blush tomatoes, sour cherries, mint, tahini and lemon dressing was great. I'd happily order that again, but they'd need to lose about a dozen sour cherries to get it back on balance.
Mini Burger and Fries (£5) from the Little Vikings menu was swiftly despatched without complaint but there were some grumbles about grainy spuds in the Grilled Chicken and Mash (£5.)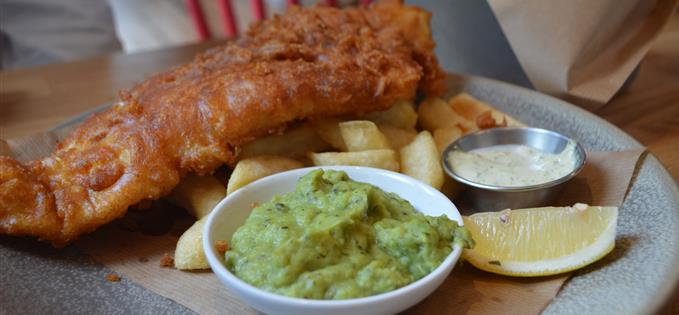 Fish and chips
Our table's main sulk was brought on by Fish and Chips, (£13) the rare treat having been adversely affected by a fryer at the wrong temperature. The Budvar beer batter had been cooked in too-hot oil so the outside cooked too quickly for the inside to catch up, leaving a floury remnant on the damp haddock and a greasy puddle on the plate. The pallid chips were more straw-coloured than golden, like triple cooked chips that had accidentally only been cooked twice. Thanks to the mucked about bread, we couldn't even salvage them by making a chip butty. Mushy peas were so overwhelmingly minted our brains couldn't fathom whether to eat them or use them for brushing our teeth. Mushy peas are not broken, so why try to fix them?
The Sunday Roast (£11, main picture, top) was better. From a choice of Cheshire roast beef, roast pork belly and crackling and chicken breast with sage and cranberry stuffing, we chose the latter. It was fine, they need to source less powdery potatoes for the roasties, but the gravy was pretty good.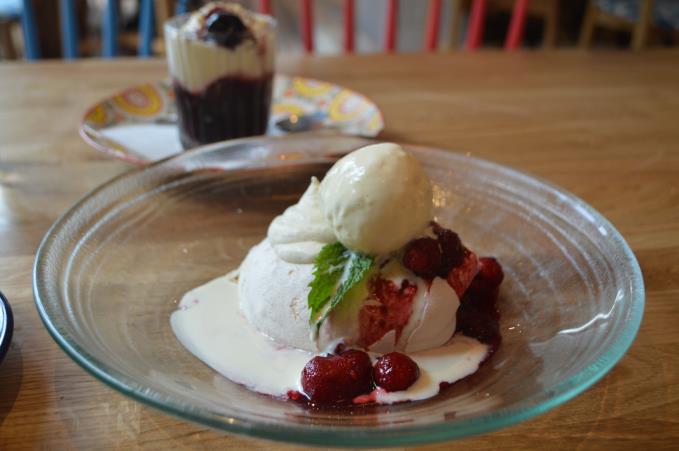 Pavlova and (background) Red Cherry Trifle
My daughter enjoyed the Strawberry and Raspberry Pavlova (£6) with light, billowing meringue, but would have preferred more sugar and less fruit - I reckon that's more personal taste than genuine criticism. Red Cherry Trifle (£6) looked great on paper with "Ladies fingers, Kirsch syrup, red cherry compote, vanilla custard, Chantilly cream, sweet brioche crumbs and dark chocolate shavings", but in reality was nothing more than oversweet goop. We left most of it, much to our server's concern.
Kamilia was lovely. She was faultless, as was every member of staff we came across. Every one of them was enthusiastic, efficient and knowledgeable and seemed genuinely overjoyed to be working there. In fact, they were so lovely, I wanted to eat them up. After most of what we actually had, that might have been better.
All scored Confidential reviews are paid for by Confidential, never the restaurant or a PR outfit. Critics dine unannounced and their opinions are completely independent of any commercial relationships.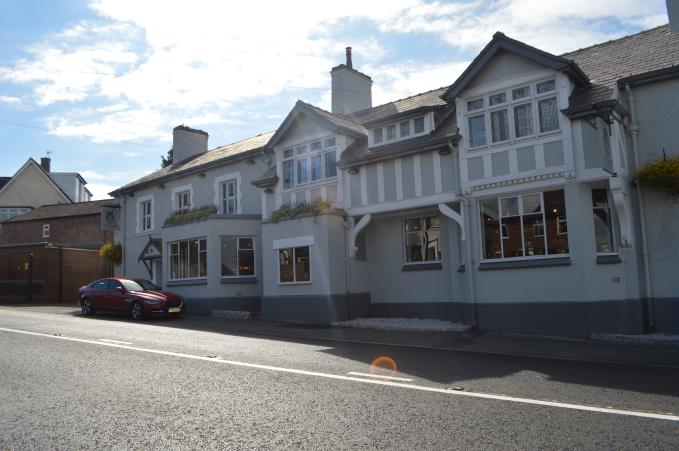 The Viking Pub and Bakehouse

Black Horse Hill,
West Kirby, CH48 6DS
0151 601 1888.
Website
Overall Score: 14/20



Food 5/10



(bread 5, herring 6, prawn cocktail 7, summer salad 8, roast chicken 7, fish & chips 4, kids burger 7, kids chicken 6, pavlova 7, cherry trifle 5)
Service 5/5
Ambience 4/5
Venues are rated against the best examples of their kind: gastropubs against the best gastropubs, takeaways against the best takeaways, etc. On this basis, the scores represent...
1-5: Straight into the dog's bowl
6-9: Netflix and chill

10-11: In an emergency
12-13: If you happen to be passing
14-15: Worth a trip out
16-17: Very good to exceptional
18-20: As good as it gets