IT had been a long time since the last time I came close to a serious altercation in a restaurant.
And now I was in Birkdale. Of all places. Posher than Sam Cam's Aga – at least that's how it looks to me, a lad whose younger years were lived in Bootle's border territory.
He shut up. We ate up, wondering if it was always like this in Birkdale. Or was it Brexit fever allowing people to act without the benefit of facts?
Birkdale's got a shop that sells only cheese, with names like Farting Cardinal and Grandpa Singlets's Extra Hard, and an antique dealer where you can pick up a nice lamp or a few quid short of two grand.
Bistrot Verite isn't posh at all, even if some of its clientele might secretly wish it that way. I'd been trying to trying to catch chef/proprietor Marc Verite for a couple of decades. By the time I reached Steven Gerrard's Warehouse restaurant in Southport, where he shone as head chef, he had already emigrated to the suburbs.
He has proper French credentials; father Claude moved the Verite family over from France at the start of the sixties, opened Claude's Patisserie in Churchtown – another of Southport's fancier fringes – and achieved minor legendary status.
A lovely framed photo at the top of the stairs features Claude astride a purpose-built baguette delivery bike. Marc made his father glow, no doubt, by using experience spent cheffing across Belgium and France to open his own place, lauded by the food guides and a dream fulfilled.
His aim to forge "a homely, happy atmospere" at Bistrot Verite could have proved tricky in what is a challenging space, long and narrow. Yet, rather than feeling like sitting in a hospital corridor, it somehow manages to be snug and sociable, with wood panelling, Gallic bric-a-brac and blackboards announcing that day's specials.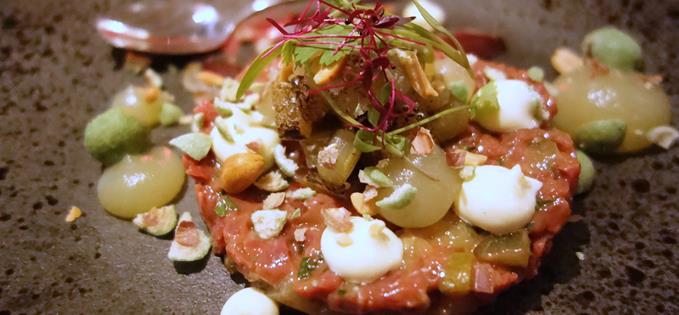 Steak tartare: Not going on Facebook
Indeed, the mood was warm and cheerful when we walked in. It was only when a couple, of pensionable age, took the table next to ours that it happened. I was taking quick, discreet-as-you-like, pictures of our food, as required of me, with a decidely un-flashy camera.
Minding my own business. Until he made it his business. He could not, he informed me, understand why people would want to post pictures of their food on Facebook.
I wasn't doing. I hadn't mentioned Facebook. But once started, he couldn't be stopped, like global warming but with more hot air. "Blah blah … a perfectly nice-looking steak tartare but is it really so wonderfully photogenic that it is worthy of plastering all over Facebook? Blah…"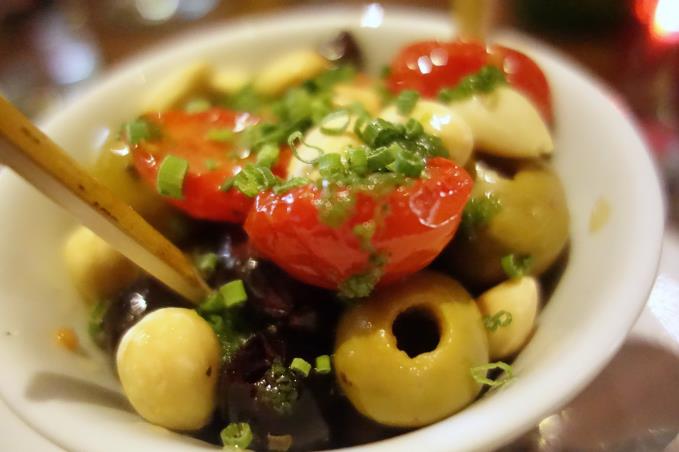 Menage a trois
I was in no mood, though I'll concede the irritating bastard had the makings of a restaurant reviewer. Fortunately, my old friend Matty, a diplomat for all his brutish Leeds United supporting ways, recognised the look in my eyes and, fixing our fellow diner, talked him down: "These pictures," he told him, "are NOT going on Facebook."
He shut up. We ate up, wondering if it was always like this in Birkdale. Or was it Brexit fever allowing people to act without the benefit of facts?
French bistro fare to its asparagus tips and truffle mayonnaise, Verite's food is a carnival of colour and texture, even if the flavours are a little muted at times. It's not flawless but, like the defects in your friends, there's too much else to like for them to spoil things.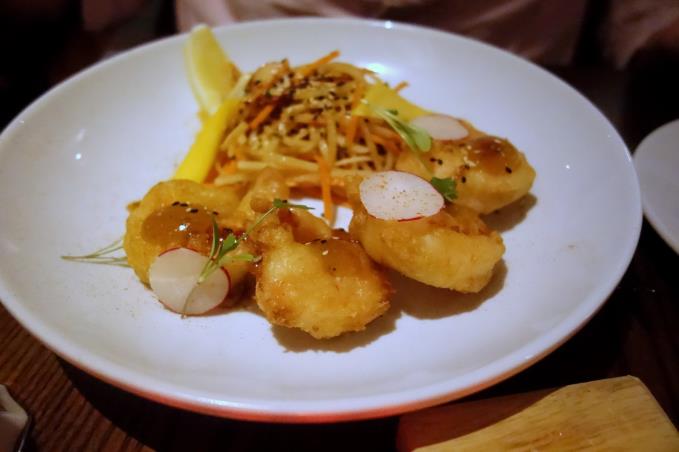 Tempura king prawns
To start, a llittle Gallic humour restored our mood: a dish of sun blush tomatoes, fleshy pitted olives and terrific skinned almonds which they call menage a trois (£3.50). No wonder the tomatoes were blushing. With it, complementary bread (plus butter), hailed from a local bakery; two types, white and a nutty, crusty granary.
King prawns (£8.50) firm and flavoursome, came in crisp, feather-light tempura batter with a neat salad of noodles and matching strips of carrot. A pretty, classic steak tartare (£8.50) was presented with smoked duck, the heat of wasabi cream, the cool of cucumber puree, the crunch of a wasabi pea, but I felt the scales tipped a little too much towards the acidic.
Butter poached turbot (£19), fractionally overcooked but nothing catastrophic, came in good company with the meat of Girolle mushrooms, the crisp of Parma ham, the vibrant green of fresh peas and sweet asparagus cultivated on Formby sand.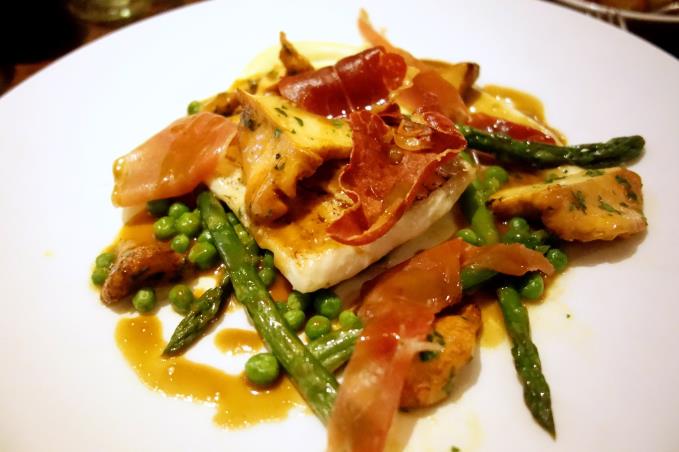 Butter poached turbot
Duck breast (£19), thinly sliced, was the centrepiece of another picture-perfect plate – Facebook ready, you might say – a rainbow of red, yellow, pink, green and more. Textures again accorded careful consideration: the bite of mangetout and baby corn, the sweet crunch of crispy seaweed, the baby food comfort of pureed swede,
The duck arrived moist and cooked well, as opposed to well cooked, but there was a little too little sauce – or jus, as the French prefer – to get to grips with.
Saute potatoes, a dish between two at no extra cost, were greaseless gobbets, each apparently tossed gently in a tumble dryer, all concealing soft hearts beneath crusty exteriors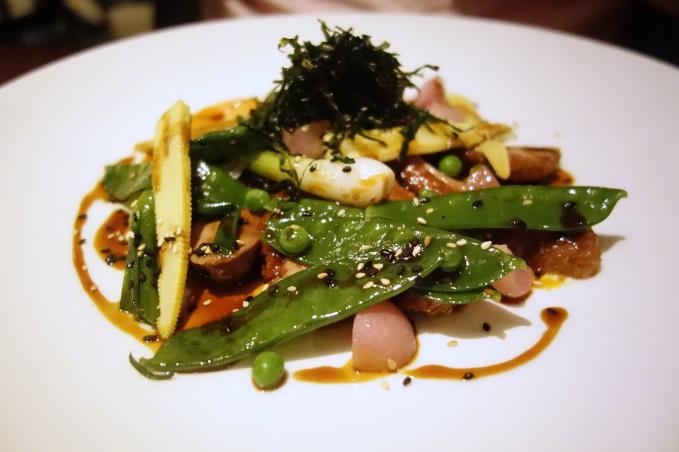 Ducking underneath: Duck
A shout out for the wine, Attitude, a French sauvignon blanc (£20.65) which promised it would be all zesty gooseberry flavours and did not lie.
For afters, a sublime French apple tart (£7.50) of impeccable construction and perfect proportions of sweet and sour, crisp and crumbling, was served with smears of butterscotch sauce and vanilla ice cream, clean and unadulterated.
French "artisan" cheese (£8.50 for a choice of four) included a creamy blue with subtle strengths. Another, soft and Brie-like but with a better flavour, was at that perfect point of ripeness just before it breaks into a run. I could have sworn they said it was Welsh, but they are fellow Celts after all.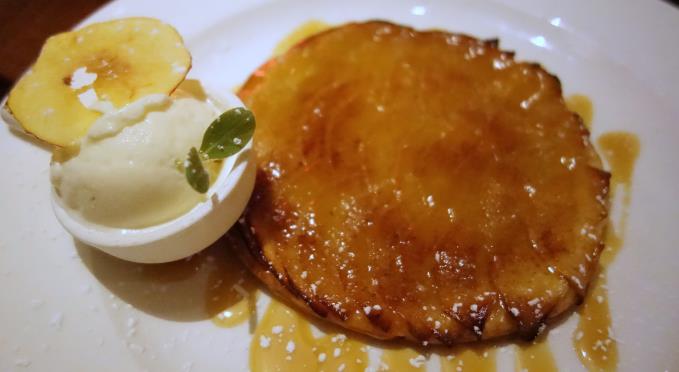 Apple tart
Service is the sort that happens without you noticing. Exemplars of efficiency, we Woosters to their Jeeves, they were practised to the point that we were never kept waiting, never felt rushed, only a little attempted up-selling at the start and one tiny forgotten request at the end of the night denying them a perfect score.
Maybe the food is a little unthreatening, with flavours designed within safe limits, and nothing to scare the locals unduly. But the patissier's son has long since surpassed the modest ambitions he had for Bistro Verite, growing a deeply pleasant neighbourhood restaurant where food, service and ambience are given equal prominence.
And besides, we had learned to our cost what happens in Birkdale when you rile the natives.
All scored Confidential reviews are paid for by the company, never the restaurant or a PR outfit. Critics dine unannounced and their opinions are completely independent of any commercial relationships.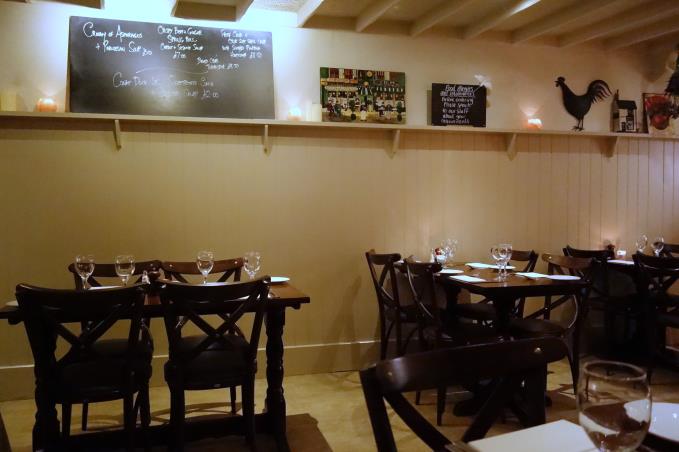 Bistrot Verite,
7 Liverpool Road,
Birkdale Village,
PR8 4AR.
Tel. 01704 564199. Website
Overall score: 17/20
Food: 8/10
Menage a trois 9/10, bread and butter 9/10, king prawns 7.5/10, steak tartare 6.5/10, turbot 7/10, duck 8/10, apple tart 9.5/10, cheese 7.5/10.

Service: 4.5/5
Ambience: 4.5/5
Venues are rated against the best examples of their kind: gastropubs against the best gastropubs, takeaways against the best takeaways, etc. On this basis, the scores represent...
1-5: Straight into the dog's bowl; 6-9: Netflix and chill; 10-11: In an emergency; 12-13: If you happen to be passing; 14-15: Worth a trip out; 16-17: Very good to exceptional; 18-20: As good as it gets
Powered by Wakelet