THE stars were aligned. It was the husband's birthday, the kids were off school and an Italian restaurant had just dropped a 5lb gauntlet in front of us in the form of a Calzone Challenge. Work your way through Amalia's giant stuffed folded pizza and you could get your meal for free, win a t-shirt and add your name to their Wall of Fame. "I will destroy that thing," said husband, somewhat ambitiously.
The Sfiziosa virtually leapt off the menu... Cheese was pungent, the capers fat and anchovies were top quality
Two things stopped us. Firstly, there's a really off-putting video on Amalia's website showing "Randy from the U S of A" wolfing down gobs of indiscernible meat and attempting to rapidly cogitate streams of melted mozzarella. He masticates through his task in the record time of 13 minutes and 32 seconds to be rewarded with an extra large t-shirt (I can't imagine they come in any other size) and is named record holder in honour of the speedy despatch.
The second obstacle was a recent article in The Telegraph in which the political editor who braved the challenge observes that "it tasted absolutely rank." He called it "a hideous, gut-churning sackload of unidentified vegetables and meat".
So part of the reason only 76 guzzlers have successfully completed this gluttonous mission, out of the thousands who have tried, isn't because it's overwhelming, but that it's horrid. Sneaky.
At this point, the Calzone Challenge was downgraded from being the point of this review, to just a few paragraphs.
No problem, as it's given us the opportunity to try the rest of the menu to see if it's any good. It is as it turned out. It's also great value.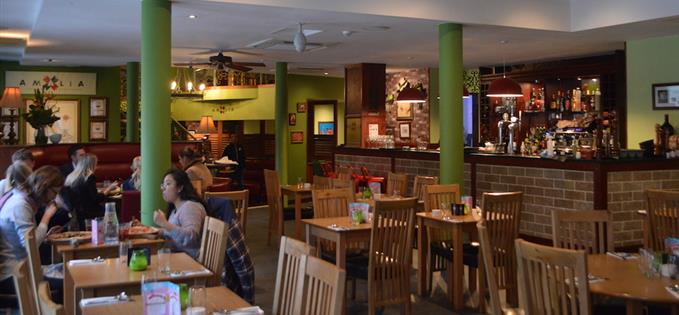 We managed to bang the children's order in quickly with a pepperoni pizza and a drink from the kids menu (£4.95) and a larger, grown-up size Margherita from a limited lunchtime pizza and pasta menu (£7.95 including a drink).
Our waitress gently suggested that my daughter would be happy enough with pizza from the kid's menu, as it was a decent size, but the 10-year-old lady was not for turning. Perhaps she'd been inspired, by our talk, to attempt her own food challenge. In the end, our waitress managed not to exude even a hint of "I told you so" as she packed the half uneaten pizza into a takeaway box.
A friend had told us that the pizzas at Amalia were the best she'd had outside her annual holidays to Italy and we got where she was coming from with the focaccetta al pesto (£4.75, main picture, top); a giant stone baked garlic bread with pesto. The centre of the glorious dough was as ear-shatteringly crisp as carta di musica, the paper-thin bread famed in Sardinia. Nothing like the uniform spongy monotony that is usually garlic bread. Regular doses of this alone, along with a glass of good red wine, should be marketed as a mood-enhancing drug.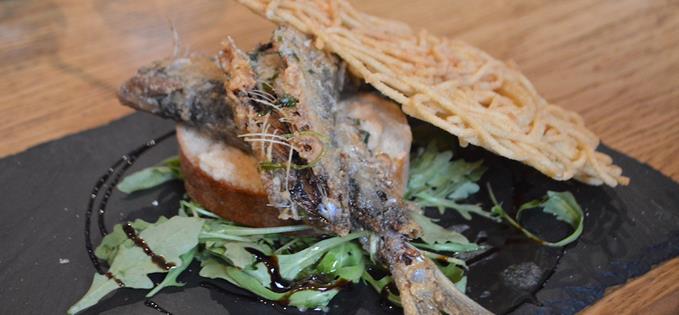 Sardines
Gamberoni all aglio (£5.75) wasn't as successful. The prawns were plump and properly prepared but tasteless and the garlic, chilli and white wine sauce was somewhat limp wristed.
Sardines (£6.95) were robust and their characteristically metallic flesh was easily prised away from the thread-like bones. They take their garnishes seriously here and the fish were topped with a totally unnecessary disk of deep fried spaghetti which the kids loved and passed the noodle nest to each other for a nibble in between mouthfuls of pizza.
Denied his super-calzone, husband chose a more modest pizza, but the one that packed the most punch. The Sfiziosa (£8.50) virtually leapt off the menu when we read what was in it; creamy blue cheese, anchovies, capers and chilli – only the most highly flavoured ingredients. Cheese was pungent, the capers fat and anchovies were top quality. From the noises emanating from my right, I can only suggest that he thoroughly enjoyed it. But he did have an almost unquenchable thirst for the rest of the day.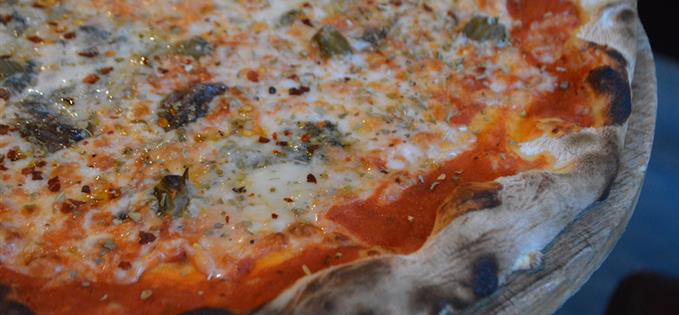 Sfiziosa pizza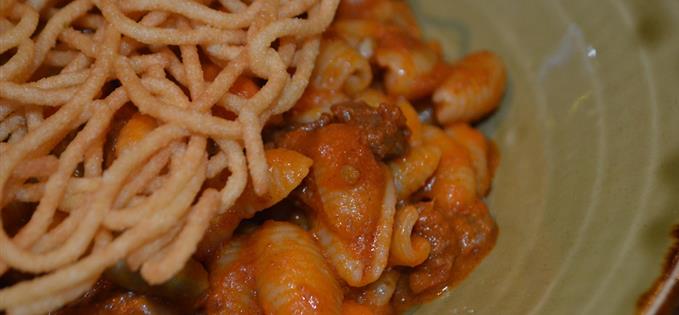 Gnocchetti con agnello e fave

I picked gnocchetti con agnello e fave (£9.95) because it was different, but to be honest, even their classic dishes are different. Their lasagna "like mama does it" contains boiled egg and smoked ham – not how my mama makes it. Back to gnocchetti; a Sardinian pasta shape which they describe as a shell but it's more tightly curled and ribbed like an earwig. We'll stick with their description. It had been tossed in lamb stew with garlic, velvety broad beans and tomato sauce and was so delicious I was at pains to admit defeat in the face of the generous portion. Here, they'd used cubes of stewing lamb, but if they had incorporated lamb shoulder, slowly cooked until meltingly tender, it could have been a ten out of ten dish. It definitely feels like a recipe which has been handed down from nonna to nonna.
I remain unapologetic not ordering dessert, although it is expected on a review. Whether you go for the calzone challenge or work your way through the a la carte menu, Amalia's mission seems to be to fill you up. So if you do fancy some genuinely good pizza or pasta, head over to the funny little Campbell Square behind Duke Street. Just make sure you wear your elasticated eating pants.
All scored Confidential reviews are paid for by the company, never the restaurant or a PR outfit. Critics dine unannounced and their opinions are completely independent of any commercial relationships.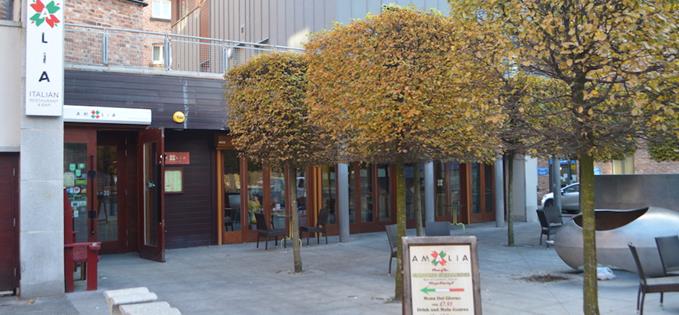 OVERALL SCORE: 14/20


Food: 7/10



(pesto garlic bread 8, sardines 7.5, gamberoni 6, gnoccheti 8, sfiziosa 8, marguerita pizza 8, pepperoni pizza 8)
Ambience: 3/5




Service: 4/5
Venues are rated against the best examples of their kind: gastropubs against the best gastropubs, takeaways against the best takeaways, etc. On this basis, the scores represent...
1-5: Straight into the dog's bowl
6-9: Netflix and chill
10-11: In an emergency
12-13: If you happen to be passing
14-15: Worth a trip out
16-17: Very good to exceptional
18-20: As good as it gets