Lunya, College Lane
Suddenly not going to the Costa Brava this summer? You can grab the taste of sunny Spain every day at lovely Lunya. Enjoy three mouthwatering tapas and home-made sourdough bread for £13.95. Available noon to 5pm Sunday to Friday. To book online click here or call 0151706 9770
The Monro, Duke St
There is a new club in town every Monday. It is the Wine Club. You get two courses, and a bottle of wine PER PERSON for £20. Monday has just got a little happier. Tuesday morning is down to you. To book online click here or call 0151 707 9933
CAU, Castle Street
Steak and wine for a score? Even M&S would have a hard job beating that for a meal deal. But every Wednesday CAU invite you to Meat Up, serving a juicy Argentinean steak - thin chips, salad and a red wine jus - with matching Malbec for £20. Book here
HOST, Hope Street
SOHO inspired Pan-Asian restaurant on Hope Street in Liverpool. Choose a big plate from the Chop Chop Express menu £7.00 per person, Monday to Friday, noon – 4pm. Reservations not required. Offer subject to availability. To check availability call 0151 708 5831.
Fonseca's, Stanley Street
Fonseca's lunchtimes have got even better to celebrate its 10th birthday. Upstairs in the restaurant enjoy 30 percent off the excellent blackboard mains. The discount is available between midday and 6:30pm Tuesday to Friday.
And there is more. If you book the Window Seat facing onto Stanley Street they will take 50 percent off all food. Offer available only on the 'window seat' for bookings made Tues – Thursday 5pm-7:30pm. Seats between 2-6 people. Table must be pre-booked.
To book call 0151 255 0808
Old Blind School, Hardman Street
50 percent off food is the deal throughout the month. Limited tables per day and a whole other raft of terms and conditions. Foe example, it's only valid on tables booked via telephone or via social media messaging at least two hours before dining and you must mention the summer sale. Don't try it in graduation week or if there are more than six of you either. For full terms and conditions click here and to book call 0151 709 8002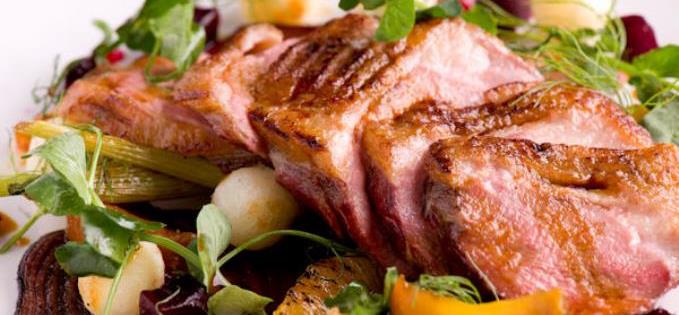 London Carriage Works
There are far worse places to spend a Monday than on Hope Street and the London Carriage Works ticks all the cheerful and elegant boxes. "Take two courses from our rather good prix fixe menu, we'll add a complimentary bottle of Bodegas Borsao, Macabeo or Garnacha for you both to share," it says. "Share". Understand? That's not one each. The price? A rather appetising £19.50.
Available from 12noon – 3pm and from 5pm – 10pm Quote 'Wine and Dine Mondays' when you book on 0151 705 2222.
Sapporo, Duke Street
Always famished by 4pm or after an exciting lunch? The always thrilling Sapporo Teppanyaki has you covered with dancing flames to boot.
Enjoy three courses for just £16.95, available Monday to Friday, 12noon until 6pm, when ordering from its extensive, modern Japanese Early Diner Menu.
Sapporo's talented chefs prepare your meal in front of you on a blazing teppanyaki hot plate. To book your table, go to www.sapporo.co.uk or call 0151 705 3005
Koop, Bold Street
Bold Street's hottest new dining concept, Koop, will be offering hungry Bold Streeters a range of meal deals throughout July. Every day throughout the month, diners on the go who order 10 buffalo-style chicken wings will receive another 10 for free (just £8 with your choice of two flavours).
Or how about a burger and a shake for £6?
These deals are available for collection and delivery only. For more information, go to www.koopliverpool.co.uk or call 0151 345 3060
Kasbah, Bold Street
Pretend you're in the streets of Morocco with Kasbah. They are doing two courses for just £10.95 available Sunday to Monday 12noon to 5pm located on Bold Street. To book online click here or call 0151 707 7744
Neon Jamon, Berry Street and Smithdown Road
The hipper than hip tapas from L15 continues to go down a Spanish bomb in Berry Street. If you are up that end in the afternoon they have an offer of two dishes for £9 Mon-Fri ,12pm-5pm. To book a table visit www.neonjamon.com or call Berry Street on 0151 709 4286 or Smithdown Road on 0151 734 3840
Gusto, Albert Dock
Fancy an early dinner? Gusto is now serving a teatime dining menu. Two courses with spritz cocktail included, available daily £19.95, 5pm-7pm. Book online or call 0151 708 6969
Bistro Pierre, Button Street
Le "Lunch Rapide" of for those of you who insist on Britishness, "the quick lunch". Three courses for £10.95, 12pm- 4:30pm, daily to book call 0151 227 2577
Carluccios, Metquarter.
A new set menu from the ambient chain.
Two courses, weekday lunch £10.99 Evening and weekend, £13.99.To book online click here.
Any more for any more? Do you know of a good restaurant or bar deal this month? Email us on editorial@liverpoolconfidential.net and we will include it in this ever growing list.
Powered by Wakelet