OXTON was ringing to the clink of Earl Grey cups raised in jubilation this morning as Fraiche took the number one spot in The Sunday Times Top 100 Restaurants List.
Marc Wilkinson, who owns the tiny Rose Mount restaurant, was described by the newspaper as a man who "has done for Merseyside cuisine what the Beatles did for its music".
The award, compiled in association with Hardens Restaurant Guide, leaves the Hestons and the Ramsays and Hartnetts languishing, well, somewhere else. Raymond Blanc's Le Manoir Aux Quat Saisons could only manage number two. But there was more good news for the North West: L'Enclume in Cumbria made it to number three.
A jubilant Wilkinson said today: "I work through hard times, health and financial issues but pushed on regardless and did it because I believed it could be done not only for Merseyside but for me this is my passion. So if a man with a shed can achieve this, you can too."
Fraiche, which carries the only Michelin Star in Merseyside or Manchester for its modern French cuisine, ranked number six in the Sunday Times list last year.
That might have been satisfaction enough for most restaurants, especially one located in a regional backwater, but not for Wilkinson.
Say cheese
With his eye on the main prize he has introduced several changes in the last 12 months. Fraiche (food, adventurous and a bit superb) was always slightly let down by its library-like atmosphere. "Diners loved the food," he says, "but it's not enough just to put food on the plate."
So the interior has been refitted as a surrealist seashore, complete with film of reef fishes and seaside funfairs projected onto the walls. To add to his skillset over a stove, Wilkinson has learned how to edit the film and mix it with a soundtrack of music, perhaps bringing slightly more hurdy gurdy to a worthy-worthy room.
At the end of dinner, punters are invited back to a new seating area, complete with angled arches and sofas, to partake of sweet treats and "fairground-fresh popcorn".
And it's worked, he says. "People are staying longer."
Wilkinson's approach has always been to take the hard path up the mountain. His shadowy figure can be glimpsed and heard during service, rattling those pots and pans single-handedly in the kitchen, with just one kitchen porter and a pot washer for company. All this to turn out those critically acclaimed dishes to just 10 diners a night, working solitary 17-hour days.
Clearly, then, it's not about the money.
No, but perhaps it is about the satisfaction that he is running his own destiny, the place is all his.
When Fraiche opened in 2006 Wilkinson could not afford Liverpool's sky-high business rates without going in with commercial backers. Thus the Birkenhead suburb got the gig. "If I want to paint the walls orange, I don't want to ask permission, I just get out my paintbrush."
And he does, thinking nothing of closing the business for a fortnight to don the overalls himself.
The waiting list for a table at Fraiche is three months and now, with this latest honour, is likely to get even longer.
So where to go from here? It's tricky, but as The Sunday Times notes, somehow he'll have to expand.
Meanwhile, Marc, over in Liverpool, we have a few libraries of our own which need sorting...
How other NW restaurants fared in the list


Six other restaurants in the North West made it into the top 100 list. The usual supsects, however flying the flag for North Wales and a day trip out is Tyddyn Llan in Llandrillo, a re-entry.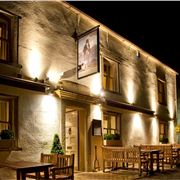 Scraping in: Freemasons
at WiswellL'Enclume,
Cartmel, Cumbria: 3

Simon Radley,
Chester Grosvenor: 14
Northcote Manor,
Langho, Lancs: 24
Tyddyn Llan,
Llandrillo, Denbighshire, 36.
The French, Midland Hotel, Manchester: 61

Holbeck Ghyll,
Windermere, Cumbria: 71

Freemasons,
Wiswell, Lancs: 99.