On the plate
Three egg omelette. In it, lots of solid, fried off chestnut mushrooms and chopped, smoky sweet bacon enveloped by a whopping, well seasoned golden fleece of yolky loveliness.
A low carb, high protein feast!
Yeah, except for the two big doorsteps of sourdough (excellent, by the way) from farmers market favourite The French Corner. They are slathered with salty butter that sits in liquid pools in the canyons of the bread. So good you'll save them till last.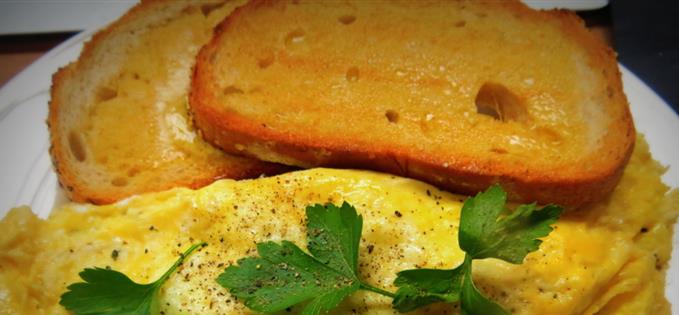 The top toast award
Why come?
Cheap and very substantial: £3 for one, £4 for two fillings and a fiver for three. Other fillings include tomatoes, smoked salmon, peppers, onions, ham and, of course, cheese.
And why else?
a) Free parking for two hours.
b) Opportunity to walk your meal off, if not driving, as Greenland Street remains in the middle of nowhere.
c) Free wifi.
d) No one will think of looking for you there.
e) Good world music and vibes, at a non intrusive volume, selected by tuned in, welcoming counter staff who compile the playlists.
f) Pleasant decor, sculptures, art and screenprints advertising local gigs past hang from the walls on bulldog clips. Shelving and furnishings are fashioned from roof battens and scaffolding planks and on them sit antique wirelesses.
g) It's very green and eco conscious. Thus motion detectors power the light on and off in the toilet cubicle. Don't be surprised, then, if while pondering things, you are suddenly plunged into darkness.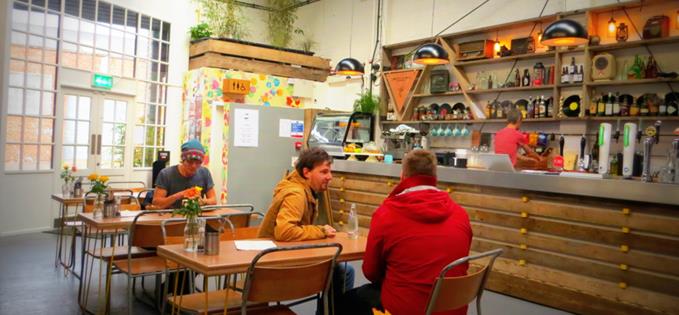 Plenty of lovely warm wood to put in 'th' hole
Just one thing that might get on your nerves...
It risks becoming a little draughty, especially if the door to Constellations' outdoor space is left open. The area is not called Baltic for nothing.
This, however, is easily remidied. Don't just sit there thinking, "Put wood in 'th' hole lad," or "Ee, was thee born in a barn?" No, clear your throat and have the confidence to say it out loud in your best Peter Kay voice.
If they haven't done so already, friendly staff will switch on the three impressive infrared heaters chained to the ceiling of this former light industrial unit. Under the run of skylights, which let the sun shine in, it won't be long before you imagine you are basking in Jamaica, and not just off Jamaica Street.
These appliances pump out a lot that's hot. But made by a company called Schwank, they would.
Who goes?
So far the day crew includes young people who go equipped in beanie hats. There are blue and white collar workies from round about, colourful types and scholars from the nearby college of computing which now occupies the Colossus of the doomed NOVAS centre.
What else to start the day?
The well-thought-out breakfast menu has most things including a huge full English (£8) and a veggie version with halloumi. If not, try Naughty Bear porridge, homemade granola, eggs any way and proper stewed baked beans, all priced way under a fiver.
There is good coffee and loose leaf tea in pots (£2), not forgetting a full range of alcoholic beverages if you need to release your inner Oliver Reed apres midi.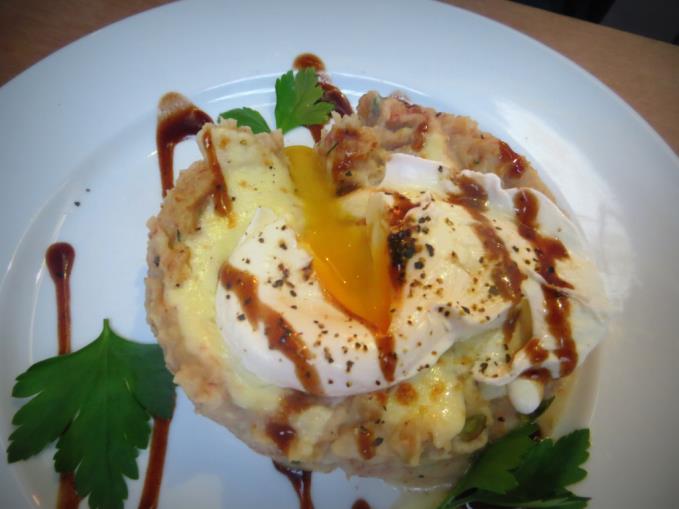 Corned beef hash and a poached egg with spicy home made brown sauce, lovely
Lunch and later?
Soups, specials, nachos, salads and sandwiches around the £4-£5 mark. A cheery poached egg sitting on a generous, warming, corned beef hash with home made brown sauce (£5) kept us going into the evening, as did The French Pig, a soft baguette of hand carved ham, melted Brie and chanterelle mushrooms (£5.50) with a pretty mixed salad.
There was also a side order of thrice fried skinny chips in salt and vinegar (£2). Soon beads of perspiration were forming on our foreheads and we were removing our clothes....
That good eh?
Blame the to liberal dousing of cayenne pepper the chips came in. Told you they liked to save on the heating bills.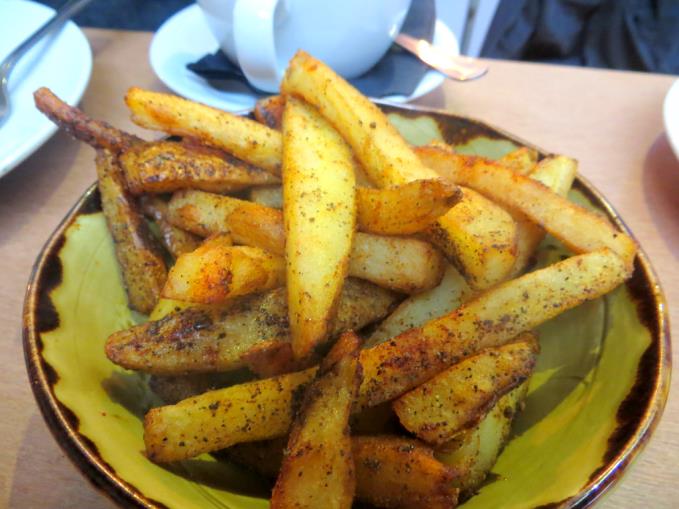 Hot chips
After dark
This is a daytime place early in the week, but beyond Wednesday the opening hours stretch till late in the evening. Pull back a sliding wall and an events space is revealed with a stage, enabling music, dancing and cocktails throughout.
Wood you?
You can disappear in the Baltic Triangle, and you can just about hide from Christmas. But in a week or two expect to find Constellations lovely outdoor space, whose bar canopy this week scooped the prestigious National Wood Award, transformed into a Siberian winter wonderland. Rock around a job lot of spruce trees and twinkly lights. It will be like a Norwegian garden centre with mulled wine, mincie pies and tunes. The cafe will come into its own.
Bang for your buck score: 8/10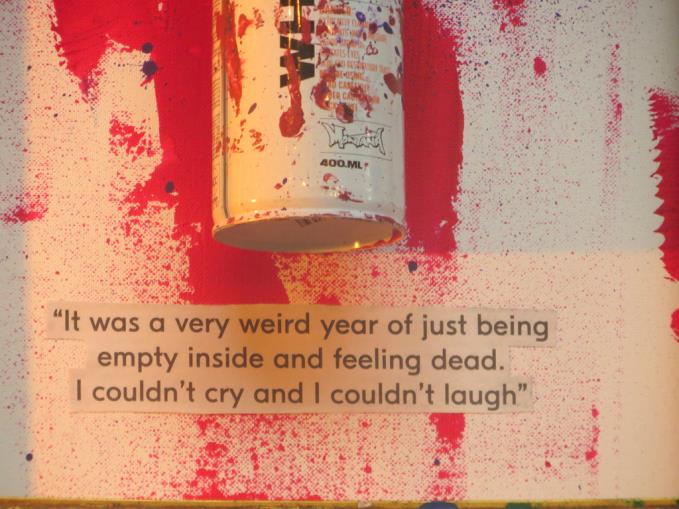 All scored Confidential reviews are paid for by the company, never the restaurant or a PR outfit. Critics dine unannounced and their opinions are completely independent of any commerical relationships.

Constellations Cafe, Bar and Event Space
35-39 Greenland Street
0151 345 6302. 8am-6pm early week going up towards midnight by the weekend.